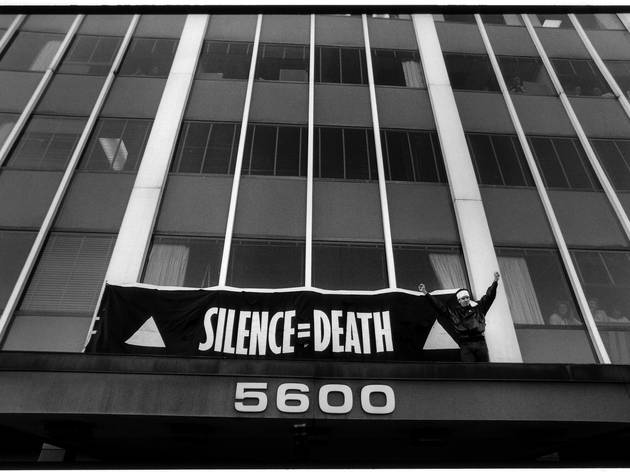 How to Survive a Plague's David France
The filmmaker behind this stunning documentary on AIDS activism and ACT UP discusses its creation.
As a journalist and an author, David France had covered AIDS activism from the struggle's very first stirrings (he actually typeset "1,112 and Counting," Larry Kramer's landmark article on the crisis, when he was working at the New York Native). When it came to telling the story of ACT UP—the groundbreaking, game-changing organization that brought the fight to the powers that be and the streets—the 53-year-old writer turned from print to film. How to Survive a Plague traces the history of the group, from its early days of rage to its victory in getting protease inhibitors on the market in 1996, via home movies, vintage footage and interviews with the participants. France recounted the film's origins for TONY at his publicist's downtown offices.
ACT out
"I'd written a few articles around 2008 that looked back on New York during what I call 'the plague years'—specifically, the late '80s to mid-'90s—as I'd felt like that whole era had, culturally, just been put in a capsule and packed away. AIDS culture revolved around the suffering, but that period was also filled with revolutionary changes. A lot of genuine heroics came out of that crisis; I'd argue that the anti-AIDS movement was the last great social movement in this country. From 1989 to 1996, ACT UP built the model for how to seduce the media, how to seduce the pharmaceutical companies into working with them, how to seduce the people watching the evening news. Its legacy is pervasive in the way health care is practiced. I don't know why the people behind ACT UP haven't been nominated for a Nobel Prize. The least they deserve is to have their story told."
Research and development
"Jim Hubbard is the AIDS culture archivist, and he'd built an archive at the New York Public Library on AIDS activism as seen through film and video. I knew I wanted to tell the story of a couple of people over the span of a decade, and I wanted to see from Jim's collection if there was enough to make that work. I actually used a lot of his footage to identify other people in various shots who also had cameras. It was pure detective work for about three years: Some hadn't survived the plague years; others gave me some great footage to add to what I had. We were dropping in scenes right up until the premiere at Sundance last January."
"Plague!"
"It was important to me that we didn't gloss over the infighting that went on; you do the story a disservice if you don't acknowledge that. I'd been present at many of the meetings, but I wasn't there on the night Larry Kramer has his outburst. So when I finally found that footage of Larry being verbally assaulted…The first time I watched that, it just brought me to tears. History will ultimately remember Larry for how, in a few words, he could reduce something to its essence and change the direction of the conversation. And when he simply screams out, 'Plague!'—that's exactly what he's doing there. He silences that room. You simply can't ask for a gift like that."
Celluloid closet
"The first film that captured my imagination as a way of telling this story wasn't a doc at all; it was Bloody Sunday (2002). The way Paul Greengrass portrays how both sides are trying to deal with a situation was a big influence; I actually cut the opening of my film similar to Sunday's opening, where the protesters and the police are respectively discussing how they're going to respond to aggression. I did the same thing in cutting between Ed Koch and the ACT UP meeting; that was my homage. I also used the civil-rights doc Eyes on the Prize (1987) as a model, as it was a movie that taught me how that movement was really part of my legacy as an American. That was what I wanted to do with AIDS activism: I wanted to induct it into the canon. I wanted to remind people."
How to Survive a Plague opens Fri 21 at IFC Center.
Follow David Fear on Twitter: @davidlfear