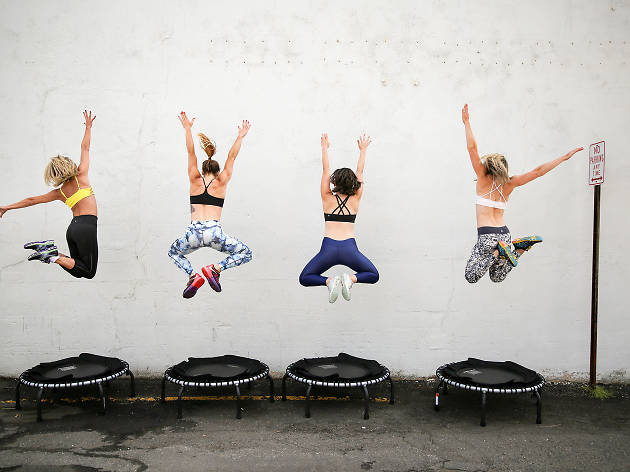 The best fitness classes for beginners in NYC
From Pilates to parkour, there's a great workout to be had for any level of experience with these great fitness classes
Hey, dude on the couch watching Netflix: You're totally going to get in shape, just as soon as you're a little more in shape, right? Whether it's your New Year's resolution to get off the couch or you want to try a new, cool fitness class, the time is now—and it's easier than ever with these newbie-friendly classes. From outdoor fitness classes to yoga in NYC, check out one of these fitness classes for beginners in New York.
RECOMMENDED: Find more great fitness classes in NYC
Yoga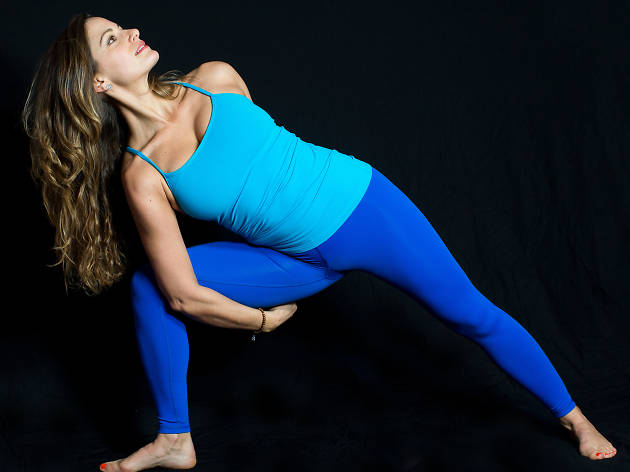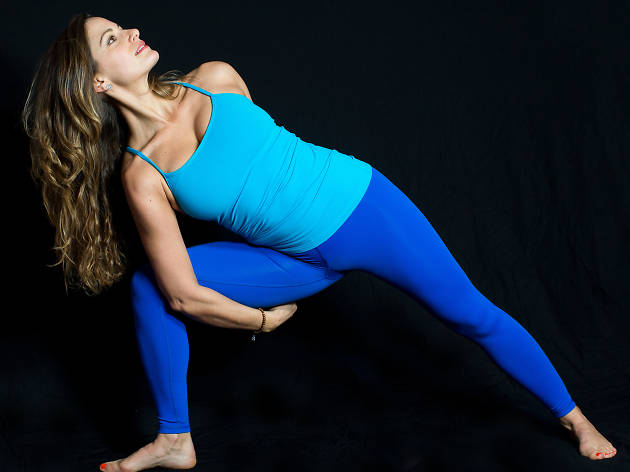 Photograph: Merri Cyr
Beginners at Goodyoga Greenpoint
Don't know your downward-facing dog from your tortoise? (Shame, shame.) At this one-hour-and-15-minute course, custom-made for yoga novices, an instructor guides you through a series of poses, introduces you to the terminology, answers your questions (e.g. "Wait, what the hell does asana mean?") and provides hands-on adjustments. Yes, they're really friendly here—Goodyoga Greenpoint boasts about its first-name-basis status with most students. By the time the warm-weather months roll around, you'll be one of 'em, stretching in the alfresco studio garden. Namaste. 114 Greenpoint Ave, Brooklyn (718-473-7295, goodyoga.com). Sat noon; introductory special $40/four weeks.
Photograph: Merri Cyr
Bikram was the hottest yoga trend in the 1970s, and it still remains the best choice for yogis looking to break a sweat—and one of the best for breaking into yoga in general. The Bikram Yoga Harlem studio offers multiple 90-minute classes per day­—many taught by amicable co-owners Adam Roper and Erik Cummings—each consisting of the traditional 26-posture series in 104-degree temperatures. For their first time to the studio, beginners are encouraged to get to the space 20 minutes early to learn the ropes and sign up for the intro deal, which allows students to take as many classes per month as they want for just $30. Oh, yeah—there are showers, too. Don't sweat it. Daily classes at various times; $20/class, intro rate $30/30 days.
Group cardio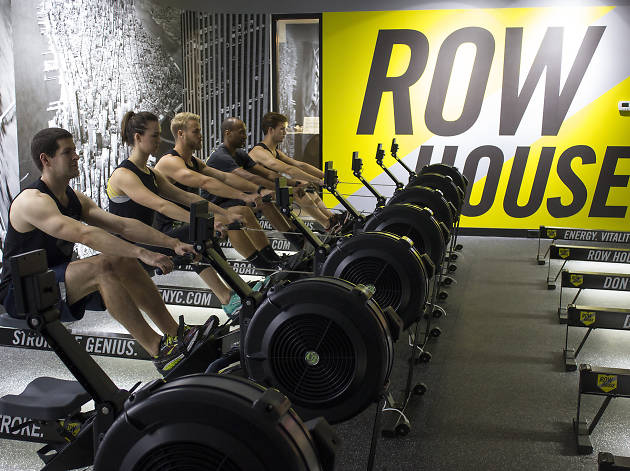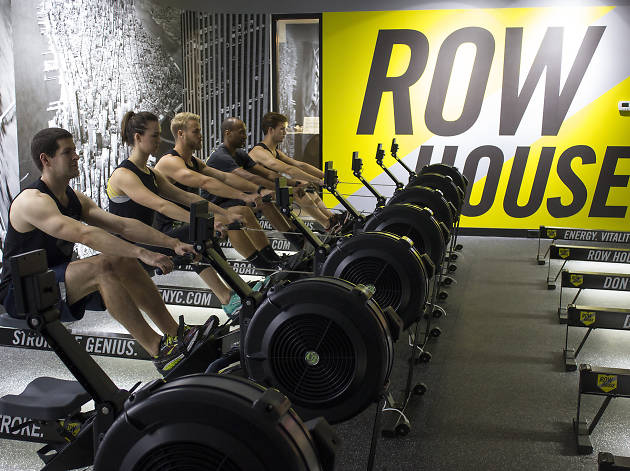 Photograph: Courtesy Row House
"Full Body 45" at Row House
Forget that "gently down a stream" nonsense. At Row House, the indoor group rowing classes are vigorous sweat sessions guaranteed to burn major calories and build strong muscles. Even if varsity rowing wasn't your jam in high school, you'll have no problem picking up the technique—and the trainers are on hand to walk you through it. During the "Full Body 45," you can also expect plenty of mat work, like squats and push-ups. Various locations, dates and times (212-757-6035, rowhousenyc.com). $35/class, first-timers $75/three sessions.
Photograph: Courtesy Row House
Running. It's simple, right? Not if you don't know what the hell you're doing. Ease into your new running regime with the North Brooklyn Runners (McCarren Park track, north side; northbrooklyn runners.org; Wed at 7pm; free): host a weekly two-mile group run for beginners; have experts tell you where you've gone wrong; and, best of all, keep at a pace suitable to those who haven't jogged since high-school gym class. Want to get a head start right now? Hit the ground running this New Year's Eve with a fun, no-pressure four-mile loop during New York Road Runners' Midnight Run (Central Park, midpark at 72nd St; nyrr.org; Thu 31 midnight; $25–$65).
SoulCycle (think high-energy indoor cycling) is like the popular girl in high school; it's no wonder the New York phenomenon has been praised, pirated and parodied. And even though you kind of want to hate the homecoming queen, once you get to know her, you realize she's actually pretty awesome and not as intimidating as you thought. See for yourself with Soul101, the three-class package that will teach you everything you need to know about riding at SoulCycle, including proper bike setup and the signature moves. To keep you going as you dip into the cardio craze, instructors will blast beats ranging from dance to hip-hop. Various locations, dates and times (soul-cycle.com). $85/Soul101 package.
Alternate workouts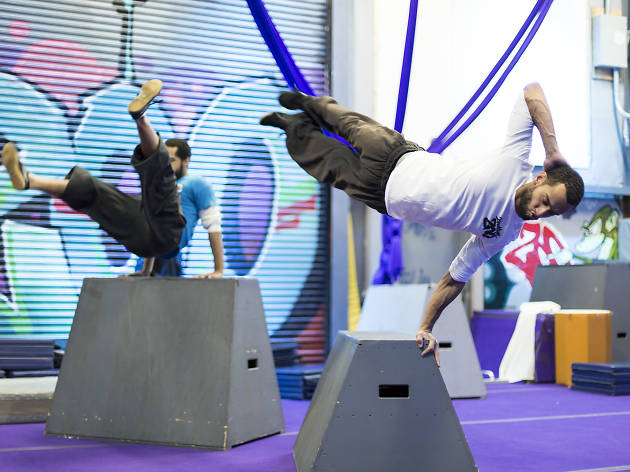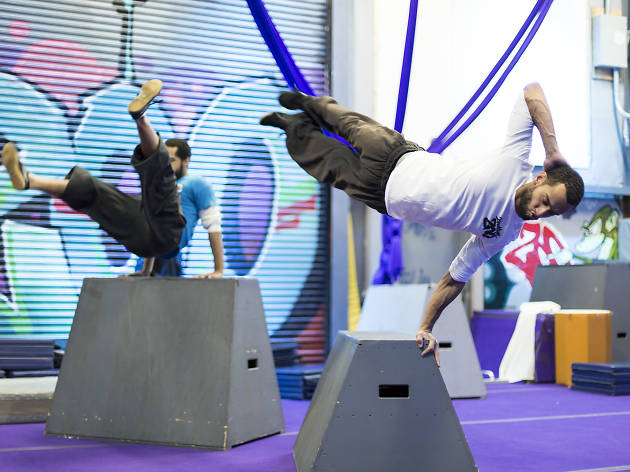 Photograph: Raydene Salinas
Parkour Adult Beginner at Brooklyn Zoo NY
If you can maneuver through Times Square unscathed, then you're basically a parkour expert. But if you want some formal training in "freestyle walking," head to Brooklyn Zoo NY for the one-hour Parkour Adult Beginner class. The 10,000-square-foot custom-built facility is equipped with obstacle courses with poles, monkey bars, hurdles, walls and blocks—but no aggressive people dressed up as Elmo. 230 Bogart St (347-987-3228, brooklynzoony.com). Various dates and times; $100/hour for private lessons, memberships available.
Photograph: Raydene Salinas
Silks beginner level at Aerial Arts NYC
Getting tangled up in silk sheets sounds more like a lazy Sunday than an ass-kicking workout, but at Aerial Arts' silks beginner-level class, you will discover muscles you didn't know you had. You'll learn to climb, invert and hang upside down. The classes are an hour long and are capped at six students, so you're never left hanging—well, except when that's the goal. 235 E 49th St (917-408-3576, aerialartsnyc.com). Daily at various times; $35/class.
If your workout doesn't put you at risk of a concussion, are you even living? Okay, to be clear, before you ascend the 22-foot-high climbing walls at Brooklyn Boulders, you'll be strapped in with all the proper ropes and harnesses, but that won't stop the adrenaline from pulsing through your body as you reach for a hold and catch a glimpse of the ground far beneath you. Various dates and times; "Learn the Ropes" two-session pass $79.
Circuit and weight training
So you're ready to see what all that CrossFit fuss is about? Make BRICK your first stop. The two-week program will provide you with the basics of the CrossFit methodology. Learn specific movements derived from weight lifting, gymnastics and bodyweight movements, and the quirky language filled with acronyms and abbreviations. The early morning sessions, decked-out locker rooms (towels and toiletries are complimentary) and in-house Caveman Coffee bar make this spot ideal for a prework workout. 257 W 17th St (646-692-4005) · 465 Lexington Ave (917-388-2666) bricknewyork.com; various dates and times; $35/class, first class free, 10-class pack $315.
Personal training at Brooklyn Strength
If you're injured, rusty or just plain lazy, it's helpful to consult one-on-one with an expert to clearly define your goals and create a plan to achieve them. Brooklyn Strength offers an introductory three-session personal training package for first-timers. The Brooklyn Heights location is reserved for private sessions, usually taught by one of the founders, Cadence or Manuel, and is drenched in natural light. 69 Columbia St (347-384 2011, brooklynstrength.com). Various dates and times; $100/session.