Heads up! We're working hard to be accurate – but these are unusual times, so please always check before heading out.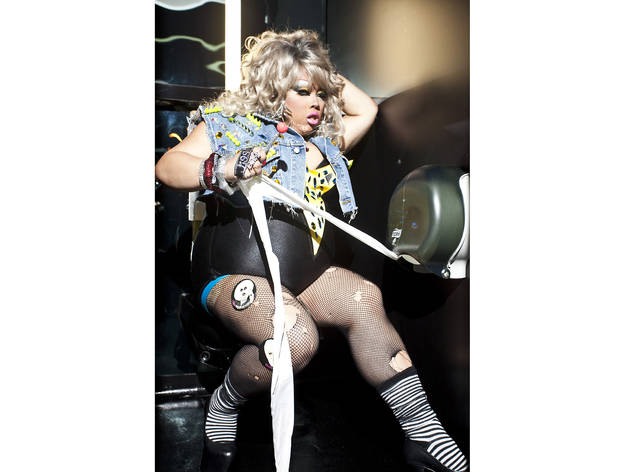 1/5
Photograph: Jolie Ruben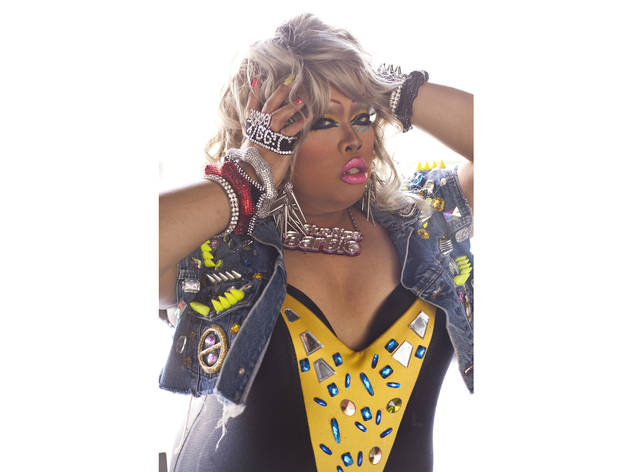 2/5
Photograph: Jolie Ruben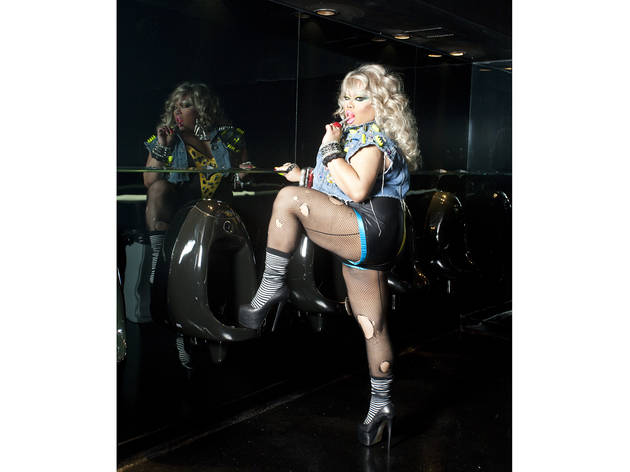 3/5
Photograph: Jolie Ruben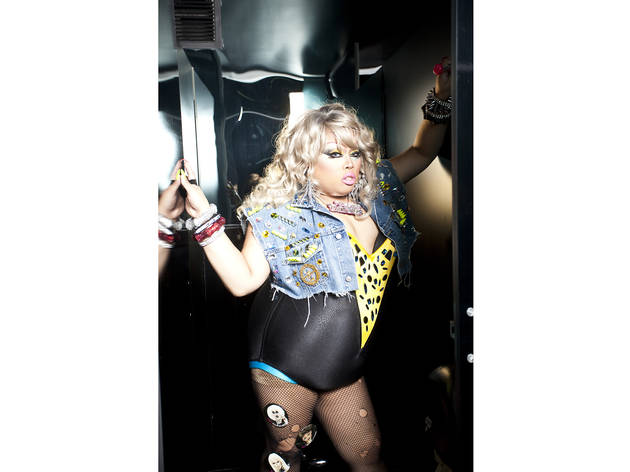 4/5
Photograph: Jolie Ruben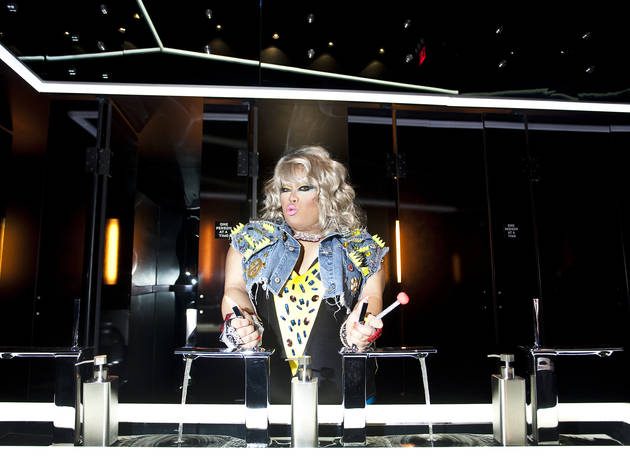 5/5
Photograph: Jolie Ruben
Queens on Thrones: Jiggly Caliente (SLIDE SHOW)
The queen: The self-described "NYC Asian Plus Size Barbie" has been entertaining New Yorkers for a decade. She holds titles including Ms. Asia...
The queen:
The self-described "NYC Asian Plus Size Barbie" has been entertaining New Yorkers for a decade. She holds titles including Ms. Asia America '06, Ms. Universo Latina Plus '09 and Ms. Mexico NY 2008. She's appeared as an extra on Ugly Betty, but you probably know her best for her plucky turn on RuPaul's Drag Race. You can find her regularly at
the Web
.

The throne:
XL Nightclub, Cabaret & Lounge
. It can be a bit disorienting to enter the shiny, black two-level latrine inside the gay playground on the first floor of the Out NYC hotel—especially after a few cocktails. Fortunately, brightly illuminated handrails guide you through the cavernous commode.
Time Out New York: Do you have any advice for the woman who is arguably the world's most famous queen on the occasion of her Diamond Jubilee?Jiggly Caliente:
My only suggestion is to put the kitten heels away and put some fierce high heels on!

Got any good bathroom stories from your adventures in nightlife?
None! And if I did, I wouldn't say. Any embarrassing moments of me in a bathroom die with me.…

What are you proud of this June?
I am so proud to be following my dreams and taking full advantage of every opportunity that has come and is coming my way while staying grounded and humble. Besides touring the country, I also just signed to a motion picture set to film this summer; I am super excited to hopefully start an acting career as well. The world needs more Jiggly.
More Jiggly Caliente!
Go to
jigglycaliente.com
and
facebook.com/jigglycaliente
, and follow
@JigglyCaliente
.
The third season of RuPaul's Drag U premieres June 18 at 9pm on Logo. For more information, go to
logotv.com
.
Related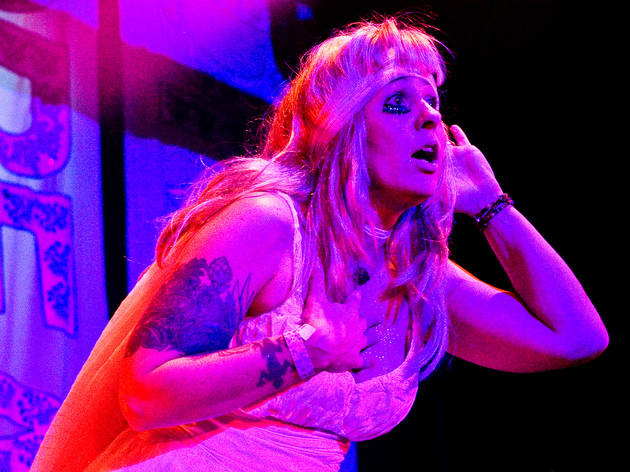 The massive Nicksfest returns to Highline Ballroom. The year was 1990. David Dinkins was New York's mayor. They still packed meat in the Meatpacking District. (No, we're not referring to tranny hookers.) And the very first Night of 1000 Stevies brought together a hundred or so Ms. Nicks worshippers to Jackie 60, the Tuesday-night affair run by Johnny Dynell and Chi Chi Valenti at West 14th Street's much-missed Mother. A few years ago, Dynell confided to TONY that the expectation was that NOTS would run for "three years, tops." But little in life turns out as we expect, and after 22 years, the annual Nicksfest is bigger than ever, with scores of performers and hundreds of Stevie doppelgängers (not to mention a few Lindseys, Mick, Christines, and at least one guy dressed as a glittering bull with a ring though his nose) paying homage to the beloved vocalist. If you were at the latest edition, held at Highline Ballroom on Friday, May 11, here's your chance to relive the magic—and if you weren't, see what you missed.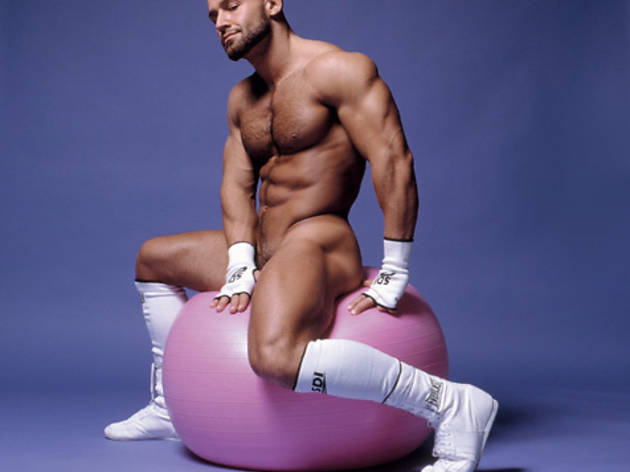 The cult star inches closer to mainstream fame with an upcoming museum series. Even if you're not a connoisseur of gay porn, there's a very good chance you're familiar with the image of French adult-film actor Franois Sagat. The tattooed muscle man has emerged as more than just a skin-flick star in the last few years, working as a (clothed) model, and starring in queer arthouse fare like Bruce La Bruce's L.A. Zombie and Christophe Honor's Homme au bain (Man at Bath); he even had a brief role in the torture-porn flick Saw VI. His career is chronicled in Sagat: The Documentary, which ran on French television earlier this year and makes its American debut at the Museum of Arts and Design on November 18 as part of the series "Franois Sagat: The New Leading Man." We caught up with the strangely sexy star via e-mail. [Note: Some links contained below are NSFW.]You're only 32, and have cultivated a career well outside of the mainstream. How does it feel to have a museum doing a series about you?It's amusing. It's new for me, and I'm very proud of it. It shows that everything is possible—in many ways—even in porn...as long as you make good choices. I'm lucky! My mother must be happy. The MAD series is titled "The New Leading Man." Do you see yourself as a leading man? Is mainstream fame something you'd like to achieve?I'm still really overwhelmed when I read this. I'm very honored and surprised...but I don't really think it's true [that I'm a leading man]. I'm just a product of the Internet that came along at a good time, that's all. Mainstream fame would scare me, so that is not my goal.How did you make the transition from adult movies to artier far like L.A. Zombie and Homme au bain? Well, I never stopped [doing] porn. L.A. Zombie and Homme au bain were just new, different projects that came along at a time when I wanted to take a break from porn—but I didn't retire, and there was no transition. And I'm still naked and interacting with partners in gay sex in those two projects...so, no big deal.You've done some intense work on camera—from the elaborate makeup you wear in L.A. Zombie to some extreme sex in some of your porn work. Have you ever been asked to do anything that you refused? Not really. No one forced me to do something I would be against.... If I had to do it again, I would have refused to perform in fisting movies; thank God I was only a top in those movies. I respect everything, but this is something that just [isn't] me. One of your most distinctive features is your scalp tattoo. When did you decide to get that, and why? I was bald very early, that's all. I tried to find a way to make my head dark with trompe l'oeil... the inspiration was the "shape-up" haircut.You mentioned when we first got in touch that you've been shooting and directing. What are you up to behind the camera? I'm doing a porn movie for Titan—very exciting. It's in two parts; I wrote, directed and art-directed everything with my codirector, the very talented Brian Mills. He helped me deal with the most difficult aspects of [understanding] what's possible and what's not in a job like this. Basically, I came up with the ideas, and he is taking care of all the technical aspects. I also took care of designing costumes. I did the drawings and some amazing people—Slick It Up and Charlie Le Mindu—manufactured everything for me, specially for this project. I'm also in the movie! The first part is out in December, the second part in March.Homme au bain director Christopher Honor has said you "redefine the notion of masculinity," and you've been asked about that a lot since then. Is "redefining masculinity" something you're interested in?That's the thing I never know how to respond to. I never found to be myself a masculine man. I'm everything but masculine! I put makeup on my face; I curl my eyelashes every morning; I have Madonna, Britney Spears, Lady Gaga and Beyonc on my iTunes; I wear G-strings; I love the color pink; I read Vogue; I wear high heels onstage. I guess Christophe Honor didn't see me in private!You seem to have a sense of humor about yourself; do you think people take you too seriously sometimes?I think so, yes. I think I can be funny...but, then again, people will always take me the way they want.Do you get to New York very often?I've been to New York at least ten times, but not enough time to know the city. I really enjoy New York and have some really good friends there. I feel peaceful there—maybe its because I'm not from there. But I could live in New York. When you come here, do you have favorite things to do?Yes, walking alone in the streets during summer and watching people...and having sex with fucking sexy men. "Francois Sagat: The New Leading Man" runs Nov 18--20 at the Museum of Arts and Design. L.A. Zombie is available now on DVD in regular and hard-core versions. For more information, check out Sagat's official site. @timeoutnygay See more in Gay & Lesbian.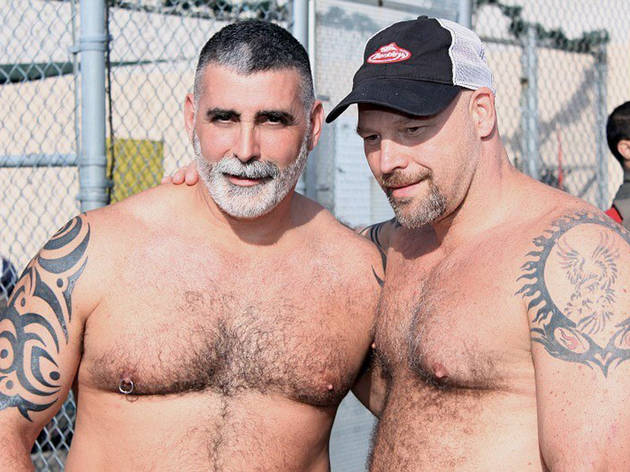 Related Francois Sagat The cult star inches closer to mainstream fame with an upcoming museum series. Even if you're not a connoisseur of gay porn, there's a very good chance you're familiar with the image of French adult-film actor Franois Sagat. The tattooed muscle man has emerged as more than just a skin-flick star in the last few years, working as a (clothed) model, and starring in queer arthouse fare like Bruce La Bruce's L.A. Zombie and Christophe Honor's Homme au bain (Man at Bath); he even had a brief role in the torture-porn flick Saw VI. His career is chronicled in Sagat: The Documentary, which ran on French television earlier this year and makes its American debut at the Museum of Arts and Design on November 18 as part of the series "Franois Sagat: The New Leading Man." We caught up with the strangely sexy star via e-mail. [Note: Some links contained below are NSFW.]You're only 32, and have cultivated a career well outside of the mainstream. How does it feel to have a museum doing a series about you?It's amusing. It's new for me, and I'm very proud of it. It shows that everything is possible—in many ways—even in porn...as long as you make good choices. I'm lucky! My mother must be happy. The MAD series is titled "The New Leading Man." Do you see yourself as a leading man? Is mainstream fame something you'd like to achieve?I'm still really overwhelmed when I read this. I'm very honored and surprised...but I don't really think it's true [that I'm a leading man]. I'm just a product of the Internet that came along at a good time, that's all. Mainstream fame would scare me, so that is not my goal.How did you make the transition from adult movies to artier far like L.A. Zombie and Homme au bain? Well, I never stopped [doing] porn. L.A. Zombie and Homme au bain were just new, different projects that came along at a time when I wanted to take a break from porn—but I didn't retire, and there was no transition. And I'm still naked and interacting with partners in gay sex in those two projects...so, no big deal.You've done some intense work on camera—from the elaborate makeup you wear in L.A. Zombie to some extreme sex in some of your porn work. Have you ever been asked to do anything that you refused? Not really. No one forced me to do something I would be against.... If I had to do it again, I would have refused to perform in fisting movies; thank God I was only a top in those movies. I respect everything, but this is something that just [isn't] me. One of your most distinctive features is your scalp tattoo. When did you decide to get that, and why? I was bald very early, that's all. I tried to find a way to make my head dark with trompe l'oeil... the inspiration was the "shape-up" haircut.You mentioned when we first got in touch that you've been shooting and directing. What are you up to behind the camera? I'm doing a porn movie for Titan—very exciting. It's in two parts; I wrote, directed and art-directed everything with my codirector, the very talented Brian Mills. He helped me deal with the most difficult aspects of [understanding] what's possible and what's not in a job like this. Basically, I came up with the ideas, and he is taking care of all the technical aspects. I also took care of designing costumes. I did the drawings and some amazing people—Slick It Up and Charlie Le Mindu—manufactured everything for me, specially for this project. I'm also in the movie! The first part is out in December, the second part in March.Homme au bain director Christopher Honor has said you "redefine the notion of masculinity," and you've been asked about that a lot since then. Is "redefining masculinity" something you're interested in?That's the thing I never know how to respond to. I never found to be myself a masculine man. I'm everything but masculine! I put makeup on my face; I curl my eyelashes every morning; I have Madonna, Britney Spears, Lady Gaga and Beyonc on my iTunes; I wear G-strings; I love the color pink; I read Vogue; I wear high heels onstage. I guess Christophe Honor didn't see me in private!You seem to have a sense of humor about yourself; do you think people take you too seriously sometimes?I think so, yes. I think I can be funny...but, then again, people will always take me the way they want.Do you get to New York very often?I've been to New York at least ten times, but not enough time to know the city. I really enjoy New York and have some really good friends there. I feel peaceful there—maybe its because I'm not from there. But I could live in New York. When you come here, do you have favorite things to do?Yes, walking alone in the streets during summer and watching people...and having sex with fucking sexy men. "Francois Sagat: The New Leading Man" runs Nov 18--20 at the Museum of Arts and Design. L.A. Zombie is available now on DVD in regular and hard-core versions. For more information, check out Sagat's official site. @timeoutnygay See more in Gay & Lesbian. Slide show: Men of GT's Naked Issue (NSFW) British guys (and one shameless Yank) bare all for charity. For this year's edition of its Naked Issue, British homo mag Gay Times had so many guys willing to strip down that they couldn't be contained into one edition of the magazine—so that means two naked issues! Tucked among the (mostly unknown-in-the-U.S.) stars of TV, stage and sport is one face that is definitely familiar to queer New Yorkers: A-List star Austin Armacost did for GT what he wouldn't do for Playgirl. (Okay, so it's not exactly full frontal. But still! That's a lot of Austin.) And before you go accusing the reality-show troublemaker of doing this only for the attention, keep in mind that this flesh fest is also for a good cause. All of the photos will be signed by the guys and auctioned off to benefit the Elton John AIDS foundation. If you're interested in a suitable-for-framing shot of Austin (or a British TV host most of us haven't heard of), head to the GT web site to learn about the auction as details become available. @TimeOutNYGayTONY Gay on Facebook See More in Gay & Lesbian. Slide show: Black Party posters (NSFW) A look back at more than three decades of Black Party poster madness. In 1981, the Saint nightclub hosted the first Black Party, a two-night bacchanal celebrating the arrival of spring. A poster featuring a pair of sexy-scary Robert Mapplethorpe images let revelers know what they were in for—this wasn't going to be your average night at the disco. More than three decades later, the Saint at Large's Black Party (and, for the last three years, the Black Party Expo) has continued to push the envelope with its promo images, many of which blur the line between high art and lowly porn. The best of them—from 1983's frightening S&M vampire to last year's unsettling "fuck yourself" vision—leave us both creeped out an turned on. And for the last few years, the Saint at Large has expanded into other media with its controversial ads. Check out this year's Black Party "trailer." See more in Gay & Lesbian