Heads up! We're working hard to be accurate – but these are unusual times, so please always check before heading out.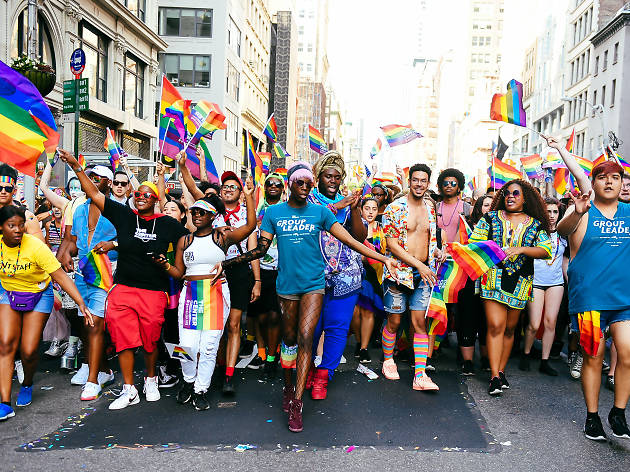 Out-of-towners on why they're coming in for WorldPride
Nearly five million folks are expected at WorldPride this June. Here's why some are making the trip.
To celebrate the 50th anniversary of the Stonewall riots, millions will descend on NYC for WorldPride this June. See why just a few people are jetting in from across the globe to pay their respects. And if you're searching for the festivities to hit up, discover everything you need to know about the Gay Pride Parade and the Gay Pride events worth your while.
Chris Brown, Orlando, Florida:
"I'm coming to WorldPride to feel happy and free. Since Pulse, I haven't attended Orlando Pride. Instead, I've traveled to Prides around the country. It's been beautiful to experience the U.S. this way, and it's time to see how the rest of the world celebrates. I'm looking forward to meeting friends new and old and dancing till dawn."
Jan Wise, Columbia, South Carolina:
"In 1994, three friends and I met in NYC for the closing of the Gay Games in Yankee Stadium and for the Stonewall 25th anniversary march. At the Gay Games, the lights were turned off as a deep roar of dykes on bikes entered the stadium. Cyndi Lauper jumped off the back and began to sing 'Girls Just Want to Have Fun'—to the crowd's excitement. We did not march in the official Stonewall march; instead, we joined the 'illegal' march, from the Village up to Central Park. There were thousands of us, led by the ACT UP group. We paused for a moment of silence as we passed Saint Patrick's Cathedral, in memory of those who died from AIDS. Police and barricades were all around the cathedral. My expectations for Stonewall 50 are mixed. It will be a truly festive occasion, but I hope all those attending will reflect on how far we have come, only to see the current administration's pushback on our rights and even our lives. We must not be silent at Stonewall's 50th anniversary."

Andrew Vance, Melbourne, Australia:
"I will be traveling with the artist Ross Watson to exhibit Ross's latest paintings for two weeks during World Pride. I'm looking forward to meeting people during the exhibition who are traveling to NYC from all around the world. I enjoy connecting with people I wouldn't otherwise connect with in my everyday life and celebrating the thing that brings us all together: our pride!"


Mickey Hedden, Charleston, South Carolina:
"I decided to travel from the coast of South Carolina to New York City this year to honor those who were the original frontline army for the LGBT community. I'm a 30-year-old transsexual man who is still fighting on the front- lines. STAR [Street Transvestite Action Revolutionaries] House and Marsha P. [Johnson, a STAR cofounder] paved the way for me, and I'm forever grateful to them."

Cliff Norris, Washington, D.C.:
"The Lesbian and Gay Band Association will assemble a marching band made up of musicians and color-guard performers from 18 different LGBTQ-identified bands located in 15 different states. Being part of what is likely going to be the world's largest pride march was an opportunity we could not miss. I know it will be a thrilling moment to march down Christopher Street in front of the Stonewall Inn, knowing how all our bands' music and performances have been a part of the half century of activism since the uprising event."


Carlos Flores Navarro, Acapulco, Mexico:
"I'm going to New York to celebrate life, love, respect, community and human rights. No matter our race, color or sex, we will make history by filling the world with unconditional love this June."
Steph Forbes, Hayesville, North Carolina:
"I am 59 and just came out as a lesbian in spring 2018. It is scary changing everything you know at my age, but I decided I wanted to celebrate my newly discovered identity. At the end of March, a woman pulled out in front of my car, which was going 55mph. I ended up with broken ribs, and my kneecap and foot were held together with screws and wires. I almost gave up on my dream of coming to NYC for WorldPride. But a friend reminded me that I would regret missing such an iconic event. It is terrifying to think of rolling around NYC alone in my wheelchair, but I refuse to give in to the fear. So, I booked a flight and booked a wheelchair-accessible hostel. Maybe, just maybe, in the throng of NYC, I will meet my soul mate. Even an old gal can dream, right?"