When you really want to get the lowdown on the drag scene, you can do a lot worse than taking a couple of queens out for drinks. So we arranged for Linda Simpson—whose book, The Drag Explosion, chronicles firsthand the scene in the '80s and '90s—and the buzzy experimental Brooklyn performer Untitled Queen to meet for an evening of boozy back-and-forth at Boots & Saddle. After (naturally) running into a queen she knows at the entrance, Untitled Queen settled into a corner booth and was soon joined by Linda Simpson. The two quickly got comfortable, ordered a round and settled into asking each other questions, engaging in an honest conversation about where drag has been and where it's headed.
Drag back in the day
Untitled Queen: What would you say is the biggest difference between drag now and drag when you were coming up?
Linda Simpson: I think the biggest difference is that it's such a huge scene now. Back then, it was much, much smaller. Now, especially with the popularity of RuPaul's Drag Race, everyone and their brother wants to be a drag queen.
UQ: Did you feel like it was harder to break into because it was so small? Or did you just fall in with people you already knew who were in the scene?
LS: I started performing at the Pyramid Club in the East Village, which already kind of had a scene, and I found it very inviting. But granted, there was a hierarchy. You couldn't just say, "Here I am! Give me a show."
UQ: Was it something you always thought you wanted to do?
LS: Not really. In the '80s, drag was really square and considered to be something you didn't want to have around. None of the gay bars wanted drag. But that was mostly because drag was a lot of dusty drag queens in old gowns singing to old divas. Not that that couldn't have its charm, but there was nothing modern or fresh about it. That's why the East Village scene was unique; they were reinventing drag and embracing it, sort of ironically.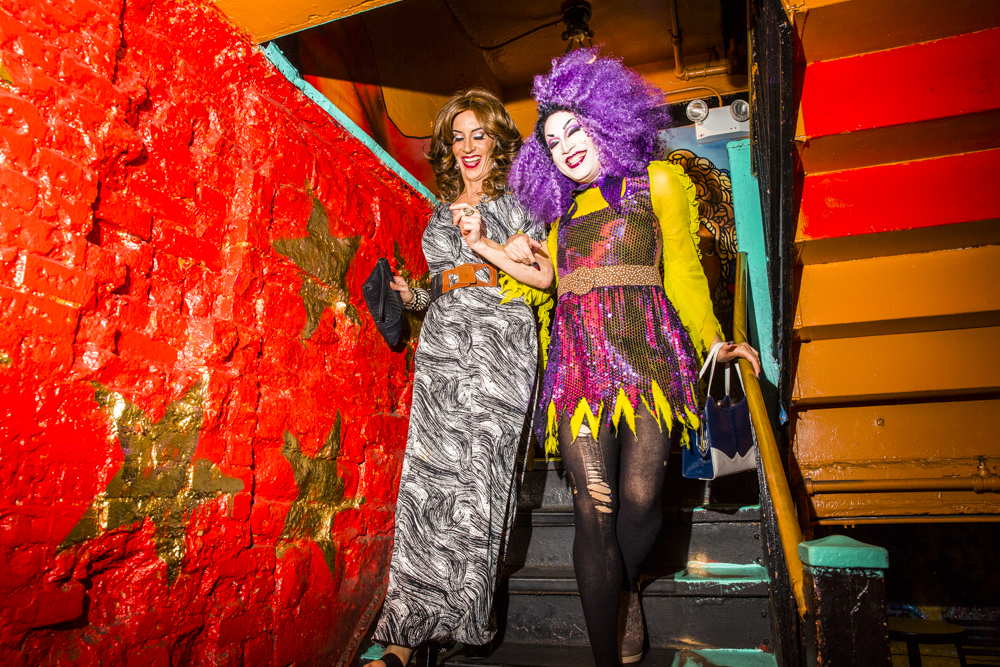 Drag right now
LS: It seems to me like the drag scene in New York really has two main centers: the Hell's Kitchen one, which sort of goes hand in hand with the West Village, and the Brooklyn one. But is the Brooklyn scene all one Bushwig scene? Or does that have a lot of subsets?
UQ: I think there are a lot of subsets. What's great about Brooklyn drag is that it's the spectrum. You still can get lots of traditional drag but also live-music, crazy, super-queer, cut-yourself-up weird stuff there.
LS: Certainly, there's a different aesthetic [than] the Hell's Kitchen scene, which might be a little more polished or conventional, compared to what you might say is Bushwick and Bed-Stuy, which is more avant-garde.
UQ: The Miss America answer is that there's not really a difference, and there's just a bridge that separates us. But I often feel that Manhattan girls feel more of a pressure from an audience of what they want to see, because it's a lot of these big touristy areas, and those people want to hear a song they know. I think there's a pressure to deliver that a lot. In Brooklyn right now, there's a lot more freedom.
The future of drag
LS: I think what's interesting now is that even with RuPaul's Drag Race, drag is still rather ghettoized. All the drag stars are coming out of this one vehicle, and I keep wondering, Why hasn't the rest of the entertainment world looked and seen this popularity and also tried to take advantage of it? How about a drag queen on American Idol?
UQ: I think the same thing. There should be 700 drag contests for every niche. We could have a food-making one! The Next Drag Star of the Food Network.
LS: Be careful what you wish for.
UQ: I do love eating. [Laughs] I also feel like now there are so many more other talents that people bring in [to drag], like comedy and stand-up or visual art, that maybe drag could become more multimedia and get a fresh breath from another field.
LS: Well, [RuPaul] became a big star because of her hit single, and I feel like that might be another way that a drag queen could make it big in the future—with a pop song. And there are some drag queen performers and singers out there, but I don't think anyone's really broken through in that way, have they?
UQ: Gaga?
LS: Well, she was rumored to be a man. [Laughs] But maybe the next big drag star in the future will come up through a vehicle yet to come.