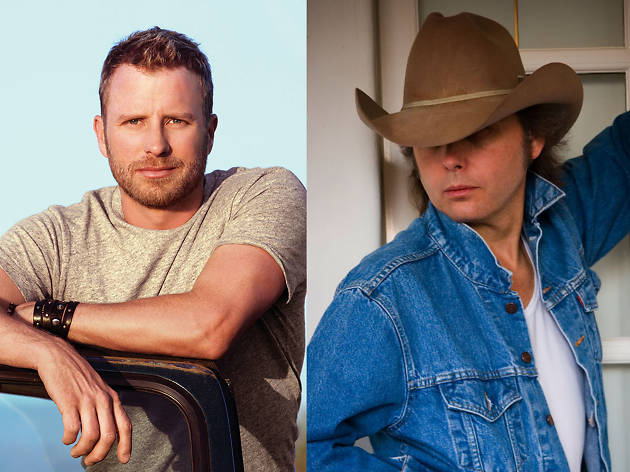 Country idols Dwight Yoakam and Dierks Bentley laugh it up
Honky-tonk icon Dwight Yoakam and country It dude Dierks Bentley shoot from the hip before FarmBorough
Despite being half a continent apart—Dwight Yoakam in Los Angeles and Dierks Bentley in Nashville—the two country-music stars sound like neighbors chatting over a backyard fence. They certainly share common ground, as musicians fully in control of their craft, but their routes to success have been anything but similar. Yoakam busted into country music in the early '80s, matching brash honky-tonk tunes with an unmistakable swagger and sharing bills with decidedly uncountry bands like X and the Violent Femmes. His latest, Second Hand Heart, shows he still has plenty of rock & roll tricks hidden under that 10-gallon hat.

As a rising star turned festival headliner, Bentley has a had a more traditional welcome: His seventh album, 2014's Riser, topped the country chart (and landed in the Billboard 200's top 10) with sensitive midtempo jams about pretty girls and getting drunk on a plane (after your fiancée leaves you at the altar, obviously).

Despite their differences, a mutual admiration is palpable, as they trade stories about touring and their love of rodeos. They'll be in town for a rodeo of sorts this week—FarmBorough, the Governors Ball of country and NYC's first big country-music fest, which aims to showcase the multitudes the genre contains in three days (make sure to check out our 10 best acts to see at FarmBorough). If these two are any indication, it'll be a regular love fest.
RECOMMENDED: Complete guide to FarmBorough Festival

Dwight Yoakam: FarmBorough? The farm bureau? Me and Dierks, we get up early.
Dierks Bentley: Before the crows.
Yoakam: We like to watch the farmers' report before the crows. Sometimes he'll call me. I'll call him. Did you see the price on hogs?
Bentley: [Laughs] FarmBorough. Big borough in New York.
Yoakam: On Randalls Island, out there on the East River. We're gonna have to do that when we get there, give the farm-bureau report.
Bentley: That'd be pretty funny. I'd get a kick out of that.
Yoakam: The farmers' report—you'd have to be up at five in the morning to watch that. Do you keep weird hours?
Bentley: It flip-flops. At home, it's one thing; when I'm on the road, it's almost 12 hours opposite. At home, I'll get up real early, at 5am, and work out and be back to making pancakes and shit by six. And then when I'm on the road, I'll be up till 4 or 5am.
Yoakam: Yeah, that's what happened to me over the years. I started just staying up real late. I don't sleep much on the bus. If it's a 12-hour drive or something, I'll finally just collapse. I write a lot at night.

Bentley: For me, the whole thing [about being on the road] revolves around the live show. My guys are huddled, and I say "Hey, this is our Saturday night. You gotta make the show good for us." I'm away from my family, my home—for this one moment we have to have a great time, lose our minds, get lost in the show. It's all fun, but it all revolves around the music. That's the only thing that keeps me sane, for sure. Dwight, what do you think?
Yoakam: Well, the 22 hours are the toughest. That's a song right there. The 22 hours that go between those other two hours [onstage]. A few years ago I titled a tour "State Fairs, Honky-Tonks and Rodeos 2002," tongue in cheek, but I loved playing state fairs. I love being able to come on a stage and see the midway lights. There's a great one out here in California, Paso Robles. I don't know if you've ever played there.
Bentley: Oh yeah.
Yoakam: Oh, you sure have. How beautiful is that out there? Aren't you from Arizona originally?
Bentley: Yeah.
Yoakam: I love fairs, I love the smell, you can smell the cotton candy, the roasted corn, it's all kind of drifts out across the night. And the rodeos are great, too. There's something really special about those spots, especially with country music. The first time I ever saw Johnny Cash live was at the state fair.
Bentley: Yeah, I mean the logistics of touring are tedious and not very glamorous, as you know, and a bit of drudgery. There's times I've been on the road for a long stretch, when I'll get home and I'll see a tour bus and drive down the freeway, and I'll be like, man, I wonder where they're going? I wonder where they're headed? It's kind of like a disease. What kind of sick person is home for three weeks, finally gets a chance to be home, and looks at a tour bus and gets excited? So it's kind of a weird thing.
Yoakam: Yeah, and I'm a homebody. The best hotel room in the world—I mean, the best—is still a hotel.

Yoakam: The first time I played with you was at the Knitting Factory [in Los Angeles in 2008], wasn't it? You came out to do a Grammy thing?
Bentley: Yeah, we did that [with musicians] from different worlds. You were in the hillbilly umbrella. And then we had Mike McCready from Pearl Jam representing that world and Paramore's lead singer, Hayley Williams. So a wide range of people. Certainly it was the highlight of my music career.
Yoakam: It was great for me. And we just stayed in touch from that point until now. It was flattering to do it with you.
Bentley: You're a good guy.
Yoakam: In spite of what everyone says.
Bentley: [Laughs]

Yoakam: I don't know when you played first in New York City. I played with the Blasters a long, long time ago. In 1985, they took us with them to a club they were headlining.
Bentley: I bet they loved you.
Yoakam: That was my first trip in, and it was great. The audience was wonderful. It was everything you kind of hope New York to be. You've kind of made it. When did you play there first?
Bentley: The first time I played there was at B.B. King with Pat Green [in 2003].
Yoakam: Wow, Pat.
Bentley: Yeah, man, it was great. I was opening for him. You think New York City, you think country music. You don't think it's gonna…
Yoakam: Well, there are a lot of transplants in New York City. It almost feels like half the audience is from somewhere else.
Bentley: Exactly. They come from all over. Then I played Bowery Ballroom, Irving Plaza.
Yoakam: I played Irving Plaza with Hüsker Dü after my first couple of hit singles. You know who Kinky Friedman is? He wrote a series of novels where he was the principal protagonist. Kinky was there for years and years with his band, Kinky Friedman and the Texas Jewboys—the days of too many drugs and not enough brain cells. They used to play the Lone Star in Manhattan, a hard-core hillbilly country bar. And I actually played it before it closed. That was an experience. Didn't play CBGB.
Bentley: I was just gonna ask you that.
Yoakam: It was still open. We didn't book it. Then it was gone.
Bentley: I played small places like Joe's [Pub] all the way up to Madison Square Garden. The people are there. I always felt like we could do a festival here.
Yoakam: There's really no fooling a New York audience. You better show up and mean it.

Bentley: How about Buck Owens's Carnegie Hall Concert? That's a great New York record.
Yoakam: The cover photograph alone was worth the record. They're down there on the street with those buckaroo suits. There's another record, a later one, where he goes to New York City, and he's in like a fur coat. It was in the wintertime. Crazy. It looked like something out of Shaft.
Bentley: [Laughs] That coat was unbelievable. Only Buck. You know, when we played in Atlanta together, I had a red, white and blue Buck electric guitar he gave me, a Tele. I was gonna slick my hair back and put on some Buck glasses, and I was looking for different suits. I came across that fur jacket thing he was wearing in New York.
Yoakam: I mean, Joe Namath never had a coat that cool. Have they asked you to play Carnegie Hall? Because they haven't asked me, and I'm going to be real upset with the farm-bureau people if I find out.
Bentley: No. And I'm sure it's the farm-bureau people who run Carnegie Hall.

Yoakam: You know, Dierks, people ask all the time: What do you think about country music, currently, and I'm like, Well, it is what it is. I think musicians think about music in a more plural way.
Bentley: Oh, yeah. You've done rock, electric bluegrass.
Yoakam: As have you. I think musicians live in a more communal kind of concept, don't you think?
Bentley: I think so, and I think today's country…you could argue that it's something entirely new.
Yoakam: You know what? It's got the youngest demographic that it's had probably since Elvis Presley was considered a country artist, which was 1955. Prior to RCA releasing "Heartbreak Hotel," Elvis was on the Louisiana Hayride, and he was called the Hillbilly Cat. That's not a bad thing—to have a brand-new generation of young listeners and young performers involved. I think it bodes well.
Bentley: A great thing right now too is that the production is wide open. People are experimenting, and on country radio, there's a lot of variety and sounds on the stations, and it's kind of fun. There are deep catalogs. It goes way back. And you're a bridge. We were playing in Houston for a radio session in a theater. And we go up and do our thing, and then you entered the room. I went over to someone and said, "The man just walked in," because we're all a bunch of punks up there, looking like shit. And you had the look, you had the sound. It was great.
Yoakam: [Laughs] I'm still rocking, man.

FarmBorough takes over Randalls Island June 26–28.