New Year's Eve concerts in NYC
Put on your party hat, grab some glitter and ring in the new year with these New Year's Eve concerts in NYC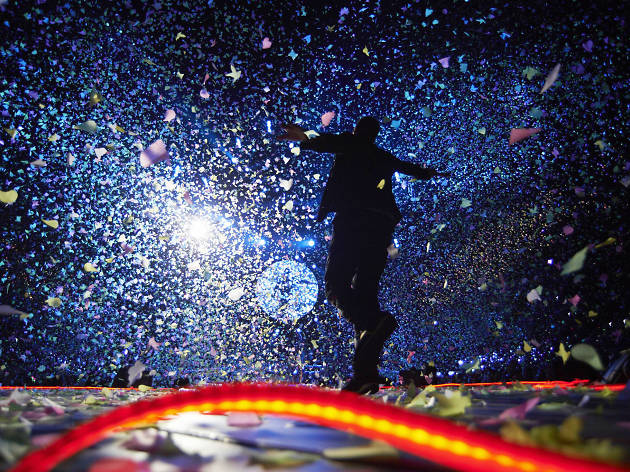 New Year's Eve concerts in NYC
Eugene Hütz and his collective of Gypsy punks support their latest, Seekers and Finders, with a two-night pre–NYE stint in Brooklyn. Over 15 years of playing together has tightened the outfit's melting-pot output of polka, hardcore and so much more into a taut thread of zany debauchery. If only the same could be said of our own antics when we celebrate the new year.
Working as DIIV, Zachary Cole Smith & Co. crafted a killer debut in 2012 that blended shoegaze, pyschedelia and a pounding postpunk beat to dreamily delicious effect. The double-album follow-up, Is the Is Are, delves deeper into the crew's dark, liquidy guitar rock textures. Here the crew celebrates the new year with fellow NYC noise makers Palm and Honduras.
Jersey mathcore titans the Dillinger Escape Plan take the stage to play their last two shows ever. Expect to hear from the band's final album, the multi-faceted and decidedly ripping Dissociation. Considering the outfit's insane live show antics, which include, but are not limited to fire breathing, destroying drum kits and climbing up anything remotely climbable, it's probably safe to say not much will be left standing when these guys are through.
Headed by guitarist Max Kakacek and singer-drummer Julien Ehrlich—of Smith Westerns and Unknown Mortal Orchestra, respectively—this Chicago indie-rock outfit has been filling bigger and bigger spaces with each NYC visit. No wonder: Its 2016 debut, Light Upon the Lake, is a deeply satisfying album steeped in '70s country and soft rock and bouyed by Ehrlich's honeyed falsetto vocals. The band joins here with lo-fi indie-poppers, Real Estate, whose music is permeated by an unshakeable repose and penchant for the quotidian: After seeing the world via an international tour, singer-guitarist Martin Courtney still prefers to sing about old municipalities and floating on inner tubes.
The tireless jam band returns to Madison Square Garden for another New Year's Eve run. The Vermont quartet has played MSG more than 50 times, making it part of an elite club that includes Billy Joel, Elton John and the Grateful Dead. With seasoned vets like these (in particular ones that have a reputation for eye-popping NYE shows), you're pretty much guaranteed to enjoy your trip at…umm, we mean to the Garden.
The Nashville outfit brings its tight, ecstatic punk to the stage for a pair of shows. If you're looking to celebrate the new year by moshing like a maniac and just having an all around insanely fun time, this is the place to do it. Come to think of it, we may be able to venture a guess as to why the band chose such a godawful name: They play. You lose your shit.
One of the best rock bands New York has ever produced, Television was the mid-'70s punk scene's most artistically ambitious combo. Eschewing Ramonesy minimalism in favor of postpsychedelic experimentation, it applied the spirit of jazz improvisation to the guitar-band format to create one of the most celebrated debut albums of all time, 1977's Marquee Moon. Considering this two-show New Year's Eve stint is the crew's first NYC appearance in two years, we'd say 2018 won't be the only thing getting a warm welcome.
Rock notables They Might Be Giants hit Williamsburg for a pair of shows to ring in the new year. Speaking of ringing, the gents recently announced they're bringing back their "Dial-A-Song" service in 2018. For those not familiar, "Dial-A-Song" began in 1983, with the duo recording songs onto an answering machine and advertising the number on the back page of the Village Voice. The technology has changed since then, but the duo's quirky spirit remains.
It's easy to poke fun at the Disco Biscuits (trance fusion?). Still, more than two decades in, bisco music (as they call it) remains a huge hit among the jammy throngs, and the fan base just keeps on growing. Count on a packed house when the Philly juggernaut hits PlayStation Theater for a four-night run.
Show more
Looking for more concerts?
Find out about recently announced concerts in NYC with our calendars and make sure you never miss out on a show