Looking to bond with your boo? Try writing and performing your own music together. In drag. But you'll have to compete with Queenie and Ruby, the disco-inspired duo taking over some of Brooklyn's most-beloved DIY spaces with their house beats and diva looks. We asked the couple about their favorite spots to perform, shop and beat their hangovers.
Favorite new spot: Elsewhere
Ruby: "It's the best new venue for queers of any variety. You can go there, and there's a night for you—there's definitely a stage for you, if you should be so inclined. They're opening their rooftop up for the summer, and the sound is really great there."
After the show: Cafeteria
R: "When we perform, we get ready at our house, we show up for sound check, and then we hide in the green room until we perform because we look so crazy—we can't go anywhere. Cafeteria and Coppelia are the only places we feel comfortable going to in drag."
Queenie: "It's a great post-party, post-show spot for greasy hangover cures."
Daylight hours: Souen Soho
Q: "An ideal day for us would be to walk the Williamsburg Bridge, and if we're hungry, go over to Souen in Soho."
R: "That's the opposite of what you would think to help with hangovers because it's not greasy at all: It's macrobiotic food. We love it; we love
a healthy moment."
Q: "And it's a New York institution.If you want to model-watch or people-watch, the people who come into Souen are super iconic. It's really healthy there; nothing has salt on it, and if you ask for salt, they'll give you a salt shaker with sesame seeds in it."
R: "You're like, 'This is not salt!' And they'll say that it's in there. But, really, for every 25 sesames, there's one grain of salt."
Shopping Essentials: Beacon's Closet and A1 Records
R: "With certain stores in New York, if you add them together, you'll create the formula for who we are and how we created Sateen. I've been going to A1 Records for probably 15 years—since I was a kid. They have really cheap records. You can find almost every musical reference we've made... ever. And Beacon's Closet is where we get all of our clothing."
Q: "Ruby likes to dig through the dollar records because that's where all the great house and diva remixes are, like house remixes of Celine Dion you never thought you'd find. Then, we'll go to Beacon's Closet and scan the racks for vintage, iconic designer pieces like Pucci, Gaultier and Vivienne Westwood. That's what we really love.
Their NYC Drag Obsession: Ruby Fox
Q: "Ruby Fox is a major drag queen. The past times we've gone out for fun, she's gagged us."
R: "She gives shows. There's no way that she can jump and kick like that in this amount of space without hitting someone in the face, and it's like, no, she's going to fucking do it, all right! You better move your face, bitch!"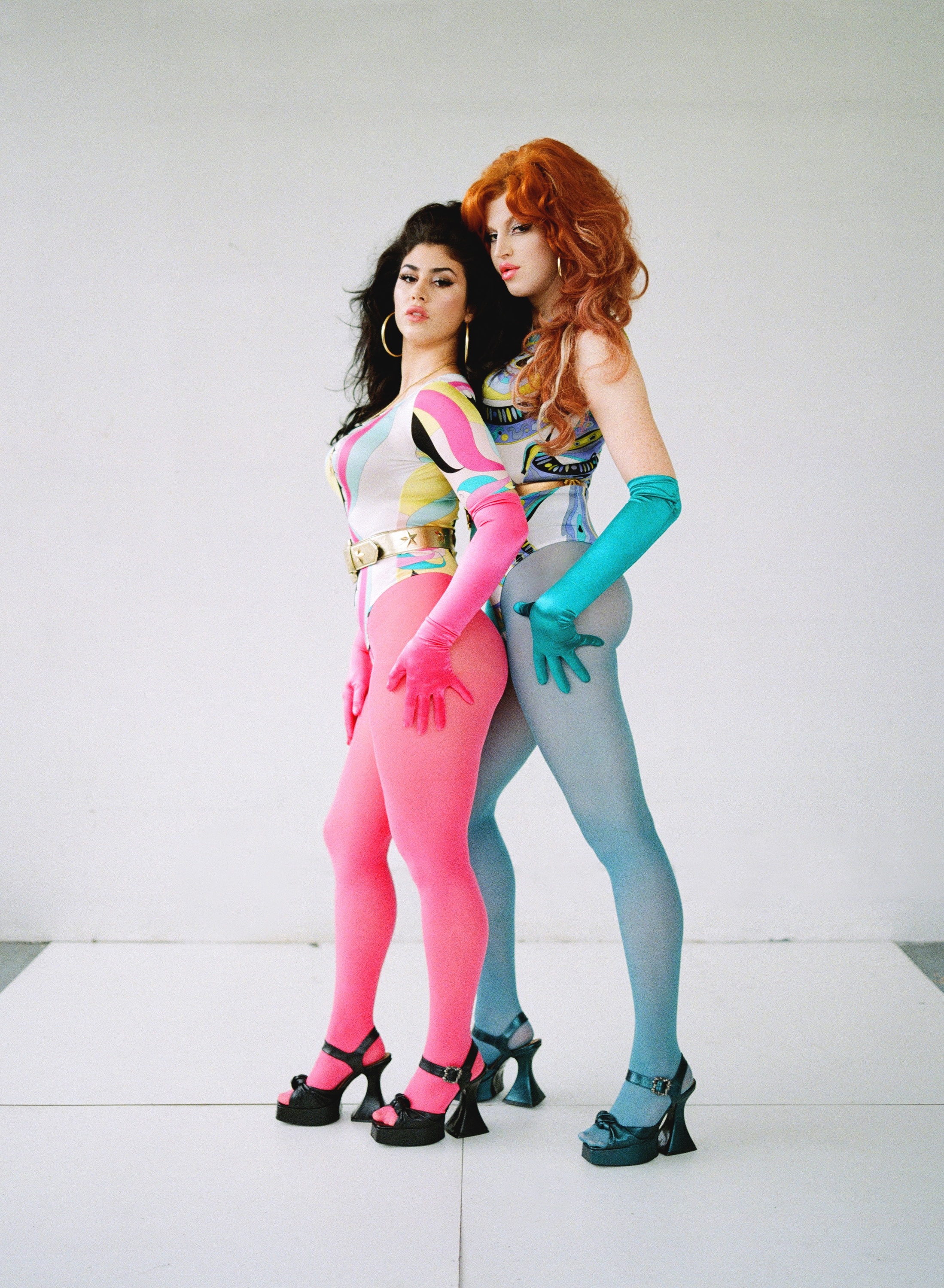 Photograph by James Emmerman