Trees tend to exist in the background of our lives, not paid much attention to until we need some shade or a place to hide from the rain. But trees sustain life, from absorbing pollution to providing oxygen to creating a home for birds.
These leafy life creators are getting center stage in a new exhibition combining art and science at the Brooklyn Botanic Garden. "Power of Trees," which features six site-specific sculptures by local artists, opens on June 17 with a grand opening celebration and runs through October 22. We got a sneak peek of the show.
RECOMMENDED: NYBG's new thought-provoking exhibit combines sculpture and horticulture
Of the several thousand trees at Brooklyn Botanic Garden, the show highlights 52 trees with signs explaining their significance, sharing insights from arborists and encouraging visitors to advocate for trees amid an era of climate change.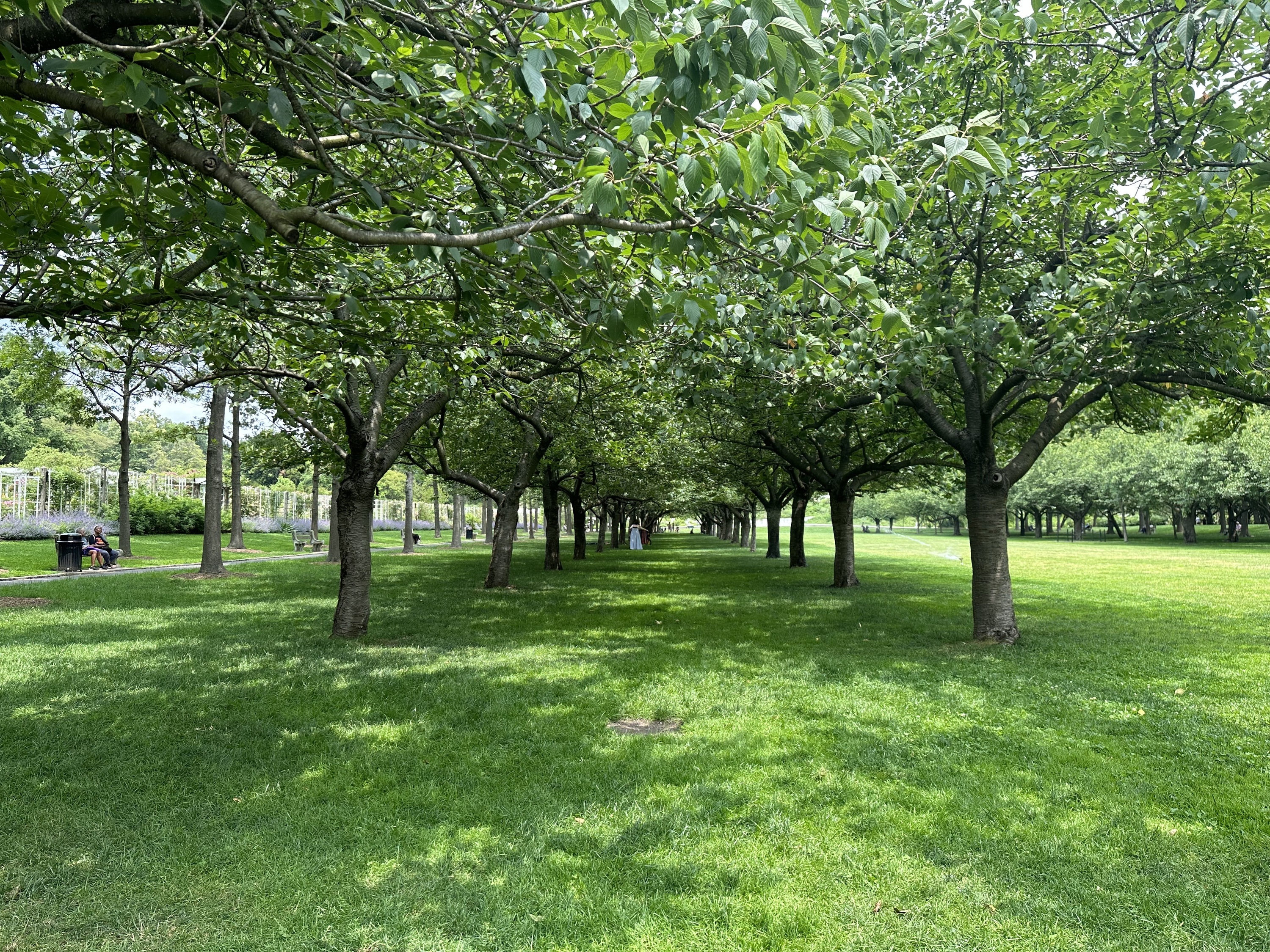 For the botanical garden's arborists Jake Nager and Travis Wolf, the exhibit offers a chance to showcase the trees they care for each day, carefully pruning and even repairing trees that have split.
Six new sculptures are nestled among the grounds, each one created by a New York-based BIPOC artist. To create the sculpture series, titled "Branching Out: Trees as Community Hosts," AnkhLave Arts Alliance curator Cecilia André asked each artist to consider the concept of a canopy. Each artist interpreted the task in different ways, employing a variety of materials from glass to stainless steel to upcycled plexiglass to create their work.
Here's a look at the six sculptures on view.
"Botanical Boombox: Brooklyn Branch" by Sherwin Banfield
For his sonic sculpture, Sherwin Banfield created a solar-paneled tree with "fruit" that represents the hip-hop artists who have bloomed out of Brooklyn's neighborhoods. For example, the Flatbush branch features Special Ed, while the Bed-Stuy branch features Jay-Z and Notorious BIG.
"It showcases how Brooklyn has added to hip-hop culture and how various neighborhoods have been able to take hip-hop and reinvent it in their own way," Banfield tells Time Out New York.
Banfield (who also created the Biggie sculpture by the Brooklyn Bridge) harnessed steel, stainless steel, chains and resin to create his work. The sculpture also plays a mix of music by Brooklyn DJs Barry Blends and Baby Blends.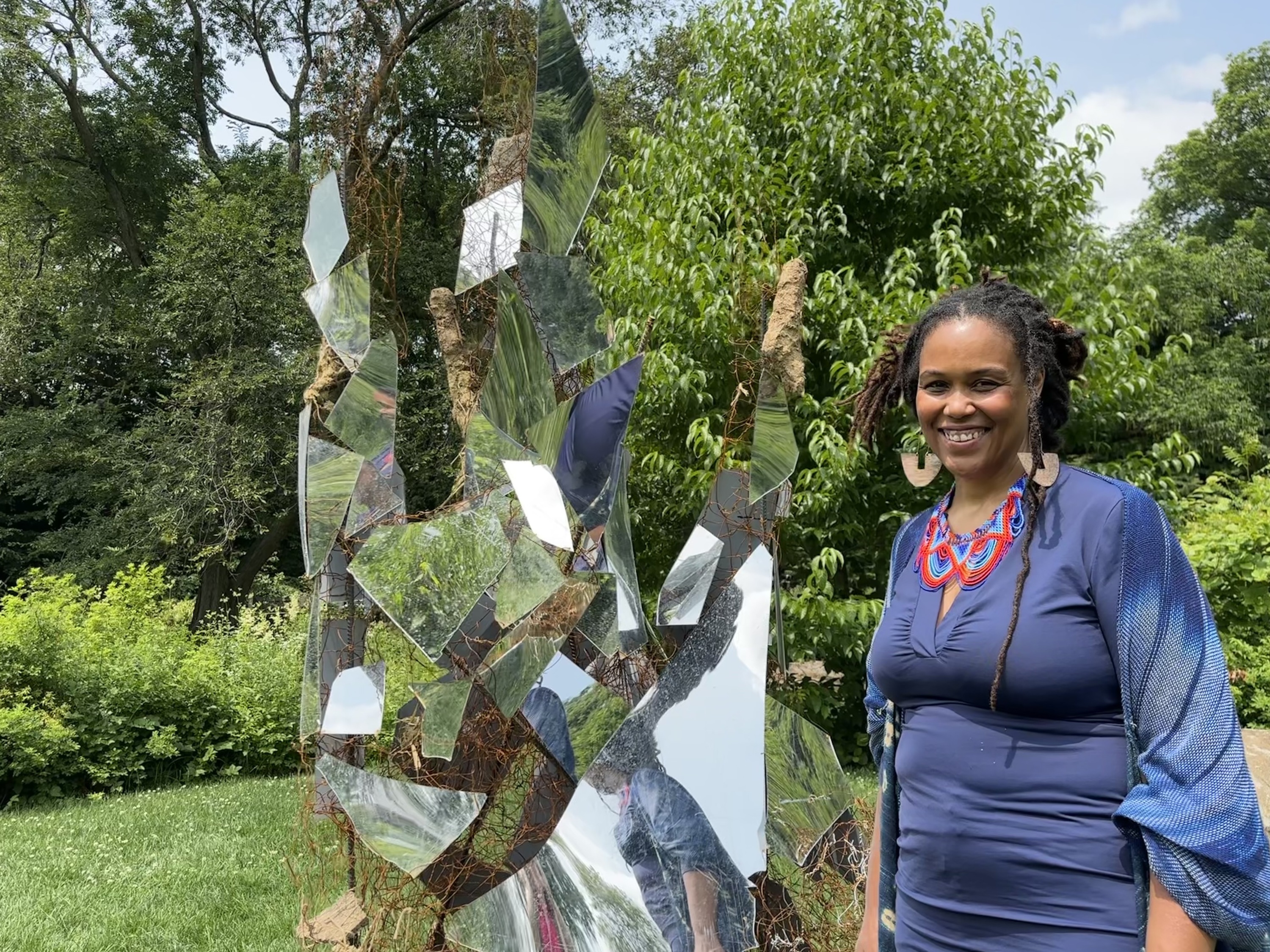 "Fingertips that Touch the Stars" by Jasmine Murrell
When thinking about her piece, Jasmine Murrell wanted to pay homage to the "unknown hands" that go into making places like landscapes and gardens. She also wanted to create an interactive piece where the audience could activate the work.
"I think art does come alive when it is seen. I wanted to also collaborate with the collective spaces of this beautiful garden," Murrell said.
Dotted with plexiglass mirrors, the sculpture reflects the green and brown hues of the garden surrounding it. The piece also includes a soil mixture collected from a variety of places, from Brooklyn to Kentucky.
To her, Brooklyn Botanic Garden is "this enchanted space," and she wanted to create a place where the community could interact with it.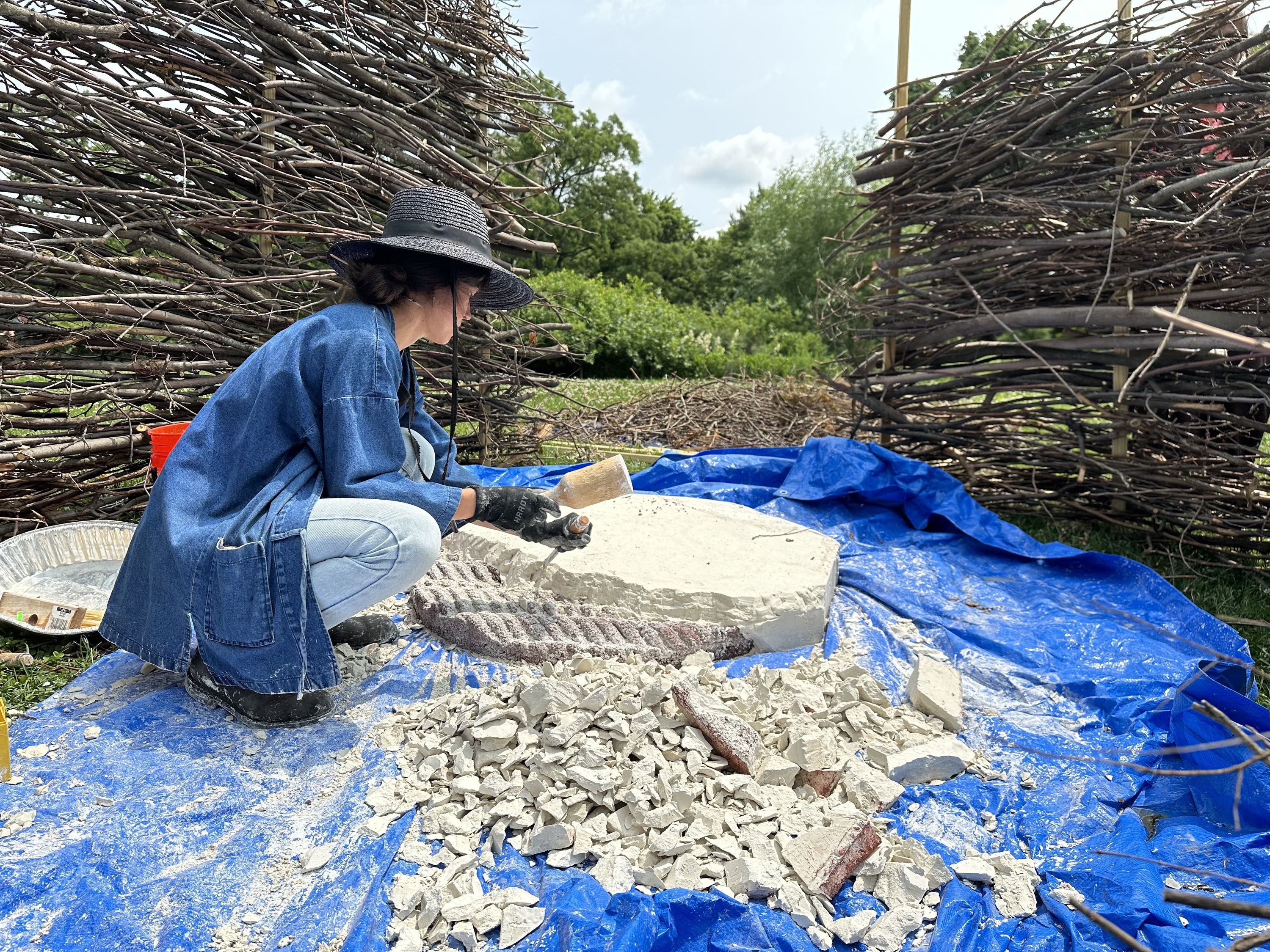 "Cercado" by Amanda Martinez
Artist Amanda Martinez started with the word "cercado," which can mean a ring, a fence or an enclosure. Thinking about those words, she wanted to create a piece that could be entered as well as explored from the outside. She also drew on her family's heritage in southern New Mexico where her grandfather grew up in an adobe house.
Accessibility was also deeply important to Martinez in her work. As an autistic artist and as a member of the disabled community, she wanted to create a welcoming place for all. She aligned the sculpture directly against the pavement, and the horticulture team will install mesh on the grass to add extra traction for wheelchair users who visit.
Wrapped in branches, some sourced from the Brooklyn Botanic Garden itself, the sculpture will serve as a sensory space of quietude for all who enter.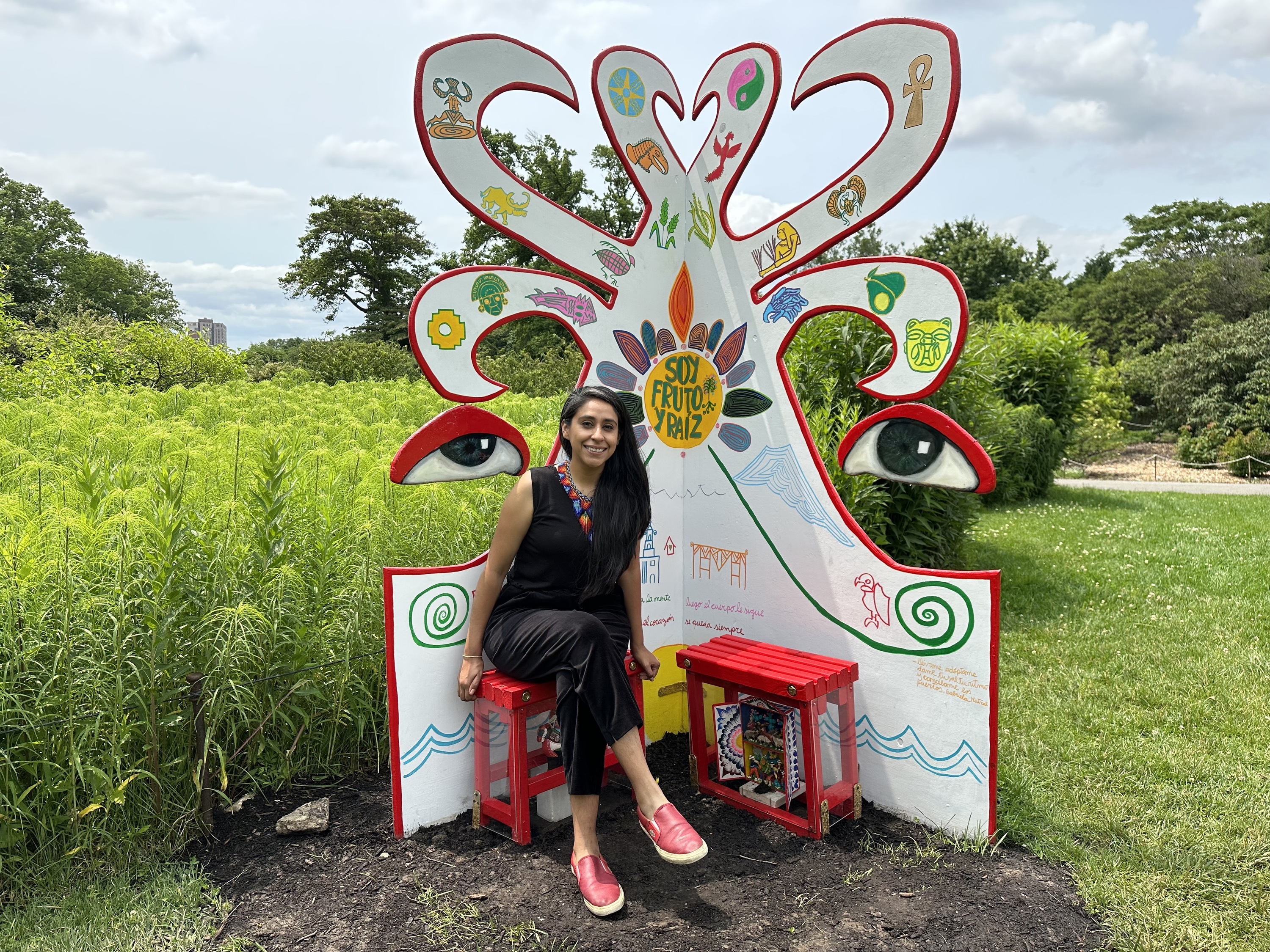 "Yunza: Growing Our Roots" by Niceli Portugal
In her homeland of Peru, there's a tradition called "yunza," Niceli Portugal explained. During the community celebration, locals transplant a tree in a main square, load it with gifts, then knock it down with an ax while people dance around. Like the sacrificed tree, she explained, immigrants see themselves as separated from their roots and loaded with presents.
For her piece, Portugal draw on this tradition and incorporated other symbols from the six pristine civilizations to create a powerful and interactive piece that encourages visitors to reflect on their own roots. A chalkboard on the back of the artwork encourages visitors to write about their roots and the traditions they carry.
Visitors are welcome to sit down on small red benches in front of the piece, which "creates an intimate space," Portugal says.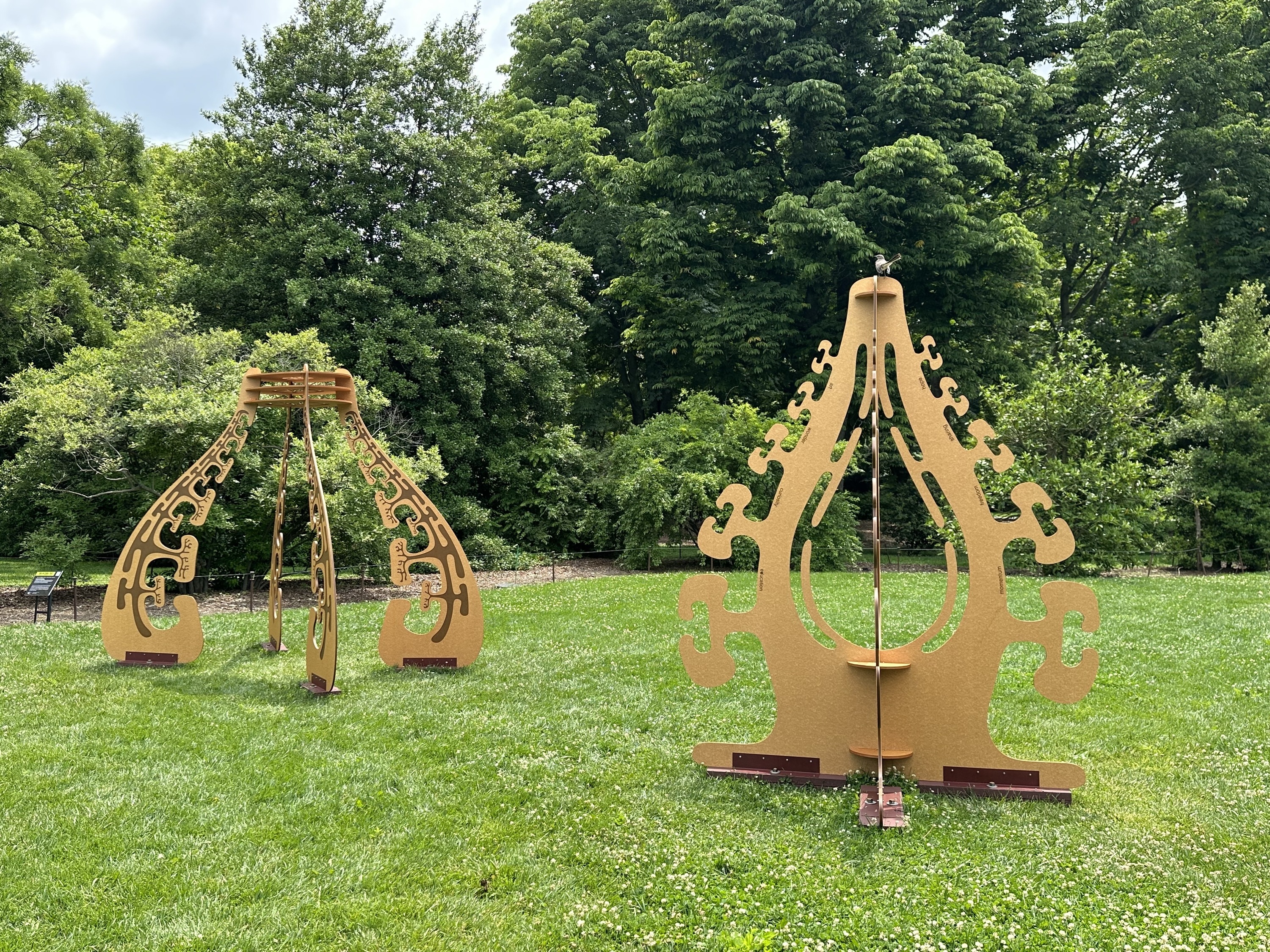 "Seed of Potential" by Seema Lisa Pandya
Seema Lisa Pandya started her work by asking visitors at Brooklyn Botanic Garden: "What ideas would you like to see for the future?" Visitors responded with words like education, curiosity, wonder, art, safety, music, balance and biophilia. She etched those responses onto two sculptures, one called "The Seed" and the other "The Emerging Seed."
"Ideas are like seeds that can grow," Pandya says. "The smallest seed could grow a gigantic tree."
The two sculptures fit together like puzzle pieces as a way to show their connection and as a way to reduce waste in the creation process. With a focus on sustainability, Pandya used a material called Richlite, a super-strong substance made of recycled paper.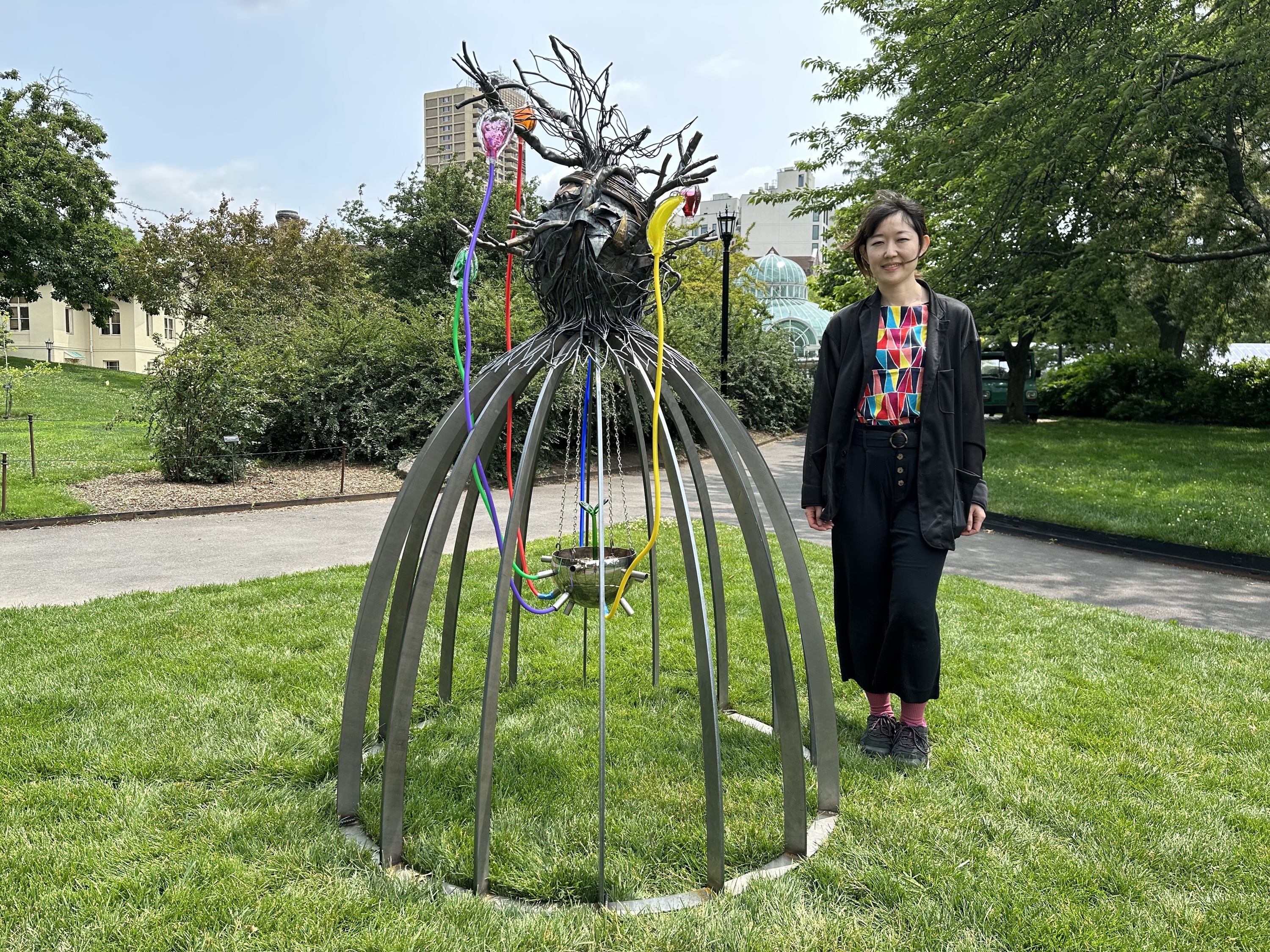 "The Heart of the Tree" by Natsuki Takauji
While Natsuki Takauji's sculpture reflects energy, it also shows damage. For example, the fruits of the tree also look like IV drips feeding itself.
"I wanted to make a sculpture that has multiple viewpoints," she says.
As a Japanese artist, trees are central to religion and are treated as a god or spirit. Trees, like humans, have similar systems of complex networks, she explained.
The piece explores the relationships between humans and nature in our personal experiences, ecological systems and environmental problems.
"We are connected," she says.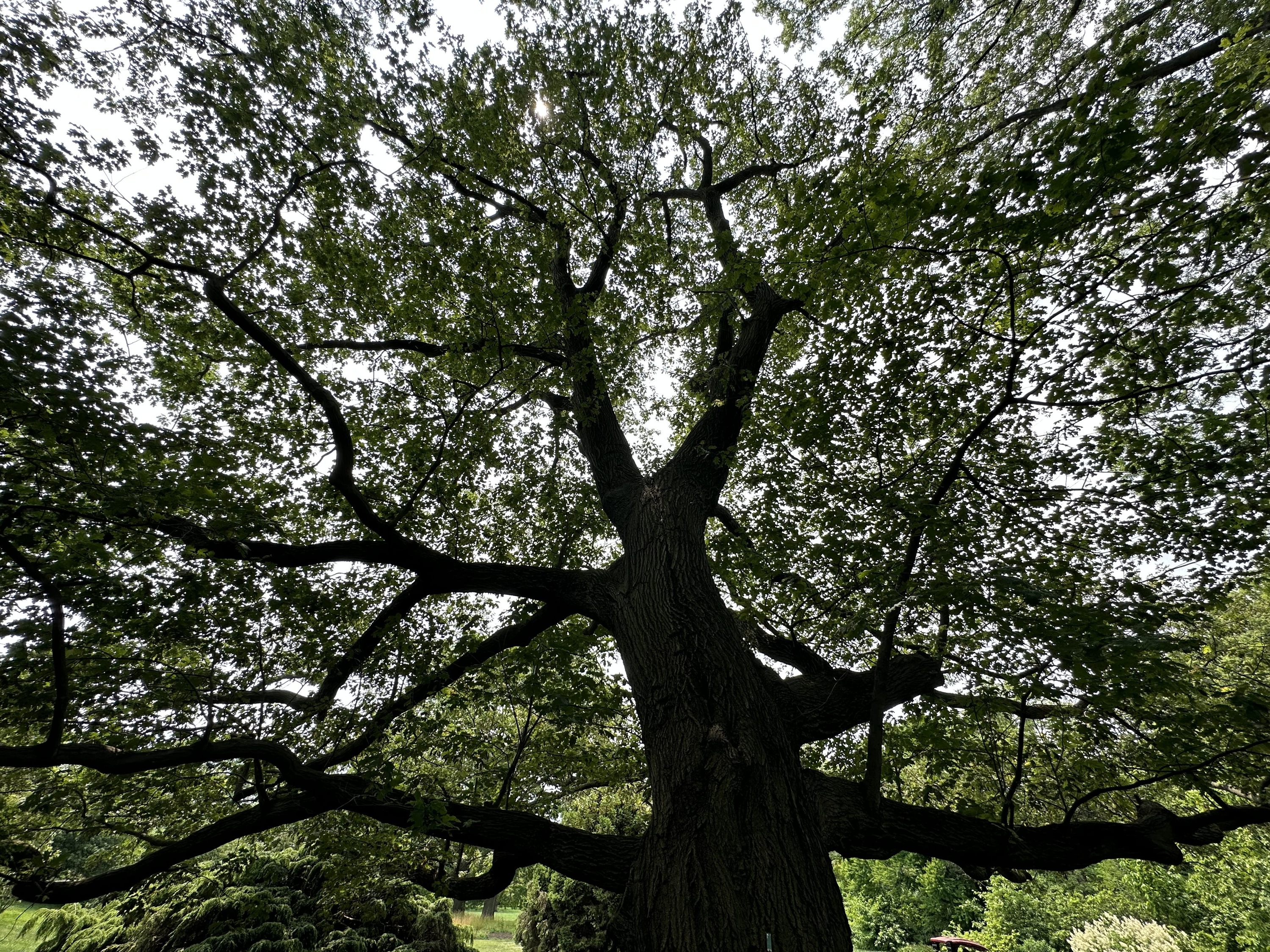 More about the project
The selected artists are fellows with AnkhLave Arts Alliance, a nonprofit for Black, Indigenous and People of Color (BIPOC) in contemporary art led by Dario Mohr. He sees the garden as an inclusive space for people to experience art.
"Overall, the community is all of us with our different backgrounds coming together and providing an opportunity for audiences to be able to engage with the work," Mohr says.
As visitors wind their way through the garden, they'll get to see each piece and interact with it.
"When visitors and viewers come here, they don't have to do a treasure hunt," André says. "They can see one from the other. They'll feel this kind of an embracing and a conversation."