Artist Lauren Halsey transformed images of lowriders, men in durags, DJs and spaceships into modern-day hieroglyphs to create a massive new rooftop installation at the Metropolitan Museum of Art. Drawing on inspiration from Egyptian architecture and her Los Angeles neighborhood, Halsey reimagined an ancient language with a fresh, 21st-century take.
Titled "the eastside of south central los angeles hieroglyph prototype architecture (I)," The Roof Garden Commission: Lauren Halsey is on view from April 18 through October 22 on The Met's rooftop. The Cantor Roof Garden Bar will open on May 18.
RECOMMENDED: 11 can't-miss art exhibits in NYC this spring
"This project by Lauren Halsey that appears like an Afrofuturist, ancient Egyptian funkified spaceship has just landed here on the rooftop of The Met," the museum's Abraham Thomas said during a press preview today. "Lauren is profoundly influenced by her community of South Central Los Angeles. She engages with critical issues around civic space, social activism, gentrification, to create this monument to her community and architectural container of community archives and histories."
As the museum's Daniel Brodsky Curator of Modern Architecture, Design, and Decorative Art, Thomas describes this work as the latest in a long line of revolutionary architectural designs at The Met.
The massive installation rises 22 feet high and is composed of more than 750 glass-fiber-reinforced concrete tiles. Four ornately designed columns surround a skylight-topped central cube that visitors can walk through. Four sphinxes inspired by Halsey's family and members of her community guard the space.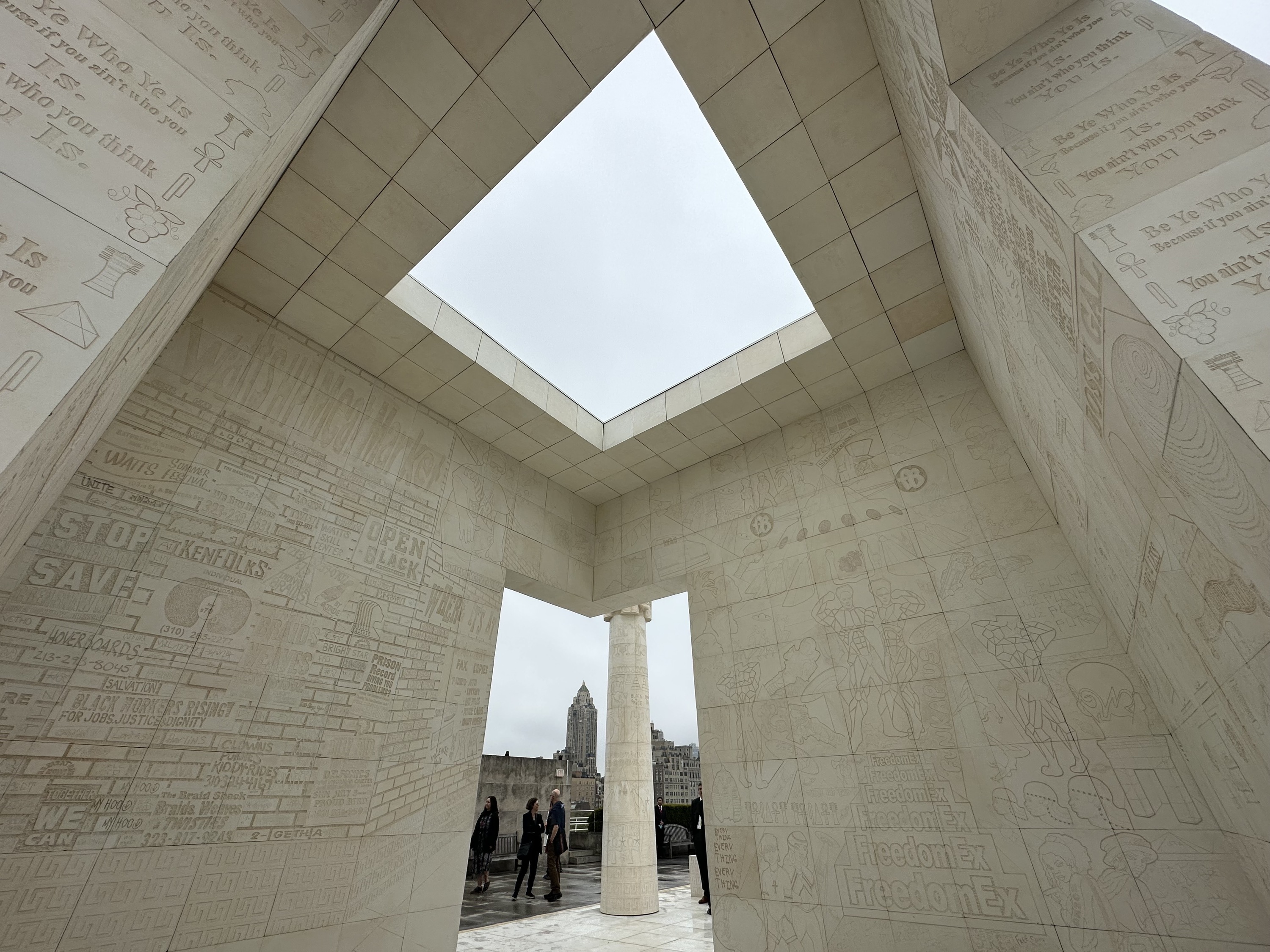 Phrases like "reparations now," "together we can" and "Black workers rising for jobs, justice & dignity" cover pieces of the installation. The phrases and accompanying images evoke graffiti art, street signs, protest posters and ancient carvings all at once. Halsey also drew inspiration from The Met's collection of Egyptian art and artifacts.
The work is so large, it's even visible from Central Park where Cleopatra's Needle, an Egyptian obelisk dating back to 1425 BCE, now stands just across from The Met.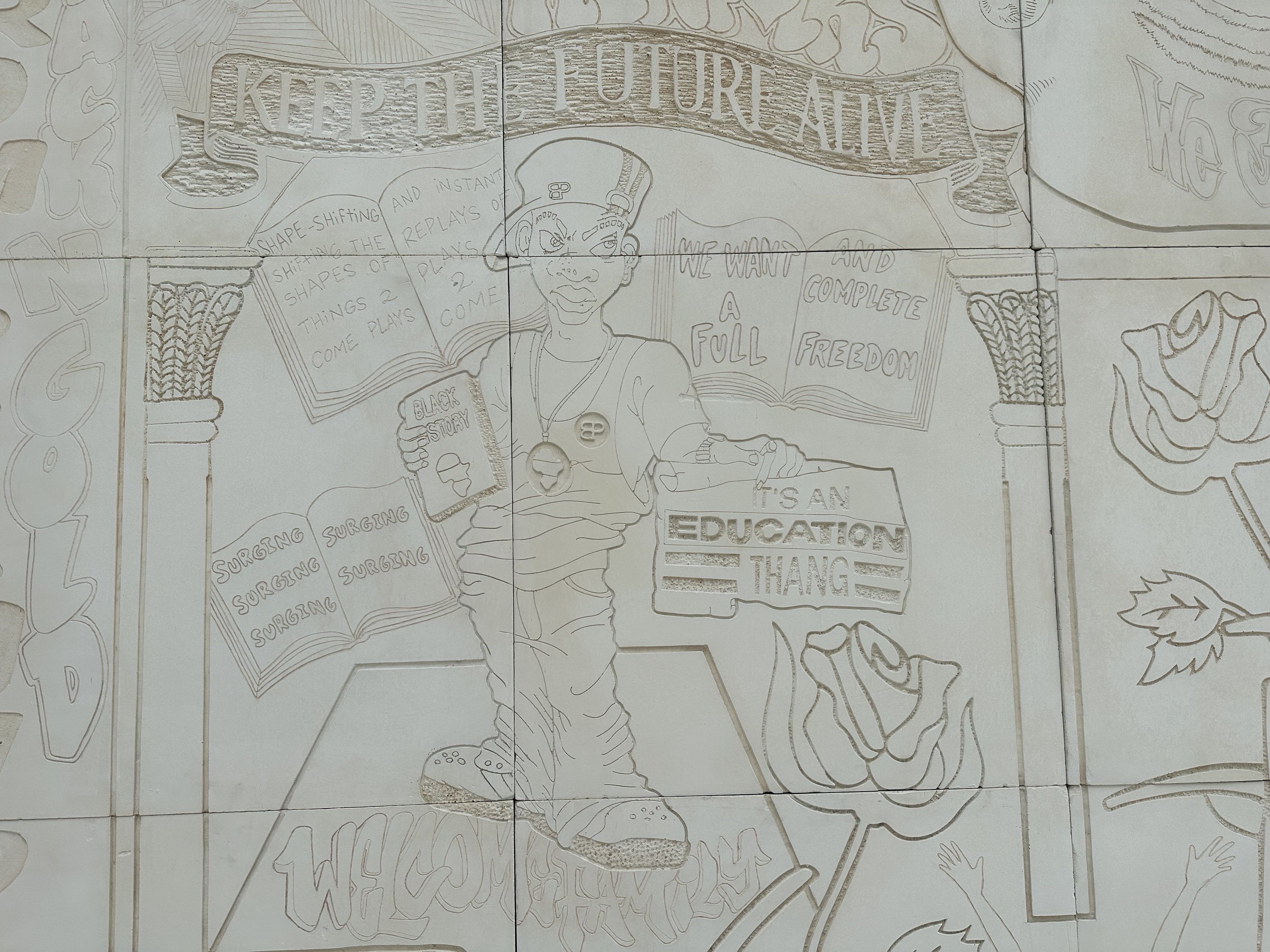 Over the months Halsey designed the project, it grew even more ambitious from the original design, The Met's Director Max Hollein said.
"It shows us the dedication of an artist to seize an opportunity. She worked with the Met and creating something so powerful," Hollein said.
After the installation ends its run at The Met on October 22, it will be transported to South Central Los Angeles to form part of a community art center.
"My installation for The Met's Roof Garden reflects my interest in conflating narratives from contemporary South Central Los Angeles with those evoked in ancient pharaonic architecture," Halsey said in a press release. "My hope is that viewers in New York feel the connections intuitively."
You can see the exhibition with museum admission. The Cantor Rooftop Garden is open Sunday–Tuesday and Thursday from 11am–4:15pm; on Fridays and Saturdays, it's open from 11am–8:15pm.
Time Out tip: We recommend visiting once the bar reopens on May 18 to enjoy snacks and cocktails while experiencing the art. The rooftop views are especially beautiful around sunset.