An institution housing a colossal blue whale, massive dinosaur skeletons and thousands of glittering gemstones couldn't display just any ordinary holiday decor, of course. Instead, the American Museum of Natural History proudly presents a spectacular origami holiday tree each year.
About 2,000 colorful origami animals decorate the 13-foot-tall tree, a tradition dating back more than 50 years. Volunteers from around the world carefully fold the intricate ornaments, focusing on a theme that relates to the museum. This year's theme, "Proboscideans on Parade," was inspired by the new exhibit "The Secret World of Elephants." The artists behind the dazzling display gave us a behind-the-scenes peek at this year's tree before it opens on November 20.
RECOMMENDED: Here's the full list of NYC Christmas light switch-on dates for 2023's holiday season
Local origami experts Rosalind Joyce and Talo Kawasaki work together as co-designers to plan the aesthetic for each year's tree. They start long before the holidays, scouring the museum's galleries for inspiration and drafting lists of animals to create.
Then, they call in reinforcements—fellow origami fans from across the globe, from professional artists to kids—to fold intricately complex creatures. This year, origamists created a wide variety of elephants in all shapes, sizes, colors and textures. They even created a garland of 400 elephants that wraps around the tree, trunk-to-tail, trunk-to-tail, from the bottom to the top. Speaking of the top, a realistic gray elephant perches atop the tree.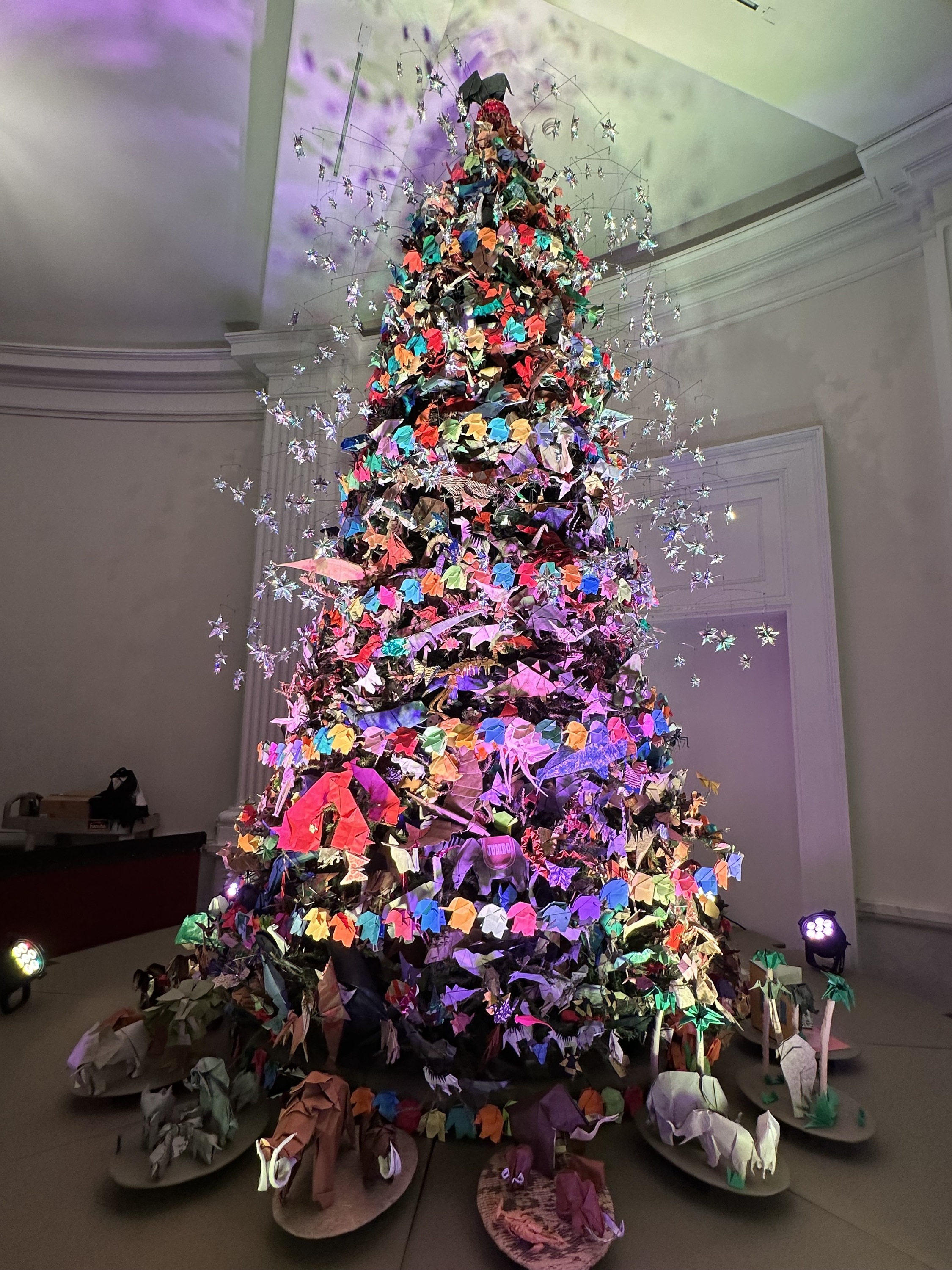 A cast of characters joins the elephants, including woolly mammoths, dinosaurs, blue whales, butterflies, zebras, birds and many others representing iconic museum exhibits. While each year's tree gets a new twist, many of the special ornaments reappear year after year. Some even date back to the 1970s when the tree first began.
The roots of the tree technically date back even further than that. Back in the 1960s, a staff member in the museum's entomology department named Alice Gray became interested in origami as a way to expand her collection of toy insects. In her department's office, she adorned a three-foot-tall tree with origami insects. When a museum trustee got word of it, her tree became the inspiration for the first official AMNH Origami Holiday Tree in 1972.
Gray eventually became an internationally recognized expert in the art of paper folding, co-authoring two books on the subject and inventing over 20 folded objects, per the museum. Joyce worked closely with Gray in the 1970s and carries on her legacy to this day.
"So many of these models have stories to go with them," Joyce says.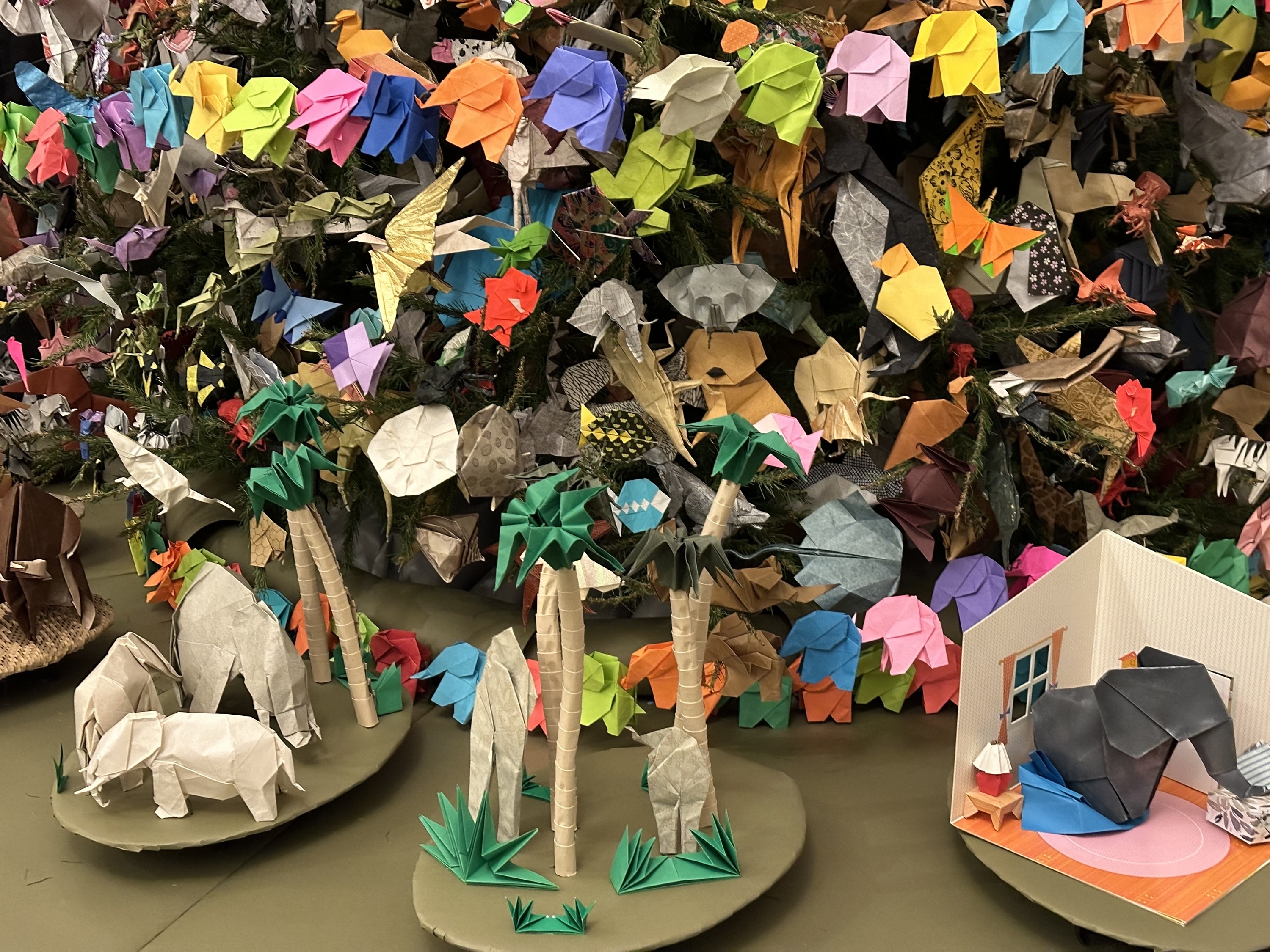 Some of the origami ornaments are folded dry; others undergo a wet-folding process. Some capture attention with textured paper, while others perch in the background as if surveying the scene. A giant mobile featuring 30 silver origami stars decorates the top of the tree.
Both Joyce and Kawasaki volunteer with OrigamiUSA, a nonprofit that has offices at the museum. They both began folding origami as children, and today they can easily fold detailed pieces from memory while carrying on a conversation with full eye contact.
That's not an easy feat, as I can attest after Kawasaki gave me a beginner's lesson. Folding origami (at least for a newbie like me) requires close attention, deep focus and precision—but it's 100 percent worth the time and care. Transforming a square sheet of paper into a three-dimensional elephant that can lift its tiny head feels like magic.
That means the tree feels like magic times 2,000, as trumpeting elephants, spouting whales, soaring cranes, flittering butterflies and hundreds of other creatures perch on the branches ready to bring holiday joy to all who visit this winter.
See the Origami Holiday Tree at the American Museum of Natural History on the Upper West Side throughout the holiday season starting on Monday, November 20. Find it in the Ellen V. Futter Gallery on the first floor. Visiting the tree is included with museum admission.