On November 15, 2017, at the auction house Christie's, the hammer came down on the new record holder for the most expensive painting of all time. The work was Leonardo da Vinci's Salvator Mundi, and though many experts questioned whether it was a real Da Vinci, it fetched a whopping $450 million from a bidder reportedly working for Saudi Crown Prince Mohammad bin Salman. Was it worth it? "The more accurate way to answer that question is to look at it through the context of how it was bought," says Nate Freeman, a senior reporter for Artsy. "A guy like the Saudi crown prince is worth an infinite amount of money, so he can spend $500 million on a yacht, say. So, $450 million for a painting isn't that much money for him."
Photograph: PA Images/Alamy Stock Photo
Leonardo da Vinci's Salvator Mundi on sale at Christie's
Welcome to today's art world. The good news? There's more money than ever fueling the market. The bad news? There's more money than ever fueling the market.
This abundance of cash, and its global reach, indicates a transformation that was unimaginable 30 or 40 years ago. "Back then, the art world was small, underground, under the radar," says Lisa Phillips, the director of the New Museum. "Now it's grown into a massive industry"—one that, Freeman estimates, generates about $65 billion a year. "As global wealth is being consolidated, yeah, you have more people with unheard-of sums of money buying art," he says. "Saudi princes, Russian oligarchs—there are more billionaires in China than there are in the United States. That's why you now have European and American art dealers setting up galleries in Hong Kong or taking out booths at fairs like [Art] Basel Hong Kong. It's where the money is."
Following the money is nothing new for dealers. What's different is the distorting effect the global economy is having on the art world. For New York artists in particular, the fallout takes a familiar form: rising rents. "The primary issue in this city is the cost of functioning as an artist," says Matthew Higgs, director of White Columns, NYC's oldest alternative, non-profit gallery. "Every year, when I do studio visits, I go one or two stops farther out on whatever subway line I'm on, and the spaces people are working in get progressively smaller." For more and more artists, studio space in New York has become an unaffordable luxury. Phillips from the New Museum concurs, saying, "I worry that New York is so expensive that it will deter future generations of artists."
Rent isn't the only challenge artists face as the cost of doing business. Debt is, too. At the 2017 Whitney Biennial, the group Occupy Museums, a collective that exposes how global capitalism co-opts culture for its own commercial ends, mounted an installation that examines the debts accrued by artists in the pursuit of their work. "We ended up having more than 500 respondents," says artist Kenneth Pietrobono, "and their collective debt ended up being over $50 million." If you extrapolated that data to the total population of artists, the debt would undoubtedly run into the billions. Pietrobono and fellow Occupy member Noah Fischer contend that art has been completely taken over by monetary interests: corporations that engage in "brandwashing" (supporting the arts as a PR play), controversial figures like David Koch using art philanthropy as a way of deflecting from his politics, and unsavory practices such as free ports (storage areas outside national jurisdictions that make it possible to buy and sell art without being taxed).
Before delving deeper into the money, let's break down how the market functions. Basically, the art world comprises a primary market, for new works coming directly from artists' studios, and a secondary market, for previously owned works. The latter is dominated by auction houses, and the number of people purchasing art in either is infinitesimally small; Freeman puts the number of influential A-list collectors at a mere 150 worldwide. "If I hear that some collector at the top level is buying up the work of a young artist," says Artsy's Freeman, "I start to reevaluate that artist." Big collectors also sit on museum boards, which means that the artists whose work they own have a better shot at institutional exposure.
Whether that represents a conflict of interest is a matter of debate; Fischer and Pietrobono think so, though Freeman does not. "It's really an indicator of critical mass—a sign to a curator that an artist is due for institutional exposure, if a lot of their board is collecting them," he says. "There isn't necessarily a direct correlation or some sort of pay-for-play." Glenn Fuhrman, a collector and founder of the FLAG Art Foundation, says that, in fact, influence flows in the opposite direction, from the curators to the collectors. "In general, many board members enjoy spending time with curators, going to galleries and studios in an effort to learn about, and see the work of, artists they may not be as familiar with."
Still, the process has to begin somewhere, and increasingly that somewhere is the international art fairs that have proliferated over the past 20 years. This has put many dealers in a bind, since they not only shoulder rents for their galleries, but also fund the ever-increasing number of booths at these fairs, where most deals get sealed. "The cost of running a gallery and doing these art fairs is astronomical," says Renee Riccardo, an independent dealer and curator. "Just the three Basel art fairs each year can cost a gallery more than its annual rent." Fairs can also diminish the experience of actually taking in art. "I think they make the spectacle of the art market more pronounced," says Freeman. "You have this echo chamber of more people going to fairs, announcing that they're there on Instagram and Facebook."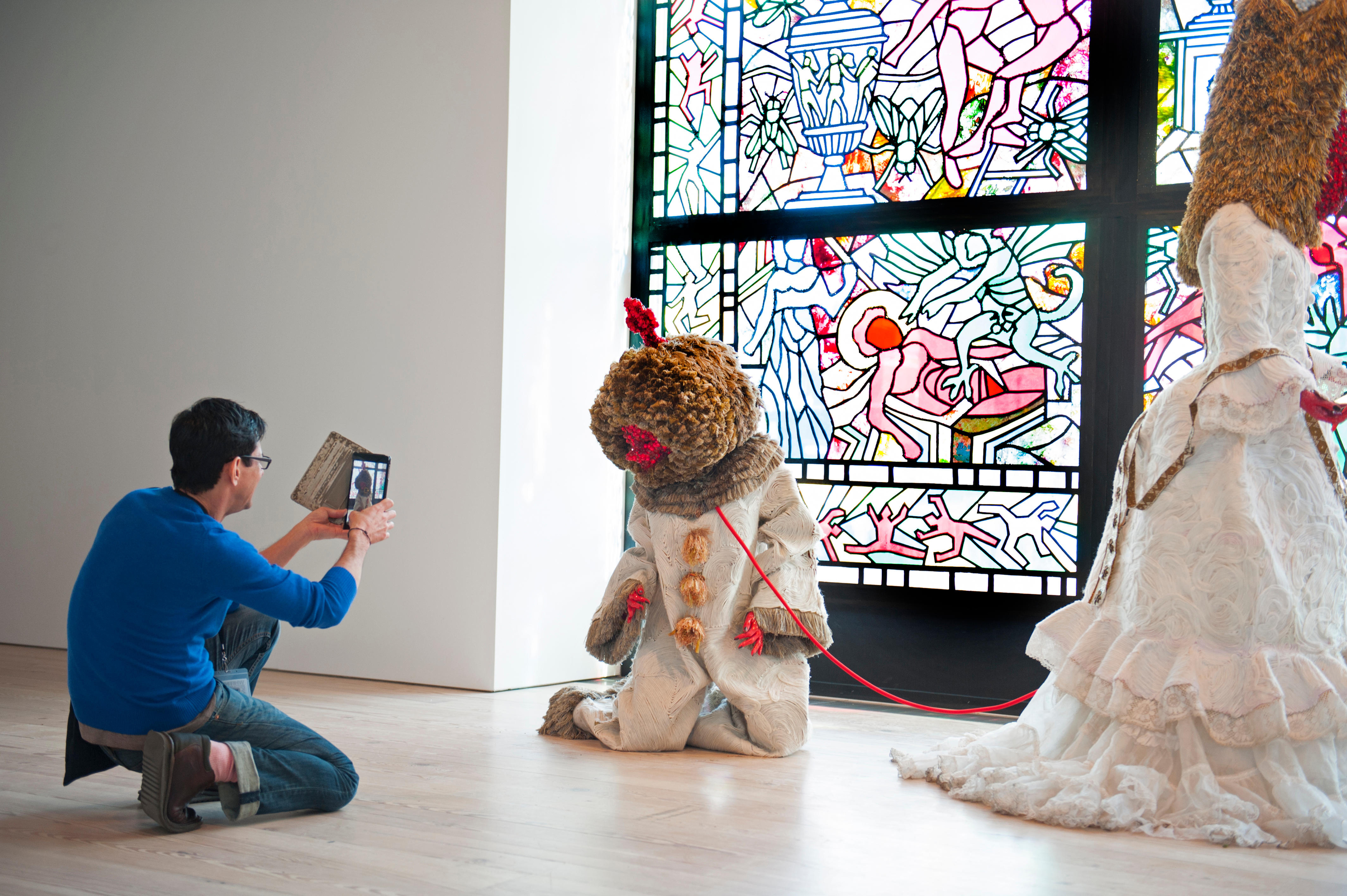 But it's not just at fairs where this change in the way people engage with art has become an issue. It's happening at museums, too. "Museum-going has become more social, more dynamic," say the New Museum's Phillips. "People aren't going so much for meditative experiences." One reason has been the rapid expansion of audiences. Indeed, there has been an almost symbiotic relationship between the growth of museum audiences and that of institutions' spaces to accommodate them. According to Phillips, the New Museum has experienced a one-hundred-fold increase in attendance thanks to moving into larger quarters on the Bowery in 2007. The other reason that museum-going has become less "meditative" is, once again, social media. "This is a generation of internet and digital natives," Phillips says. Echoing Freeman's point about selfies at fairs, she adds: "How they communicate is completely different than before."
Kristen Schiele, a Greenpoint artist Riccardo shows, says that her Instagram is invaluable for displaying work and securing commissions for projects, like her current one at Memorial Sloan Kettering Cancer Center. She also sells prints via Instagram and says that collectors buy major works over the social-media platform. Riccardo agrees on the platform's usefulness; she no longer runs conventional galleries, relying instead on unorthodox or pop-up spaces, regularly mounting shows at her therapist's office on Fifth Avenue and at a dermatology clinic on Atlantic Avenue. "I'll go to a party or press event and meet someone and, instead of giving each other our cards, we share Instagram accounts," Riccardo says. Phillips, meanwhile, maintains that her curators use Instagram to familiarize themselves with new artists but not, she adds, to organize actual exhibits.
So, will social media replace galleries? "I think they're still going strong," says Riccardo of brick-and-mortar spaces. Also going strong are places like the aforementioned White Columns, the Kitchen, Artists Space and other nonprofit, non-commercial art venues. "It's possible to argue that their value is greater now than when they started in the '70s and '80s," says White Columns honcho Higgs, who mentions that such organizations have shifted their mission to the rediscovery of overlooked artists. Works by such talent have even wound up at the Venice Biennale, thanks to White Columns. Unsurprisingly, the big galleries have noticed—and have started to represent the estates of forgotten figures, a trend that Higgs says was unthinkable 20 years ago.
If a Saudi prince throwing billions at a painting that may not even be genuine makes it sound like the art world is awash in stupid money, well, maybe it is. Once upon a time, it ran on a "coherent, linear progression," as Higgs puts it. But those days are long gone, which is why episodes like the Da Vinci sale have come to dominate the narrative. Lost in all the monetary mishegas is the question of what art today actually means and who is making it. There are still artists in deep Brooklyn and Queens who are tackling the issue and pursuing their work despite the odds. They make the whole thing tick, because without them, dealers, collectors and curators would be out of a job. And while the temptation to decamp to Los Angeles and Detroit is strong for many creators, so is the allure of being in New York. "It's engaging and exciting," Schiele says of working here. "But I also always ask myself each year, What would you do if you could do anything? And if the answer is still making art, I keep doing it."
Sign up to receive great Time Out deals in your inbox each day.​