"Let Me Tell You" is a series of columns from our expert editors about NYC living, including the best things to do, where to eat and drink, and what to see at the theater. They publish each Wednesday so you're hearing from us each week.
A "quick dinner" has been redefined for me—my dinner on Thursday night was served at 100 mph.
I was aboard Amtrak's Silver Star, a long-distance train that I boarded in New York City and took 22 hours to Orlando, Florida. It was the longest I had ever continuously traveled: 1,000 miles. 22 hours. Two meals. And one very broken sleep.
RECOMMENDED: I took the new, 8-hour Amtrak train to Burlington, Vermont. Here's why it was worth it.
You're probably thinking I'm crazy. I might be, but someone has to try these things out! And as someone who revels in the chance to try new things and see new places, this was an immediate "yes."
To try it out, Amtrak offered me a ticket and roomette, which included complimentary meals. I didn't have to drive, worry about what to eat or find lodging on the way down because Amtrak takes care of all of that on its long-distance routes.
Let's get the cons out of the way: It's obviously a much longer journey and it's on the pricier side comparatively to a flight right now—you can find one-way plane tickets right now for $100 or less but a roomette can cost a few hundred dollars or more.
But it turns out, you can take an Amtrak train from New York to Florida if you want to—and it's not so bad! In fact, it is unforgettable. Here's why.
It was a totally novel experience
My roomette, which was less than 4 feet wide, had a sliding door for privacy, a fold-out table, storage, its own fold-out sink (some older room models even have a toilet), as well as two comfy seats that converted into a single bed. Another bed pulled down from above to form an upper bunk, which is where I ended up sleeping. The roomette for one is comfortable and luxurious even. For two, it begins to get cramped, especially when it's bedtime and your stuff is everywhere.
That being said, seeing how Amtrak has crammed all the necessities into one roomette was entertaining and impressive.
View this post on Instagram
On my trip south, I worked all day (with somewhat spotty WiFi) in my private cubicle-bedroom-bathroom, taking lunch and dinner (a decent Monte Cristo Grilled Sandwich and a tasty Pan Roasted Chicken Breast, respectively) in the dining car and making a Tiktok in the top bunk before hitting the hay (and not getting much sleep thanks to the bouncing). I refused to use the in-room toilet because ick, but I did end up taking a shower in the shower room next to the public bathroom. Yes, I got naked on an Amtrak train and took a shower going 100-plus mph. It wasn't warm and it wasn't relaxing. In fact, I continuously needed to brace myself in my flip-flops as the train moved and grooved over the tracks. But it was there for me and stocked with clean Amtrak towels and soap.
The train's dining car is actually lovely. With large windows, white tablecloths, flowers on the tables and all the condiments you'd ever need, it was the highlight of the trip. This dining service wasn't available previously—it's part of a new relaunch of traditional dining for Amtrak's First Class private room customers aboard the Silver Meteor and Silver Star. Earlier this summer, the new, premium menu debuted in Amtrak's Acela First Class by award-winning restaurateur Stephen Starr. Already, the company's Auto Train, California Zephyr, Coast Starlight, Empire Builder, Southwest Chief and Texas Eagle had been serving food, including vegan items!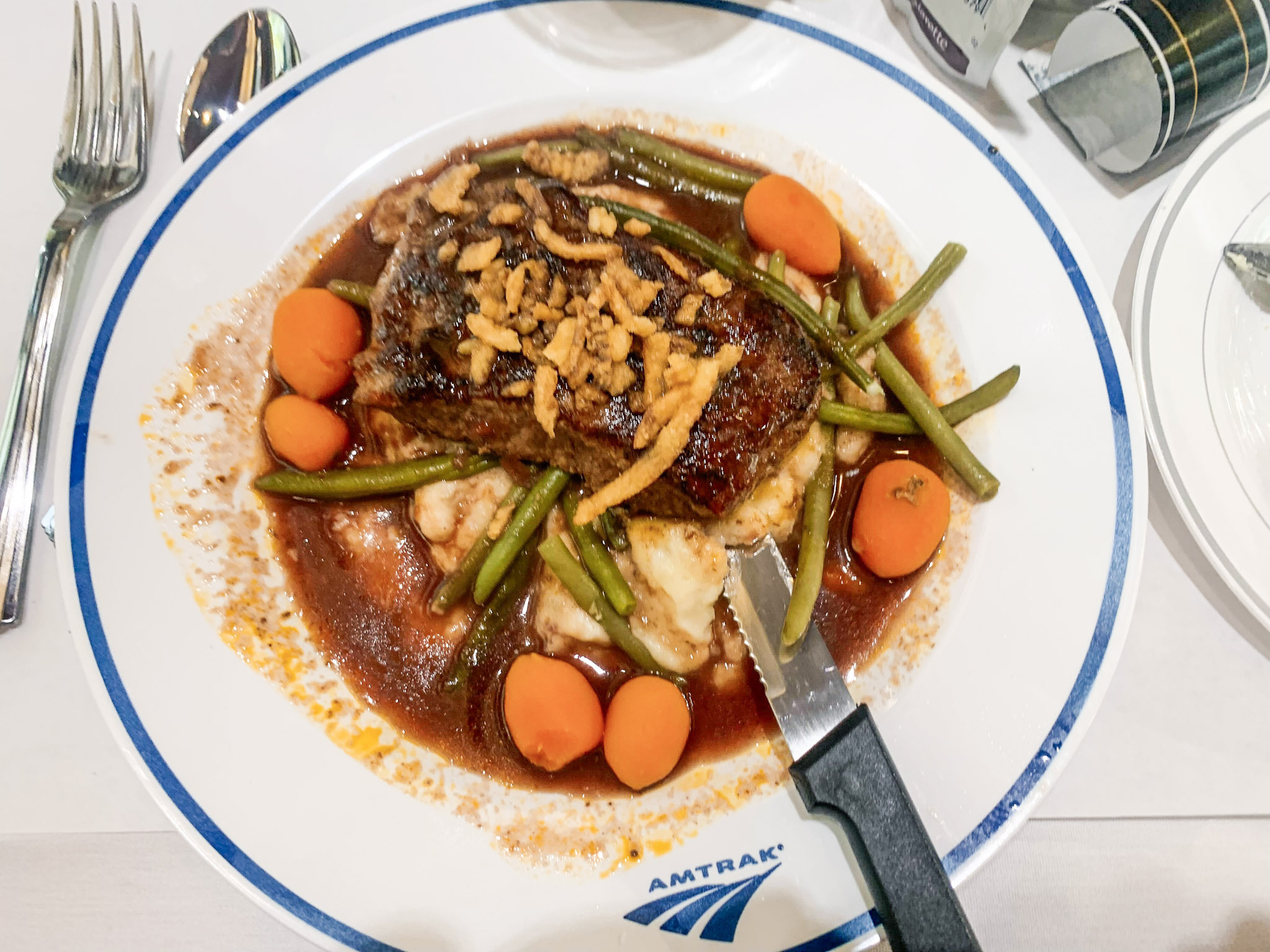 "We are making significant improvements throughout our network to create a modern and dynamic travel experience," Fred Gazzolo, Amtrak Vice President of Product Development, said in a statement a couple of months ago. "Traveling by train offers a one-of-a-kind journey and the addition of this new service on two legacy routes is something we think our First Class customers will enjoy."
Fred is right. The journey was a unique experience. I don't know anyone else who has taken the train to Florida.
But it was also nostalgic
When traveling by train in America was a regular thing (before commercial flights really entered the scene), these sleeper cars were a luxurious way to travel and taking in the passing scenery as you dined was just part of the experience. By the 1920s and through the 1940s, for example, the Pullman Sleeping Car became the pinnacle of intercontinental train travel and allowed passengers to take their tea and dinner en route. Even back then, the sleeping spaces were compact but having someone else transport you in comfort was a luxury.
But once commercial flights became more accessible in the 1960s and road trips via car were more ubiquitous, these sleeper cars fell out of necessity. Now, we look at them like they're a relic of the past—something no longer relevant, inconvenient even, but nostalgic.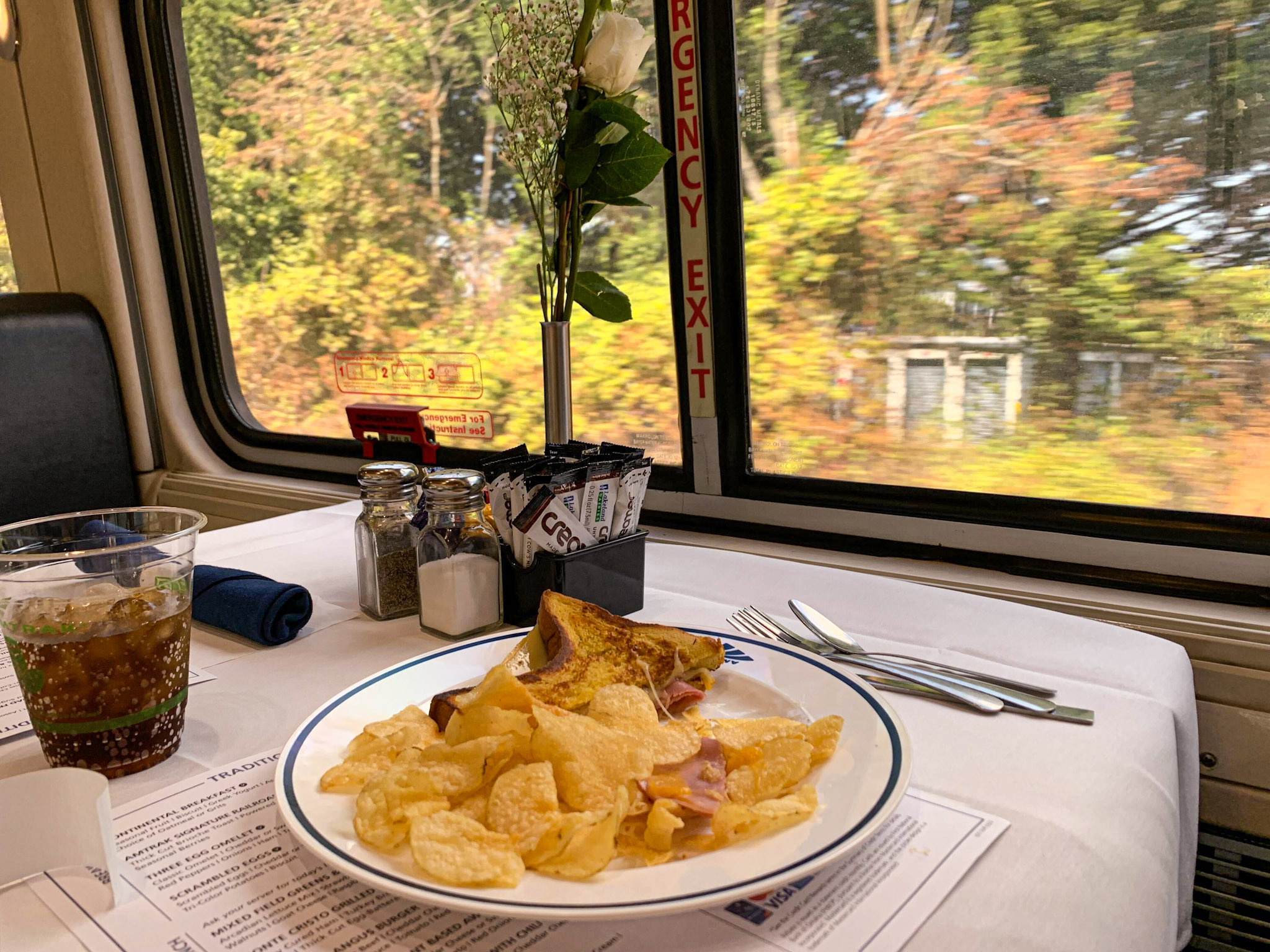 Despite there being a more affordable and quicker way to get to Florida, taking a slower, more scenic route is an attractive option for those wanting to make a memory of the journey. If train travel is something you enjoy and you can allow for more travel time, a long-distance train is a cool experience that can connect you to our transit past.
I made new friends!
The best part of it was feeling like I wasn't alone. Every sleeper car has an attendant who helps with anything you may need. Rodney was incredibly accommodating and hospitable, waking me in the morning before breakfast service ended and bringing French Toast to my roomette when a call stopped me from going to the dining car. All the staff aboard my train were kind, too, making for a pleasant trip.
But I thought there was no way I'd actually make new friends. That's the kind of thing that happens in movies, right? But for dinner on the way back to NYC, the host seated my partner and me with another couple. At first, I was stressed about having to make small talk with strangers, but the four of us hit it off. We compared our experiences aboard the northbound Silver Meteor train and then branched off into our life stories, introducing our respective pets and more. We enjoyed dining together so much that we decided to meet in the dining car for breakfast the next day at 8am. Suddenly, we weren't traveling alone anymore, and our long journey was transformed into an activity we were experiencing together.
Train travel in the U.S. could see a renaissance
In the U.S., highways and airways have taken precedence, leaving the country's rail system in the dust both literally and figuratively.
But I'm not so convinced that train travel is a thing of the past. Elsewhere in the world—Europe and Japan, for example—taking a cross-country train is pretty simple. Their respective rail systems are intricate and link nearly every major city, making it easy and relatively inexpensive to travel. And this is not even touching on high-speed trains that cut travel time way down. These countries still see train travel as a convenient and necessary mode of transportation, and even a luxurious one with gorgeous views!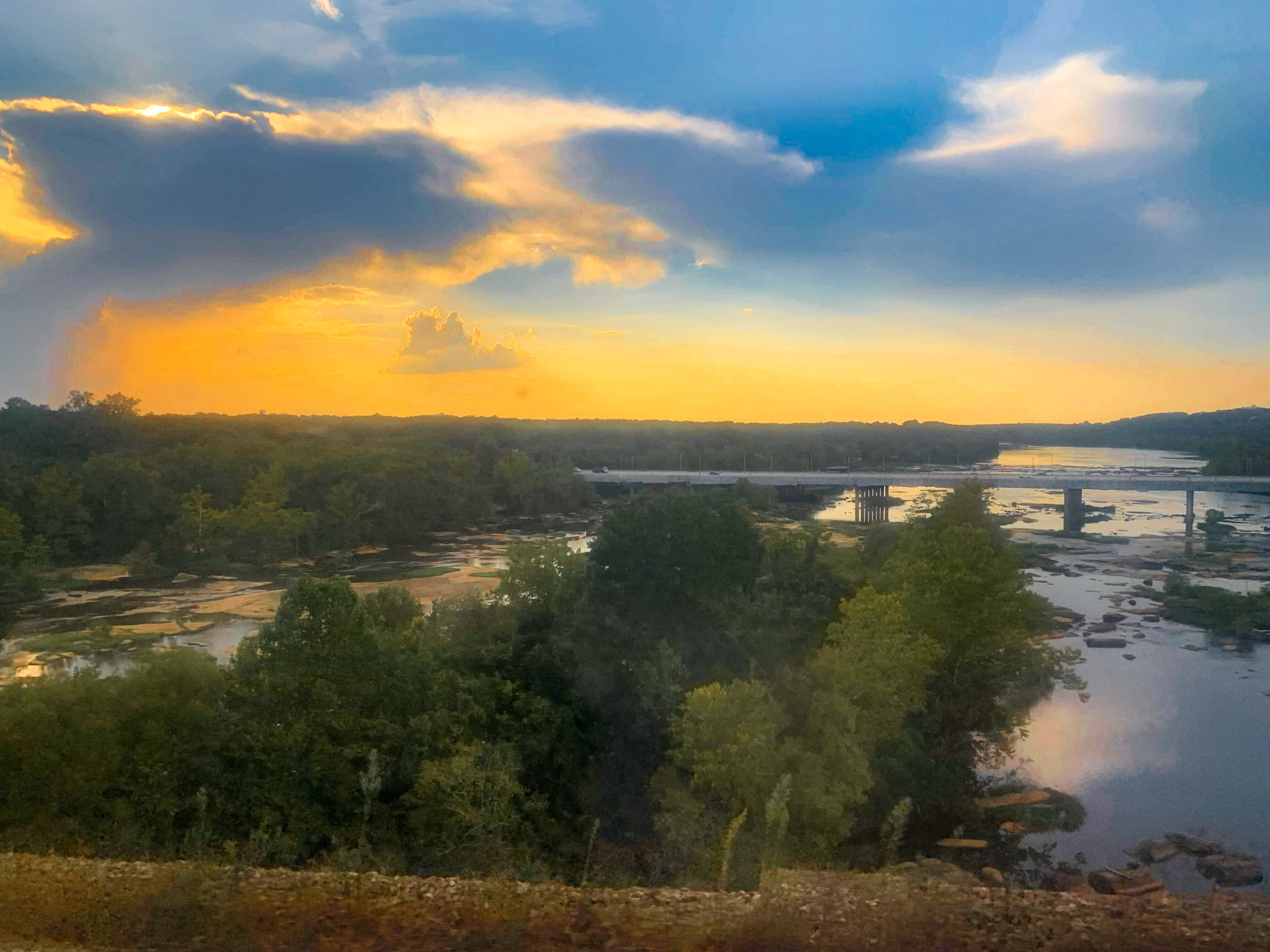 Americans seem to be more interested in train travel these days, as well. Pinterest data in 2022 showed that train travel may make a "huge comeback" this year because it can be more aesthetic, comfortable and environmentally friendly, according to Insider.
The outlet said that 74% of travel company Virtuoso's customers are willing to spend more money to travel sustainably, and 70% think traveling sustainably gives them a better experience.
According to the U.S. Department of Energy, Amtrak is 46% more energy efficient than traveling by car and 34% more energy efficient than domestic air travel. Over in the UK, trains are responsible for only 1% of all carbon dioxide emissions. More and more train lines are going electric, too. (Sidenote: My Silver Meteor switched to electricity when it stopped in D.C.). In a time when climate change is becoming more tangible, taking transit with a smaller carbon footprint is going to be more necessary.
Just last year, Amtrak unveiled its high-speed Acela trains, which gave a glimpse into what train travel could become if supported by local and federal government.
"Between the sleek design of their interiors, state-of-the-art technology, and sustainable amenities, and innovative safety features, our new Acela trains will help revolutionize American train travel," Amtrak President & CEO Stephen Gardner said. "Thanks to Senator [Chuck] Schumer's strong leadership and commitment to improving high-speed rail and Amtrak service in New York and throughout the nation … travelers will experience improved, modern, and smoother service on the Northeast Corridor and provide this country with the type of modern train travel we deserve when these trains are ready for service next year."
Brightline, which has been running a high-speed route between Miami and West Palm Beach, is also pitching one from LA to Las Vegas and another is coming to the East Coast between Raleigh, North Carolina and Richmond, Virginia.
With higher-speed trains that are outfitted for modern customers, a need for eco-friendly travel options, and increased interest in regional, aesthetic and luxury travel over the past few years, this may be the start of a train travel renaissance—and should be!