"Let Me Tell You" is a series of columns from our expert editors about NYC living, including the best things to do, where to eat and drink, and what to see at the theater. They publish each Wednesday so you're hearing from us each week. Last month, Food & Drink Editor and Critic Amber Sutherland-Namako argued that your regular spot is sometimes better than dining at the 'best restaurant'.
Sometime soon, 131 Rivington Street will turn into a Shake Shack. The cinematic corner space on the Lower East Side has been empty since Schiller's closed in 2017 after 14 years in the neighborhood. Like a lot of people, those coordinates are permanently embossed in my cerebral address book—a Keith McNally Liquor Bar that my friend Mark Byrne canilly called "McNally land for the everyman" in his own of more than a few eulogies the spring of its demise.
Farther west in the left village, a new operation by Uchū Hospitality (Sushi on Jones, Don Wagyu) will also occupy the legendary Cornelia Street Cafe's number 29 this coming summer. In public documents, it's pitched as izakaya-style with Japanese American fusion menus in an intimate setting. Cornelia, or, "cafe!," as we used to answer the phone, ran from 1977-2019.
"We," obviously includes a little bit of me. A very little bit, considering that I only worked there for a blip around 2008, and the venue famously hosted luminaries like Suzanne Vega and Jeff Buckley on its basement stage, plus innumerable aspirants, musical and otherwise, on its front-of-house floor (though, for the record, probably not Lady Gaga) in its four-plus decades on the block.
Cornelia's appeal to me is likely apparent. My attachment to a special place might make me just slightly special, too. I'm a fraction of a chip from the ever-melting iceberg of NYC's august recent restaurant history. I might have spent some of my tip money on at least one fun thing outside of necessities, and the experience gave me hundreds of words of copy more than the number of hours I hustled or dwindled on shifts, depending on the weather.
Schiller's is more personal. Mark and I, and then my boyfriend-turned-fiancée-turned husband Tom and I, and occasionally us three, or other configurations of too many friends to list here but still a tight few, gathered there for the majority of its years in existence. We were so regular that the artist and then-Schiller's bartender Todd Wright eventually officiated my wedding to Tom.
Cornelia and Schiller's are just a couple of darts on my own biographical map, and they happen to pierce countless other people's, too. Yours might be different and span disparate stages of life—looking back from retirement or glancing at 22 from 25 (never let anybody tell you that isn't long enough to catch nostalgia or that it matters less). But the reasons we wish to romanticize those things past are largely the same.
Back then, everything was great. Back then, I was younger. Healthier. Back then, I was more embarrassed but less humiliated. Back then, I knew fewer awful people. Back then, there were better songs on the radio. Back then, there was always later.
The reasons we wish to romanticize those things past are largely the same. Back then, everything was great.
I never cared much about Forlini's until it was staged to shutter. The Italian restaurant down by the Manhattan courts opened in the '50s. I had a few fun and goofy times closer to the end of its tenure, some before It was the seemingly highly unlikely choice for Vogue's pre-Met gala party in 2018 and the inevitable overdressed poseurs that followed, but it was never one of mine.
When an actually iconic restaurant or bar closes in New York City, the conventionally expected reaction is gnashing moans. Here, we believe that good things are real and real things are old and old things are better than new ones. Superior. Forlini's 2022 closing was met with almost all the obits and used-to-be-isms worthy of its ilk, with even more speculation about who would take it over, how, and why. There was, in ye olde internet-speak, a little snark.
"First I was shocked and then I was confused," Alex Watanabe says.
I first met Watanabe and Marcelo C. Baez at their new Latin American restaurant and bar, La Diáspora, this March. It used to be Forlini's. The kind and thoughtful new stewards of 91 Baxter Street, neither of whom had ever dined at the prior longtime tenant, had reopened the somewhat made-over space about a month earlier, after warm communications with its most recent eponymous owners and a cooler online reception.
"We were not aware that people were expecting something from this place, like the media was talking about," DJ and restaurateur Watanabe, who has previous ties to Her Name Was Carmen and Felix, says. "We didn't have a plan, like, oh, we're going to look for an iconic place and then try to form it into something."
In real life, neighboring businesses were more welcoming. Most wouldn't have wanted a dark and vacant storefront for too long, and La Diáspora would bring light and, hopefully, people to the storied site without an extended absence like other vacated spaces. Some passersby were still skeptical until the respectful refresh was unleashed.
Baez, also a DJ, with links to Papatzul and Fontana, says that throughout the buzz (buzz that, to be fair, PR money can only try to buy) they were mostly focused on operations and fielding questions from pre-revenue pop-ins.
"I don't know if people thought we were going to make it super-modern," Baez says. And they didn't.
"We restored or brought back a lot of details."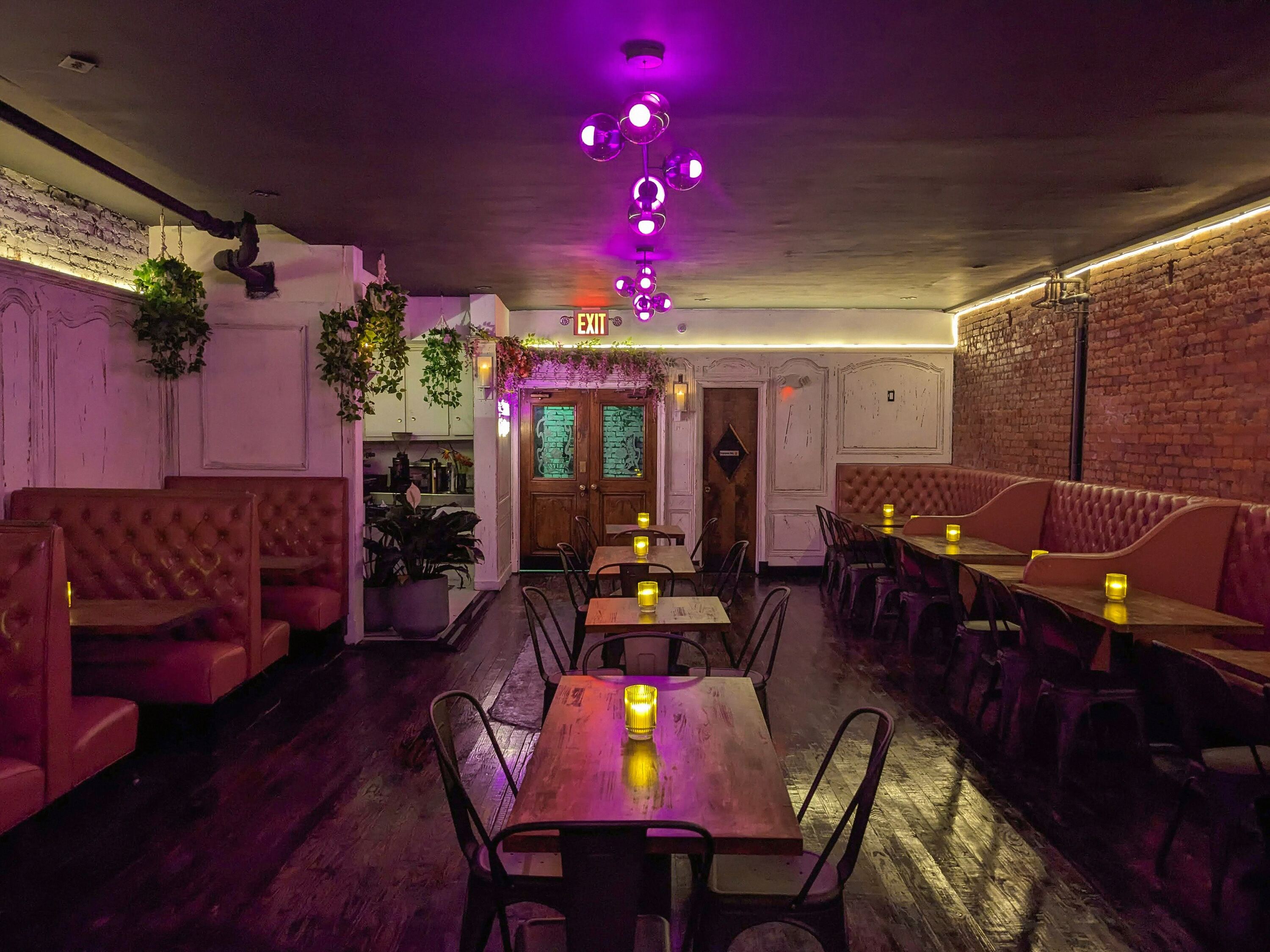 "The first thing that people asked us was 'What are you gonna do with the booths?'" Baez said. They kept those tufted, roomy mauve beauties in the dining room, along with the cherry wood panels, at Joe Forlini's suggestion, though it did not require much persuasion.
Watanabe and Baez further exposed a brick wall, pulled up a very lived-in carpet to reveal the original hardwood floors in half-good condition (the other half they matched with southern yellow pine) and opened up the adjacent bar side to the right by removing some of its needlessly clunky HVAC system and jutting bar railing to make a wider walkway than previous visitors will remember.
Watanabe and Baez's La Diáspora also has its social media moments. There are decorative pay phones in the entryway opposite a lovely mural by Daniel Valle that extends into the bar side. Subtler details were also studied. Look down and you'll spot ceramic floor tiles just like those at Schiller's, or, I guess I should be ready to say, Shake Shack.
Forlini's bartender of 20 years was an early hire. "He's got his own fan base of people that have been coming here forever," Baez says. "He knows their problems, he knows their work. Seeing that, for them, brings forth some sort of familiarity with the place and they're like, 'Okay, it's a new thing, but, some of the people that take care of us are there'."
Eventually, the locals and lookie-loos seemed to relax and take an interest in the menu, especially the ceviche.
"They were like, we couldn't find any ceviche anywhere around here," Baez says. "We hope that people will take to it, or at least give it a try or an opportunity and they can let us know how we fit in, or not."
"This is a business, but beyond that, this is our vision, this is a direct communication between us to the people," Watanabe says. "Whatever we do here, this is an honest conversation. This is coming from our love."
"It's us communicating with the diaspora," Baez says.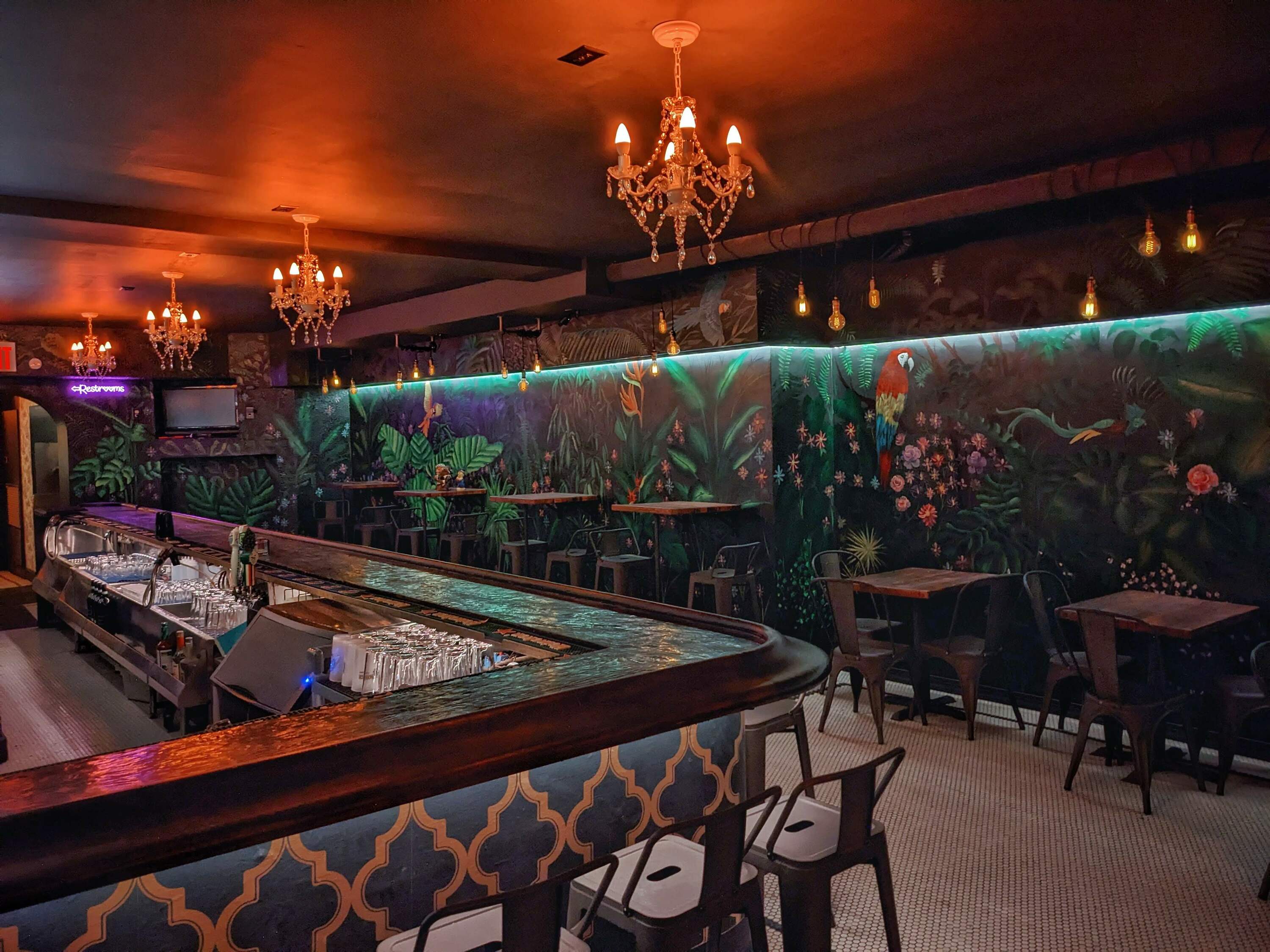 With the people somewhat slaked and the web chat moving on to snark another day, it was business as usual by La Diáspora's quiet February premiere, the partners' first. Its ambiance is inviting and seems to have retained a bit of whatever magic gave its antecedent its tenure. That same quality that plants the very variety of fondness that's destined to grow into the nostalgia that manifests as grousing as soon as an iconic spot's about to reach its end. Ouroboros is always on the menu.
"Like everything in New York, and I do it, when something has been around for so long and you lose that, everyone's a little bit worried about what's going to come next, why did this disappear?" Baez says.
"I think it's easy to get attached because this is a tough city to live in," he says. "So when you make that extra effort to live here, to pay those expensive rent prices, to work those long hours, I think you sort of hold on to things with a tighter grip than you would and maybe other places, maybe like your hometown, if you're not from New York. I think a very good chunk of the people that live here are not from here. So having put that extra effort into getting here and staying here, and then finding the place that you love, that you sort of fall in love with, or it's one of the first places where you feel comfortable, I think it makes that grip so much stronger."
I think it's easy to get attached because this is a tough city to live in.
The team's also heard plenty of tales of how it used to be: favorite tables, who ran into who, expired gossip. Old regulars order Peroni (a top seller) next to new ones sipping mezcal or zero-ABV margaritas.
Nobody can expect longevity, only hope and try to position for it.
"It's really hard to think about legacies, especially in New York," Baez says. "This is kind of a Peter Pan-esque town. Newer generations are always gonna be making a place their own. Everybody's always gonna be nostalgic about the places that they love, and there's always gonna be new people coming in to make memories."
Baez says he's heard stories of guests at other venues he's been associated with meeting spouses and starting families.
"If we get to hear those stories even six months from now, that would be amazing," he says.
And, if La Diáspora enjoys even a portion of Forlini's time here before the building's inescapable next lessee inks a contract, Watanabe and Baez aim to leave the place to its next leaders with goodwill and a little inspiration.
"Like us coming in after Forlini's, hopefully, they learn the history and appreciate it," Baez says. "Hopefully they'll be like, 'Marcelo and Alex had a great run and we want to do the same.'"