A revival of Oklahoma! may not sound very state-of-the-art. The show's very name conjures a bygone era of song and dance: cheerful cowboys, tunes about mornings and fancy carriages, Americana with an exclamation point. But director Daniel Fish's sharp and shocking new version of the show is bound to change that perception.
Richard Rodgers and Oscar Hammerstein II's 1943 musical, which ushered in the golden age of American musical theater, has had many previous incarnations, including a film, four Broadway revivals and the 1998 London production that made Hugh Jackman a star. But it's never been like this. A cast of 12 performs the show in modern dress on a bare-bones set, and while the story is still set in 1906—when the Indian Territory is teetering on the verge of becoming a state—the attitude is incisively contemporary.
Oklahoma! had a sold-out Off Broadway run at St. Ann's Warehouse last year, with audience members seated on both sides of a long horizontal playing space. Now the production is transferring to Broadway's only in-the-round venue, Circle in the Square. The atmosphere is at once welcoming and menacing: Chili is served, but there's also a wall of shotguns. "We've come at it like a new play, taking nothing for granted," says cast member Patrick Vaill. The result is a production that feels scary, sexy and entirely up to date. Whatever this Oklahoma! is, quaint it ain't.
As Oklahoma! saddles up for Broadway, we surveyed the cast of this deep, complex and diverse production.
RECOMMENDED: Review of the 2018 Off Broadway production of Oklahoma!
Rebecca Naomi Jones as Laurey Williams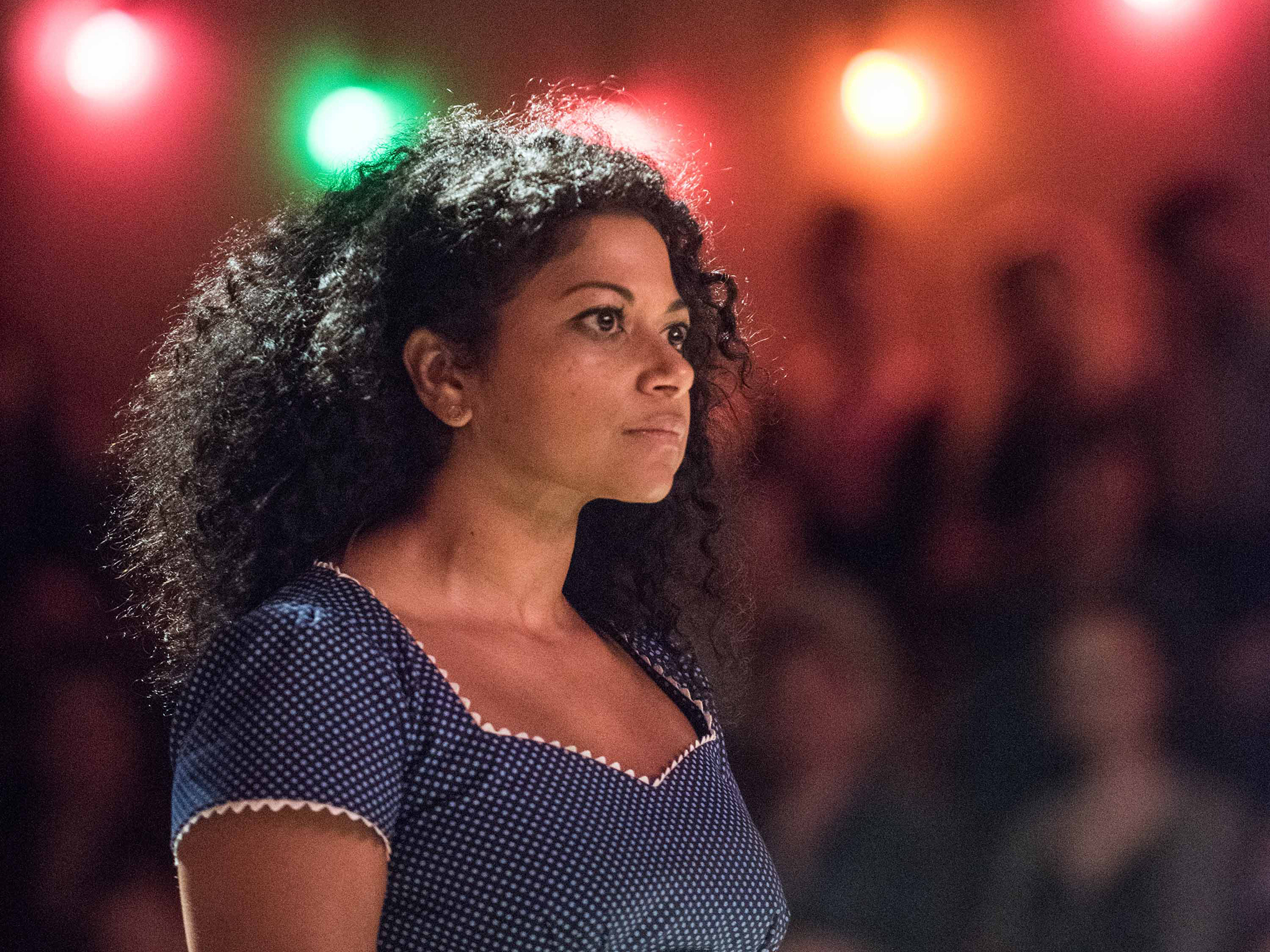 Photograph: Courtesy Teddy Wolff
The actor: Jones's combination of intelligence, beauty and mystery has landed her key roles in many unconventional musicals, including Passing Strange, American Idiot and The Fortress of Solitude.
The role: A tomboy who lives on a farm with her sturdy Aunt Eller, Laurey shares a teasing flirtation with local cowboy Curly and is the obsession of one of her farmhands, Jud.
Her take: "Laurey can be unsure of her feelings, her status and her power. We meet her at a moment of intense personal—and in our production, societal—questioning. Yet while Laurey's searching, she still manages to hold onto her strength and agency."
Damon Daunno as Curly McLain

Photograph: Courtesy Teddy Wolff
The actor: After playing Curly in the premiere of Fish's revival at Bard College in 2015, the guitar-playing Daunno starred as Orpheus in the Off Broadway production of Hadestown and played a psychotic young killer in The Lucky Ones.
The role: An optimistic buck with his heart set on Laurey, Curly is determined to rope her into marrying him.
His take: "Typically, Curly is played as a sort of happy-go-lucky captain of the football team. Our production focuses more on the complexity and manipulative darkness that is inherent in the writing."
Patrick Vaill as Jud Fry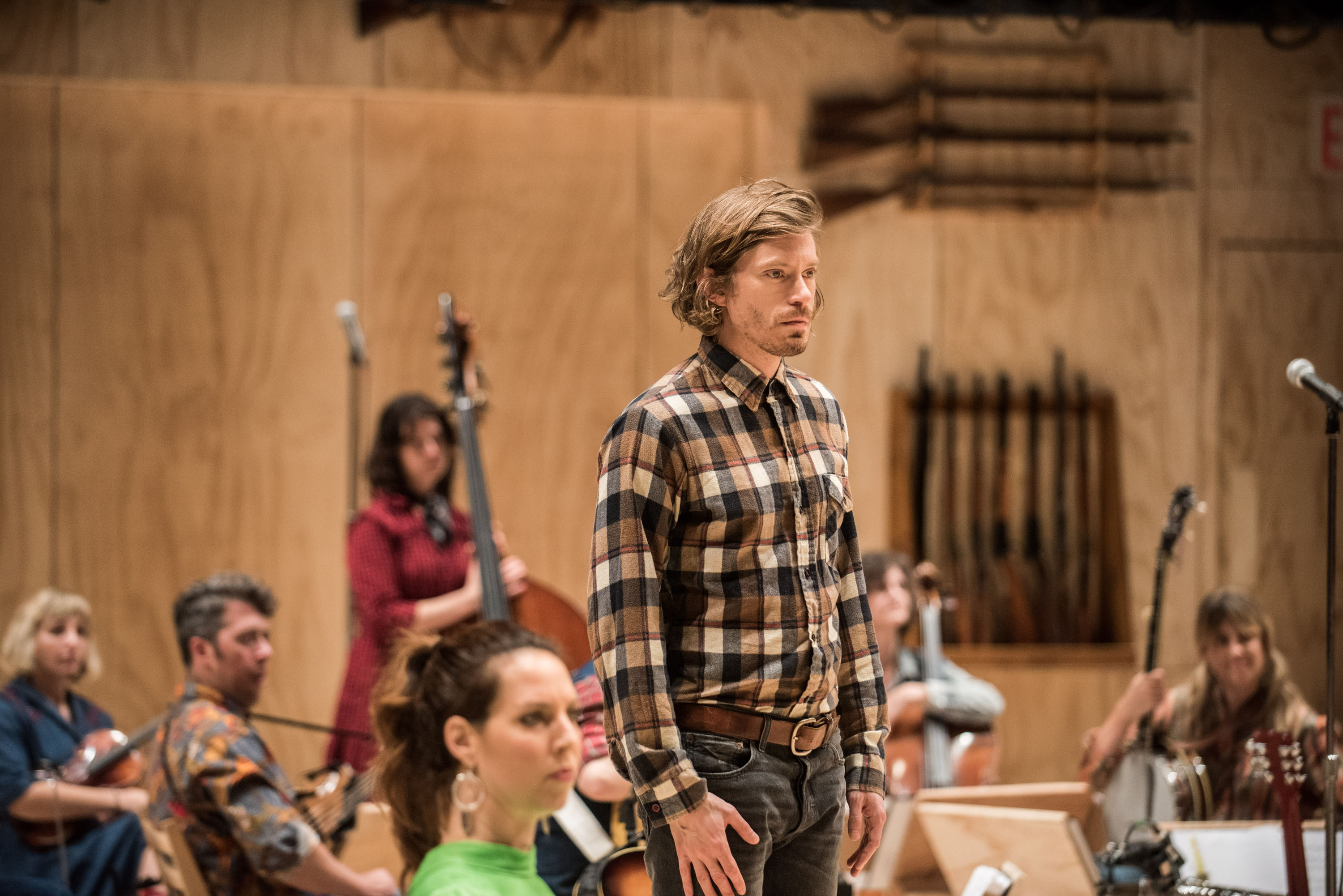 Photograph: Courtesy Teddy Wolff
The actor: In addition to originating the role of Jud at Bard, Vaill has recently played villains in Camelot and Cabaret.
The role: A worker on Aunt Eller's farm, Jud lives in a filthy smokehouse decorated with pornography and harbors an intense, incel-like desire for romance with Laurey.
His take: "Jud dreams of loving, of being loved, of stepping outside of his isolation. His hope that someone may see him fully for who he is, his deep need for tenderness and his anguish at its absence are profoundly affecting to me."
Ali Stroker as Ado Annie Carnes

Photograph: Courtesy Teddy Wolff
The actor: After a guest appearance on Glee, the vibrant Stroker had a memorable turn in the 2015 revival of Spring Awakening, making her the first performer in a wheelchair to perform on Broadway.
The role: Generous with her affections—she "cain't say no!"—Annie finds herself in a tug- of-war between a local cowpoke and a slick traveling salesman.
Her take: "Ado Annie is a woman who knows what she wants and has a burning desire to explore her sexuality. Sometimes this character can come across as not being the brightest bulb in the box. Not this time."
Oklahoma! starts previews at Circle in the Square on March 19 and opens on April 7. Click here for details about the Broadway revival of Oklahoma!