Christina Tosi's dessert-filled empire just got a lot sweeter.
Milk Bar, the popular bakery Tosi started in the East Village in 2008, opens its flagship to the public on Saturday, November 16th next to the Ace Hotel. Fans of the James Beard award-winning pastry chef's creations can expect to find signatures like Compost Cookies, Cereal Milk soft serve, birthday cakes and much more.
"It's meant to be like a playground, but not in a kiddie way," Tosi shared with Time Out New York. "It's more of a choose-your-own-adventure space."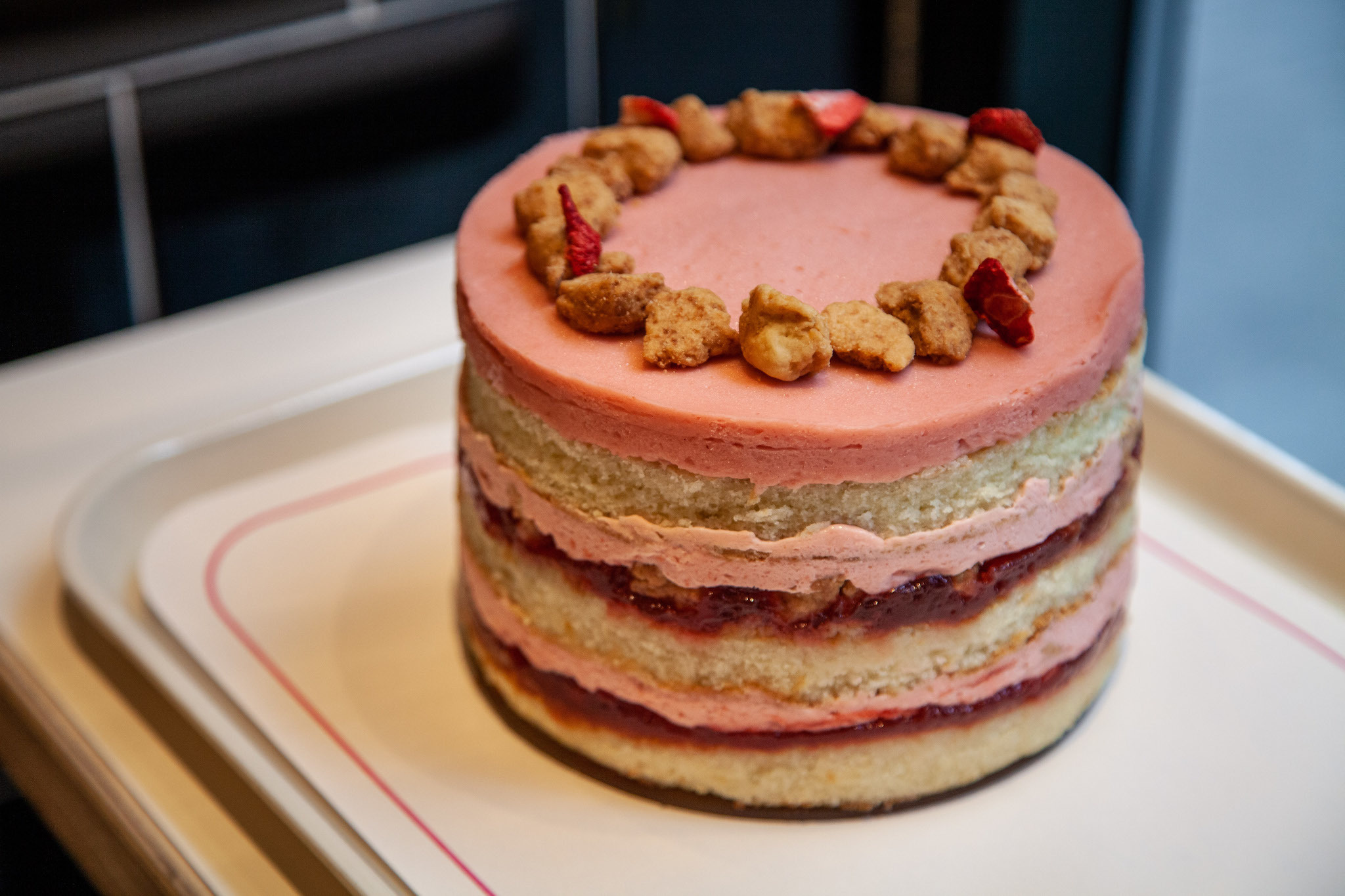 The flagship—at nearly 5,000-square-feet, it's nearly double the size of the Los Angeles bakery and occupies the former John Dory Oyster Bar space—has a school cafeteria vibe complete with trays, diner-style tables for communal seating and even a PA system.
You'll also find the debut of two stations offering Build-A-Cookie and Build-A-Cookie experiences not offered at any other Milk Bar locations across the country. There's a mini-mart section with Tosi-curated products and Milk Bar merch ranging from skateboards to jean jackets. The kitchen is located downstairs, where a classroom space (decked out with a disco ball) is slated to open soon.
"For us, this space is an expression of us as New Yorkers," says Tosi. "I think some people maybe misunderstand Milk Bar as everything being rainbows and sunshine and it's all about pink. But this is us as New Yorkers and also an expression of Milk Bar 11 years later."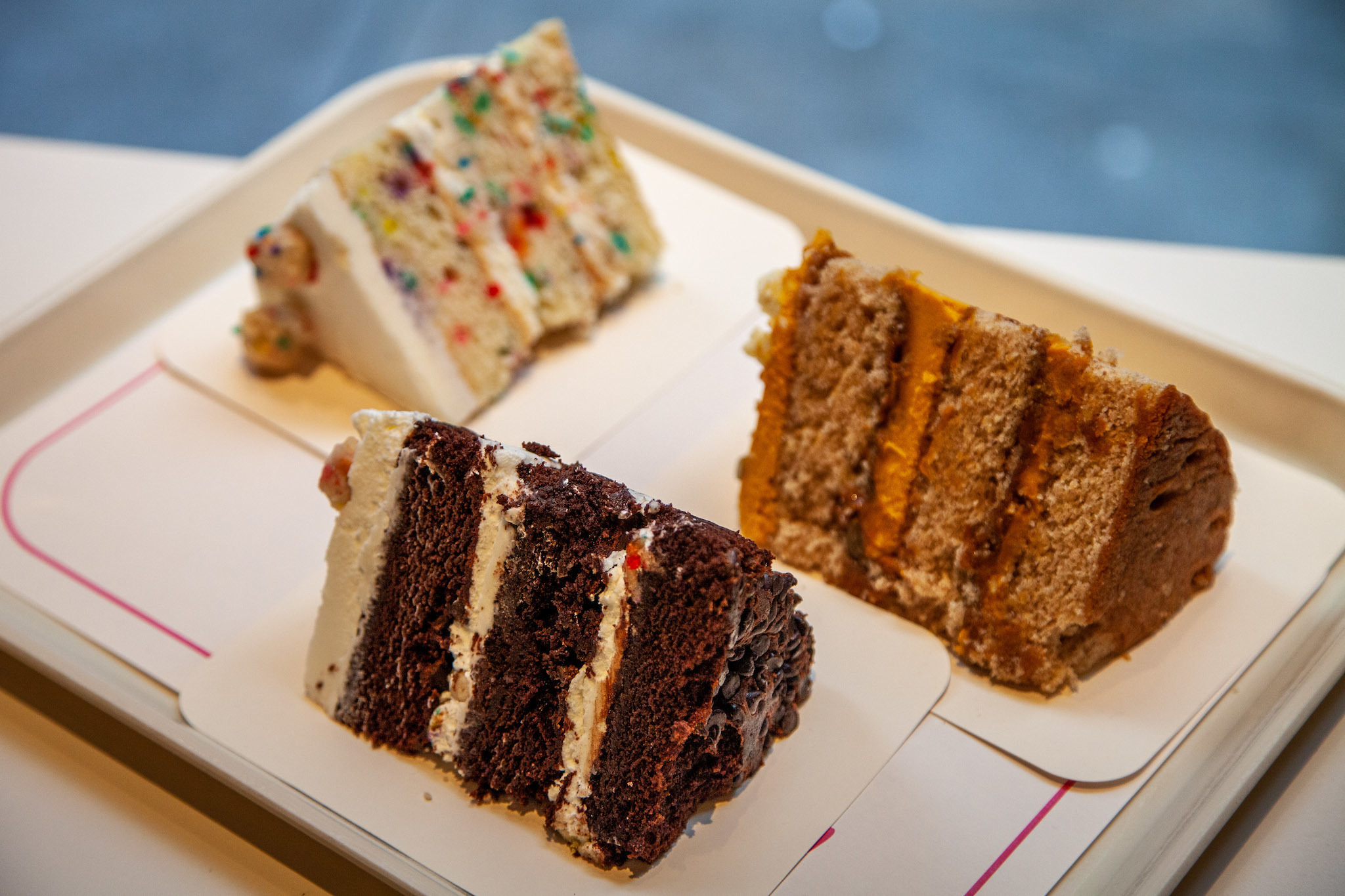 The opening coincides with the bakery's 11th birthday and slew of new offerings. For the first time, you can order cakes by the slice, from seasonal ones like pumpkin dulce de leche to the popular rainbow speckled birthday cake. Truffles can also be bought individually.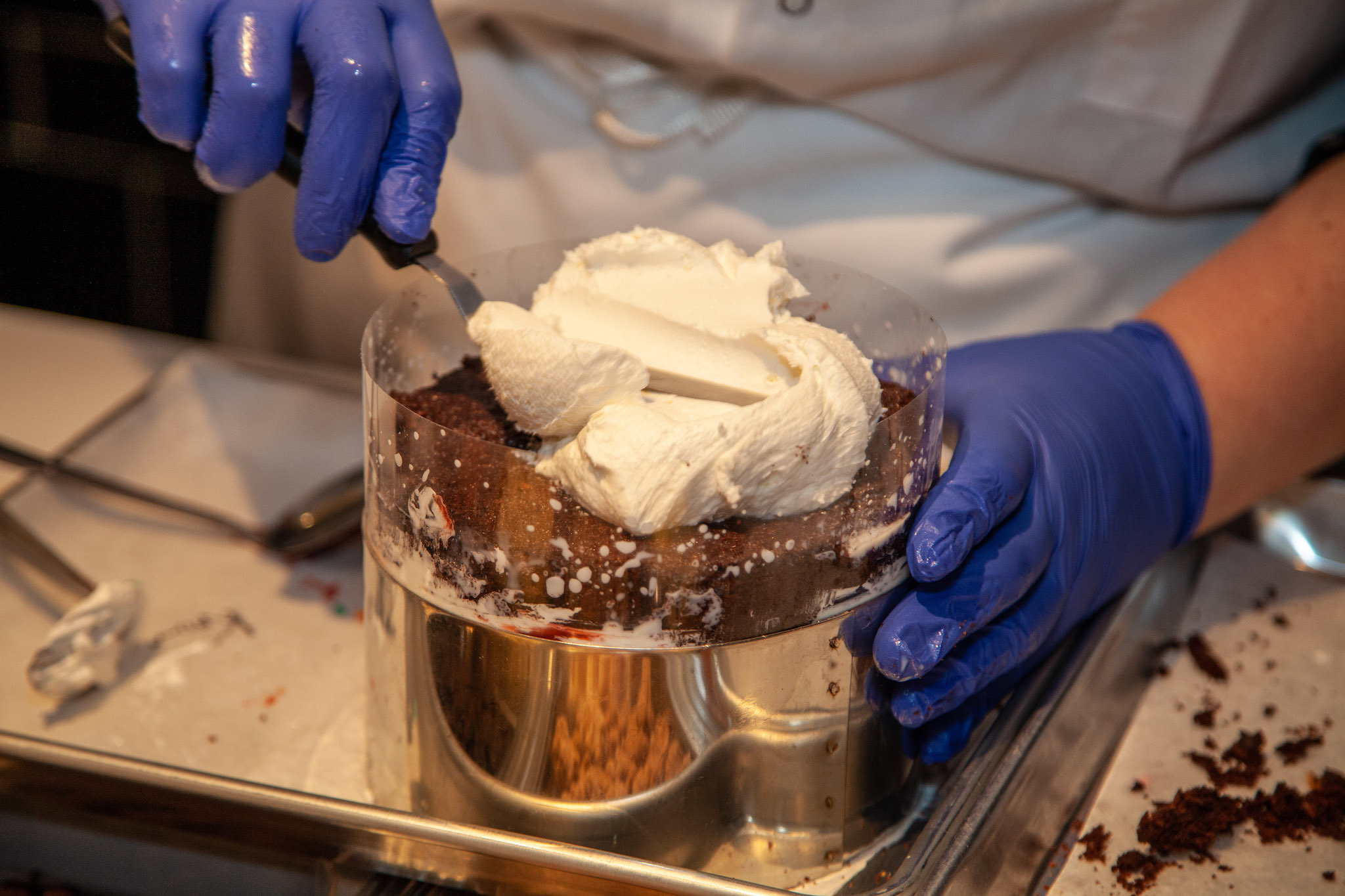 Milk Bar has also made the space more interactive than ever before. You can book appointments online at the Build-A-Cake station to customize cakes with your favorite cake, fillings, crumbs and frosting. A cinnamon-butterscotch cake soaked in cold brew coffee with strawberry jam filling, pretzel crumbs and marshmallows? For $65, it'll be ready in 30 minutes. They'll even flash freeze it to help preserve it for your party.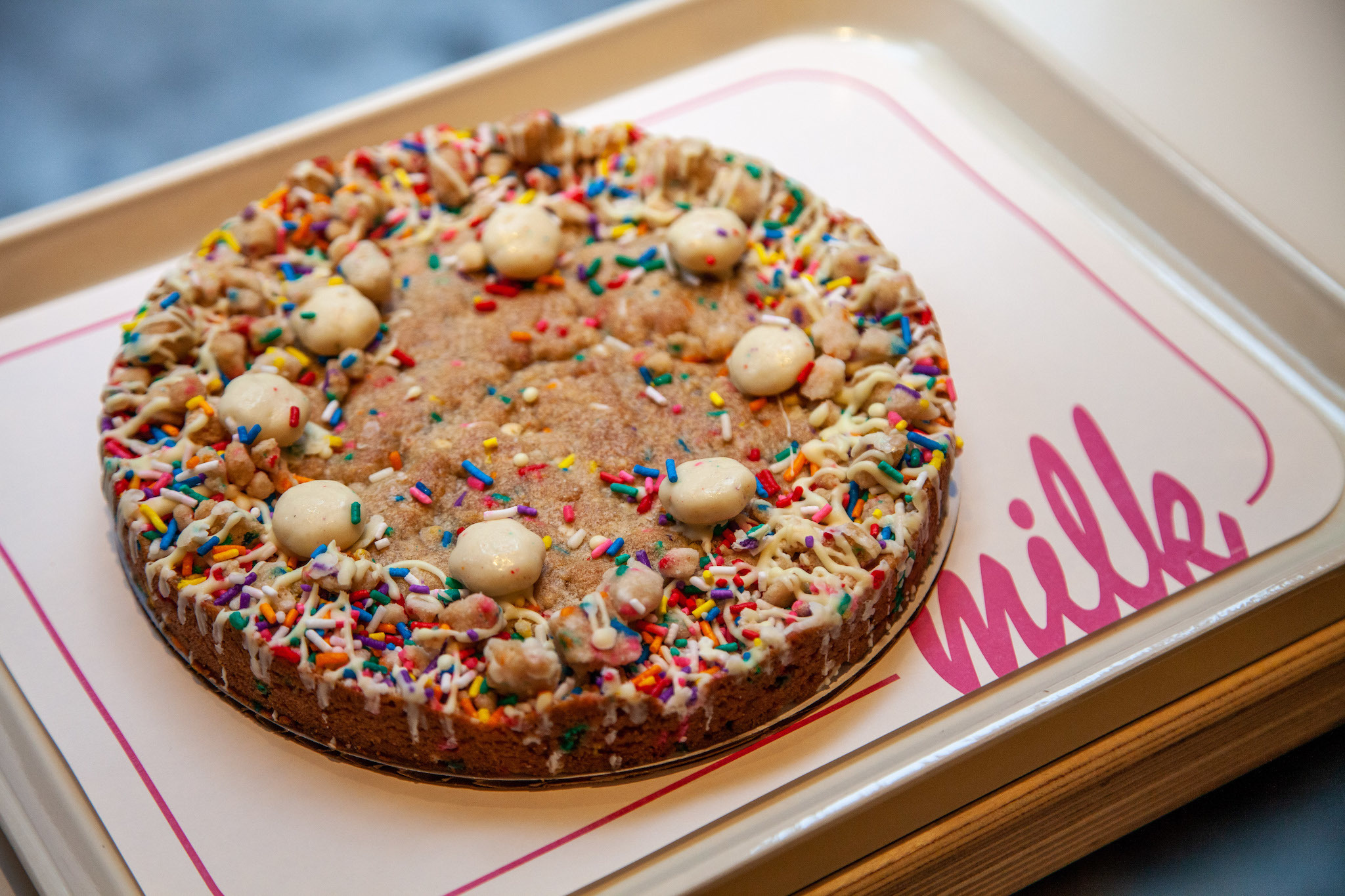 If you're more on the cookie bandwagon, the Build-A-Cookie section of the bakery offers just as many flavor combos for your tailor-made, 8-inch cookies ($40). You simply pick a dough and add up to three ingredients, ranging from chocolate chips to the new bites of Cerealsies, basically small orbs of confectionary delights in flavors like chocolate, mint cookies and mini donuts. It's then popped into a conveyor belt oven and pops out in about 10 minutes.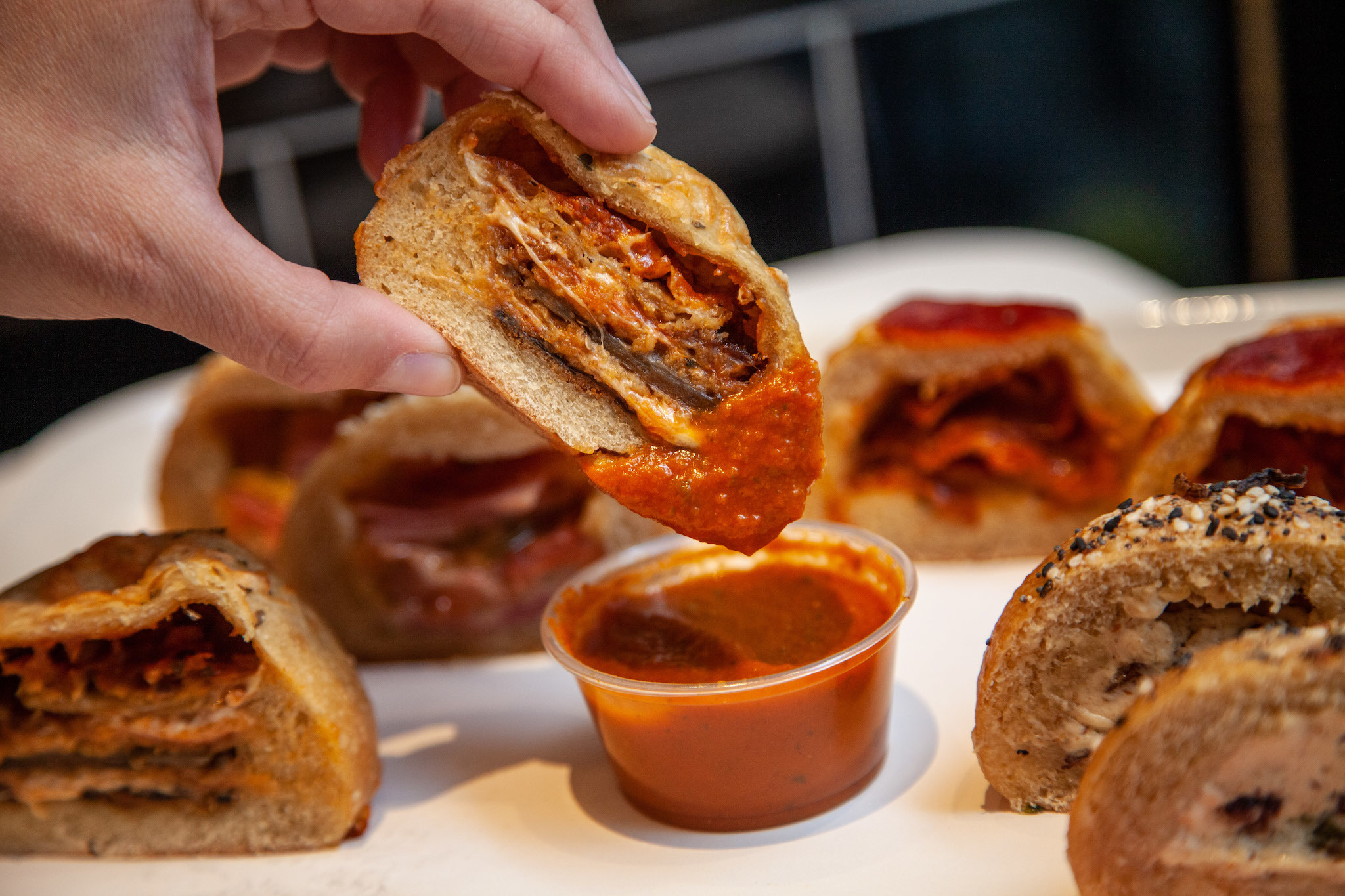 But it's not all about sweets at the flagship. The Bagel Bomb is now joined by other breads: Eggplant Parm Bomb, Italian Hero Bomb and Pepperoni Bomb—all $4.50 each. (We loved the Eggplant Parm Bomb.)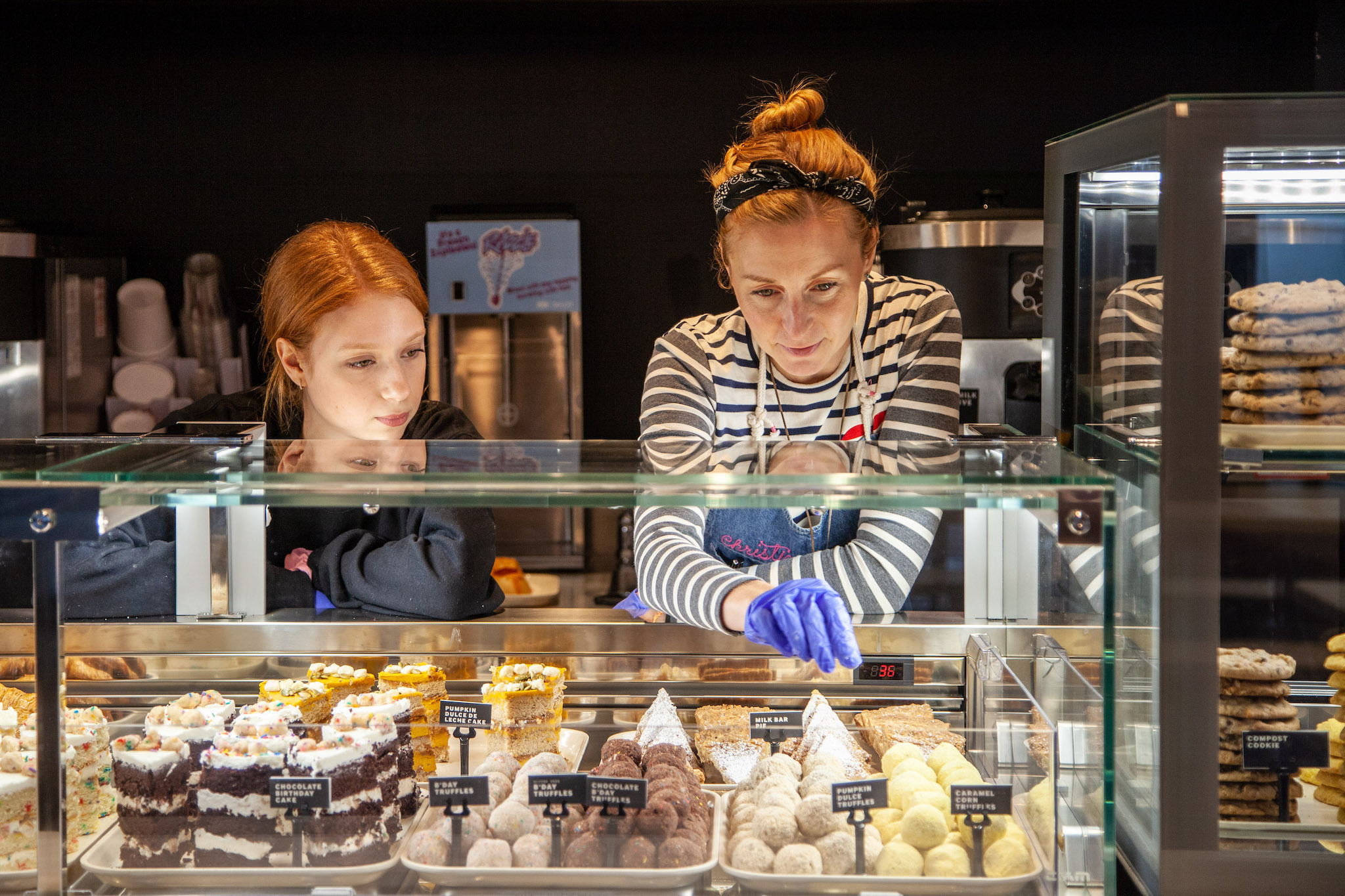 Tosi and her team will also have an R&D lab downstairs where they'll test out new products from time to time, which customers can pay for upstairs.
"It's like a dream-like universe," Tosi says. "We can't wait for everyone to come in. It's a home for everyone's creativity."
Milk Bar's flagship is located at 1196 Broadway. It opens at noon on Saturday, Nov. 16 but the hours will otherwise be: Sunday to Thursday, 9am to midnight; Friday and Saturday 9am to 2am.