As fans gear up for the premiere of the fifth and final season of The Marvelous Mrs. Maisel on Amazon Prime this Friday, the New York City-centric celebrations pegged to the new episodes keep accumulating.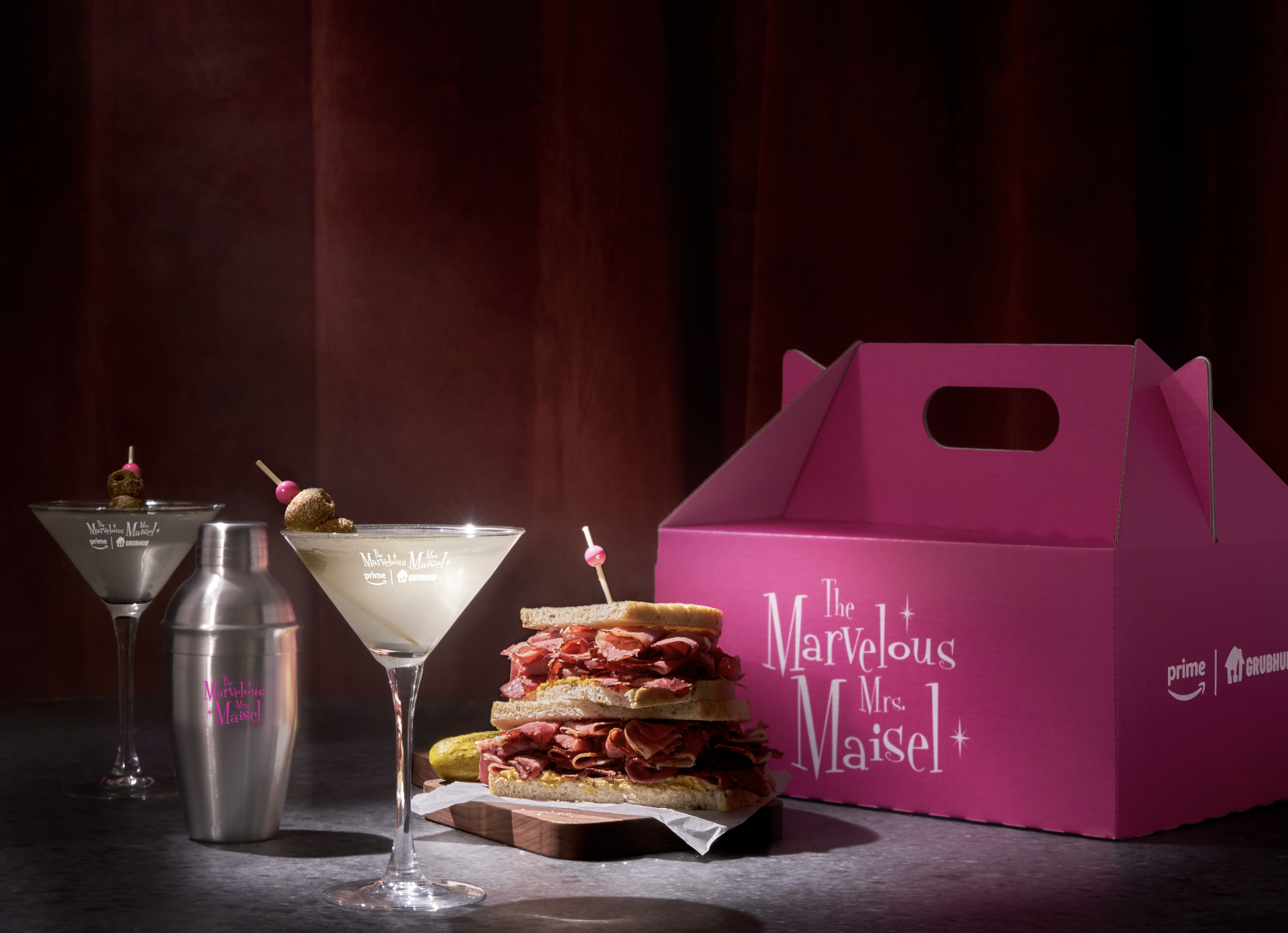 On Friday, a massive themed immersive experience is taking over Fifth Avenue, but, if you'd rather honor the occasion from the comfort of your own apartment in a boozier way, consider ordering the special pastrami-inspired cocktail Maisel Tov Martini from Grubhub instead.
You read that right.
A savory take on the classic gin martini, the unique concoction combines two of Midge's favorite things—Jewish deli fare and a stiff drink—and comes in the form of a kit that includes a bottle of the actual cocktail (makes two), a pair of martini glasses and a shaker with instructions. Expect the packaging to be as dazzling as Midge's character herself.
"The cocktail marries hints of juniper from gin with briny flavors of black pepper, coriander and caraway classically found in a pastrami sandwich," explains an official press release.
You can order the Maisel Tov Martini on the delivery platform starting today for $29.95 (here is a link for that!) but expect it at your doorstep on April 14 or 15—just in time to sip on while catching the final few episodes of the hilariously amazing series. Keep in mind that you'll only be able to order one kit per person while supplies last.
Just in case you'd rather try your hand at making the martini yourself at home, here is the recipe for it:
INGREDIENTS
2.5 oz dry gin

0.5 oz Caraway infused dry vermouth

2-3 droppers pastrami oil

1 olive rolled in pastrami rub seasoning
- Chill your martini glass and prepare the olive by rolling it in the pastrami spice blend.
- In a shaker, add the bottle of martini and two full droppers of pastrami oil. For a stronger flavor, add a third or fourth drop.
- Seal the shaker without ice and shake for five seconds allowing the oil to mix thoroughly with the martini.
- Open the shaker, add ice, and shake well for seven to ten seconds. o Strain into your chilled martini glass, and top with three drops of oil.
- Garnish the martini with the spiced olive and enjoy!
CARAWAY INFUSED DRY VERMOUTH
- Combine 1 tbsp caraway seeds with 8 oz dry vermouth in a glass or container and allow it to sit for at least 1 hour. Once infused, strain out the seeds with a fine strainer and store the vermouth in the refrigerator for freshness.
- Combine 8 oz olive oil, 1 tsp salt, 1/4 tsp pepper, 1 cinnamon stick, 1 tbsp mustard seed, 1 tbsp whole coriander, 1/8 tsp chili flakes, 2 tsp light brown sugar, 1 clove cut garlic, and 1 tbsp cut onion in a pan. Warm the mixture on the stove top, but do not let it boil. Keep on low heat for an hour until aromatic, then remove from heat and chill it overnight in the refrigerator. Strain out the solids using a fine strainer and use the oil within 7 days.
- Combine 1 tbsp ground pepper, 1 tbsp garlic powder, 1 tsp smoked paprika, 1 tsp salt (you can add more if desired), 1 tsp light brown sugar, and 2 tsp ground coriander in a small bowl. Mix well.