New York is betting big on all things electric. Following announcements about all Uber and Lyft cars in NYC having to be fully electric by 2030 and the arrival of 200 motor-free buses by 2025, officials revealed that the very first public, hybrid-electric ferry will be transporting passengers to Governors Island in the summer of 2024.
Mayor Eric Adams made the news public earlier this week, explaining that the vessel will provide public transportation within New York Harbor thanks to a hybrid propulsion system that will reduce air pollution by, according to an official press release,"allowing it to toggle between zero-emission battery-only power and battery-assisted hybrid with diesel backup." That latter mode will actually reduce carbon dioxide emissions by approximately 600 tons annually—pretty impressive, right?
What's more, the city hopes that, by installing rapid vessel charging stations in the near future, the ferry will be able to constantly operate by battery, therefore dropping emissions to zero.
"Visiting Governors Island is a great way to support cutting-edge climate solutions and, soon, visitors will be able to go one step further just by traveling there," said mayor Adams, likely referring to the new climate change center scheduled to open soon. "As New Yorkers transition to greener forms of transportation, the city and our partners are leading the way with cleaner, more efficient ways to go just about anywhere. The next generation deserves a green city and a vibrant Governors Island, and this first-of-its-kind ferry will help us deliver both."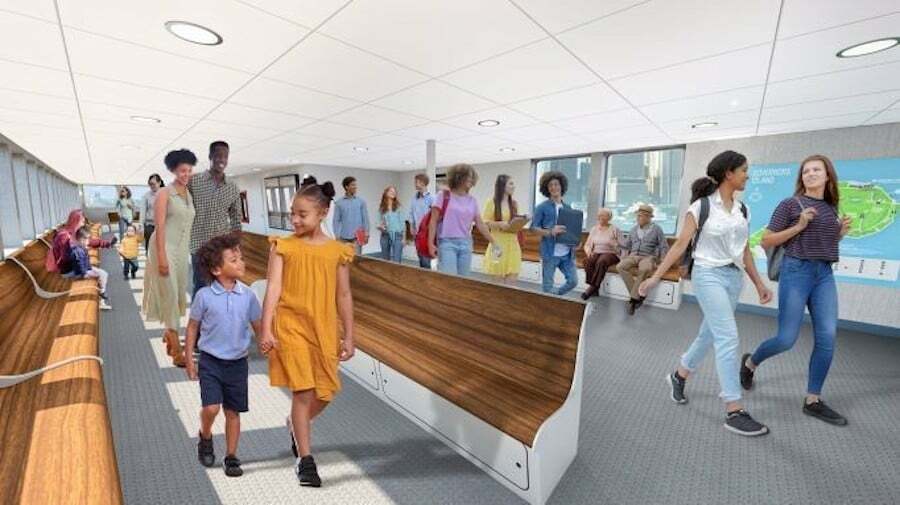 Currently under construction in Louisiana following models designed by Elliot Bay Design Group, the new hybrid-electric ferry will actually replace the Lt. Samuel S. Coursen, the diesel-powered vessel that has been in continuous use since first being commissioned by the United States Army back in 1956.
Expect the new mode of transportation to carry up to 1,200 passengers at once at a cruising speed of 10 knots. Modern passenger amenities, including restrooms on each level and an ADA-accessible lounge, will also define the experience.
One thing not yet certain: the hybrid model's official moniker—which is actually something you can weigh in on yourself as the city has just launched a competition to name the new vessel. Now through May 25, New Yorkers can submit name suggestions on the Governors Island website. Expect a winning name to be announced some time this summer.