A couple of months ago, I was chatting with someone poised to graduate from university and into the next stage of life. We were talking, anecdotally, about restaurant design trends over the last several years. To my recollection, for example, practically everything was beige and filled with plants in the months leading up to the pandemic. Early last year, it seemed like every other opening was fashioned after a speakeasy. And Mad Men this or that took New York City by storm in the years after that prestige drama premiered in 2007.
Mad Men concluded in 2015 and to my great surprise, that was eight years ago. I asked this college-aged person if they were familiar with the show. "Kind of," was the reply, and I gazed out the window and locked eyes with an ancient sea witch, her long and tangled tresses twirling in the salty air. But the window . . . was a mirror.
Still, approaching a decade later, that style's still got narrow trouser legs. This year alone has brought The Boardroom, which also adds speakeasy proclivities to its Sterling Cooper aspirations, and The Press Club Grill, which aims to glamorously channel "1950s -1960s NYC through classic American dishes with a modern flair," according to its social media. That's a cultural touchpoint, Peggy.
The latest place to join this enduring aesthetic debuts in midtown today. Agency of Record, whose operators count Rezdôra and Patent Pending among previous successes, is set to open its doors within the neighborhood's Renwick Hotel this evening.
Per a press release, expect 1. Stylish ambiance. 2. Old-school, 1950s-60s flair. 3. Metaphorical transport to old New York via "rich mahogany tones, playful fringe, leather accents, dark wood and brass, and intimate mood lighting." And 4. Craft cocktails. It's also said that F. Scott Fitzgerald once lived on site and, hoo boy, I wonder what he and Don Draper—or Dick Whitman!—would have talked about over dinner, in, you know, another timeline. Wager they'd have been smoking indoors, in any case.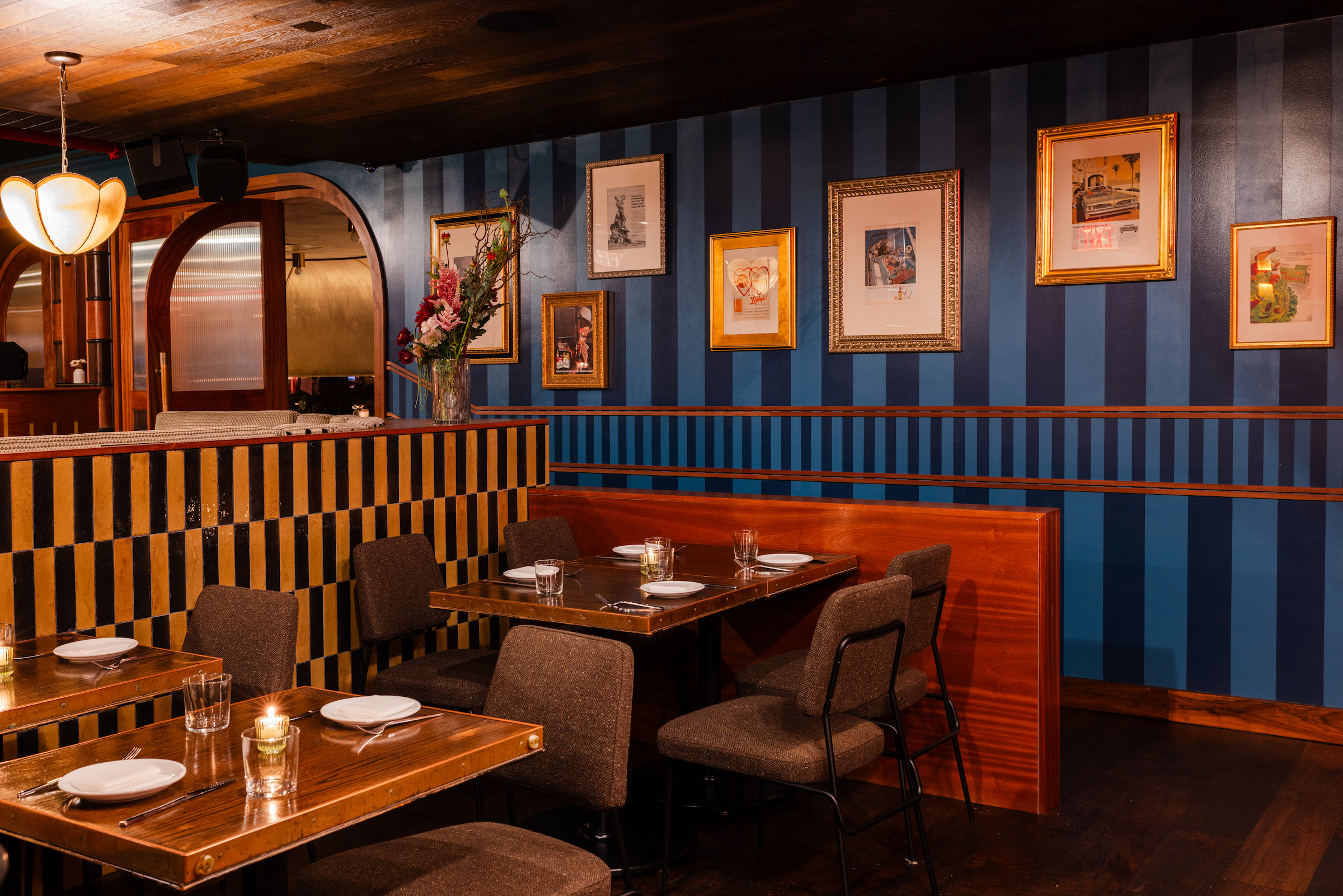 Should you wish to dine, whether cosplaying as these gentlemen of imagination, or just a version of yourself who isn't about to leave it all behind and assume a new identity, the menu's intended to reinterpret trad bar and bistro fare. Opening items include onion dip and chips, oysters, lobster cocktail (for once!), fried chicken, a French onion burger and a bone-in ribeye.
The drink list is divided into four sections, each titled for what the release asserts is "classic advertising vernacular," including "Like Soda for a Baby," "The Big Sell," "From a Faraway Land" and "Everyone is Doing It."
The menu provided at press time lists neither a Hemingway daiquiri (frenemies), nor an Old Spanish (references), but I bet they can make almost anything here. Except maybe a vodka and Mountain Dew.
Agency of Record is located at 118 East 40th Street. It is open Monday-Friday from 4pm- 2am, Friday-Saturday from 4pm-4am, and Sunday from 4pm-midnight.