The incongruously inviting Hamilton Avenue space enveloped by the rumble and the rubbish around the Brooklyn-Queens Expressway has been popular for its pizza since 2015. First, as Pizza Moto, until earlier this year when the operation returned to the moveable feast from whence it began, and now as Farina, which opened in August.
New York City's water gets a lot of credit for its internationally revered pies (similar lore's attached to our bagels), but the best pizzerias in town, not incidentally, also happen to list storied ovens among their particulars. With a little luck and goodwill, they're passed down with the same gravitas as rent-controlled apartments. Farina's wood-fired variety had been in use for about 157 years even before Moto carefully restored it last decade.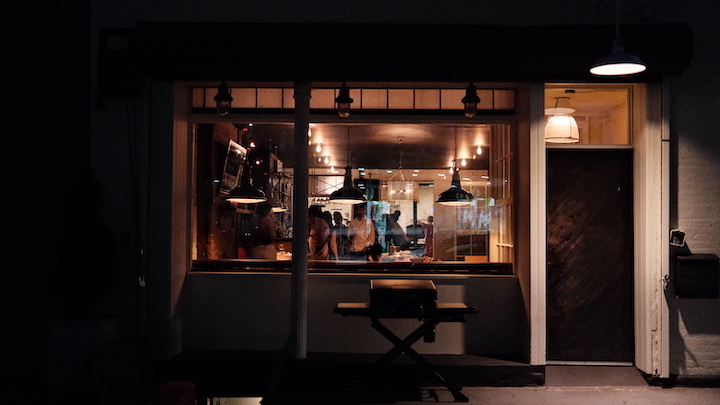 The dining room's layout is borrowed, too: two tops in the window, a communal table in the center, with more seats on the periphery, all as charming as ever. The bar pours some pleasant house wines available by the glass and, delightfully, half or full carafe. Beer is also available.
Farina serves a style of pie that it notes in an Instagram post was also forged over a century ago in Naples. Chef/partner Antonio Pisaniello, whose previous credits include Italy's La Locanda Di Bu', goes into further detail in a Righteous Eats video about what makes these creations irregolare. That ancestral brick oven, for example, was originally intended for bread. Pisaniello's pizzas are square, more or less. And he uses seven grains—some from around Italy, others sourced nearby—to make 'em to terrific effect.
Southern Italian pizzas number 14. In addition to the other happy irregularities, they're also baked for three to four minutes, versus the more typical 90-120 seconds, because the oven runs a little low, according to another partner, Michael Turner. They're portioned between personal and lunch-sized, so one for two might not do. It's nicer to mix and match in any case.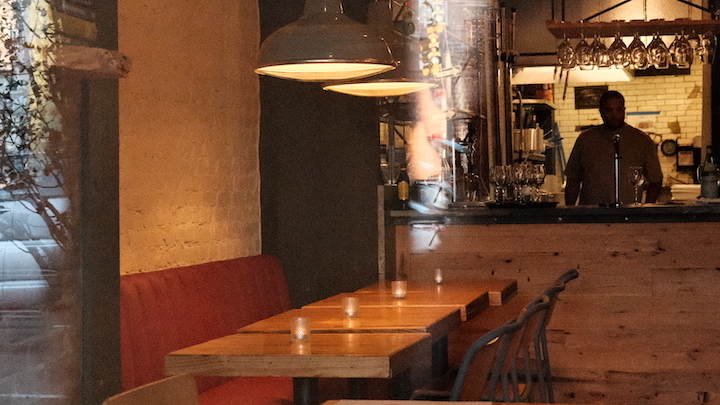 Moto's signature here—one I'd be able to identify anywhere—was its charred, rigid underside. That this wasn't precisely to my taste didn't stop me from patronizing the place plenty of times, but it always landed more like burnt than that more polite parlance, to my palate.
Farina's cloud-soft crust is on the opposite end of the spectrum, those grains mingling marvelously to a light, yielding end. It's an excellent, reliable vehicle for the kitchen's other winning ingredients. But the fior di latte that covers about half the pies is Farina's own signature, even more demonstrably in opposition to the previous rough, blackened crust than its own pliant version. The cheese's milk flavor is fresh, and bright and grassy, and concentrated enough to conjure visions of idyllic countryside dairies. It's perfect.
The house-made daily fior di latte also pairs splendidly with other toppings like the Puglia pizza's broccoli rabe, unobtrusive burrata and meatball bits ($36), and the Lucania's pecorino, fried egg (which recently arrived scrambled, but tasty nonetheless) and (slightly) spicy sausage ($24). Vegetarian options are also available, including the simple Margherita ($21) with textbook San Marzano tomato sauce that's a sensational stage for that excellent cheese.
Vitals
The Vibe: Warm and inviting under the austerity of the B.Q.E.
The Food: Great pizzas with fantastic toppings like the wonderful fior di latte, meatballs, sausage and broccoli rabe, plus salads and starters like fritto mare and roasted eggplant.
The Drinks: Wine by the glass, half- or full carafe, and beer.
Farina is located at 338 Hamilton Avenue. It is open Wednesday-Monday from 5pm-10pm.
See all NYC restaurant reviews here.