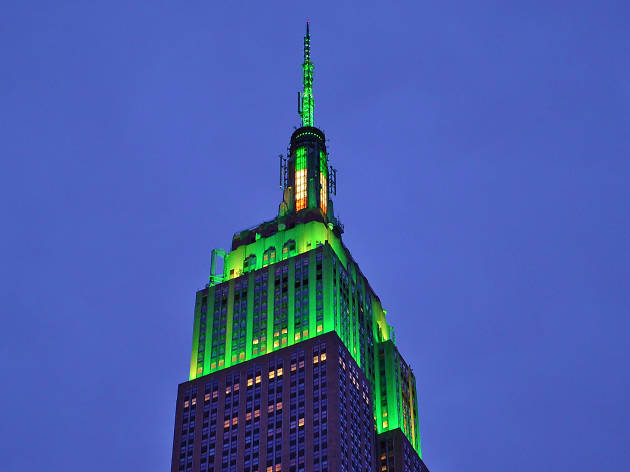 The Empire State Building is going green for Earth Day
Posted: Friday April 20 2018, 12:51pm
The Empire State Building is arguably New York's most iconic skyscraper. Every day, it attracts the gaze of locals and tourists alike, who relish in the glory of the 87-year-old structure. And as of last month, it's even given onlookers a sparkly show each night.
The building's lights also shine in different colors to commemorate certain holidays and events (Easter, Christmas, sporting events—you get the picture), and this weekend it will be changing colors to celebrate Earth Day. On Sunday night, the tower will light up green to celebrate Earth Day. Yes, Earth Day is on Saturday, but we can't all be perfect, can we?
This year's Earth Day focuses around protecting the environment, particularly when it comes to the way humans consume and waste plastic. There are ample ways to get involved and support environmental causes around town this weekend, but at the very least, the ESB will serve as a reminder to be a more environmentally conscious consumer on Sunday night.
If the Empire State Building's owners really wanted to make an impact on Earth Day, though, one could argue that they'd be better off saving some energy by shutting off its lights entirely.
Sign up to receive great Time Out deals in your inbox each day.
Share the story