The bad news: the legendary McNally Jackson Books is vacating its iconic location at 52 Prince Street in Manhattan's NoLita neighborhood after a whopping 19 years on premise.
The good news: the bookstore is actually moving just a few blocks down, to 134 Prince Street by West Broadway.
According to a representative of the business, the original shop will close next week, on Tuesday, March 21. The staff will be moving all books and materials to the new address throughout the rest of the week, hoping to open the space to the public "in the days shortly after."
"It's time for McNally Jackson to say goodbye to our home of 19 years," owner Sarah McNally said in an official statement about the update. "We are moving a few blocks west down Prince Street, from 52 to 134. Our new store is larger and sturdier, but we have loved our old store for a long time. Please come say goodbye."
Although specifics regarding the reason behind the move have not been disclosed, Publishers Weekly reports that "the rent is the same" across both locations so, for once, price doesn't seem to be a catalyst in real estate-related changes.
It's been a pretty exciting few months for the book seller, who first set up shop back in 2004 but is currently operating five brick-and-mortar spaces across New York, including ones in downtown Brooklyn, Williamsburg, Manhattan's South Street Seaport and Rockefeller Center (if you haven't yet visited the latter 7,000-square-foot destination, please do: it's magnificent).
"A small reminder that because we are a bookstore and not a hospital, a little bit of chaos is charming," the business hilariously noted on its official Twitter account. "This small dose may be slightly magnified over the next week as we experience in real time why moving in New York is ranked second to divorce for stressful life events. I made up that ranking, but it feels true."
The company also took to social media to urge New Yorkers to share their fondest memories involving the nearly two-decades-old (almost) former store and city dwellers quickly jumped at the opportunity to chime in.
"I once told Colson Whitehead I liked his (blue suede) shoes here," one user commented on Instagram.
"I've nursed a broken heart, cured the travel blues, found inspiration, and gotten lost in dreams in these four walls," someone else remembered.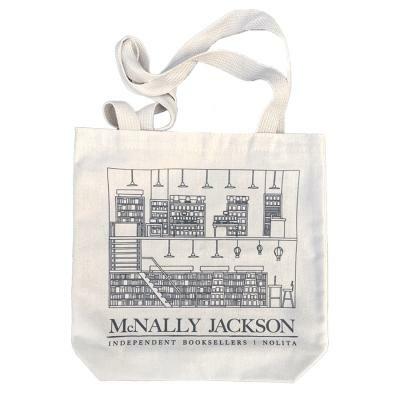 Speaking of 52 Prince Street: this weekend will be your last chance to purchase the store's instantly recognizable Nolita tote bag and, according to the representative, there are only a couple of hundred of them remaining—so make sure to stop by one last time to grab yours!
Clearly, McNally Jackson Books holds a very important position within the city's cultural canon and we can't wait to form new memories at its newest location.