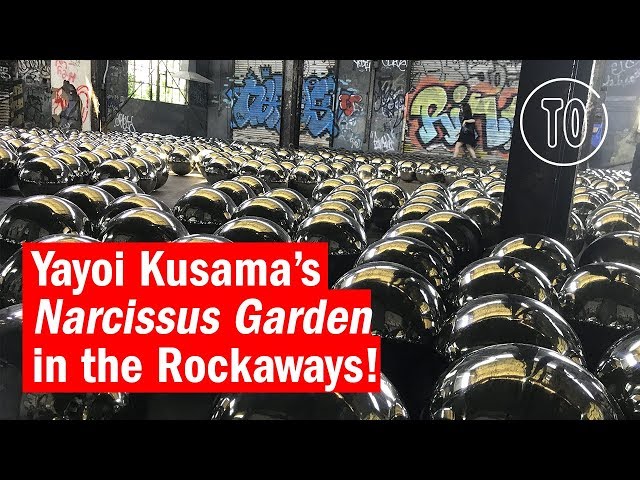 Ready to do some navel gazing this summer? The artist who created the social media sensation art exhibit "Infinity Mirrors" has a new installation of reflective spheres on view right now—and it's a short walk from the beach.
Famous Japanese artist Yayoi Kusama's "Narcissus Garden" is a garden of 1,500 celestial silver orbs in an abandoned train garage in the Rockaways. You can check it out for free through September 3 at Gateway National Recreation Area (next to the Rockaway Artists Alliance sTudio 7 Gallery) in Fort Tilden.The installation is part of MoMA PS1's free public art festival, Rockaway!, which seeks to highlight continuing restoration efforts in the area after the damage done there by Hurricane Sandy. The past two iterations of the festival exhibited work by Katharina Gross (2016) and Rockaways local Patti Smith (2014).
The spheres were first displayed by Kusama in 1966 (she's 89, y'all!) as part of the 33rd Venice Biennale, which she was not invited to. She stood it the center of them with signs that said "Your Narcissism for Sale" and selling them for $2 each. Could she have been predicting the selfie generation? Kusama, also known as the "Princess of Polka Dots," went on to create art throughout New York, including painting dots on naked bodies in Central Park and on the Brooklyn Bridge.
Now, her work returns to the city right by the beach at Fort Tilden. You can take the ferry, take a ten-minute walk to check out the exhibit, then spend the rest of the day cooling off in the ocean waves. The exhibit is open Friday through Sunday and holidays from noon to 6pm through September 3.
Pro tip for exploring "Narcissus Garden": Try your best not to knock the spheres off their tiny pedestals! We saw a lot of people accidentally doing so, and a very stressed curator following them around asking them not to pick up the globes with their bare hands. It was kind of funny, but not recommended.