When Komal Shah starting collecting art more than a decade ago, she noticed something startling: "The art world does not treat women artists equally" compared to male artists.
She decided to do something about that by founding the Shah Garg Foundation with her husband, Gaurav Garg. The organization champions artwork by women and seeks to remedy the imbalances facing marginalized artists. Nearly 100 pieces of art from their collection are now on view in a powerful and diverse show called "Making Their Mark: Art by Women in the Shah Garg Collection" in Chelsea (548 West 22nd Street). It's free to visit through January 27, 2024; hours are Tuesday-Saturday, 11am-6pm.
RECOMMENDED: The best museum exhibitions in NYC right now
"The mission of the collection and the foundation is to signal to the world that art made by women artists is equal or better than (that by) men," Shah said in an opening event at the gallery.
She showcases this mission in her expansive new gallery exhibition filling two stories in Manhattan with stunning works by artists including Firelei Báez, Cecily Brown, Judy Chicago, Jaune Quick-to-See Smith, Mary Weatherford, Anicka Yi, and many others. The show features paintings, drawings, textile works, sculptures and mixed media pieces by significant artists from the last eight decades.
Excellence and equity are not mutually exclusive.
Including fiber and ceramic works was important to Shah, as those works are often downgraded to merely "crafts." Instead, she rebuffs the gatekeepers who make those designations, presenting massive fiber hangings and ceramic vessels next to more traditional oil paintings.
The theme of abstraction unites the works, from gestural abstraction to luminous abstraction.
A few standout pieces include: Simone Leigh's bronze sculpture called "Stick," in which the form of a woman with an afro and a full skirt stands as a monument to the powerful legacy of Black women. "Harriet's Quilt" by Joyce J. Scott weaves Venetian glass beads into a colorful tapestry in honor of Harriet Tubman, a friend of the artist's mother. Covering a wall in the gallery, Firelei Báez's "For Améthyste and Athénaïre (Exiled Muses Beyond Jean Luc Nancy's Canon, Anacaonas" seeks to reinstate women into the palatial walls in Haiti.
The show's diversity astounds, highlighting artists from across the globe, including Japan, Beirut, India, Ethiopia, New York City, Indigenous lands in America, and many other places.
"We tried to establish dialogues and echoes and correspondence among artists," said the show's curator Cecilia Alemani, who works as chief curator of High Line Art and curated the 59th annual Venice Biennale.
For example, one room explores the relationship between paper collages and digital ones — "the relationship between the loom and the computer screen," Alemani explained.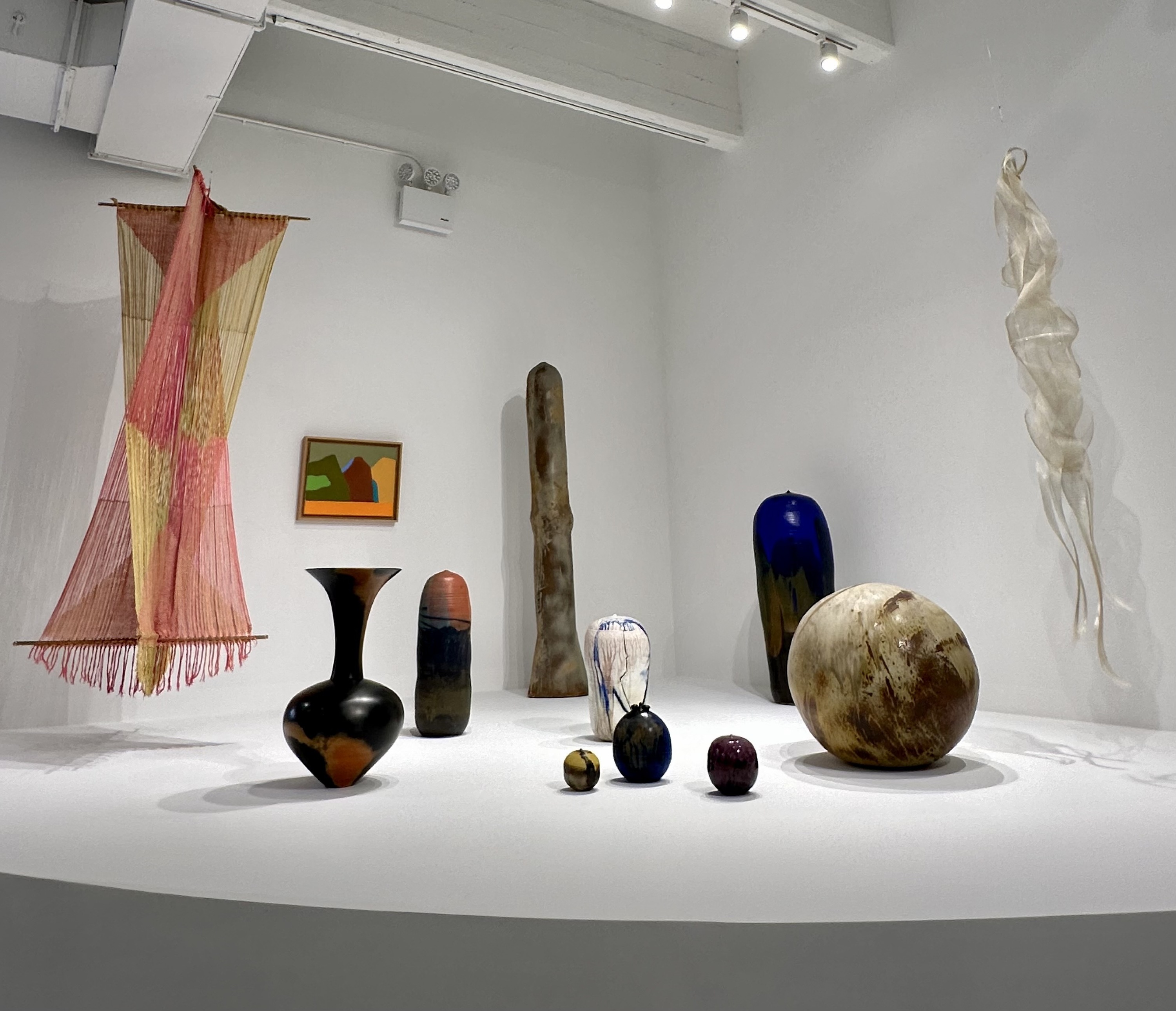 After collecting works for 12 years, Shah's collection now includes some 300 pieces. This is the first time the collection is on view in New York City. When "Making Their Mark" wraps up in Chelsea after the new year, it will travel to the Berkeley Art Museum and Pacific Film Archive, then the Kemper Art Museum in St. Louis.
Shah, who immigrated to the United States from India three decades ago, worked as an executive in several major tech companies before deciding to focus on philanthropic pursuits. In addition to working on the art collection, her husband Gaurav Garg works as a tech entrepreneur.
To Shah, the work comes down to one central tenet that's made viscerally clear in this impactful show: "Excellence and equity are not mutually exclusive."