The good news: the COVID-19 vaccine is here and it's being administered to essential workers, healthcare workers, transit folks, teachers and people over 65. The bad news: according to new data shared by New York State, not every region in the state is doing great in terms of vaccine administration.
Feel free to check out the regional breakdown right here: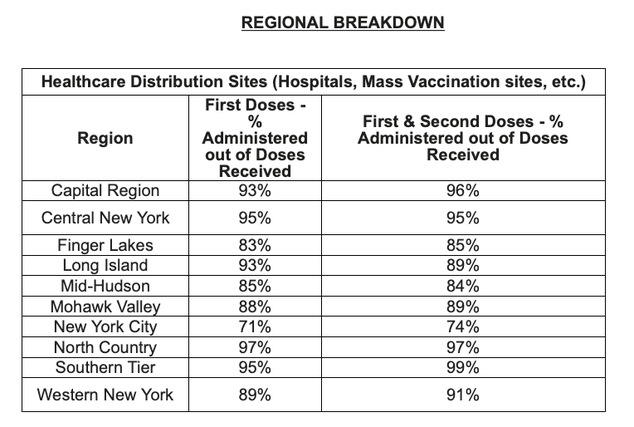 Crunching the numbers, it appears that New York State as a whole has given out 83% of the supply it received by the government. In specific, North Country is doing better than every other region, having distributed 97% of the first doses it has received.
New York City is faring the worst: only 71% of the first doses it has received have already been given out. Couple that stat with Mayor Bill de Blasio's recent warning that the city would soon completely run out of vaccines, and you've got a pretty sad (and scary, and disappointing) situation at hand.
So, what can you do to maximize your chances of actually getting the vaccine? First up, consult the relatively new "Am I Eligible" app to figure out when it's your turn in line. Secondly, at Governor Andrew Cuomo's own urging, we suggest you call your local pharmacy, doctor, hospital and the health department to gather more information about how to actually schedule an appointment.
It is no secret that the vaccine rollout process has been, to put it lightly, a nightmare all across the country. Here's to hoping that both our local and federal governments find a way to safely and swiftly administer the shots to as many Americans as they can.
Most popular on Time Out
- New Yorkers share strong opinions on bodegas after Andrew Yang video goes viral
- The 10 best things about living in NYC, according to New Yorkers
- New York is replacing the Port Authority Bus Terminal
- 20 ways to make yourself better this January
- A giant clock in Queens is counting down how long Trump has left in office
Want to know what's cool in the city before your friends do? Sign up to our newsletter for the latest and greatest from NYC and beyond.