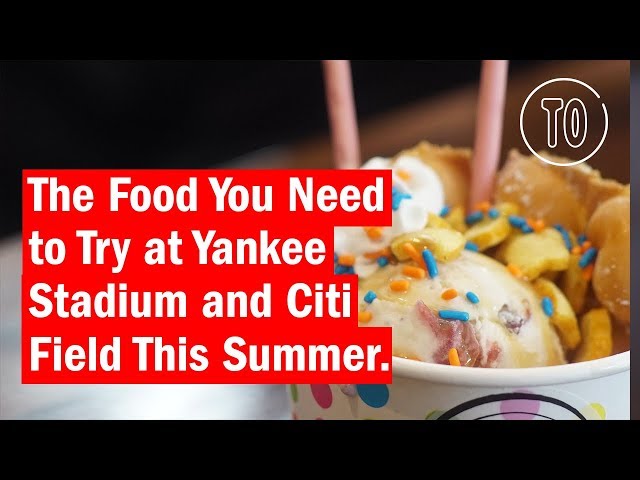 Sometimes, your main reason to attend a baseball game is the food (no judgement). The very first MLB FoodFest arrives next month, serving the best dish from every single Major League Baseball stadium right here in NYC without any pesky team sports to distract you.
The food festival will take place on April 21 and 22 at Center 415, a two-floor indoor location near Bryant Park at 415 Fifth Avenue. It includes offerings from both American League and National League teams, with a total of 30 different samplings. It's the perfect event if you love peanuts and Cracker Jacks but hate sports.
Each stadium chose the food that best represents it, whether it's a longtime essential dish (like the classic NY deli pastrami sandwich from Citi Field) or a trendy new offering (like Cleveland's Flamethrower pulled pork sandwich). For example, Citi Field is the NYC stadium known for its classic baseball snacks, but Yankee Stadium has a brand-new Adobo Bao and better ballplayers.
A ticket gets you samples of all 30 dishes, with sessions starting at 11am and running in two-hour blocks until 9pm. Tickets must be purchased ahead of time and are $25 for food and $40 for food and beer (which includes three drinks). There's complimentary soft drinks and water too, and you can purchase tickets here.
Seriously, you get so much food: There are New England Lobster Rolls from Fenway Park. There's the Pig Pickin' tortilla stuffed with curly fries from the Atlanta Braves, plus four other kinds of nachos. There are Toasted Grasshoppers from the Seattle Mariners's Safeco Field.
Oh yeah, and what kind of event would it be without an interactive, Instagrammable exhibit? This one has the Popcorn Pit and the Hot Dog Room from Nathan's Famous, with hot dog artwork and samples to eat. It sounds like it will be a step up from that absurd egg-themed pop-up, at least.
Here's the full menu of stadium offerings:
Sign up to receive great Time Out deals in your inbox each day.​