If you're like most New Yorkers, you're dreaming of the perfect fall getaway with gorgeous views of the mountains and vistas of burnt orange leaves. Better yet, a space you can stay that is equally as beautiful.
I present to you, Wolfhouse. This four-bedroom mid-century modern gem in Newburgh, New York, sits on top of a hill that gives panoramic views of the Hudson River. Coolest of all, it was designed by American architect Philip Johnson, known for the famous Glass House. They were both erected in the same year (1949), but Wolfhouse was commissioned by Benjamin V. Wolf, hence the name.
RECOMMENDED: The best fall getaways from NYC for leaf-peeping
Johnson, who was an architecture critic and head of the Museum of Modern Art's Architecture Department, used his hallmark architectural style on the building: open-plan with seamless circulation and plate glass walls offering expansive views of the surrounding natural landscape, according to the owners, Jeremy Parker and Jiminie Ha.
"The home was built in 1949 before Johnson's famous Glass House in New Canaan, and in Newburgh no less. The history of Newburgh itself is super complex, and to have Philip Johnson added to the mix led to our intrigue of the home," the owners say.
They bought the house in 2020 and started the rehabilitation of the historic home with exteriors and interior details that followed the archived floorplans that they found at the Avery Architecture Library at Columbia University, they said.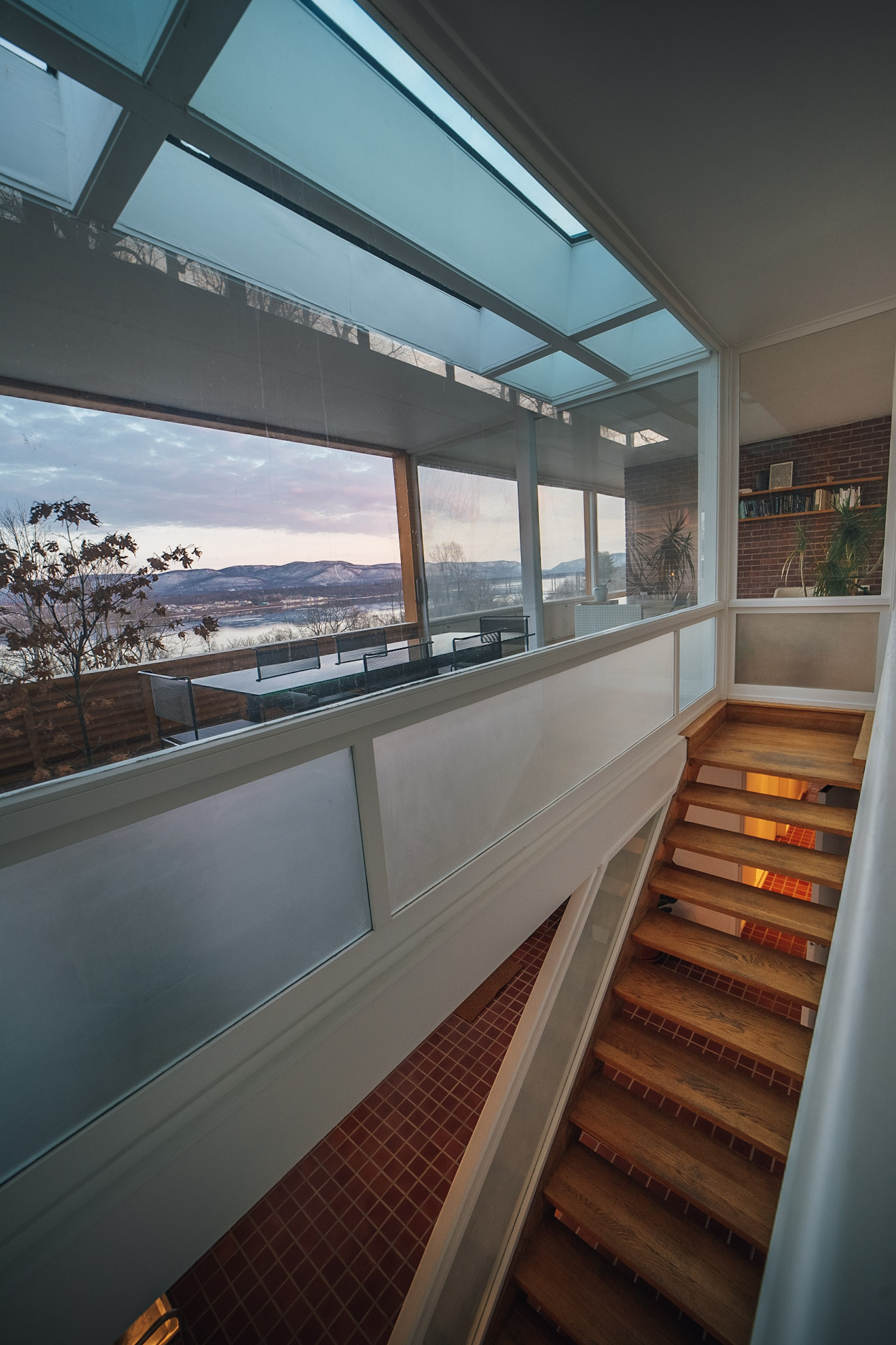 They used USM Modular Furniture (made with steel) for the kitchen, for example. That company collaborated with the owners to design a kitchen that acknowledges both the home's past and future with a popular mid-century color palette but made of pre-owned and recycled USM parts to create the first sustainability-built USM kitchen with the aim of not using new materials. They also sourced vintage furnishings and salvaged architectural pieces to finish the restoration, which included sinks, tubs, and trim pieces.
"We recognize the harmful effects of planned obsolescence. It's our responsibility as designers to lead with smart sustainability at the forefront of our practice, not creating more waste, but working with what we already have," Ha says.
It has been meticulously restored to its original condition, according to its owners, and now acts as a cultural space with year-round programming, including art shows and has a living showroom featuring custom furniture and design objects.
Ha actually works at the Guggenheim as a senior director in the Graphic Design department.
"It was important for us, as LGBTQ and BIPOC community members (Jeremy and Jiminie, respectively) to acknowledge Newburgh's history, and find a path forward in engaging the home more proactively as a center for education and programming," they said.
When it's not acting as a showroom, you can actually stay here. The home sleeps up to six people, which means you could split the rental fee (a required, minimum two-night stay for two adults for September 8-10 is $4,400), and enjoy a weekend away with friends or family in a very comfortable space with all the modern amenities.
The home is part of eviivo Collective, the only collection of unique, notable and luxury independent properties in the world. Eviivo is the only property management platform that has AI-powered tools and features.
"With Wolfhouse, we hope to shift the narrative of new home construction and its impact on the environment—and the ways in which we can approach design practices more sustainably," Parker and Ha say. "We want to encourage people that the most sustainable building practice is preservation. Sustainability is—more often than not—stereotyped with organic, earthy visual cues (raw wood grains! Hemp!). We demonstrate how sustainability through innovative design concepts can take on a different visual language as portrayed by our rehab of the Wolfhouse and our interior decorations."
The home is also located near Beacon, one of the best Upstate towns to visit in the fall and home to DIA: Beacon, the gallery for large-scale installations. It's also nearby Storm King Art Center and other beloved towns like Cold Spring. I imagine it'd be the perfect home base for some fall activities, if you can swing it!
You can book online here.