Best 24-hour pizza spots in NYC
Get a late-night slice at these 24-hour pizza joints in NYC, from cheese and pepperoni slices to grandma and vodka pies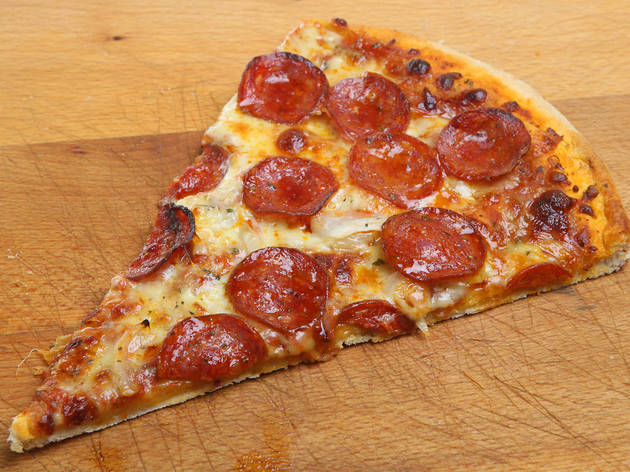 In the city that never sleeps, 24-hour pizza is a godsend for night owls in need of a slice after last call or when the show gets out. From around-the-clock New York pizza spots dishing up old standbys like cheese and pepperoni to the best cheap pizza slingers offering specialty pies into the wee hours, there's a place for 24-hour NYC revelers to satiate dough cravings well past midnight. Get your fix all night with these 24-hour pizza spots in NYC.
RECOMMENDED: See more of the best pizza in NYC
Find 24-hour pizza in NYC
1
A no-frills slice you can get any time of day or night in Midtown, it's a crispy, chewy marinara-plus-cheese situation to tide you over for less than a buck. Sure, you can add toppings for a fee, but this isn't a fancy-pants pie, so sticking to plain cheese is recommended
Read more
2
Imported green onyx decorates the walls of this offbeat open-all-day pizzeria. Choose from swank toppings—such as duck confit, lobster, truffle oil and caviar—for your pie. Or keep it simple and opt for a $4 white slice or a $3 grandma slice, plus a plethora of specialty pies to satiate post-bar late-night cravings.


Read more
4
Open for 23 and a half hours daily (they take a tiny half-hour break around dawn) , you can rely on Steve's for a pizza fix well past the witching hour. The large upstairs space is primed for kicking back and spreading out with your slice without feeling rushed along at a kiosk or small counter space.
Read more
6
Known for its crunchy thin crust and its foldable pizza body, the slices at Little Italy Pizza (actually located in Midtown West) are huge, and hit the spot when your show gets out late or you're hyped and hungry after hitting the karaoke bar hard.
Read more
7
It can feel like a bit of a pizza desert in these parts, but Fluffy's shines like a beacon in the night, looking more like a diner than a pizza spot, and offering up plenty of pastries and other eats too. A simple pepperoni slice is $3.25 and goes down easy at the counter.
Read more
See a map of 24-hour pizza in NYC
Looking for more 24-hour grub?
From classic diner food at dawn to booze-soaking Latin snacks at midnight, these are New York's top 24-hour restaurants
Read more
Sponsored listing
Route 66 Smokehouse
Route 66 Smokehouse opened in the Fall of 2013 on the historic Stone Street in NYC's Financial District. It is the only establishment in the neighborhood offering authentic localized American cuisine. Chef Billy Kooper's menu features unique twists on beloved barbecue and Americana recipes with a strong emphasis on hand-selected ingredients from artisanal vendors. The theme continues on the beverage side, with an All-American Whiskey list comprised of an array of highly allocated Bourbons, Ryes and Whiskeys, served by the ounce or two ounce.On tap is a strictly 100% craft beer menu, and the cocktail list features libations inspired by landmarks along the restaurant's namesake, such as: Amboy Crater, Whale of Catoosa, and Tucumcari, N.M. The restaurant's décor reflects the hometown comfort and rugged charm of the famous road that inspired its name.