Best 24-hour pizza spots in NYC
Get a late-night slice at these 24-hour pizza joints in NYC, from cheese and pepperoni slices to grandma and vodka pies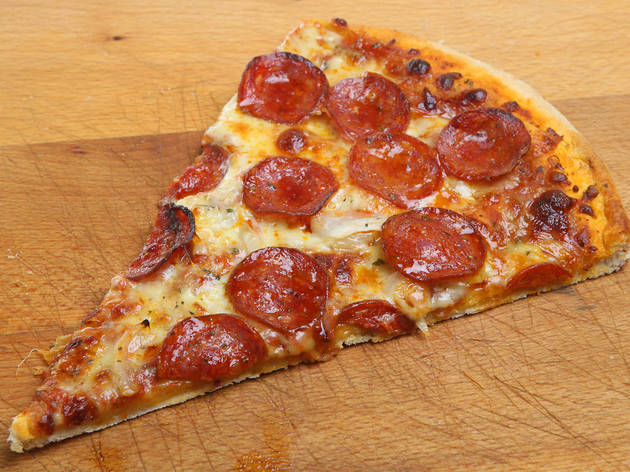 In the city that never sleeps, 24-hour pizza is a godsend for night owls in need of a slice after last call or when the show gets out. From around-the-clock New York pizza spots dishing up old standbys like cheese and pepperoni to the best cheap pizza slingers offering specialty pies into the wee hours, there's a place for 24-hour NYC revelers to satiate dough cravings well past midnight. Get your fix all night with these 24-hour pizza spots in NYC.
RECOMMENDED: See more of the best pizza in NYC
Find 24-hour pizza in NYC
1
A no-frills slice you can get any time of day or night in Midtown, it's a crispy, chewy marinara-plus-cheese situation to tide you over for less than a buck. Sure, you can add toppings for a fee, but this isn't a fancy-pants pie, so sticking to plain cheese is recommended
Read more
2
Imported green onyx decorates the walls of this offbeat open-all-day pizzeria. Choose from swank toppings—such as duck confit, lobster, truffle oil and caviar—for your pie. Or keep it simple and opt for a $4 white slice or a $3 grandma slice, plus a plethora of specialty pies to satiate post-bar late-night cravings.


Read more
4
Open for 23 and a half hours daily (they take a tiny half-hour break around dawn) , you can rely on Steve's for a pizza fix well past the witching hour. The large upstairs space is primed for kicking back and spreading out with your slice without feeling rushed along at a kiosk or small counter space.
Read more
6
Known for its crunchy thin crust and its foldable pizza body, the slices at Little Italy Pizza (actually located in Midtown West) are huge, and hit the spot when your show gets out late or you're hyped and hungry after hitting the karaoke bar hard.
Read more
7
It can feel like a bit of a pizza desert in these parts, but Fluffy's shines like a beacon in the night, looking more like a diner than a pizza spot, and offering up plenty of pastries and other eats too. A simple pepperoni slice is $3.25 and goes down easy at the counter.
Read more
See a map of 24-hour pizza in NYC
Looking for more 24-hour grub?
From classic diner food at dawn to booze-soaking Latin snacks at midnight, these are New York's top 24-hour restaurants
Read more
Sponsored listing
9ten Restaurant
Located right at the base of Central Park, 9ten Restaurant serves creative American fare for breakfast, lunch and dinner. You might opt to start your day with a glass of freshly squeezed orange or grapefruit juice ($5.50) before moving on to eggs benedict with smoked salmon ($17) or blueberry-ricotta pancakes ($14). For lunch, choose from a wide variety of sandwiches and salads, like the roasted baby beet and kale salad with goat cheese ($14), the reuben served with french fries ($13.50) or the 9ten burger with bacon jam, caramelized onions, gruyere and a fried egg ($13.50). The dinner menu also a flatbread topped with wild mushrooms, swiss cheese and truffled ricotta ($13), lobster ravioli ($22), chicken souvlaki with french fries ($14.50) and a New York stip steak served with asparagus and sauteed mushrooms ($28). Finish the meal with a slice of strawberry cheesecake ($7) or a tall egg cream ($3.50).
Venue says: "Serving all day breakfast. Come enjoy eggs benedict, pancakes, and our organic egg omelettes!"