Best 24-hour pizza spots in NYC
Get a late-night slice at these 24-hour pizza joints in NYC, from cheese and pepperoni slices to grandma and vodka pies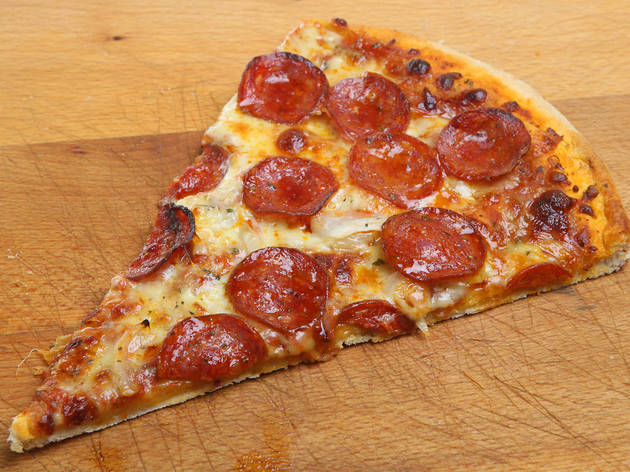 In the city that never sleeps, 24-hour pizza is a godsend for night owls in need of a slice after last call or when the show gets out. From around-the-clock New York pizza spots dishing up old standbys like cheese and pepperoni to the best cheap pizza slingers offering specialty pies into the wee hours, there's a place for 24-hour NYC revelers to satiate dough cravings well past midnight. Get your fix all night with these 24-hour pizza spots in NYC.
RECOMMENDED: See more of the best pizza in NYC
Find 24-hour pizza in NYC
1
A no-frills slice you can get any time of day or night in Midtown, it's a crispy, chewy marinara-plus-cheese situation to tide you over for less than a buck. Sure, you can add toppings for a fee, but this isn't a fancy-pants pie, so sticking to plain cheese is recommended
2
Imported green onyx decorates the walls of this offbeat open-all-day pizzeria. Choose from swank toppings—such as duck confit, lobster, truffle oil and caviar—for your pie. Or keep it simple and opt for a $4 white slice or a $3 grandma slice, plus a plethora of specialty pies to satiate post-bar late-night cravings.


4
Open for 23 and a half hours daily (they take a tiny half-hour break around dawn) , you can rely on Steve's for a pizza fix well past the witching hour. The large upstairs space is primed for kicking back and spreading out with your slice without feeling rushed along at a kiosk or small counter space.
6
Known for its crunchy thin crust and its foldable pizza body, the slices at Little Italy Pizza (actually located in Midtown West) are huge, and hit the spot when your show gets out late or you're hyped and hungry after hitting the karaoke bar hard.
7
It can feel like a bit of a pizza desert in these parts, but Fluffy's shines like a beacon in the night, looking more like a diner than a pizza spot, and offering up plenty of pastries and other eats too. A simple pepperoni slice is $3.25 and goes down easy at the counter.
See a map of 24-hour pizza in NYC
Looking for more 24-hour grub?
From classic diner food at dawn to booze-soaking Latin snacks at midnight, these are New York's top 24-hour restaurants
Sponsored listing
Grand Central Oyster Bar & Restaurant
The oyster bar inside iconic Grand Central Terminal has been serving commuters, tourists and diners since 1913. After going bankrupt and falling into disuse in the 1970s, it reopened with a renewed focus on seafood and a newly renovated interior. Today, Grand Central Oyster Bar serves 25 to 30 varieties of oysters and fresh seafood sourced from local purveyors across the Northeast. There's the raw bar, of course, and plenty of other appetizers like oysters rockefeller ($16.45), grilled Spanish cuttlefish ($16.95) and broiled Peconic Bay sea scallops with casino butter ($11.95). Move on to the specials of the day, which on a recent visit, included tempura-fried catfish with spicy teriyaki sauce ($23.95) and grilled jumbo shrimp over penne with puttanesca sauce ($30.95). Thirsty? Pair your meal with something from the extensive wine list or one of the legendary martinis.
Venue says: "For over 100 years we have been serving the freshest oysters & seafood in NYC! Our Oyster Happy Hour features Bluepoint Oysters, $1.25/each"