Heads up! We're working hard to be accurate – but these are unusual times, so please always check before heading out.
1/24
Photograph: Jessica Lin
Ganso ramen at Ganso Broth: Shoyu (soy sauce)Noodles: Straight and thinToppings: Slow-braised pork two ways, ajitama egg, menma (braised bamboo shoots) and seasonal greensConversation piece: Before giving Downtown Brooklyn its own killer ramen den, owner Harris Salat was a seasoned food writer, whose culinary crush on Japan was well documented in the pages of The New York Times, Saveur and his own trio of cookbooks: The Japanese Grill, Japanese Hot Pots and Takashi's Noodles. 25 Bond St at Livingston St, Downtown Brooklyn (718-403-0900, gansonyc.com). $12.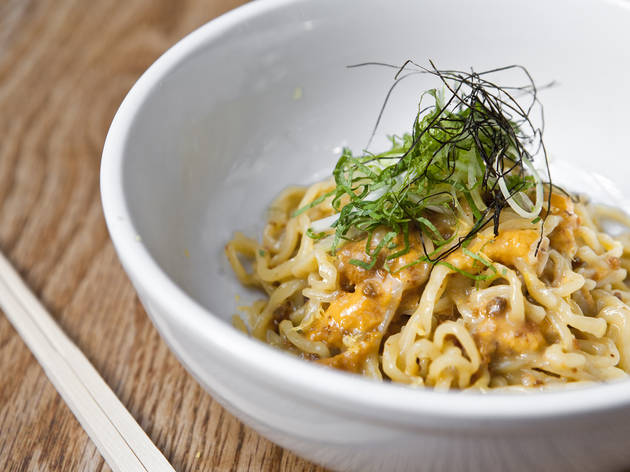 2/24
Photograph: Jakob N. Layman
Uni miso at Yuji Ramen Broth: Brothless mazemen style Noodles: Thick and slighty wavy Toppings: Sea urchin, shiso, white miso, orange zest, crunchy nori strips, tare (concentrated soy and seaweed soup base), scallion oil Conversation piece: After watching Americans let their noodles go soggy—the delicate strands are slurped up much more quickly in the motherland—Yuji Haraguchi came up with a fix. Formerly a high-end seafood purveyor to restaurants like Roberta's and Per Se, the Japanese native decided to introduce New Yorkers to a newfangled Tokyo-style of ramen: the brothless mazemen. Brooklyn Flea, 1 Hanson Pl between Flatbush Ave and Ashland Pl, Fort Greene, Brooklyn (646-262-1358, facebook.com/yujiramen). Sat, Sun 11am–5pm; $10.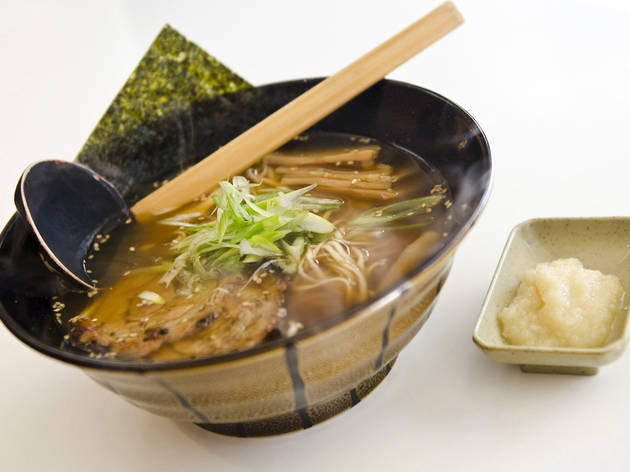 3/24
Photograph: Marielle Solan
Shoyu ramen at Jin Ramen Broth: Shoyu (soy sauce), pork, chicken and vegetable stock, ginger and garlic shoots Noodles: Skinny and straightToppings: Chashu (rolled, trussed and braised pork belly), menma, chopped scallions, roasted seaweed, soy-sauce-and-mirin soft-boiled egg and a side of pressed garlicConversation piece: In accordance with the restaurant's name—jin is the kanji character for benevolence—owners Isan Chang and Jenny Ko contribute to charities supporting community-revitalization projects in the northern Columbia University area. 3183 Broadway between Tiemann Pl and W 125th St (646-559-2862, jinramen.com). $10.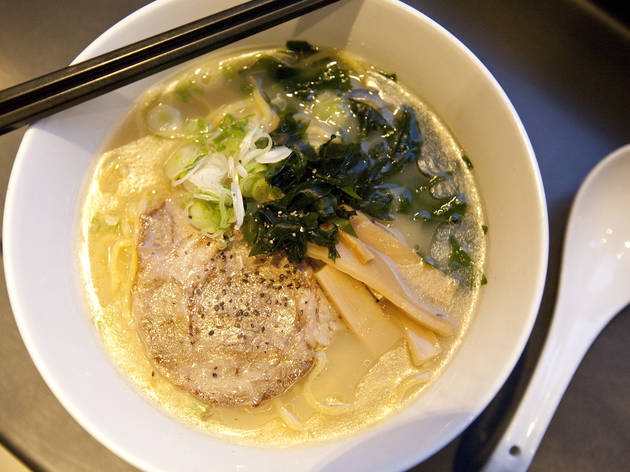 4/24
Photograph: Jessica Lin
Shio ramen at Ramen Yebisu Broth: Hokkaido-style shio (salt)Noodles: Fresh, homemade and thick Toppings:Char siu, seaweed, fresh scallions, bamboo shoots and crushed black pepperConversation piece: Hokkaido-born chef Akira Hiratsuka ferments his noodles for 48 hours, which lends the strands a wild, funky character that marries well with the briny shio broth. The freshness-fanatic toque insists on dine-in only for his standout bowls—no takeout or delivery—so that the ramen doesn't turn mushy from sitting in broth for too long. 126 North 6th St between Bedford Ave and Berry St, Williamsburg, Brooklyn (no phone, ramenyebisu.com). $10.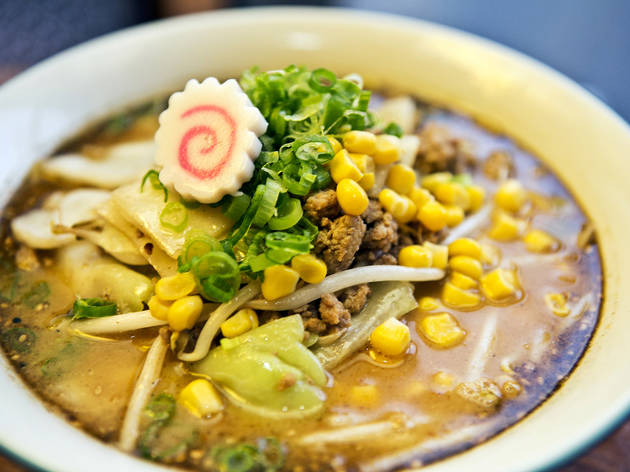 5/24
Photo: Caroline Voagen Nelson
Sapporo-style miso ramen at HinoMaru Ramen Broth: Chicken-vegetable stockNoodles: Thick and wavy Toppings: Minced pork, corn kernels, chopped scallion, menma, bean sprouts, cabbage and fish cakeConversation piece: This complex broth boasts more than 20 ingredients, including three types of umami-boosting miso (a sweet rice-based white version and red and brown bean-based varieties), plus a piquant seven-pepper spice blend. 33-18 Ditmars Blvd between 33rd and 35th Sts, Astoria, Queens (718-777-0228, hinomaruramen.com). $11.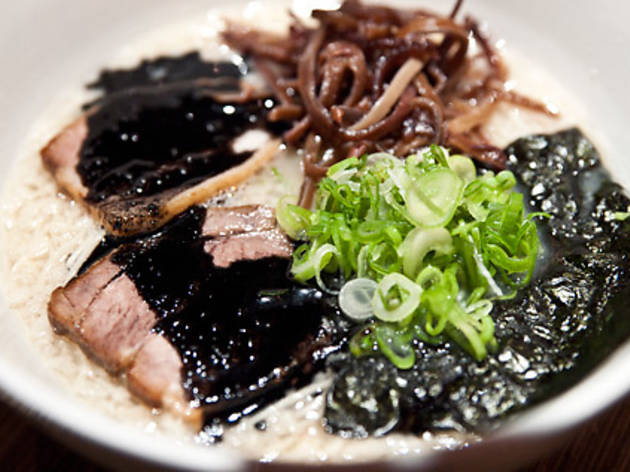 6/24
Photograph: Jolie Ruben
Ma-yu ramen at Hide-Chan Broth: Tonkotsu (pork-back bone, garlic, soy sauce and pork-back oil)Noodles: Housemade straight (ask for them firm if you like your noodles al dente)Toppings: Mayu (charred garlic oil), pork char siu, scallion and jelly-ear mushroomsConversation piece: Owner Bobby Munekata's mini empire also includes Totto Ramen, Soba Totto and Yakitori Totto. 366 W 52nd St between Eighth and Ninth Aves (212-582-0052, hidechanramen.com). $9.75.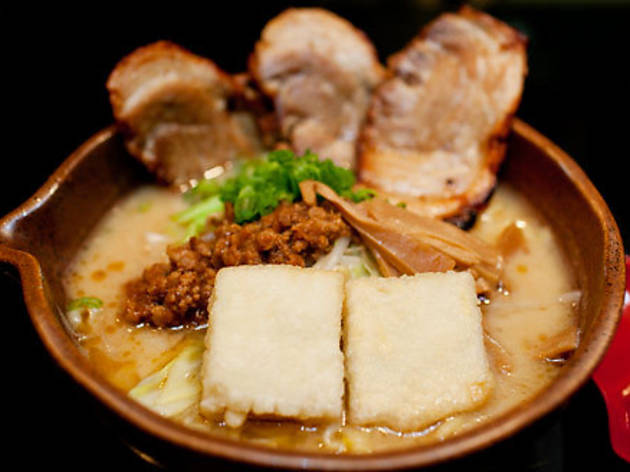 7/24
Photograph: Lizz Kuehl
Shiro ramen at Ramen Misoya Broth: Shiro miso, chicken and pork bones, ginger, seaweed kelp, vegetables and garlicNoodles: Thick and wavyToppings: Fried tofu, bean sprouts, cabbage, bamboo shoots and miso-simmered ground porkConversation piece: The Misoya chain, which was founded just outside Tokyo in Chiba, focuses on different regional styles of miso ramen—the shiro variety is typical of Kyoto. 129 Second Ave between St. Marks Pl and E 7th St (212-677-4825, misoyanyc.com). $10.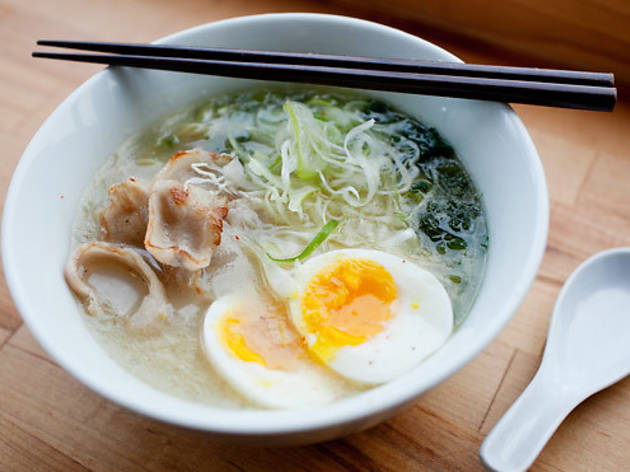 8/24
Photograph: Lizz Kuehl
Pork-bone ramen at Chuko Broth: Tonkotsu (pig's feet, pork belly, ham bones, pork scraps and bacon)Noodles: Straight and thinToppings: Corn, poached egg, duroc pork or Giannone chicken, and scallionsConversation piece: The three chefs in the kitchen—Jamison Blankenship, James Sato and David Koon—are all Morimoto vets, and they spent months testing different broths, noodles and toppings to create the three bowls on their opening menu. 552 Vanderbilt Ave between Bergen and Dean Sts, Prospect Heights, Brooklyn (718-576-6701, barchuko.com). $12.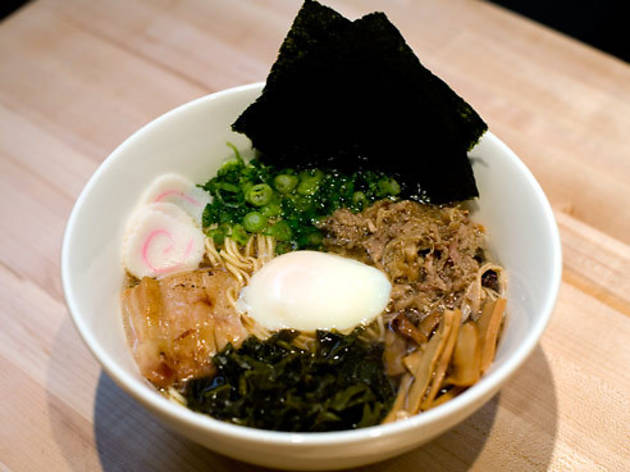 9/24
Momofuku ramen at Momofuku Noodle Bar Broth: Kelp, shiitake mushrooms, chicken, scallion, mirin, soy, sake and Benton's baconNoodles: Straight and alkalineToppings: Roasted pork belly, roasted pork shoulder, nori, napa cabbage, a poached egg, sliced scallions and a fish cakeConversation piece: The first issue of Lucky Peach—David Chang's quarterly magazine, published by McSweeney's—includes a travelogue of the chef's ramen-eating adventures in Tokyo. 171 First Ave between 10th and 11th Sts (212-777-7773, momofuku.com). $16.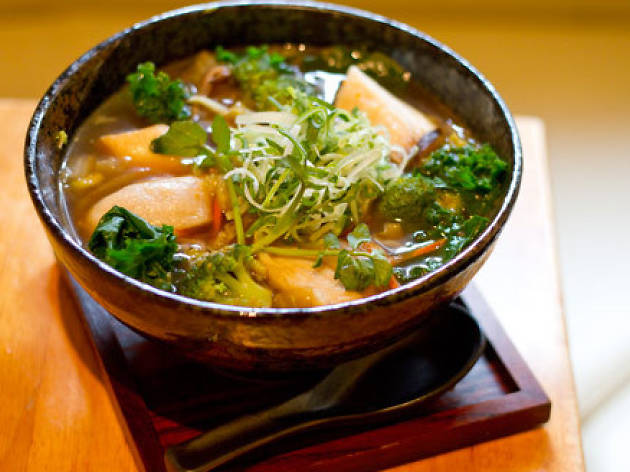 10/24
Photograph: Lindsay Maclean Taylor
Wild black cod ramen at Souen Organic Ramen Broth: Vegetable, kale, shiitake mushroom stock and wild black-codNoodles: Your choice of wheat, white rice, brown-rice or zucchini stylesToppings: Wild black cod, nappa cabbage, carrots, onion, broccoli, shiitake, kale and leeksConversation piece: Souen specializes in macrobiotic, vegan and vegetarian Japanese food; there is a gluten-free option for almost every dish on the menu. 326 E 6th St between First and Second Aves (212-388-1155, souen.net). $14.50.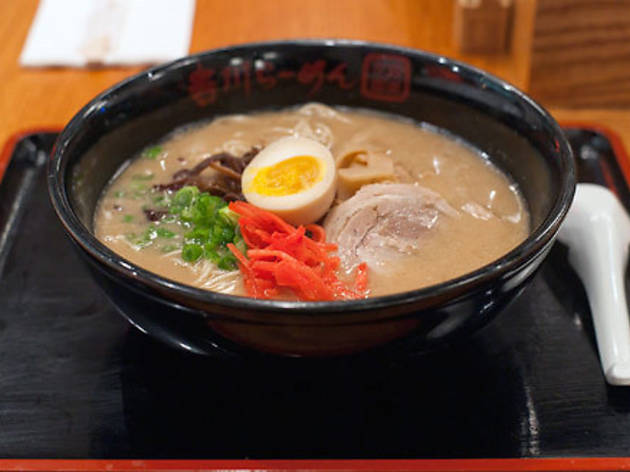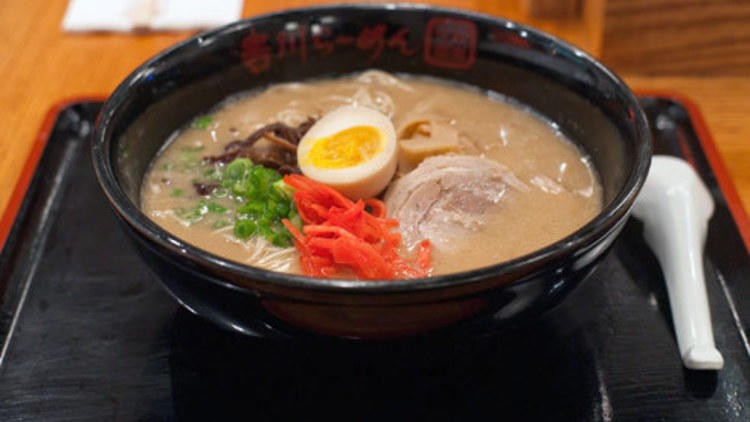 11/24
Photograph: Paul Wagtouicz
Terakawa Ramen at Terakawa Ramen Broth: Tonkotsu (three kinds of pork bones—head, backbone and knees—are cooked for a minimum of 14 hours, and then left to sit for at least 12 more hours)Noodles: Straight and thinToppings: Roasted pork belly, kikurage mushrooms, pickled ginger, scallions and bamboo shootsConversation piece: While tonkotsu is most commonly associated with Japan's Hakata region, Terakawa has its roots in Kumamoto, a nearby prefecture known for its slightly milder variation on the style. 885 Ninth Ave between 57th and 58th Sts (212-777-2939, terakawaramen.com). $9.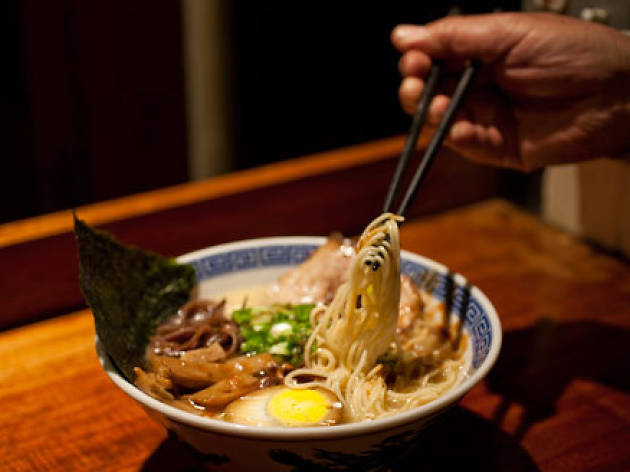 12/24
Photograph: Chiara Marinai
Tonkotsu ramen at Minca Broth: An 80/20 blend of pork and chicken stocks, made in house with bones and flavored with Mongolian saltNoodles: Choice of five varieties—owner Shigeto Kamada suggests very thick, plain noodlesToppings: Mountain vegetables, Chinese-style mushrooms, bamboo shoots, scallions, slow-cooked pork belly, egg and noriConversation piece: Kamada fell in love with tonkotsu ramen while living in Tokyo in his twenties, and always wanted to create his own version of the famous pork broth. 536 E 5th St between Aves A and B (212-505-8001, newyorkramen.com). $10.50.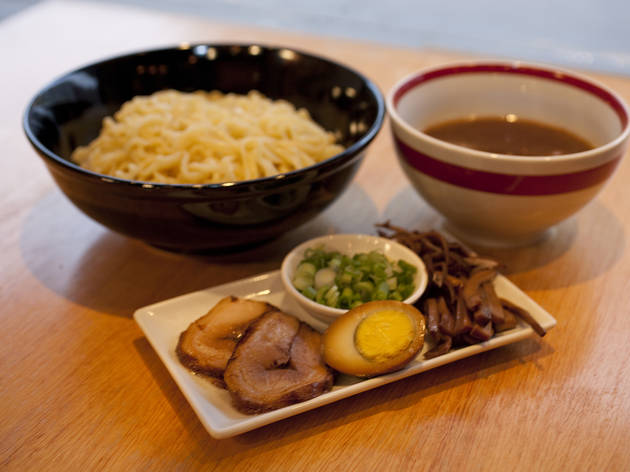 13/24
Photograph: Chiara Marinai
Tsukemen at Kambi Broth: Tonkotsu (an 80/20 blend of house-made pork and chicken stocks, thickened with fish powder and other secret ingredients)Noodles: Extremely thick, similar to udonToppings: Mountain vegetables, Chinese-style mushrooms, bamboo shoots, scallions, slow-cooked pork belly, egg and noriConversation piece: Tsukemen is also referred to by the name dipping noodles; rather than being combined in one bowl, the noodles and toppings are served on the side, then dipped with chopsticks into the broth. 351 E 14th St between First and Second Aves (212-228-1366, newyorkramen.com). $12–$14.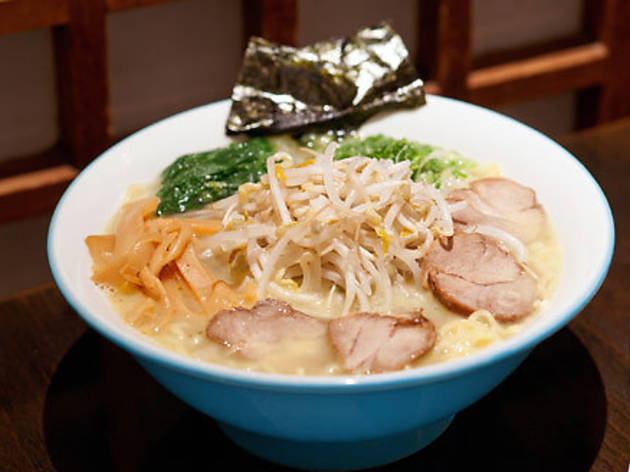 14/24
Photograph: Paul Wagtouicz
Salt-and-butter ramen at Tokyo Restaurant Broth: Chicken-based, with butter and salt addedNoodles: Slightly wavyToppings: Pork char siu, bamboo shoots, bean sprouts, spinach, scallions and boiled eggConversation piece: Restaurant Tokyo is one of the stalwarts of Japanese dining in NYC; it's been in business for more than 40 years and serves a wide range of dishes. 342 Lexington Ave between 39th and 40th Sts (212-697-8330, tokyorestaurant.net). $10.75.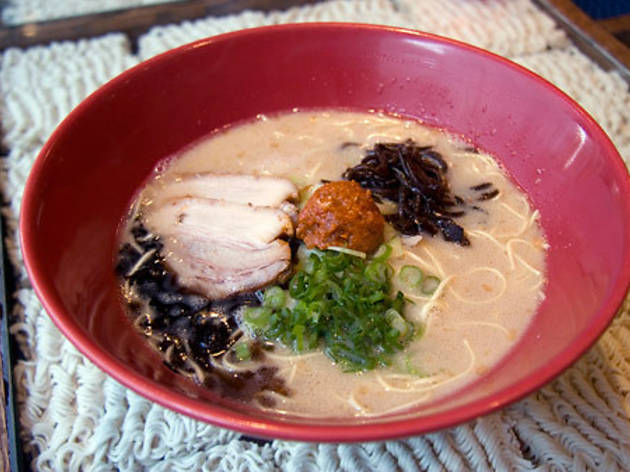 15/24
Photograph: Caroline Voagen Nelson
Akamaru Modern at Ippudo NY Broth: Tonkotsu cooked for 12–15 hours with pork bones from Berkshire pigs  Noodles: Thin, straight and made in-houseToppings: Pork-belly char siu, cabbage, kikurage mushrooms, scallions, garlic oil and umami dama (umami ball)Conversation: Ippudo was brought to NYC by Shigemi Kawahara, who is known as "the Ramen King" in Japan; his rich, cloudy tonkotsu broths draw the longest lines of any of the city's ramen-ya, and they're well worth the wait. 65 Fourth Ave between 9th and 10th Sts (212-388-0088, ippudony.com). $15.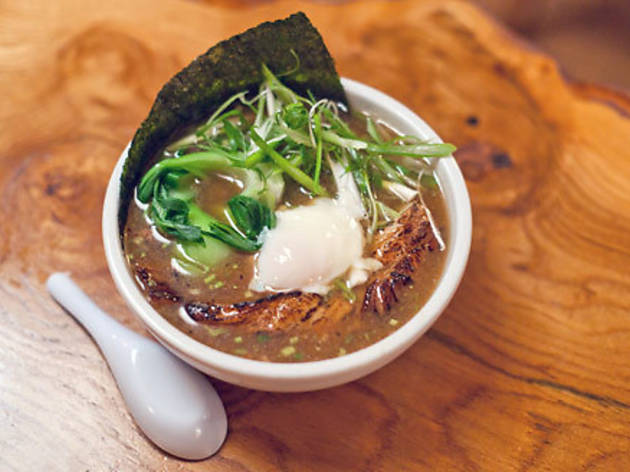 16/24
Photograph: Paul Wagtouicz
Green curry miso ramen at Zuzu Ramen Broth: Chicken-based stock mixed with white and red miso, green curry paste, garlic, soy and dashiNoodles: Straight egg styleToppings: Thai basil, cilantro, soft-cooked egg, scallions and pork-belly char siuConversation piece: This Brooklyn joint is known for its creative, nontraditional ramen styles, including a hot-and-sour variety with shrimp and lemongrass. 173 Fourth Ave at DeGraw St, Park Slope, Brooklyn (718-398-9898). $10.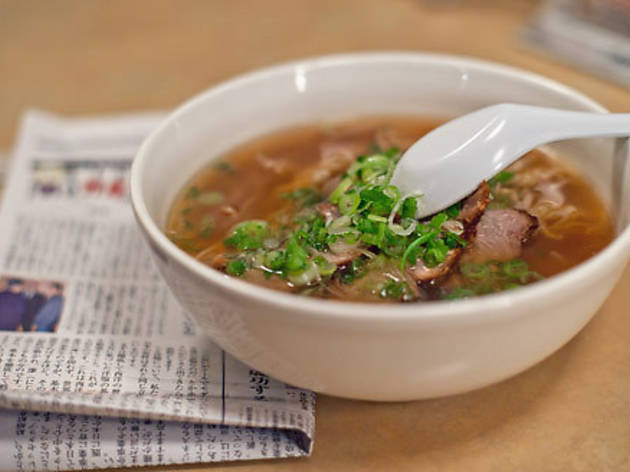 17/24
Photograph: Paul Wagtouicz
Kanton men at Menkui Tei Broth: Soy- and seaweed-based Noodles: Curly egg styleToppings: Roasted pork, scallions, bean sprouts, bamboo shoots and eggConversation piece: This no-frills ramen spot—with plenty of seats to spare for a procession of NYU students and Japanese regulars—is a solid backup plan for anyone who doesn't want to wait for a table at nearby Ippudo. 63 Cooper Sq between Astor Pl and E 7th St (212-228-4152). From $10.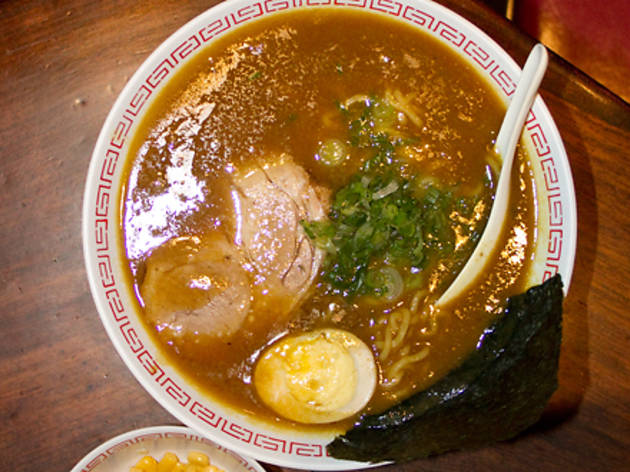 18/24
Photograph: Lindsay M Taylor
Curry ramen at Rai Rai Ken Broth: Kelp with curry mixed inNoodles: Slightly wavyToppings: Roasted pork, egg, scallions and seaweedConversation piece: With 30 seats, Rai Rai Ken is a good approximation of the small, humble ramen-ya found throughout Japan. 210 E 10th St between First and Second Aves (212-447-7030, rairaiken.com). $8.50.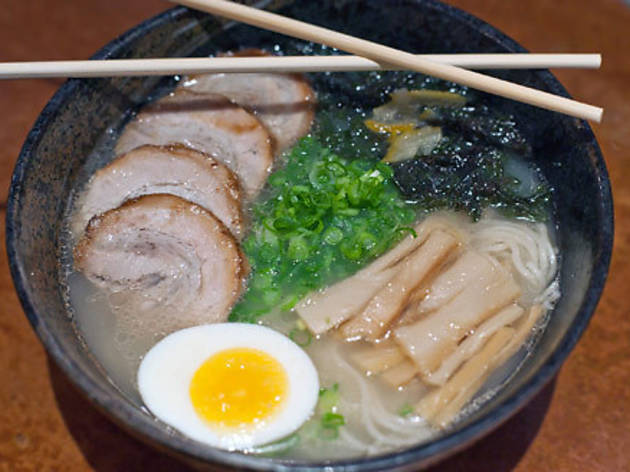 19/24
Photograph: Paul Wagtouicz
Shio ramen at Ramen Takumi Broth: Chicken-based shio (salt)Noodles: Straight and thinToppings: Bamboo shoots, boiled egg, seaweed, chicken breast and anchoviesConversation piece: Shio ramen is popular on Hokkaido, a northern Japanese island where lots of expensive salt is mined, and in Tokyo. 90 University Pl between 11th and 12th Sts (212-229-2752). Lunch $8.95, dinner $9.95.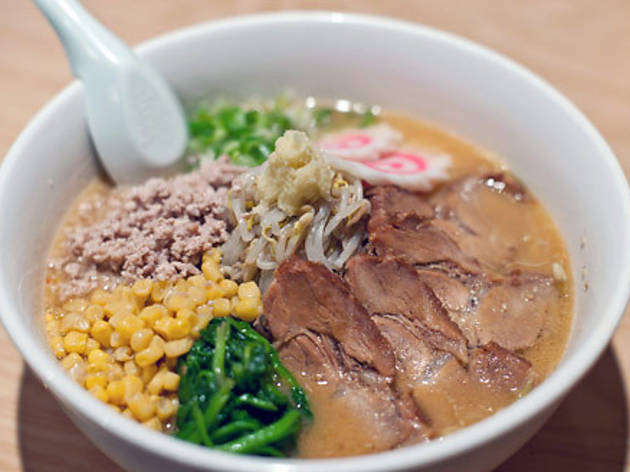 20/24
Photograph: Paul Wagtouicz
Sapporo Special Ramen at Sapporo Broth: Miso and chicken mixed and cooked together for eight hoursNoodles: Egg and wheat styles—medium-thick and slightly wavyToppings: Braised pork, diced pork, corn, spinach, scallions and bamboo shootsConversation piece: Sapporo is known as the birthplace of miso ramen. According to lore, the variant was invented in 1955, when a customer asked a chef to add some noodles to his miso-and-pork soup. 152 W 49th St between Sixth and Seventh Aves (212-869-8972, sapporonyc.com). $10.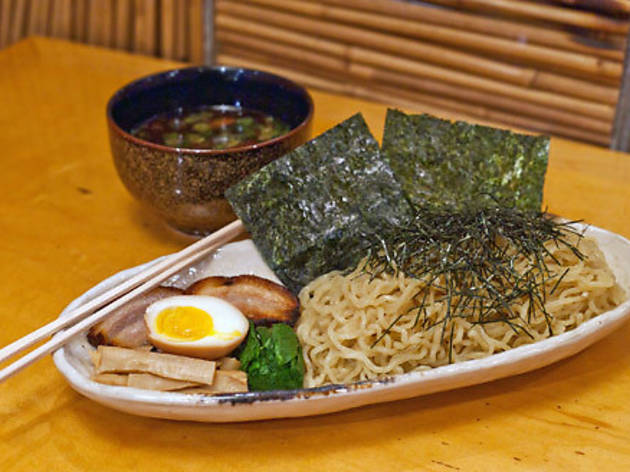 21/24
Photograph: Paul Wagtouicz
Tsukemen at Sanshiro (at SEO) Broth: Soy-sauce–based dipping styleNoodles: Wavy and thickToppings: Pork, egg, spinach and bamboo shootsConversation piece: This pop-up ramen joint takes over the kitchen at midtown sushi restaurant SEO from 11pm to around 2am each night. 249 E 49th St between Second and Third Aves (212-355-7722). $12.50.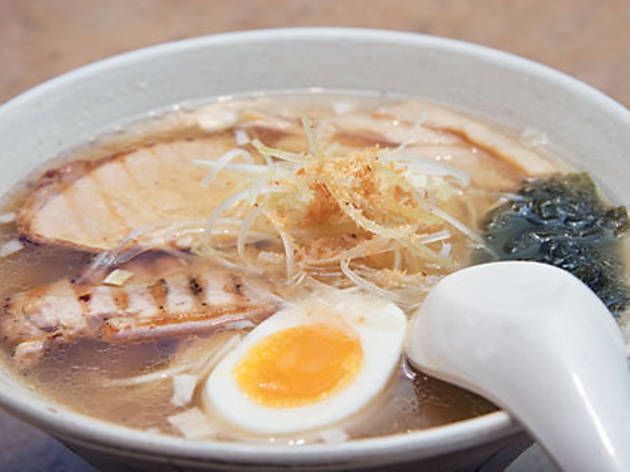 22/24
Photograph: Talia Shim
Shio ramen at Ramen Setagaya Broth: Original shio made with chicken and pork bones, dried scallops, mushrooms, anchovies, garlic, ginger and cabbageNoodles: Thin wheat styleToppings: Barbecued pork, salted eggs, seaweed, bamboo shoots, scallions and scallop powderConversation piece: This Japanese export started in Tokyo before making the jump to the East Village; the shio broth here is unique for its nontraditional use of chicken and pork bones. 34 St. Marks Pl between Second and Third Aves (212-387-7959, ramensetagayany.com). Lunch $8.50, dinner $10.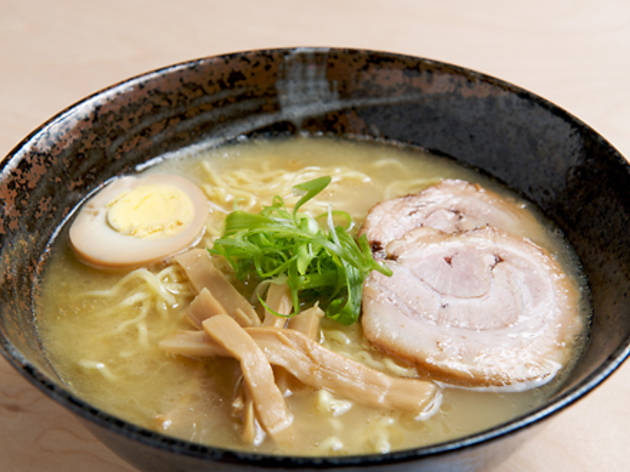 23/24
Photograph: Courtesy of Kubo Hiroshi
Kubo-chan shio at Kuboya Broth: A light-bodied blend of seafood, chicken and pork; seasoning includes dried shrimp and dried scallopNoodles: Slightly thin and wavy, custom-made with Japanese wheat Toppings: Pork char siu, bamboo shoots, cooked egg and scallions Conversation piece: Owner Hiroshi Kubo grew up eating ramen in Tokyo, but he spent six years of his youth in Fukuoka, where he fell in love with the tonkotsu broth popular there. With his mash-up recipes, he seeks to combine his favorite types of ramen into an original New York style. 536 E 5th St between Aves A and B (212-777-7010, kuboyanyc.com). $10.50; half size $7.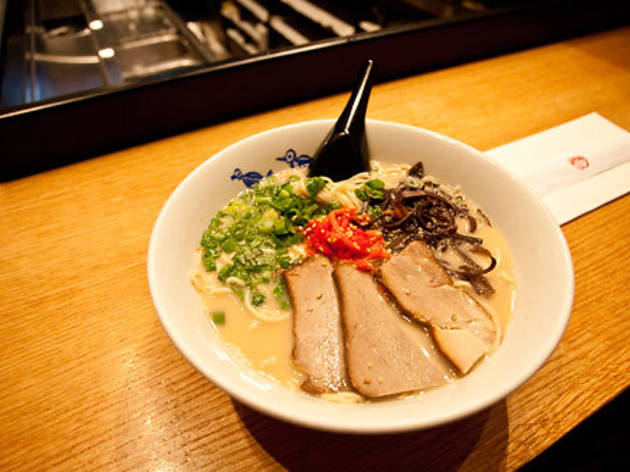 24/24
Photograph: Hannah Mattix
Hakata ramen at Menchanko Tei Broth: Rich, cloudy Hakata-style pork-boneNoodles: Very thin and straightToppings: Pork char siu, black mushrooms, red ginger and scallions Conversation piece: In addition to several varieties of ramen, this midtown spot also offers "Menchanko" soups, inspired by traditional, hearty stews eaten by sumo wrestlers. They are served in large cast-iron pots packed with noodles, meat, seafood, vegetables and a light soy-sauce-based broth. 131 E 45th St between Lexington and Third Aves (212-986-6805, menchankotei.com). $9.25.
25 best ramen dishes: NYC's top Japanese noodles
TONY breaks down the specs of New York City's best ramen dishes. From rich tonkotsu to brothless mazemen, here are Gotham's essential noodle bowls.
For years, New Yorkers have sought comfort in the city's best ramen bowls, lining up at the revered Ippudo or ducking into student favorite Rai Rai Ken on a cold winter night. The popularity of the humble Japanese dish shows no signs of slowing down, with new spots popping up every year, so we checked in at noodle joints all over the city to see which versions were best. Slurp through our list of these standout bowls.
RECOMMENDED: The best Japanese food in NYC