The best coffee shops in America
These coffee shops take the humble cup to new heights with select beans and new brewing methods, appealing to coffee nerds and casual caffeine seekers alike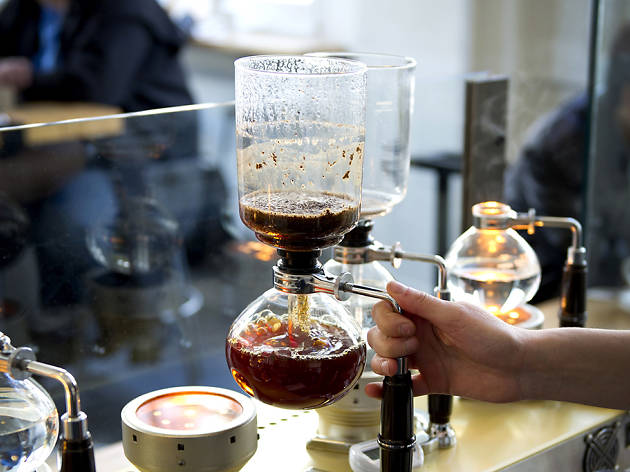 Not to be confused with old-school cafés, diners and luncheonettes, today's so-called "third-wave" coffeeshops are all about micro-roasting, new brewing methods and sourcing directly from tiny, far-flung producers. Coffee connoisseurs also increasingly want strong, cold-brew iced coffee and innovative drinks that might be carbonated, shaken or otherwise messed with by the mad scientists who stand in for baristas these days. From NYC to San Francisco, the new crop of great American coffeeshops provides all this and more.
America's best coffee shops
Sponsored listing
Krupa Grocery
Situated just off Prospect Park in Windsor Terrace, Krupa Grocery has got your coffee, brunch and dinner needs covered. First, you have a difficult choice to make: house-made cappuccino ($4.25) or kombucha on tap ($6)? Krupa also offers a full cocktail menu, extensive wine list and plenty more draft ciders and beers. Starters like the chicken and the egg—chicken liver pate paired with pickled eggs ($11)—and risotto balls ($10) appear on both the brunch and dinner menus. But again, you'll have to make a choice: the breakfast gnocchi with eggs, bacon, black kale and kabocha squash ($14) at brunch or the flatiron steak with potato-cabbage latkes and horseradish creme fraiche ($29) at dinner? If you opt for an evening meal, you can also order sweets from the dessert menu. Think brown sugar pot de creme ($10), carrot cake whoopie pies ($9) or a tasting flight of three varieties of fernet served with a homemade biscotti ($15).
Venue says: "Happy Hour Everyday 4-7pm & 10pm-Close - $2 off All Beers, Wines & Well Cocktails. Live Music every Tuesday starting at 8pm"