Best desserts and sweets in New York City 2012
Explore sweet treats from bakeries and food trucks, and the best desserts from New York restaurants.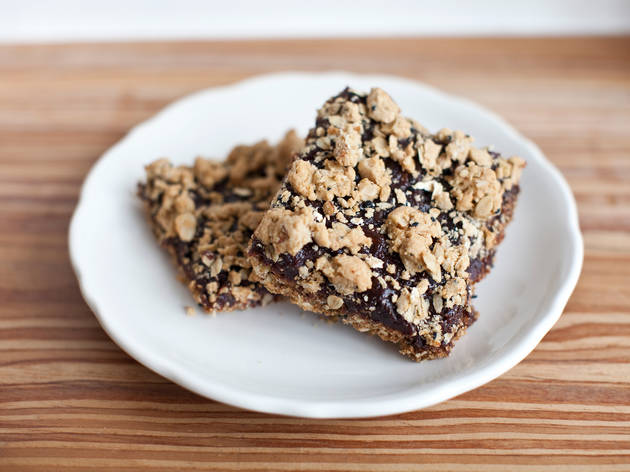 1/10
Photograph: Jolie Ruben
Montego Bay Bars at OvenlyThis gnarly cookie bar may lack photo-shoot-ready refinement, but it's still best in show at Greenpoint bakery Ovenly. A fudgy jam made of Callebaut dark chocolate and chopped dates is sandwiched between a spelt-flour cookie crust enriched with butter and olive oil, and flavored with brown sugar, peppery black caraway seeds and pecans. The resulting confection may be homely, but its mix of nutty, crunchy, gooey and sweet is sublime. 31 Greenpoint Ave at West St, Greenpoint, Brooklyn (347-689-3608). $3.75.—Leah Koenig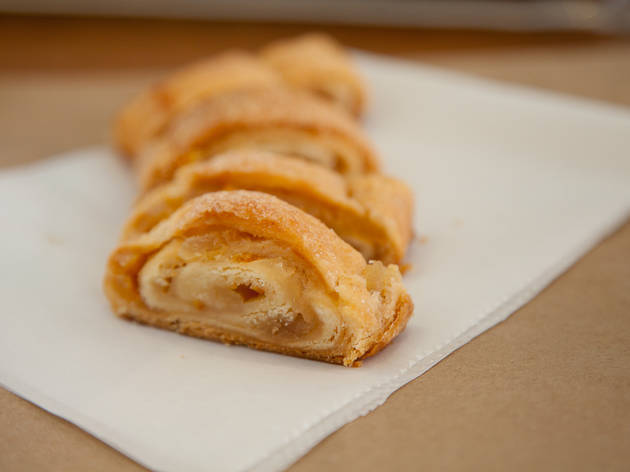 2/10
Photograph: Dominic Perri
Clementine & Ginger Rugelach at Shelsky's Smoked FishInspired by his two young daughters, named Clementine and Ginger, Old World appetizing purveyor Peter Shelsky set about creating an updated version of a traditional Jewish cookie. The result: a flaky butter and cream-cheese dough rolled with a tangy confit made with orange zest, reduced clementine juice and crystallized ginger. A dusting of powdered sugar before baking adds an extra hint of caramelized sweetness to these sticky treats. 251 Smith St between DeGraw and Douglass Sts, Cobble Hill, Brooklyn (718-855-8817). $14.50/lb or approximately $1/per piece.—Leah Koenig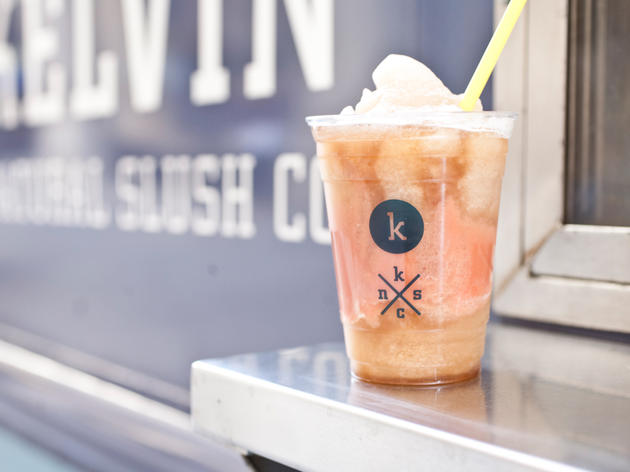 3/10
Photograph: Jael Marschner
Tea Slush at Kelvin Natural Slush Co.This roving food truck serves a sophisticated take on a childhood favorite: the slushie. Filtered water steeped with black and green tea leaves, then lightly sweetened with cane sugar replaces the corn syrup and artificial food dyes typical of the convenience-store–style treat. Threaded with a layer of pureed white peaches, it's a fine way to quiet cravings for a summery sweet any day of the year. kelvinslush.com (646-200-5083). $3.50/$4/$4.50.—Leah Koenig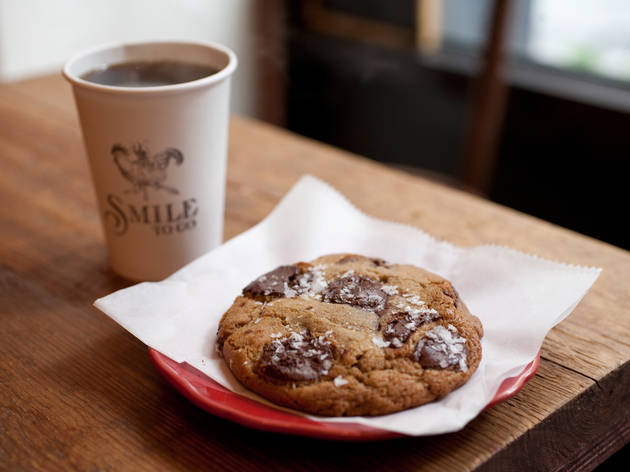 4/10
Photograph: Jael Marschner
Chocolate-chip cookies at Smile to GoWith the inflated market share of artisanal doughnuts and fancy macarons lately, it's easy to overlook the humble chocolate-chip cookie. Smile to Go pastry chef Brenna White offers a stunning reminder via her exceptional rounds, which are packed with dark (72 percent cocoa), single-origin Guittard chocolate, malty brown sugar and a generous dose of vanilla extract. A generous sprinkling of salt before and after baking gives the palm-sized wafers a full, savory finish. 22 Howard St between Crosby and Lafayette Sts (646-329-5836). $2.50 per cookie.—Christopher Ross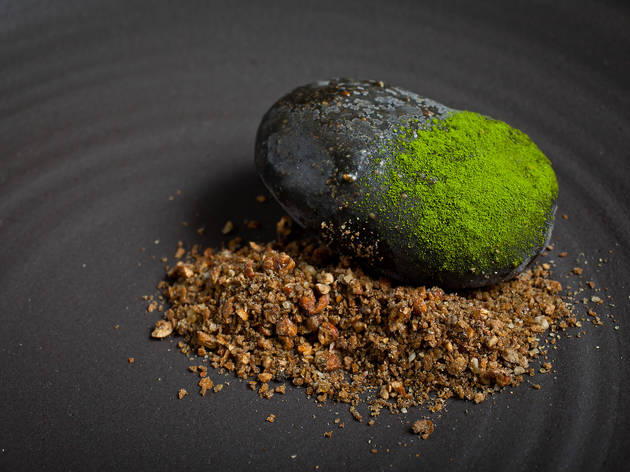 5/10
Photograph: courtesy Atera
Rock sorbet at AteraFood-world trend-spotters may be mooning over foraged plants and flowers these days, but chef Matthew Lightner is pushing the fixation a step further: At his Tribeca restaurant Atera, Lightner is serving up rocks. Using molds made with actual stones, he creates a cookie-dough shell with pureed butter. It's dusted a convincing gray with edible ash, and then filled with bergamot sorbet that oozes magmalike out of the rock when cracked. Dried parsley sprinkled on top approximates moss, and caramelized chopped rye berries resemble gravel beneath, completing the delicious, gone-too-soon illusion. 77 Worth St between Broadway and Church St (212-226-1444). Available as part of tasting menu $165.—Christopher Ross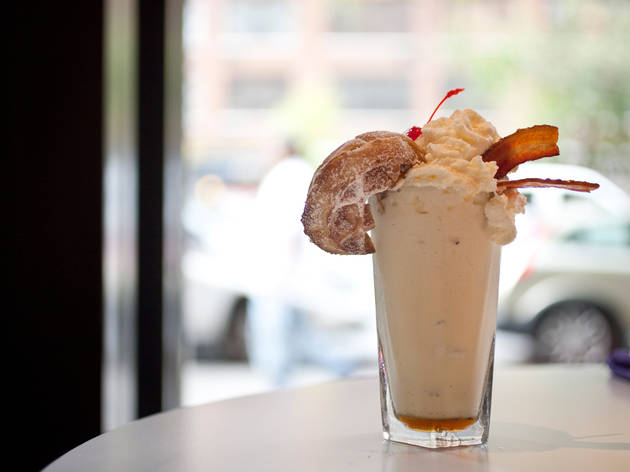 6/10
Photograph: Michael Skigen
Waffle and bacon milk shake at Sugar and PlummDry-cured and smoked bacon makes three appearances in this preposterously tasty milk shake. Pulverized bits of the maple-brushed pork stipple Hudson Valley vanilla ice cream, which is also washed in rendered fat. The candied bacon garnishes the savory shake, too, along with a doughy, sugar-dusted round waffle. It all adds up to a hairpin balance of sugar, smoke and salt, blended into one habit-forming dessert. 377 Amsterdam Ave at 78th St (212-787-8778). $8.—Christopher Ross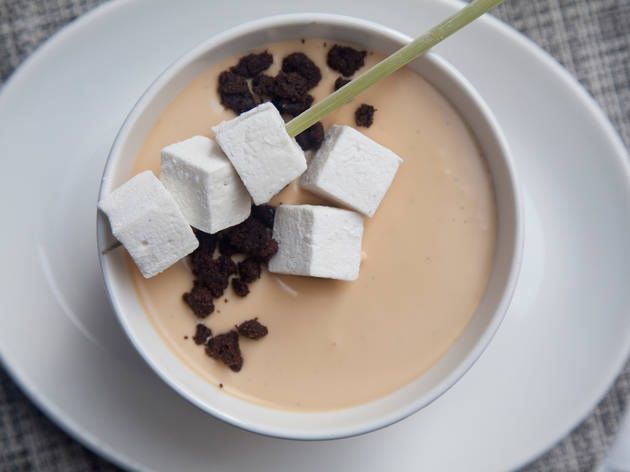 7/10
Photograph: Melissa Sinclair
Butterscotch Pot de Crème at North End GrillThe plating may call to mind a late-autumn campfire: Skewers of snow-white marshmallows resting over a glass filled with burnt-orange cream and charcoal-colored crumbs. But pastry chef Alexandra Ray's silky butterscotch custard is instead a cool study in texture. Fluffy marshmallows infused with single-malt scotch, too pretty for any fire pit, are the tender, chewy foil to the pudding's richness and the gritty crunch of the chocolate cookie crumble. 104 North End Ave at Vesey St (646-747-1600). Available intermittently with the $85 tasting menu and à la carte beginning in December, $9.—Jasmine Moy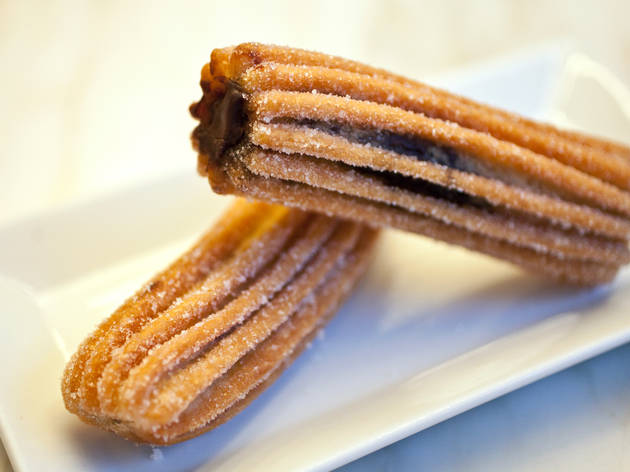 8/10
Photograph: Virginia Rollison
Churros and chocolate at La ChurreriaMost Americans are familiar with the Mexican iteration of this treat (long, cinnamon-sugar-dusted wands), but Spanish expat Lolo Manso crafts his version sans cinnamon, according to the recipe common in his native country. Fried to order, the ethereally light batons come adorned with a simple dusting of sugar and a cup of dense, liquid dark chocolate for dipping. 284 Mulberry St between E Houston and Prince Sts (212-219-0400, lachurrerianyc.com). Six $6, a dozen $10.—Sarah Bruning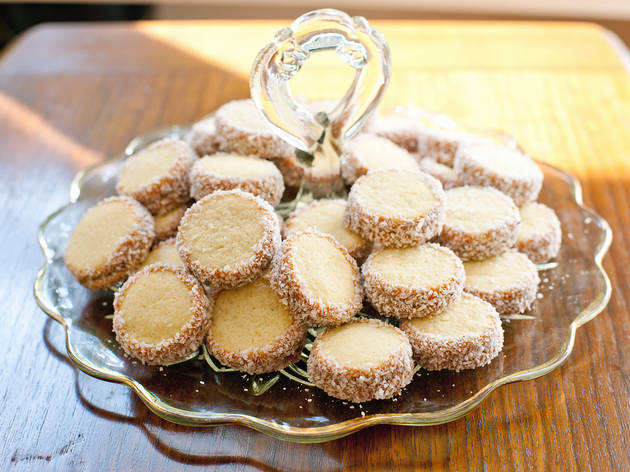 9/10
Photograph: Paul Wagtouicz
Dulce de leche cookie at Zucker BakeryAt Zohar Zohar's dreamy East Village bakery, these queenly sandwich cookies—a take on the Latin treat alfajores—stole our hearts. She caramelizes condensed milk to make dulce de leche and swipes the rich, creamy paste between two shortbread rounds. Left to sit overnight, the flavors mingle, and the butter-rich cookies become tender as they absorb the sauce. A gentle roll in shredded coconut gives the soft pale-yellow cookie a pretty white fringe. 433 E 9th St between First Ave and Ave A (646-559-8425, zuckerbakery.com). $1.—Mari Uyehara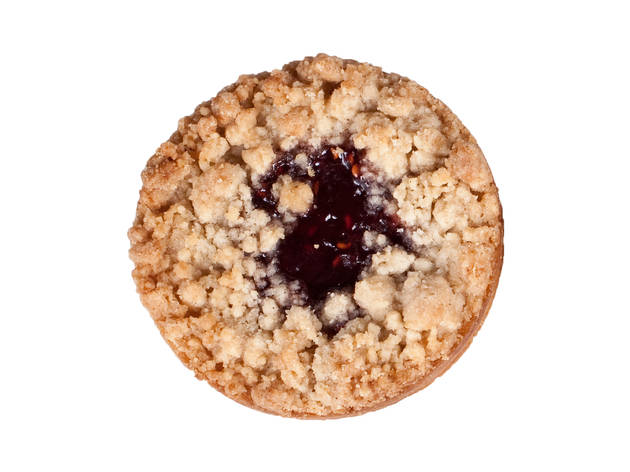 10/10
Photograph: Krista Schlueter
Jammers at Beurre & SelWhile baking and cookbook queen Dorie Greenspan's World Peace chocolate cookies are legendary and her French vanilla sablés unimpeachable classics, we're completely smitten with her Jammers. The four-time James Beard Award winner shapes these rounds, made with local butter and French sea salt, into distinctive thick pucks, sporting a hint of Madagascar and Tahitian vanillas, a tangy slick of sticky Bonne Maman Wild Blueberry Preserves and a crown of tender, salt-speckled streusel. 1590 Park Ave between 112th and 115th Sts (no phone yet) • 120 Essex St between Delancey and Rivington Sts (917-623-3239) • beurreandsel.com. $3 each, seven for $14.—Mari Uyehara
RECOMMENDED: All 100 best dishes and drinks
The finest sweets and best desserts we ate this year include slushies from Kelvin Natural Slush Co., milk shakes by Sugar and Plumm and authentic churros at La Churreria. And while artisanal doughnuts and fancy macarons are reaching saturation point, cookies have made a serious comeback.