Heads up! We're working hard to be accurate – but these are unusual times, so please always check before heading out.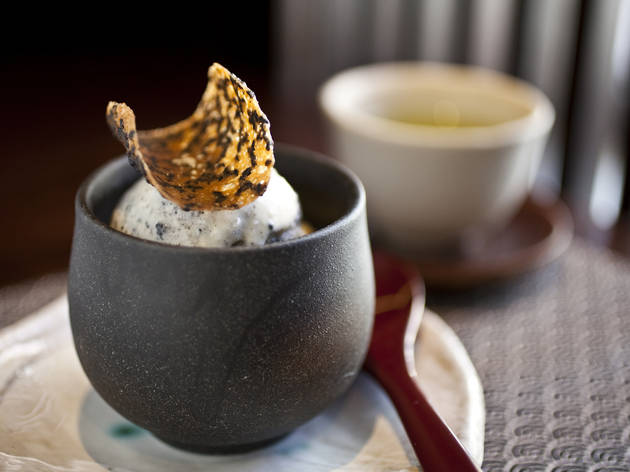 1/9
Photograph: Virginia Rollison
Black-sesame crème brûlée at Cha-An In this dreamy Franco-Asian dessert, a generous scoop of house-made black-sesame ice cream slowly melts onto silky crème brûlée, which is infused with heavy cream and a nutty paste. A rolled-up tuile wafer—studded with more seeds—tops the decadent cup. 230 E 9th St between Second and Third Aves, second floor (212-228-8030, chaanteahouse.com). $9.—Patty Lee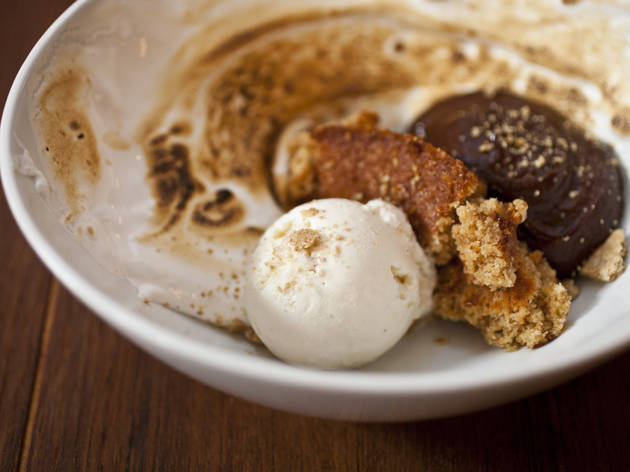 2/9
Photograph: Virginia Rollison
S'mores at Distilled The quintessential bonfire treat meets dining-room glamour. For his deconstructed plate, Shane Lyons smokes moist, graham-cracker-flavored cake over hickory chips, infusing it with extra smolder. Smears of torched marshmallow and chocolate sauce conjure the toasted confection, while a dusting of crumbled graham crackers lends crunch. 211 West Broadway at Franklin St (212-601-9514, distilledny.com). $8.—Patty Lee
3/9
Photograph: Jennifer Arnow
Chorizo-caramel swirl at OddFellows Ice Cream Co. Sam Mason has earned acclaim as a culinary innovator ever since his days as the pastry chef at avant-garde temple wd~50, so it's no surprise that the menu at his old-timey parlor highlights what's become one of 2013's big dessert trends: sweet-savory combinations. Among the rotating lineup of 12 custard flavors—all crafted with locally sourced cream from Battenkill Valley Creamery—this ultrasilky standout adeptly toes the line between boldly creative and delicious. Spanish pork sausage gives the base its umami richness, which gets reinforced by a ribbon of house-made, chorizo-infused caramel woven through every batch. 175 Kent Ave between North 3rd and 4th Sts, Williamsburg, Brooklyn (347-599-0556, oddfellowsnyc.com). $3.25–$6.25.—Sarah Bruning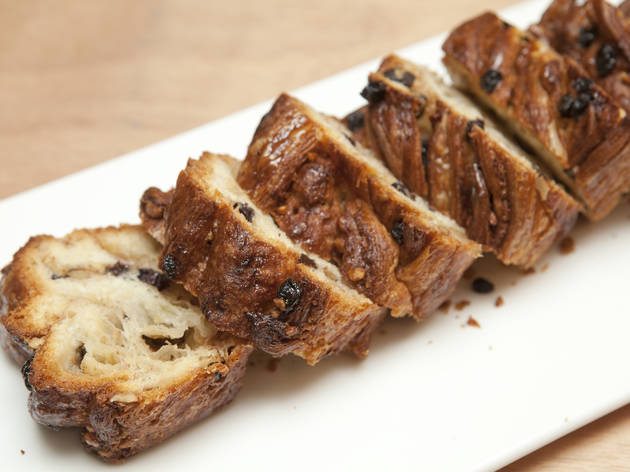 4/9
Photograph: Jessica Lin
Cinnamon-raisin babka at Breads Bakery Not all babka is created equal—some is lopsided, all dry ends and overfilled center. But Uri Scheft's tender bundle—every twist and turn of the brioche-light pastry is lavishly swirled with cinnamon, raisins and walnuts. Thrice daily, the Israeli baker pulls the kranz cakes from his oven and laminates their braided tops with sugar syrup for a crisp crust, encasing an impossibly moist center fortified with cultured butter. 18 E 16th St between Fifth Ave and Union Sq West (212-633-2253, breadsbakery.com). $9.95.—Christina Izzo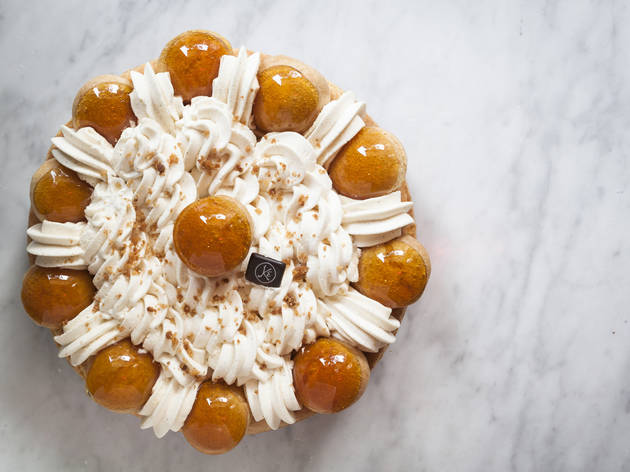 5/9
Photograph: Michael Rudin
Saint Honoré at Maison Kayser This once-seasonal dessert—fittingly named after the patron saint of baking—is now on the menu full-time at Eric Kayser's beloved patisserie. Flaky puff pastry serves as a base for his petite rendition, capped by three crème Chantilly–filled profiteroles. Swirls of the lush vanilla cream and caramel icing decorate the elegant piece. 1294 Third Ave between 74th and 75th Sts (212-744-3100, maison-kayser-usa.com). $5.75.—Patty Lee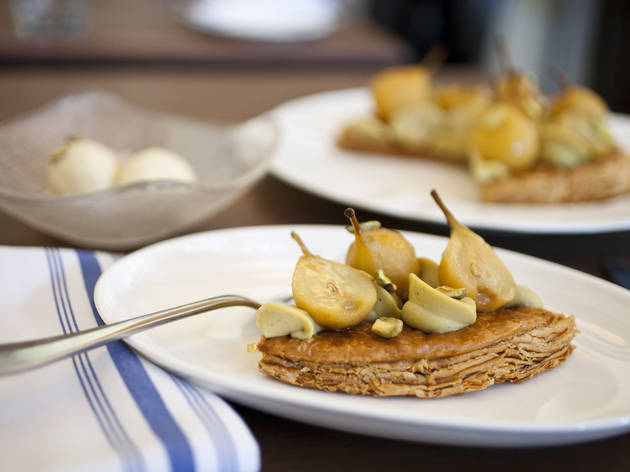 6/9
Photograph: Virginia Rollison
Tarte rustique at Lafayette Pâtissier extraordinaire Jen Yee knows that a gorgeous, house-made puff pastry speaks for itself. Topped with pistachio cream, the round is layered with fruit at its seasonal prime (apple one month, pear the next), the edges artfully turned in. Quartered and served on a wide cutting board with a bowl of vanilla ice cream, this tart theoretically feeds two, but try stopping yourself after one slice. 380 Lafayette St at Great Jones St (212-533-3000, lafayetteny.com). $22.—Jasmine Moy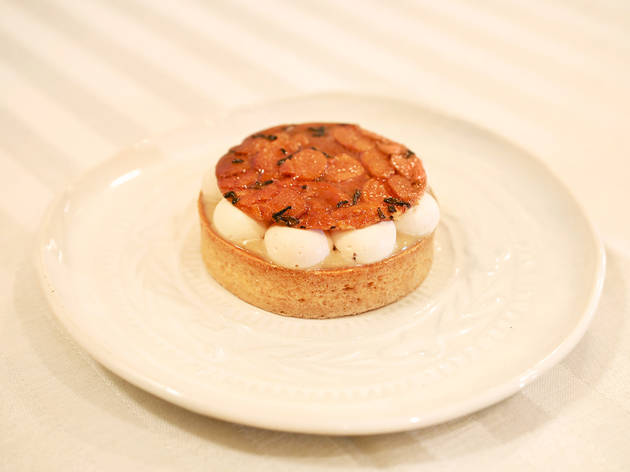 7/9
Photograph: Tomas Vrzala
Darjeeling tart at Bosie Tea Parlor Sweets whiz Damien Herrgott winks at the shop's focal point, layering on the brew's rich floral aroma. The Ladurée alum fills a buttery pastry shell with Darjeeling-steeped ganache, ladyfingers and crème Chantilly before covering it with a chewy disc made of sliced almonds and—you guessed it—a tea caramel. 10 Morton St between Seventh Ave South and Bleecker St (212-352-9900, bosienyc.com). $6.50.—Patty Lee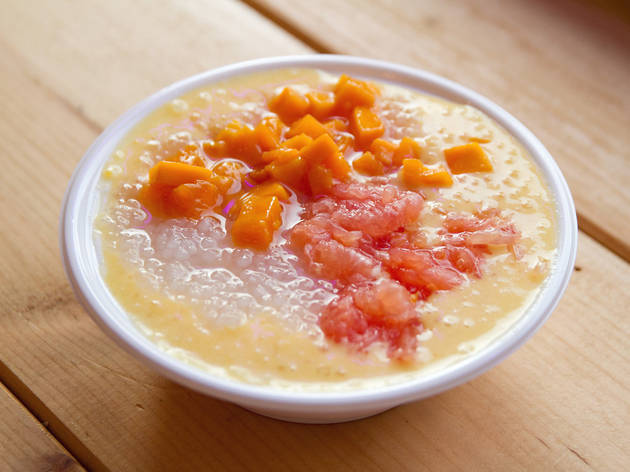 8/9
Photograph: Robyn Lee
Mango-pomelo-sago soup at Indessert New York City may boast Chinese joints aplenty, but it was sorely lacking in Hong Kong–style desserts before this shop opened in April. The refreshingly simple tropical "soup" is flavored with rock sugar, enhancing the mango's natural sweetness. Heavy cream thickens the luscious puree, keeping ripe mango, tart pomelo slivers and chewy sago orbs suspended in the heady mixture. 1 East Broadway between Catherine and Oliver Sts (212-528-3188). $5.75.—Patty Lee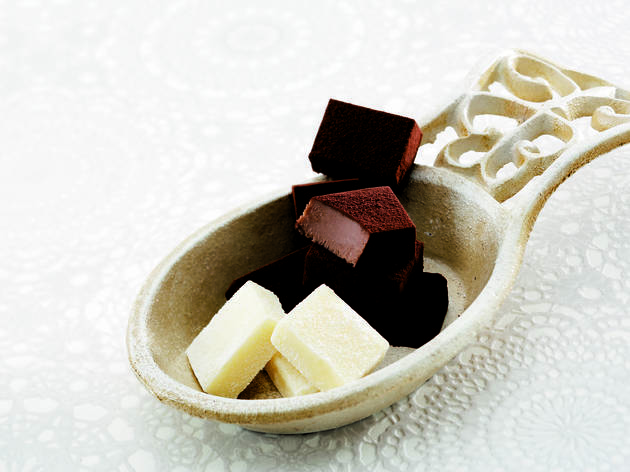 9/9
Photograph: Courtesy Royce' Chocolate Boutique
Bitter Nama chocolate at Royce' These elegant, minimal squares from Japan's cultish chocolate boutique are made with cacao and fresh cream from Hokkaido, Japan's northernmost prefecture, famed for its dairy products. The dense pieces—truffle-soft from edge to edge—are finished with a heavy dusting of cocoa powder. 509 Madison Ave between 52nd and 53rd Sts (646-590-0650, royceconfectusa.com). Box of 20 $18.—Soomin Shon
Best desserts in New York City 2013: Tarts, chocolates and more
An Asian-inspired crème brûlée, Japanese truffles and cinnamon babka are our picks for the best desserts in New York City.
Skip the hours-long wait. The cronut isn't the only exquisite sweet we've sampled this year. Sate your sugar cravings with the best desserts in New York City, featuring a deconstructed s'more and chorizo-laced ice cream.

RECOMMENDED: All 100 best dishes and drinks