The best lunch in NYC
Maximize your midday meal with the best lunch NYC offers, from quick-service sandwich shops to client-lunch dining rooms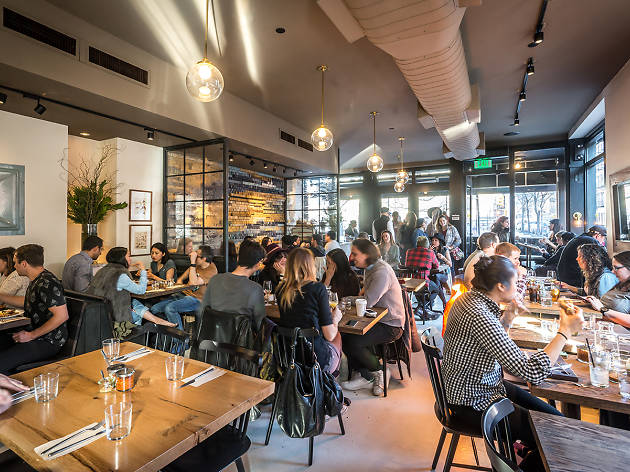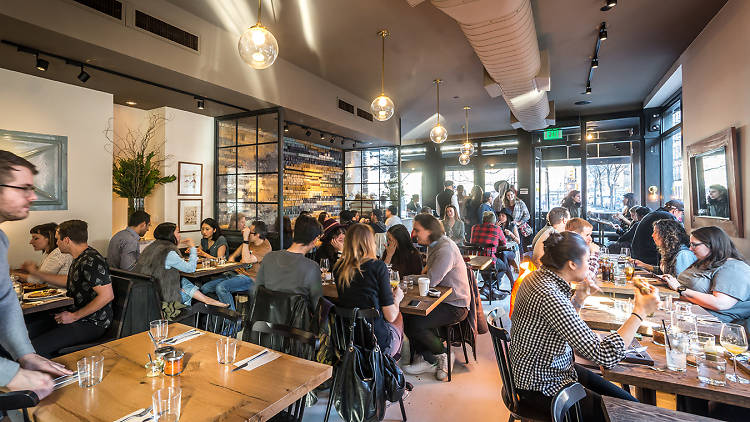 Whether you eat at your desk or get a full 60-minute lunch, treating yourself to the best lunch NYC restaurants have to offer is your prerogative. And Gotham's got you covered with sandwich shops, takeout and delivery restaurants, and some of the city's best ramen shops. Get out of the office and get to these spots for the best lunch in NYC.
Best lunches in NYC
1
Venue says: "Serving all day in the West Village. Join our mailing list to get the latest offers from High Street on Hudson!"
At High Street on Hudson, the day-to-night West Village sibling to chef Eli Kulp and Ellen Yin's lauded Philadelphia restaurant, High Street on Market, head baker Alex Bois's astonishing loaves—potent New World ryes, hearty German-style vollkornbrot, anadama miche enriched with molasses—obliterate the idea of bread as mere mealtime filler. Here, it is the meal. Lunch lingers until 3 pm (for the late crowd) at this all-day West Village bread-lover's mecca. Plentiful salads cozy up next to fat-marbled pastrami piled high on rye, and classic sandwiches like roasted turkey share menu space with inventive new takes like a duck-meatball sub made with liver, onions and Lancaster Amish Swiss.
Book now
Read more
2
Stop by Chelsea Market for affordable Mexi-Cali grub (quesadillas, agua fresca) for the lunch crowd. Their homespun tacos (carne asada, grilled cactus) are some of the best in the city: Small, from-scratch corn tortillas puff up on the grill like blowfish, easing down before they're piled with superbly juicy adobada pork.
Read more
3
Tokyo-style ramen on the Lower East Side slurped up for lunch? It's a godsend. Sup on all the usual noodle offerings (seal-salted shio, soy-splashed shoyu) for a hearty midday pick-me-up, or try something modern, à la the fried chicken "katsu" sandwich.
Book now
Read more
5
A SoCal-inspired cafe nestled between dumpling and pho spots in Chinatown, Dimes proffers diet-friendly bowls like black rice packed with kale, sweet potato, eggplant and chili cucumber in a grapefruit-ginger ponzu. Beyond the bowl, find sandwiches including steak and cheddar on a potato bun, and wraps like seared tuna with collard greens.
Read more
7
A comfort-food menu highlighting local produce and sustainable meats, sandwiches and salads are lunchtime staples done right at this Chelsea Market enclave (there's a sister location on the border of Chelsea and Hell's Kitchen) where you can lunch all day on egg-centric platters, wraps and sandwiches.

Photograph: Courtesy CC/Flickr/Garrett Ziegler
Read more
8
It's not just a bar. Until 4 pm, you can nosh on substantial lunchtime bites like cheeseburgers and chicken sandwiches, or lighter fare like a grain-packed kale salad or chopped chicken-and-avocado salad. Pro tip: If you're feeling charitable, you can feel good about bellying up to that burger: A quarter of every burger sale is donated to NYC Coalition Against Hunger.
Read more
9
Get off the clock for a midday interlude at this retro-classic diner serving up a thick menu of sandwich favorites, from a classic Reuben to an old-fashioned Philly cheesesteak. With the slogan, "Raising New York's Cholesterol Since 1929," you know it's gonna be good.
Read more
10
A Jamaican juice bar with a food-side known as Miss Lily's, daytime diners can treat themselves to Caribbean classics like jerk chicken with rice and peas, curry chicken roti and Jamaican meat patties. Vegetarian options also abound at the comforting cafe.
Read more
11
Break out of your lunch rut and try something off the beaten path. At this famous shop, Portuguese-Italian sandwiches made on traditional water bread hold together sumptuous fillings like blood sausage with mozzarella, collard greens and broccoli rabe. Take that, corner deli.
Read more
12
Crispy Japanese meats over rice with a spicy sauce: a simple, delicious lunchtime treat in multiple locations across Manhattan. Go! Go! Curry is also popular for the delivery crowd, so you don't even need to leave your desk for this one.

Photograph: Courtesy CC/Flickr/Guilhem Vellut
Read more
Archive lunch in NYC content
Sponsored listing
Zaitzeff
This Financial District outpost offers burgers for the conscious carnivore: The restaurant serves only meat that is hormone- and antibiotic-free and comes from family-owned farms. First, choose your meat: sirloin ($11 for a quarter-pound patty, $17.50 for a half-pound patty), Kobe beef ($12.95 for a quarter-pound patty, $19.95 for a half-pound patty), turkey ($9.75), grilled chicken breast ($14.50) or a veggie patty ($9.25). Then, doctor it up with toppings like bacon ($2.75), mushrooms ($3), avocado ($1.50), Vermont cheddar ($1.50) and sausage ($3). All that's left to do when your cooked-to-order burger arrives on a fluffy Portuguese roll is dig in. Still hungry for more? Order up some regular or sweet potato fries ($5.25 each). After all, you can't have a burger without 'em! To drink, Zaitzeff offers a selection of craft beers, plus Pellegrino ($1.75) and Little Rabbit sodas ($2.50).
Venue says: "Order Online Today - Get 10% off every order by using the code: ORGANIC10"