The best NYC restaurants opening in 2016
From international imports to hotly-anticipated hometown sequels, ready your bellies for the best spots opening this year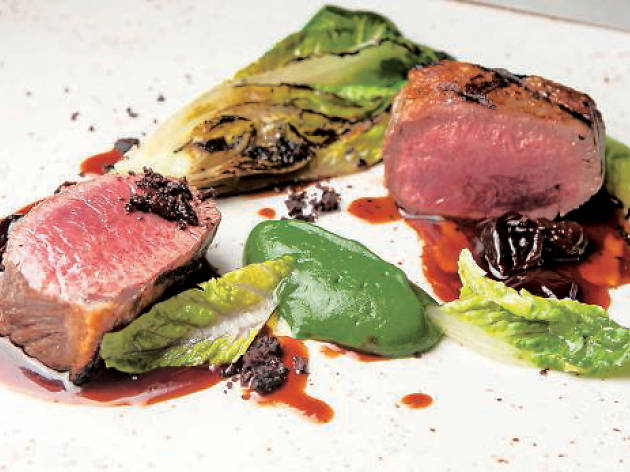 It was an eventful year for NYC dining in 2015: fried chicken joints stole the spotlight, along with nouveau Korean restaurants and trussed-up vegan and vegetarian restaurants. Though its got a tough act to follow, 2016 is already teeming with new, equally mouthwatering prospects. From long-awaited efforts (you may recognize some still-delayed holdovers from last year) to surprising newcomers, mark your calendars for the best NYC restaurant openings in 2016.
RECOMMENDED: Full guide to the best of 2016
Best NYC restaurants opening in 2016
Bedford & Co
After a very public fallout with business partner Sean Largotta, downtown maven John DeLucie (the Lion, Bill's Food & Drink) goes solo with a 100-seat small-plates restaurant inside the Renwick Hotel, offering comfort classics like chicken pot pie and truffle macaroni-and-cheese alongside fire-grilled items (wood-seared kanpachi, Long Island duck). 118 E 40th St
Estimated opening: late January
La Sirena
Taking over the dining operations of the Maritime Hotel, Mario Batali and Joe Bastianich launch this plaza-level trattoria, which is notable for being the duo's first standalone restaurant since 2006's Del Posto. Italian-accented plates will be served across two dining rooms, including duck eggs with almond pesto, beef braciola with broccoli rabe and grilled swordfish Messinese. 88 Ninth Ave
Estimated opening: late January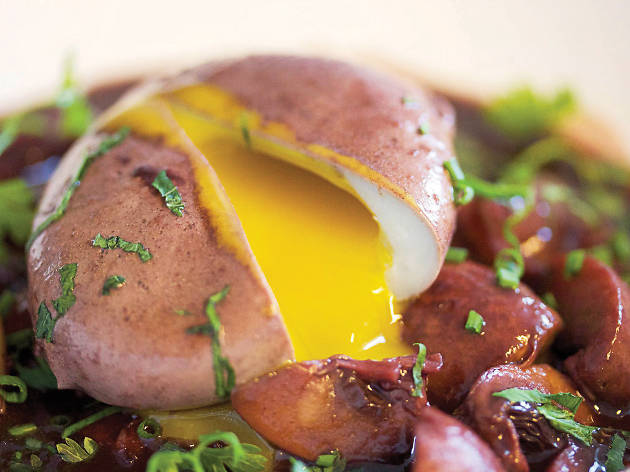 Le Coq Rico
The popular Parisian bistro lands in Gotham for its first stateside location, helmed by triple-Michelin-starred chef Antoine Westermann (Strasbourg's Le Buerehiesel). Like its French sister, the 3,000-square-foot Flatiron edition will feature whole-roasted birds, duck rillettes and fried chicken hearts. 30 E 20th St
Estimated opening: late January
Carla Hall's Southern Kitchen
TV toque Carla Hall (Top Chef, The Chew) launched a successful Kickstarter campaign to fund this 30-seat eatery, taking over the former Whiskey Soda Lounge space. Here, she'll introduce Gothamites to the hot bird-style fried chicken of her native Nashville using family recipes. The restaurant also marks the first time the chef will run her own restaurant, having previously worked in catering. 115 Columbia St, Brooklyn
Estimated opening: February
Indian Accent
The New Delhi original, helmed by Indian supertoque Manish Mehrotra, is currently sitting pretty at No. 77 on S. Pellegrino's World's Best list. At this New York branch in the Le Parker Meridien, the chef will oversee dishes like pork ribs with pickled mango, soft-shell crab with Madras gunpowder chutney and Kashmiri morels with Parmesan papadum wafers. 123 W 56th St
Estimated opening: February
Lilia
This joint effort from Matt Kliegman (The Smile) and chef Missy Robbins (A Voce) will tangle up fresh, seasonal pastas and other Italian fare prepared in a wood-fire oven. Housed in a former auto shop, the eatery will have take-out cafe in addition to the main dining room. 567 Union Ave, Brooklyn
Estimated opening: February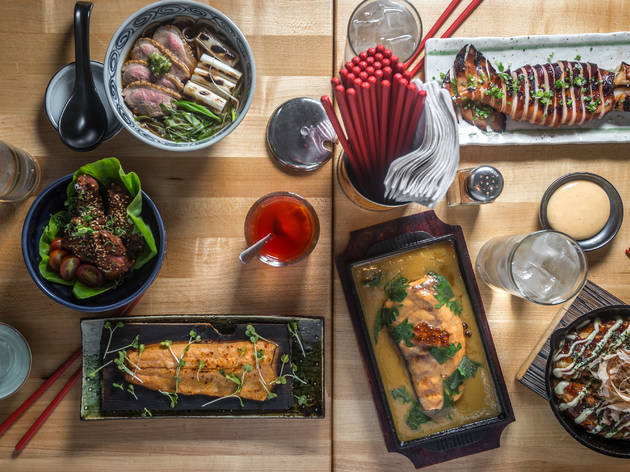 Sushi Ganso
Japanese food kings Harris Salat and chef Tadashi Ono complete a Far-East trifecta with this follow-up to their beloved Ganso and last year's Ganso Yaki. The 30-seat spot next door to the latter will focus primarily on sushi and other raw-fish offerings. 31 Third Ave, Brooklyn
Estimated opening: February
Mah-ze-Dahr
Since earning praise from Tom Colicchio two years ago, Umber Ahmad and her co-chef Shelly Acuña Barbera have been baking their brioche doughnuts and brownies out of his 'wichcraft store locations and selling through wholesale and e-commerce operations. They'll soon unleash those confections at a West Village brick-and-mortar shop. 28 Greenwich Ave
Estimated opening: February
Momosan Ramen & Sake
Iron Chef Masaharu Morimoto, affectionally known as Momosan, dives into ramen for the first time restaurant at this Murray Hill izakaya. Expect the traditional varieties—there's an emphasis on tonkotsu (pork bone) and chicken broths—as well as a sizable selection of sakes. 432 Lexington Ave
Estimated opening: February
Tekoá
Alexandra Raij (El Quinto Pino, Txikito) will relax her Spanish tapas focus at this "daytime cafe with baked goods" taking over the former eight-year home of Cobble Hill café Ted & Honey. It opens two doors down from La Vara, the Michelin-starred, Moorish-inflected standby she runs with husband, Eder Montero. 264 Clinton St, Brooklyn
Estimated opening: February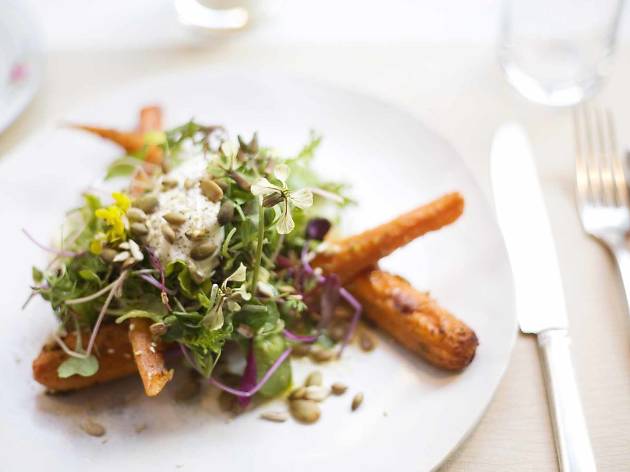 ABCV
The French-born megawatt restaurateur behind ABC Kitchen and ABC Cocina takes the prolific plant-based trend into the new year with this long-awaited vegetable-focused concept, overseen by chef de cuisine Neal Harden. There won't be any faux-meat burgers though—instead, expect an expanded version of ABC Kitchen's vegetable offerings. The restaurant, which was first announced in 2014, is a continued partnership with longtime cohort Phil Suarez and ABC Home proprietor Paulette Cole. 38 E 19th St
Estimated opening: March
Mr. Donahue's
Chefs Ann Redding and Matt Danzer's Thai restaurant, Uncle Boons, earned its first Michelin star this year, and now the husband-wife duo is expanding with a second Nolita eatery. The 20-seat heartland-focused venture will take after the Southern "meat-and-three" tradition, with mains, like prime rib and Swedish meatballs, and mix-and-match sides ranging from vegetables to more outré offerings, like oysters or house-made Vienna sausages. 203 Mott Street
Estimated opening: March
Salvation Burger
One of the hallmarks of April Bloomfield's career is her burger, that Roquefort-hooded round at the Spotted Pig widely recognized as one of the city's best. So it's not surprising that this Pod 51-set project zooms in on house-ground patties tricked out with bespoke toppings, from the cheddar cheese to the potato buns. Beyond beef, find hot dogs, a fried-fish sandwich and the de rigueur veggie burger. 230 E 51st St
Estimated opening: March
Untitled Dan Kluger project
Long time ABC Kitchen and ABC Cocina chef Dan Kluger departed from the Jean-Georges empire in 2013, but it seems the apple hasn't fallen too far from the tree. At this yet-to-be-named solo venture, Kluger will oversee a seasonally-minded menu that's heavy on vegetables and lighter on meaty offerings. 21 W 8th St
Estimated opening: Spring
Orwasher's Bakery
Founded in 1916, the beloved bakery will celebrate its 100-year anniversary this year, in addition to opening another outpost on the Upper West Side. Find those lauded loaves (pumpernickel, New York rye) alongside a selection of house sandwiches and salads for take-out. 440 Amsterdam Ave
Estimated opening: Spring
Sponsored listing
Coffeemania
Don't be fooled by the name: Though Coffeemania does offer an extensive java selection, the restaurant also boasts a full menu for breakfast, lunch, brunch and dinner, plus wine, beer and spirits. No matter the time of day, caffeine addicts will likely be tempted by inventive coffee drinks like the Russian-inspired halva latte ($8), iced raspberry coffee ($8) and the cold-brew "bumble" with orange juice and caramel syrup ($7). Looking for something alcoholic? The drink menu also includes Irish coffee ($10), of course, plus classic cocktails like the Aperol Spritz and Old Fashioned (both $15). As for food, the brunch menu includes dishes like avocado toast ($14) and skillet baked eggs with grilled shrimp and burrata ($19). If the food doesn't tempt you on its own, the brunch deal—unlimited cocktails for $35 with the order of any entree—certainly might. The dinner menu includes crab legs cooked on the restaurant's signature josper grill ($28), ossobuco saffron risotto ($33), a rabbit burger with greens and cucumber ($27) and uni carbonara with butter-poached lobster ($37).
Venue says: "Here's something new to Cheers about at Coffeemania.... Enjoy unlimited Brunch cocktails for $35 with the order of any Brunch entree."