Heads up! We're working hard to be accurate – but these are unusual times, so please always check before heading out.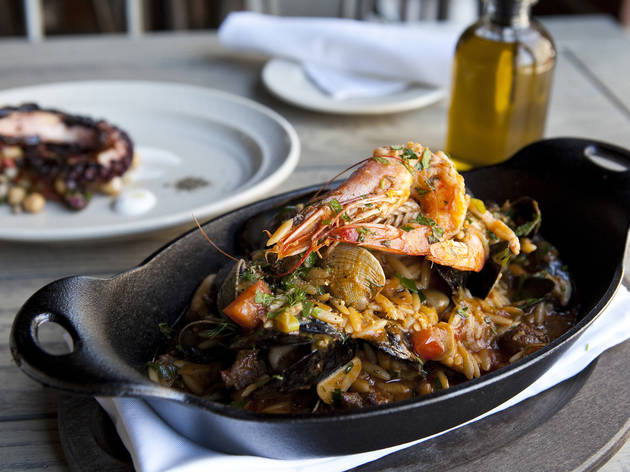 The best Restaurant Week in NYC Summer 2016 places to eat
The wallet-friendly fest is back—here are 10 restaurants you should be checking out during Restaurant Week Summer 2016 in NYC
It's summer in New York, which not only means beachy days and balmy nights but the return of NYC Restaurant Week. The twice-a-year food blowout offers three-course $29 lunches and $42 dinners between July 25 and August 19 at more than 380 restaurants throughout NYC, including some of the city's best Italian restaurants, Indian restaurants and steakhouses. (Menu items are subject to change.) These are ten spots you should snag a reservation at during NYC Restaurant Week Summer 2016. For more information, click here for the full list of participants for NYC Restaurant Week.
RECOMMENDED: Full guide to NYC Restaurant Week
Top restaurants for NYC Restaurant Week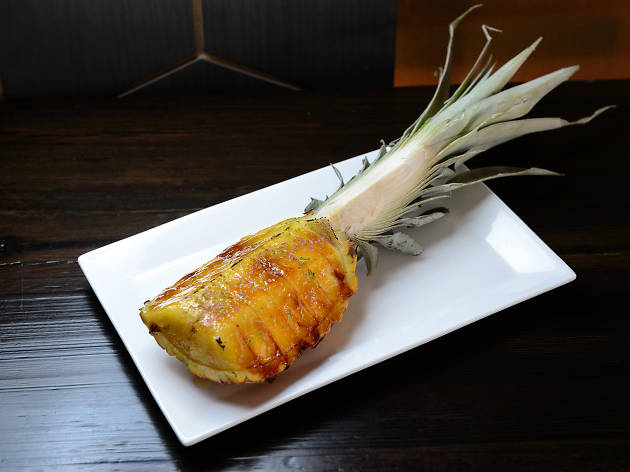 Photograph: Filip Wolak
Looking more like a sleek, softly lit wine bar than a restaurant cracking open tins of Spam on the daily, Noreetuh's smartly curated and generously priced wine list by Jin Anh takes the place of any coconut-hulled cocktails—but Honolulu-raised chef Chung Chow embraces the Hawaiian lowbrow as readily as he does the high. During NYC Restaurant Week, Noreetuh will be serving their three-course prix fixe with a wine pairing. First-course options include items like silken tofu, crispy mushrooms or a charcuterie platter, and mains include terriyaki chicken, mochi-crusted black bass and cold buckwheat noodles, with sweet options like bruléed Hawaiian pineapple or strawberry and adzuki beans to finish things off.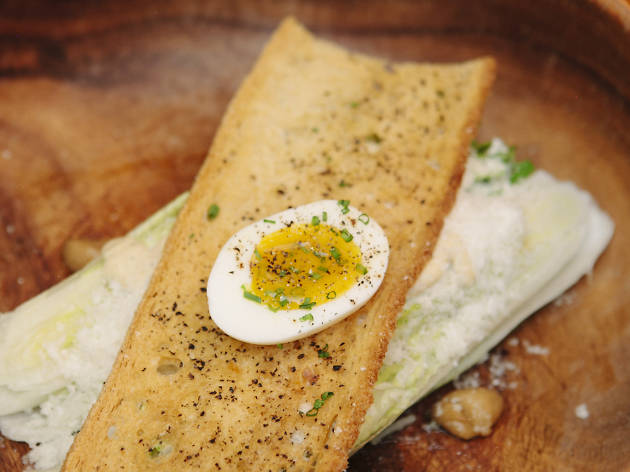 Photograph: Erica Gannett
A spin-off of Iron Chef Marc Forgione's Atlantic City original, American Cut is a playpen for high-rolling carnivores, suffused with wafting scents of singed fat and smoke-laced bourbon. Simplicity also earns its keep in this temple of gluttony. During NYC Restaurant Week, both the Midtown and Tribeca locations will be serving the same menu, dinner-only at the latter, and both lunch and dinner at the former, featuring a choice of appetizer (Caesar salad, Jim Brady oysters, or Schaller & Weber bacon), entree (Hanger steak, Salmon with Shiitake, quinoa and foraged greens) and side (sunchoke spinach or potato puree), finished off with a Cracker Jack sundae or blueberry bread pudding for dessert.
Gabi Porter
Since the day this awe-inspiring temple of Japanese cuisine opened in 2004, diners have been criticizing its overblown prices and unwieldy, complicated menu. But critics forget to mention that this is one of the most thrilling meals you'll find in New York. The NYC Restaurant Week menu at Megu does not disappoint, featuring appetizer options like edamame falafel, house salad or a nori taco, and entrees like the matcha tea smoked chicken, pan seared salmon with miso spatzle or a sizzling shortrib. It all comes paired with wine or sake, topped off with a chef's choice dessert.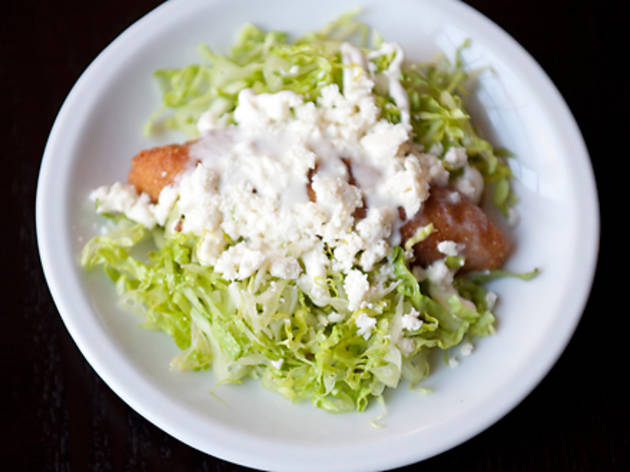 Photograph: Jay Muhlin
Empellon, which opened recently just across the street from one of the worst offenders—the always-packed and never delicious Diablo Royale—seems on the surface a promising antidote to the faux-Mex epidemic. The restaurant marks the solo debut of former pastry chef Alex Stupak, best known for his cutting-edge sweets at wd~50 and Chicago's Alinea. Serving lunch, dinner and brunch menus during NYC Restaurant Week, expect three lunch courses with appetizers like sweet corn and baby octopus; a myriad of tacos like brussels sprouts, red-chile pork and lobster; and cinnamon ice cream, cocoa-masa streusel or milk chocolate flan for dessert.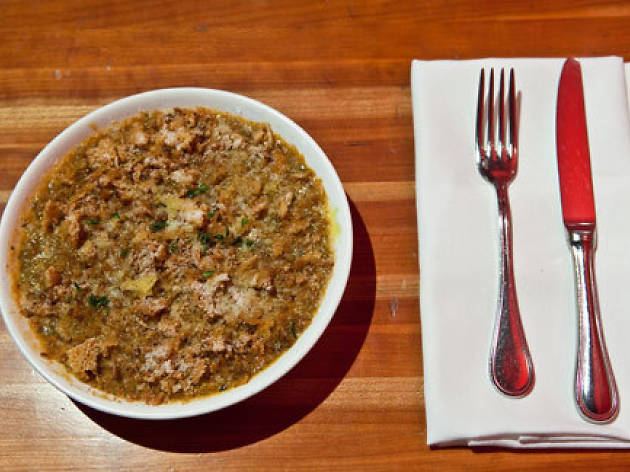 The East Village needed a Hearth—an upscale yet relaxed place that wasn't just another surprisingly good ethnic hole-in-the-wall. Skirting the small-plate trend, the hearty fare is big, rich and flavorful. Roasted and braised domestic lamb with lamb sausage, buttercup squash and chanterelle mushrooms is an excellent version of lamb three ways, and roasted sturgeon with prosciutto, sweet potatoes and sage is a novel treatment of this luxurious fish. There is a small hearth in the restaurant, but the real warmth comes from the staff, which takes pains in helping you pick the right dish, and is equally interested in finding out afterward what you thought of it. Explore what Hearth has to offer during NYC Restaurant Week, when their not-yet-released dinner menu of Italian favorites will be showcased.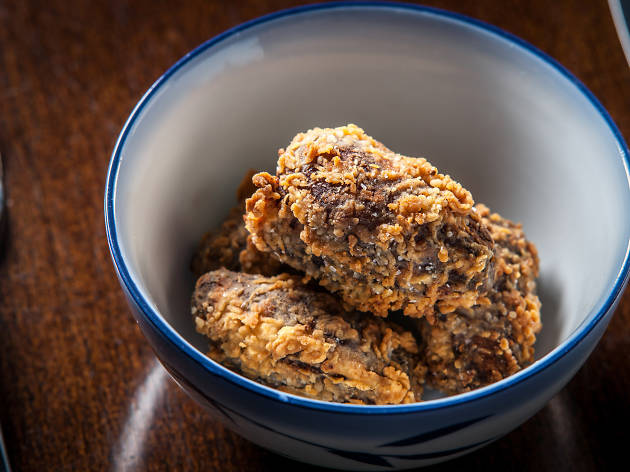 Photograph: Paul Wagtouicz
These days, New York's Chinese food scene is in full-blown revival mode, fueled by red-hot joints like RedFarm and Mission Chinese Food, edging out dated fixations on cheap and "authentic" with promises of locavore and cool. The latest restaurant to take a 21st-century crack at Chinese is Fung Tu, from Nom Wah Tea Parlor scion Wilson Tang and Per Se vet Jonathan Wu. Fung Tu's NYC Restaurant Week dinner menu is not yet released. For reservations, call 212-219-8785.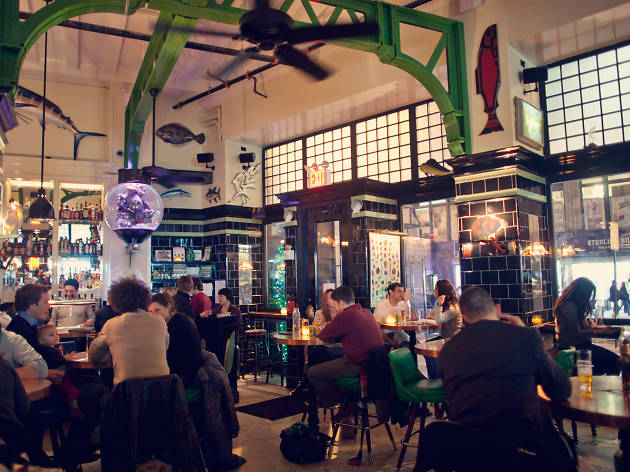 7. The John Dory Oyster Bar
April Bloomfield and Ken Friedman's original Meatpacking District John Dory was an ambitious, pricey endeavor, but its reincarnation in the Ace Hotel is an understated knockout. Tall stools face a raw bar stocked with a rotating mix of East and West Coast oysters, all expertly handled and impeccably sourced. During NYC Restaurant Week, expect a sampling of the rest of Bloomfield's intensely flavored tapas-style seafood dishes. For lunch, appetizer options include mussel toast with Holland chili, red pepper and aioli, pickled vegetables with aioli and mustard greens and fluke ceviche. Some lunch entree options: a cauliflower sandwich with goat cheese and lentils, kedgeree with basmati rice and smoked haddock and chorizo stuffed squid in a smoked tomato vinaigrette. The dinner menu deviates from lunch with additions like summer squash toast, smoked haddock fritters and a lobster roll.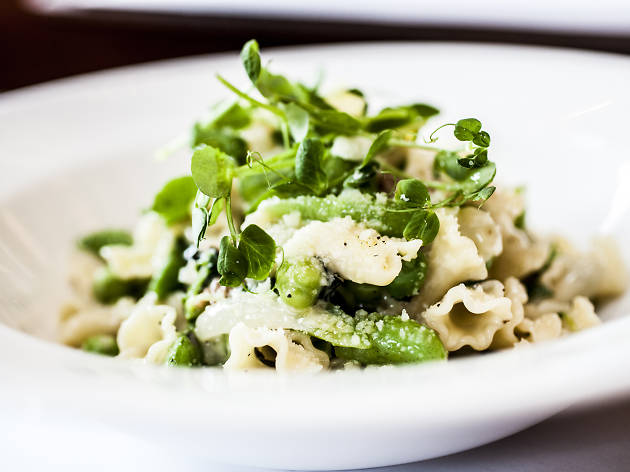 Photograph: Krista Schlueter
Haute French vet Andrew Carmellini—who many moons ago executed classics under Gray Kunz at Lespinasse—has had no trouble hatching venues diners flock to, perhaps taking a page from his other old boss, Daniel Boulud, one of the city's savviest CEO chefs. Everything in Lafayette glows: the blue-flamed rotisserie and wood oven, the soft lamps and candles, and the gently backlit bar. The NYC Restaurant Week menu, cooked by longtime Craft executive chef Damon Wise, brings both lunch and dinner prixe fixe menus to Lafayette guests, with hors d'oeuvres options like a gem lettuce salad, chilled white gazpacho and salmon rillette with heirloom cucumbers. Lunch entree highlights include macaroni ratatouille, sweet corn risotto and smoked and roasted chicken. Créme caramel satisfies the sweet tooth for lunch, alongside a push pop option that is swapped out for a profiterole maison with Earl Grey ice cream and dark chocolate sauce for dinner.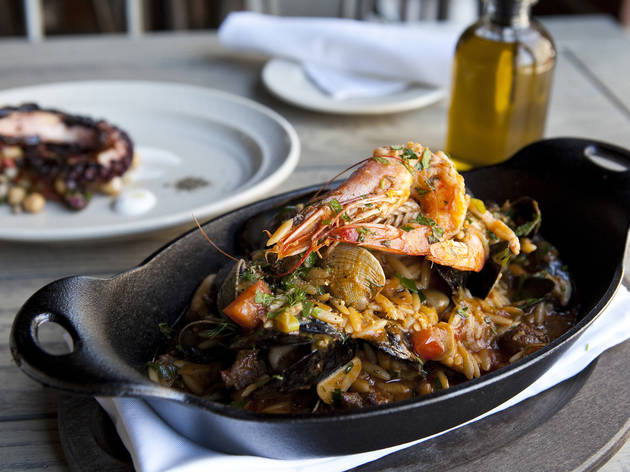 Photograph: Jessica Lin
Greek-American chef Michael Psilakis made his name repping his Hellenic roots, diving into the country's coastal fare at his uptown joints, Kefi and Fish Tag. So it's no wonder the TV toque (star of BBC America's No Kitchen Required) headed to Little Greece for this modern Mediterranean tavern. During NYC Restaurant Week, MP Taverna's Astoria and Brooklyn locations will offer up dips, salads, sausages and mezes, alongside grilled entrees and sides made for sharing on their lunch, dinner and brunch menus. For imbibing, all drinks will be available at half price during a 3pm to 6pm happy hour.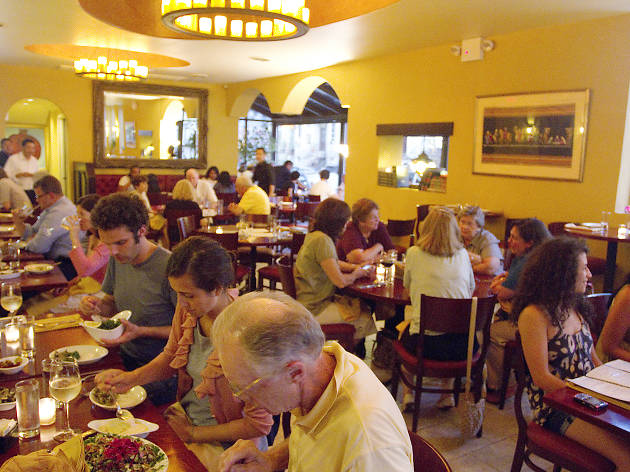 Photograph: Caroline Voagen Nelson
Though New York's food scene may be the world's most diverse, not every type of cuisine is well represented. Since 1998, Tanoreen—a cult destination in Bay Ridge—has been alone at the top above other Middle Eastern establishments, a standard bearer in a category that has few. Palestinian-born Rawia Bishara, runs the restaurant with her daughter Jumana, and her cooking—Middle Eastern soul food, you might call it—is based on tradition but not enslaved by it. While many dishes are just like what her mother made, plenty of others chart their own course. Attention to detail distinguishes all of them. Bishara goes the extra steps in reviving the flavors of her Nazareth childhood—charring eggplants in charcoal, rolling out pita, hand-making savory yogurt. A full menu for NYC Restaurant Week has not yet been released.