The best vegetarian restaurants in America
Herbivores, rejoice! The growing ranks of superb vegetarian restaurants across the country means you need never settle for a steamed-vegetable platter again.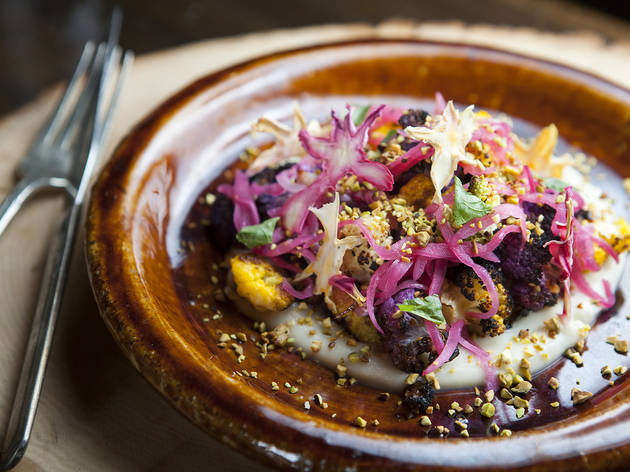 Vegetarian fare has come a long, long way since the days of Woody Allen's "wheat germ, organic honey and tiger's milk" in Sleeper. Be it the mastery of fake meats displayed by many Chinese kitchens or the literally nutty innovations of raw-food chefs, herbivores these days have nearly as many dining options as carnivores. Whether you're looking for vegan vittles in L.A. or meatless meals in NYC, take your pick of the best vegetarian restaurants across the country, from lunch counters to white-cloth plant palaces.
America's best vegetarian restaurants
Sponsored listing
Even in a city smitten with large-format feasts—whole hogs, huge steaks, heaps of fried chicken—the Breslin breaks new gluttonous ground. The third project from restaurant savant Ken Friedman and Anglo chef April Bloomfield offers the most opulently fatty food in New York—served in medieval portions in a raucous rock & roll setting. Within the casual-restaurant landscape that the pair, also behind the Spotted Pig, has come to epitomize—a world without tablecloths, reservations or haute cuisine pretense—the new gastropub delivers a near-perfect dining experience. Friedman, a pack rat who conceived the design alongside top firm Roman and Williams, has constructed an urban hunting lodge filled with wildlife paintings, figurines and knickknacks. The ethos, which extends to the cuisine, might well be described as late-period Henry VIII, when the king had ballooned into a corpulent sybarite. Despite nightly waits of an hour or more to sit down, don't be surprised to discover a few empty seats. Friedman and Bloomfield are still staggering tables (an oversold restaurant is worth little if it's full of unhappy diners). Which explains why the food, service and pacing were all on the mark when I dined here, even though it's been open for dinner for barely a month.While you wait, you could do worse than to belly up to the bar (if you can get there) and quell your appetite with an order of scrumpets. The snacks look like fried breaded ribs, but are made from lamb belly—boneless strips s
Venue says Join us during Restaurant Week every day for lunch January 22-February 9!