Heads up! We're working hard to be accurate – but these are unusual times, so please always check before heading out.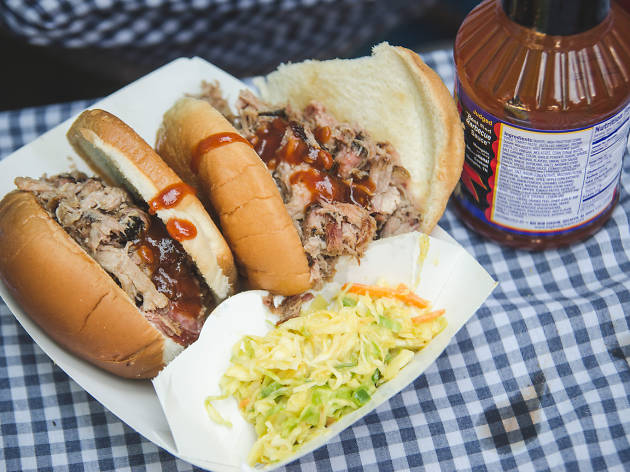 Big Apple BBQ releases 2018 lineup featuring the country's best pitmasters
Fill up on world-class 'cue from some of the country's most legendary pitmasters at the Big Apple Barbecue Block Party
Put out your stretchiest pants, because The Big Apple Barbecue Block Party is bringing together New York 'cue powerhouses with pitmasters from the best barbecue restaurants in America for an extravaganza of pulled pork and brisket. Taking over Madison Square Park for an entire weekend, this party will let you get a taste regional and global barbecue styles, from Texas (Baker's Ribs) to Tennessee (Martin's Bar-B-Que) and beyond. While you gorge on heaps of meat and sides, you can even take in outdoor summer concerts on the park's main stage for free. Here's everything you need to know about Big Apple BBQ 2018.
What is the Big Apple BBQ?
Established in 2002 by Danny Meyer's Union Square Hospitality Group, the Big Apple BBQ is an annual, open-to-the-public barbecue and music festival.
When is the Big Apple BBQ?
The Big Apple BBQ is on Saturday, June 9, 2018 and Sunday, June 10, 2018 from 11am to 6pm.
Where is the Big Apple BBQ?
The Big Apple BBQ is held at Madison Square Park.
The food
17th St. BBQ (Murphysboro, IL)- Mike Mills & Amy Mills
Apple City Barbecue Baby Back Ribs with Tangy Pit Beans
Baker's Ribs (Dallas, TX)- Joe Duncan
St. Louis Ribs with Jalapeño Cole Slaw
Big Bob Gibson Bar-B-Q (Decatur, AL)- Chris Lilly
World Championship Pulled Pork Sandwich with Spicy Mustard Coleslaw
Dinosaur Bar-B-Que (New York, NY)- John Stage & Leland Avellino
St. Louis Ribs with BBQ Beans
Fox Bros. Bar-B-Q (Atlanta, GA)- Jonathan Fox & Justin Fox
Brisket & Jalapeño Cheddar Sausage with Jalapeno Slaw & Pickles
Hometown Bar-B-Que (Brooklyn, NY)- Billy Durney
Chopped Brisket & Jalapeño Cheddar Link Sandwich with Queso and Tater Tots
Blue Smoke (New York, NY)- Jean-Paul Bourgeois
Fried Smoked Chicken with Tabasco-spiked Honey, Broccoli & Black Eyed Pea Salad
Ed Mitchell's Que (Wilson, NC)- Ed Mitchell & Ryan Mitchell
Eastern NC Whole Hog Sandwich with Slaw
Hill Country (New York, NY)- Ash Fulk
Brisket Sandwich with House Pickle & Coleslaw
Martin's Bar-B-Que Joint (Nashville, TN)- Pat Martin
West Tennessee Whole Hog Sandwich with Coleslaw
Memphis Barbecue Co. (Horn Lake, MS)- John Wheeler
Baby Back Ribs with Mamma June's Baked Beans
Rodney Scott's BBQ (Charleston, SC)- Rodney Scott
St. Louis Ribs with Coleslaw
Skylight Inn / Sam Jones BBQ (Ayden, NC)- Sam Jones
Eastern NC Whole Hog Sandwich with Sweet Slaw
The Salt Lick BBQ (Driftwood, TX)- Scott Roberts
Brisket & Sausage with Sesame Coleslaw
Ubon's Barbeque (Yazoo City, MS)- Garry Roark & Leslie Roark Scott
Mississippi Chicken Wings with Bloody Mary Cucumber Salad
Guest Butchers:
Jocelyn Guest & Erika Nakamura
Hot Dog with Kimchi & Mayo
Kielbasa with Mustard
Bratwurst with Kraut & Mustard
Sides ($6):
Pies 'N' Thighs (New York, NY)- Carolyn Bane & Sarah Sanneh
Vegetarian Sides: Mac & Cheese, Spicy Watermelon Salad, Biscuits & Sausage Gravy and Cornbread
Sweets ($4-8):
Ample Hills (Brooklyn, NY) "Corn to Run" – Creamy Corn Ice Cream with Cornmeal Crumble & Blueberry Swirls
Doughnut Plant (New York, NY) Selection of Seasonal Doughseeds + Doughnuts
Original Fried Pie Shop (Dallas, TX) Apple, Apricot, Blackberry, Cherry, Peach, Pecan
THE MUSIC
Saturday
12:00 – 1:00pm Ben Sparaco & The New Effect
1:30 –2:30pm Mo Lowda & The Humble
3:00 – 4:00pm Erin Harpe & The Delta Swingers
4:30 – 5:30pm The Felice Brothers
Sunday
12:00- 1:00pm Cypher Music
1:30 – 2:30pm The High Divers
3:00 – 4:00pm The Vegabonds
4:30 – 6:00pm Max Creek
Uncover more fun in the sun this summer
Check out our top picks for this year's summer concerts in NYC, including info on free and outdoor shows