Big meal deals
Prix-fixe dinners for $25 or less.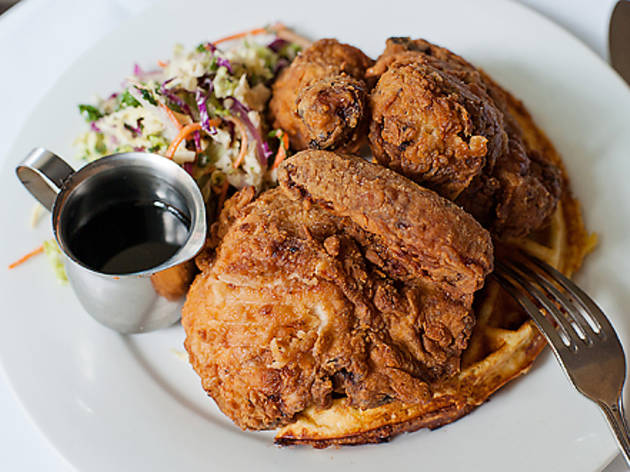 1/6
Photograph: Paul Wagtouicz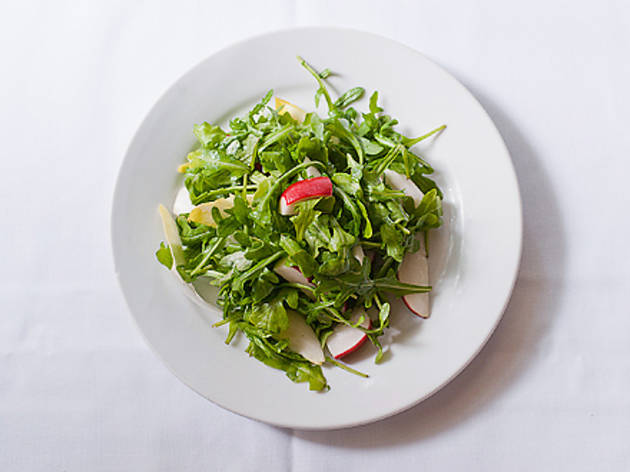 2/6
Photograph: Paul Wagtouicz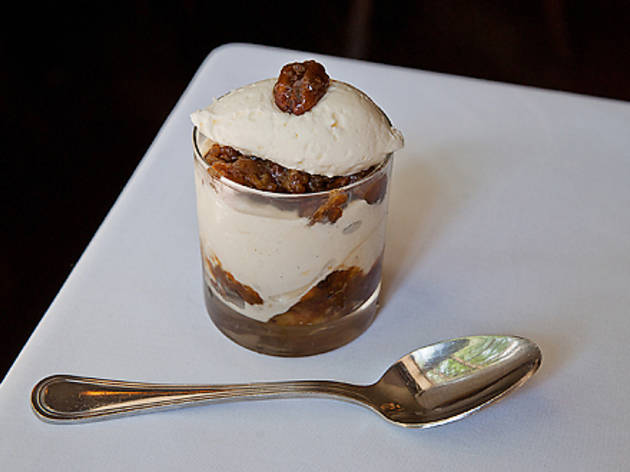 3/6
Photograph: Paul Wagtouicz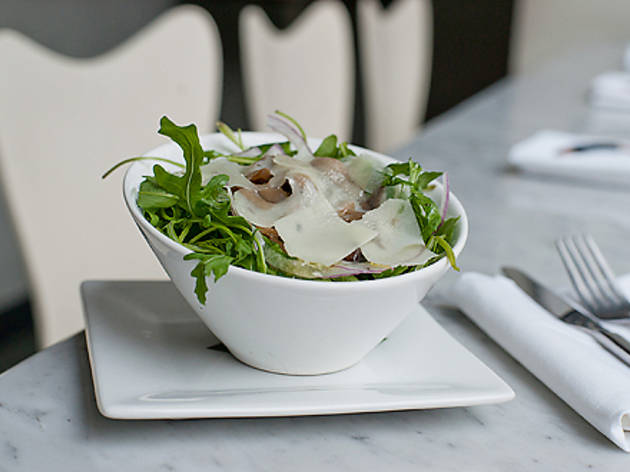 4/6
Photograph: Paul Wagtouicz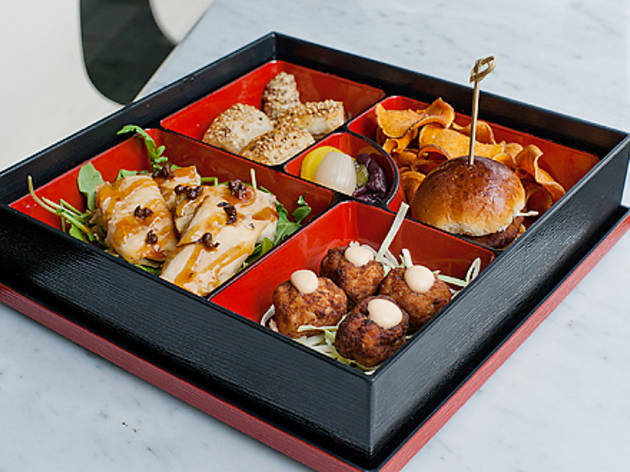 5/6
Photograph: Paul Wagtouicz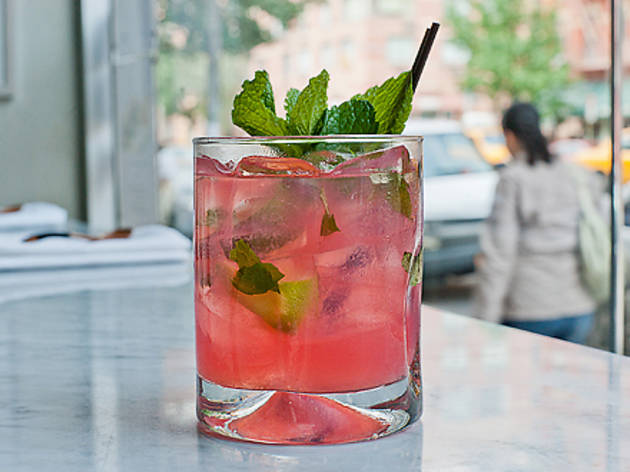 6/6
Photograph: Paul Wagtouicz
Buttermilk Channel
There's always a lot of value on the menu at this Carroll Gardens clubhouse, but Mondays have a special draw: That's when you can sample chef Ryan Angulo's handiwork in a three-course prix fixe. The $25 deal offers you a choice of two appetizers (the selection changes often, but a bright zucchini-basil soup was a recent winner) and three entres, including the popular buttermilk fried chicken with cheddar waffles. Desserts are no afterthought: Options include one of TONY's favorite treats, a decadent pecan-pie sundae layered with Van Leeuwen Artisan Ice Cream and house-made, molasses-infused pie filling. 524 Court St at Huntington St, Carroll Gardens, Brooklyn (718-852-8490, buttermilkchannelnyc.com)
RECOMMENDED: All our Cheap Eats listings
Kyotofu
This dessert bar may be known best for its sweets, but you'll find a savory meal in the Kyotofu Sampler ($18), a bento box of the menu's small plates (normally each $8--$11). Start with a warm Japanese mushroom salad, then dig into chicken and tofu sliders, "pigs in a duvet" (a spin on the finger food made with Berkshire pork sausage, puff pastry and spicy mustard), tsukune chicken meatballs and phyllo-wrapped barbecued eel. 705 Ninth Ave between 48th and 49th Sts (212-974-6012, kyotofu-nyc.com)
Fort Defiance
Though this Red Hook gathering spot is often lauded for its cocktails, owner St. John Frizell is smart enough to know that sometimes the simple pleasures of a cold beer and a good burger will do. Come by on a Monday night for the $12 deal: a LaFrieda short-rib patty with dill pickles on a fluffy sesame-seed bun (normally a $9 lunch item on its own), served with one of the craft beers on tap, like a Sixpoint Bengali Tiger IPA. 365 Van Brunt St at Dikeman St, Red Hook, Brooklyn (347-453-6672, fortdefiancebrooklyn.com)
David Burke Kitchen
Weekend deals can be tough to come by, but you'll find one in Slider Saturdays at this country-chic resto. From 11am to 5pm, get a half-dozen sliders, plus a beer or soda, for $15. Mix and match from three choices, each served on a mini brioche bun: Cabot cheddar and applewood-smoked-bacon cheeseburger, crispy Blue Point oysters with Old Bay sauerkraut, and seared yellowfin tuna with chipotle mayo. 23 Grand St at Sixth Ave (212-201-9119, davidburkekitchen.com)
Dell'anima
Night owls can eat like early birds with this West Villager's "pasta-fixe" special ($25), available Tuesday through Saturday from midnight until 2am. Choose from one of four pastas (usually priced around $18 la carte), including orecchiette with braised pancetta and broccoli rabe, or fettucine with artichoke rag, fennel and Cerignola olives. Pair it with one of four Italian vintages; a glass (regularly $10--$12) is included. 38 Eighth Ave between Jane and W 12th Sts (212-366-6633, dellanima.com)
TriBeCafe
The Monday through Thursday four-course prix-fixe dinner (6--10pm; $25) at this casual Tokyo-style eatery is a great way to get acquainted with yoshoku cuisine—a uniquely Japanese spin on Italian and American food. Choose any appetizer and any pasta (both served in half portions), such as the ika-uni spaghetti with calamari and sea-urchin roe, then get a full-size entre—like a Japanese Hamburg patty, a bunless pork-and-beef "burger" topped with mushroom demi-glace and a fried egg. A scoop of green-tea or vanilla ice cream sweetens the offer, and you can upgrade to any other dessert (such as a matcha-and-white-chocolate souffl) for just $3. 277 Church St between Franklin and White Sts (212-343-0277, tribecafe.net)
Hill Country Barbecue
This smokehouse has two ways to get your fill of low-and-slow meat on the cheap. Sunday's "Feed Yer Family" special (4--10pm; $20) includes a quarter pound of brisket, a pork rib, a beef rib and a quarter chicken, served on butcher paper. Dig into two sides (such as bourbon-laced sweet potatoes or collard greens) and a cookie or cupcake for dessert. Or opt for all-you-can-eat brisket, pork ribs, chicken and sides (5--10pm; $25) on Mondays. 30 W 26th St between Sixth Ave and Broadway (212-255-4544, hillcountryny.com)
The Mermaid Innand Mermaid Oyster Bar
Sunday's Lobsterpalooza ($24) can be found at all three of the Mermaid's locations (though the East Village spot is your best bet if you prefer to crack your claws alfresco). The special includes a pound and a quarter of Maine lobster, plus potatoes, grilled corn on the cob and coleslaw. New this summer, lobster's rival crustacean gets a day of its own: On Tuesdays, you can order a bucket of Maryland blue crabs with potatoes and grilled corn for the same $24 price. Both deals are around through Labor Day only, so bib up ASAP. The Mermaid Inn, 96 Second Ave between 5th and 6th Sts (212-674-5870) * 568 Amsterdam Ave between 87th and 88th Sts (212-799-7400) * Mermaid Oyster Bar, 79 MacDougal St between Bleecker and W Houston Sts (212-260-0100) * themermaidnyc.com
Flex Mussels
Through summer, the West Village location of this seafood joint is offering an excellent happy-hour deal: Monday through Friday from 5:30 to 7pm, hand over $20 and be rewarded with one of four select draft beers, an order of fries and unlimited mussels in your choice of three broths (Dijon mustard and white wine; tomato, olive oil and garlic; and classic white wine and herbs). 154 W 13th St between Sixth and Seventh Aves (212-229-0222, flexmusselsny.com)
RECOMMENDED: All our Cheap Eats listings
You might also like
Cheap New York: Bargain things to do in NYC
See all cheap restaurants
Free things to do in New York City
See more in Food & Drink
Sponsored listing
Amorina
This Prospect Heights pizza and pasta joint has a dedicated following among the neighborhood's residents. The menu reads like any typical old-school Italian restaurant, but the focus on seasonal ingredients sets Amorina apart. The special "Will to Live" pizza changes nightly—one day, it could be made with fresh ramp pesto and mozzarella, and the next, it could be a meaty sausage pie. Classics like the margherita ($12) and tricolore ($15) pizzas make an appearance, as do more inventive options like the gorgonzola e frutta, with wine-soaked figs, caramelized pears and a drizzle of honey. If you want something other than a slice, there's plenty of pasta to choose from—think rigatoni with cremini and porcini mushrooms ($15.50), baked ziti with smoked mozzarella, stewed tomatoes and bechamel sauce ($15) and eggplant parmigiana ($15). The restaurant serves up all kinds of traditional sweets for dessert, like ricotta cheesecake with orange and a flourless chocolate cake with caramel (both $7).
Venue says: "Will To Live Pizza: Ricotta, Roasted Winter Squash, Caramelized Onion, Speck"