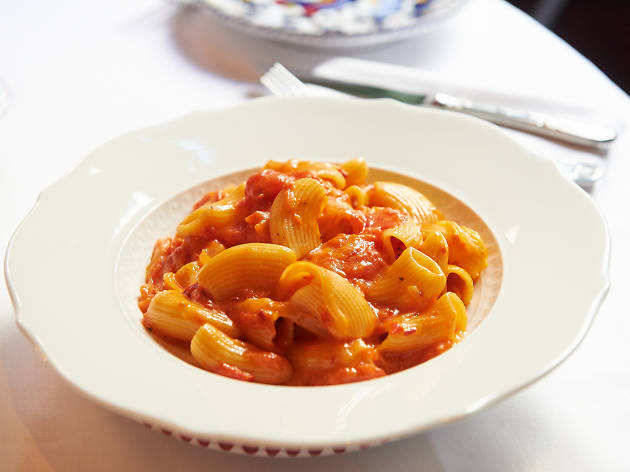 1/13
Photograph: Filip Wolak
Rigatoni alla vodka at Carbone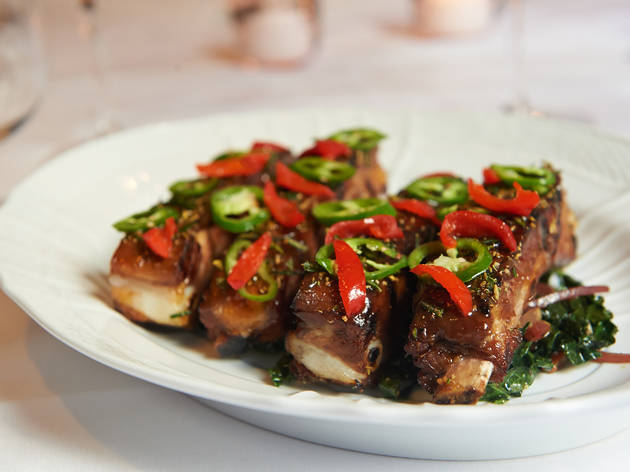 2/13
Photograph: Filip Wolak
Cherry-pepper ribs at Carbone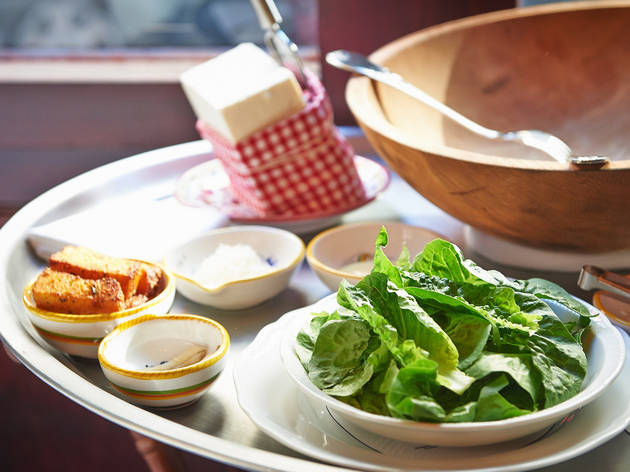 3/13
Photograph: Filip Wolak
Caesar salad at Carbone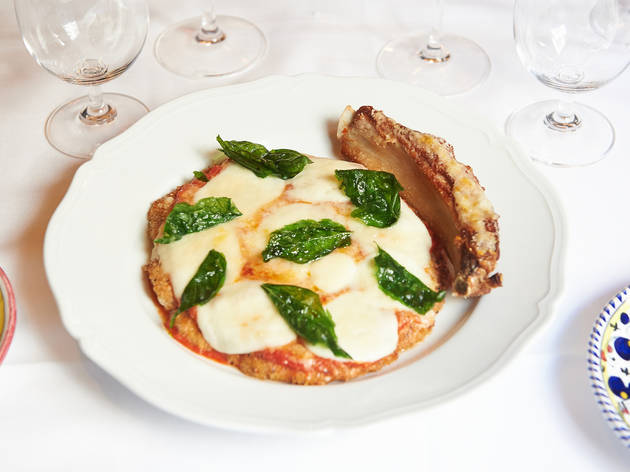 4/13
Photograph: Filip Wolak
Veal parmesan at Carbone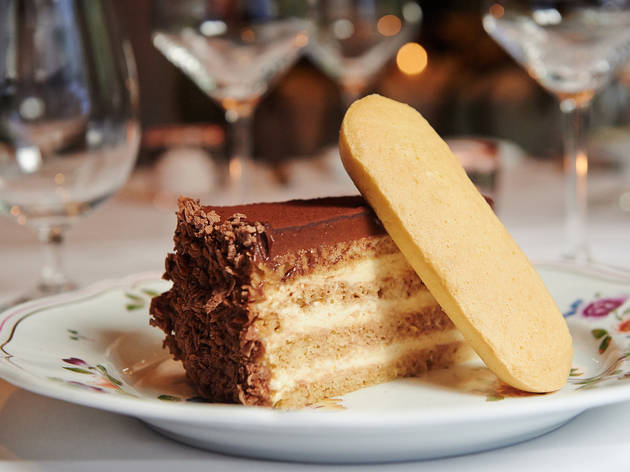 5/13
Photograph: Filip Wolak
Tiramisu at Carbone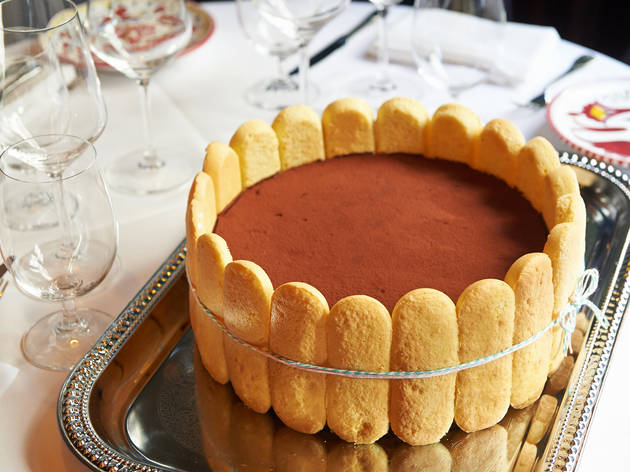 6/13
Photograph: Filip Wolak
Tiramisu at Carbone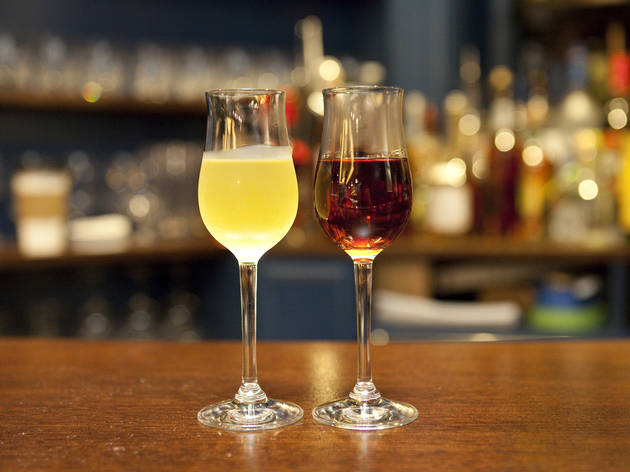 7/13
Photograph: Jessica Lin
Limoncello and grappa at Carbone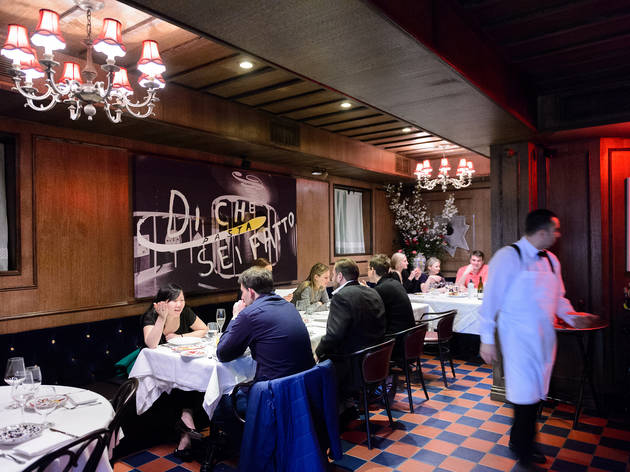 8/13
Photograph: Filip Wolak
Carbone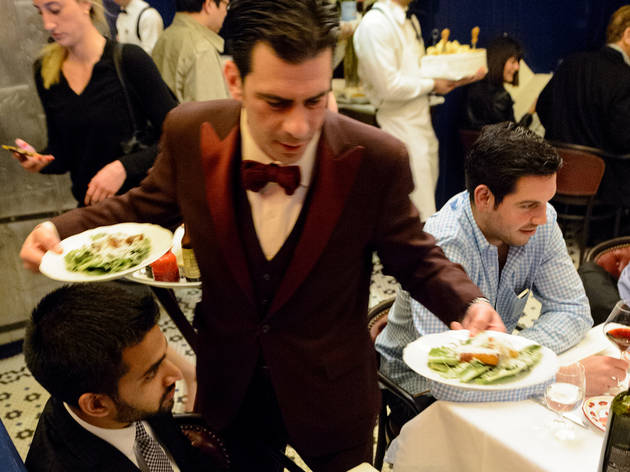 9/13
Photograph: Filip Wolak
Carbone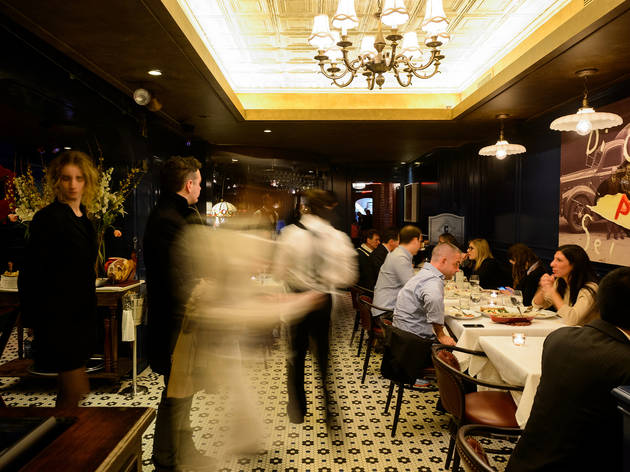 10/13
Photograph: Filip Wolak
Carbone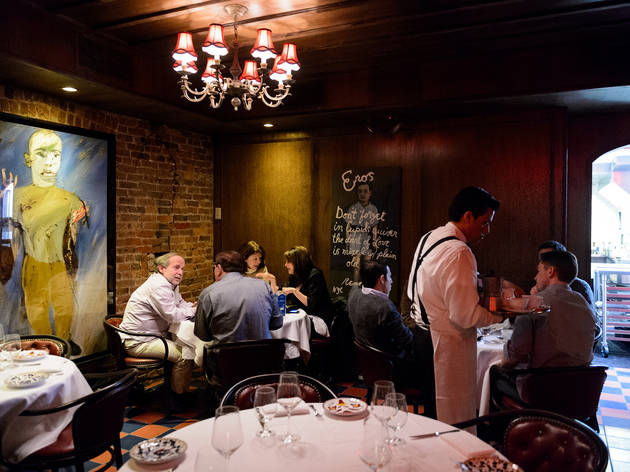 11/13
Photograph: Filip Wolak
Carbone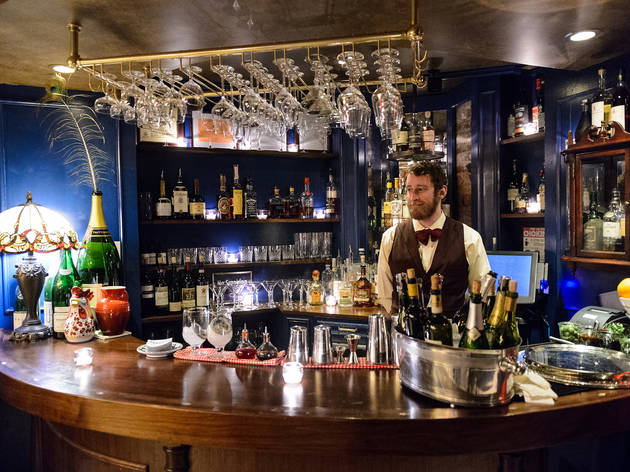 12/13
Photograph: Filip Wolak
Carbone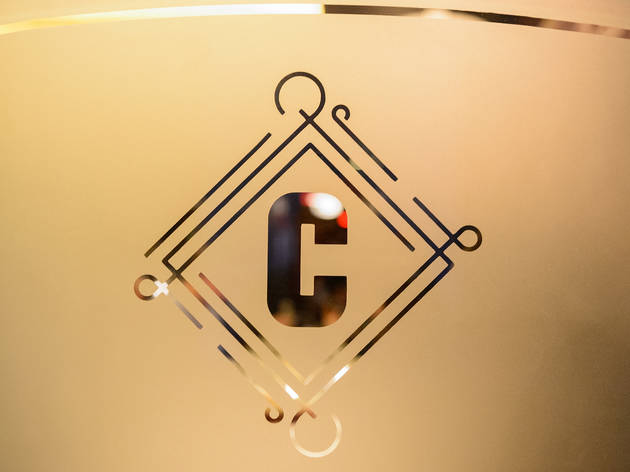 13/13
Photograph: Filip Wolak
Carbone
Time Out says
This red-sauce West Village hot spot, from tag-team chefs Rich Torrisi and Mario Carbone, is a Godfather hangout on steroids, more fantastical set piece than history-bound throwback. Under brass chandeliers, on navy walls, hangs brash modern art on old-school Italianate themes. The seasoned crew of waiters wear wide-lapelled burgundy tuxes designed by Zac Posen. And the moneyed swells blowing their bankrolls in the front room and VIP inner sanctum (out back near the kitchen) aren't capos or dons but young bankers and food-obsessed hipsters.
Whether you know a guy who knows a guy or simply scored your seat on OpenTable, you'll feel like an insider as you pass under the antique neon sign hanging above the door, left over from Rocco, the 90-year-old joint this nouveau ristorante replaced. Those swarming waiters ply every table with complimentary extras, swooping in with a hollowed cheese, big as a drum, stuffed with sharp chianti-soaked Parmesan nuggets (aged up the block at Murray's), with smoky whispers of Broadbent ham carved from a haunch on a dining room pedestal.
The enormous menu, which opens as wide as The New York Times, reads like an encyclopedia of red-checkered classics. But co-chefs Torrisi and Carbone have made such dramatic improvements, you'll barely recognize anything. You've never had a Caesar salad like their tableside masterpiece, a beautifully dressed, nuanced variation on the classic, amplified with warm garlic-bread croutons, two types of anchovies and three types of cheese.
More likely than not you know about the restaurant's exorbitant prices, but there's real value in the top-shelf raw materials and gargantuan servings, and in the unbridled excess of the whole dining experience.
Even going a less extravagant route—starting with the exceptional baked clams, say, or meaty grilled octopus—there's not a meal to be eaten at Carbone that's not over-the-top. Pastas are so across-the-board rich and intense, they're best split in half as a shared middle course. The rigatoni alla vodka is like a Gucci edition of the overexposed Italian-American standard, its exceptional house-made maccheroni drenched in spicy cream and sweet melted onions.
You'll be glad to find bottles of house-infused limoncello and grappa on the table—a luxury offered to everyone at no extra charge. Linger as long as you like, soak up the scene. You're going to need some time to recover.
Details
Address:
181 Thompson St
New York
10012

Cross street:
between Bleecker and W Houston Sts
Transport:
Subway: C, E to Spring St
Price:
Average entrée: $45.
Contact:
Opening hours:
Mon 5:30-11pm; Tue–Fri noon–2pm, 5:30pm–11:30pm; Sat 5-11:30pm; Sun noon-2pm, 5-11:30pm
Do you own this business?
Average User Rating
4.4 / 5
Rating Breakdown
5 star:

6

4 star:

1

3 star:

0

2 star:

0

1 star:

1
Always a great experience going here. The atmosphere, food, service and drinks are all on point
Wow.I have heard great things about this restaurant since moving to New York 5 years ago and after finally going a few weeks ago I can say that I wasn't disappointed!I was pleasantly surprised by the extremely upbeat atmosphere and vibe (for some reason I'd got it in my head that it would be somewhat stuffy and pretentious, was quite the opposite!) we had to wait a little while, no more than 30 minutes, so headed to the small bar where the barman made a phenomenal rum old fashioned, so we were off to a good start.
We ordered oysters and a pasta dish to start and both were extraordinary. The oysters (east coast) were some of the best I've had in the city, delicate and subtle in flavor, and the pasta (tortellini ragu) was fantastic, could quite happily have feasted on that all night.
For mains we had the cherry pepper ribs and double lamb chops, both were incredible, tender flavorsome meat that had been perfectly marinated and fell off the bone.
Our server was fantastic and very attentive whilst not being over bearing and the sommelier also picked out a gorgeous Barolo to accompany our meal. All in all a great experience and a restaurant that well and truly lives up to the hype
The best ever. Perfect atmosphere. Perfect food.
Whether you know a guy who knows a guy or simply scored your seat on OpenTable, you'll feel like an insider as you pass under the antique neon sign hanging above the door, left over from Rocco, the 90-year-old joint this new hot spot replaced, I pasted the the top from your review as to say yes 90 year old joint replaced by a over priced poor service and sub standard food ! wow the New York Times gave high marks for this place and the Carbone boys pushed a village landmark and will not be visited by long time villagers and New Yorkers who love Rocco! are you kidding me 50 .00 for a veal dish ? salad for two ? extra charge for anything you ask for ! this place is a rip off and the Times should get its reviewer a crash course on reviewing great tasting Italian food as this place is sub standard and over priced ! the only reason there here is they raised the rent on roccos to get him out ! for reasons only the carbone boys know why ! as for the style of the place it was a place where the mob hung out and movies were made but that was Roccos not this chandler place !
So, so delicious. I ate at Carbone last night, and would have gone again tonight if my wallet had any more ducats in it.
Exellent service and food.