Chatting with Russ & Daughters, a Lower East Side legend
Russ & Daughters' fourth-generation owners talk about the family business, film festivals and, of course, spectacular fish.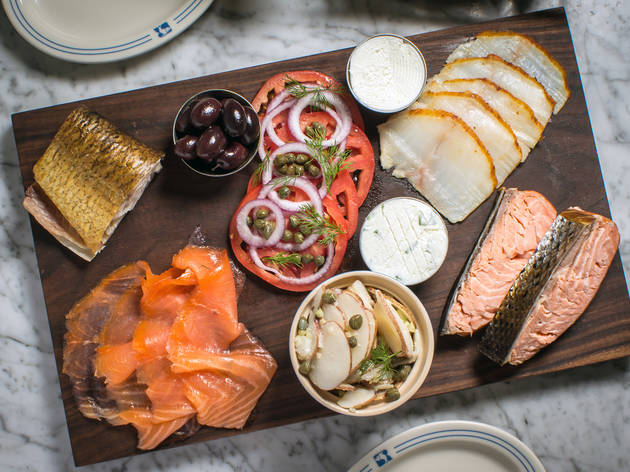 1/9
Paul Wagtouicz
The Hattie at Russ & Daughters Cafe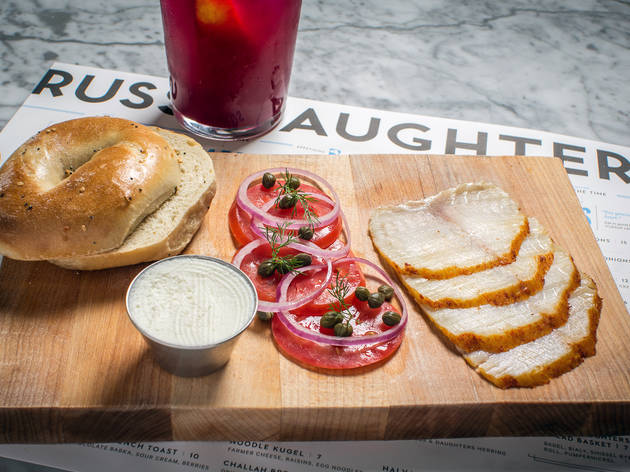 2/9
Paul Wagtouicz
The Shtetl at Russ & Daughters Cafe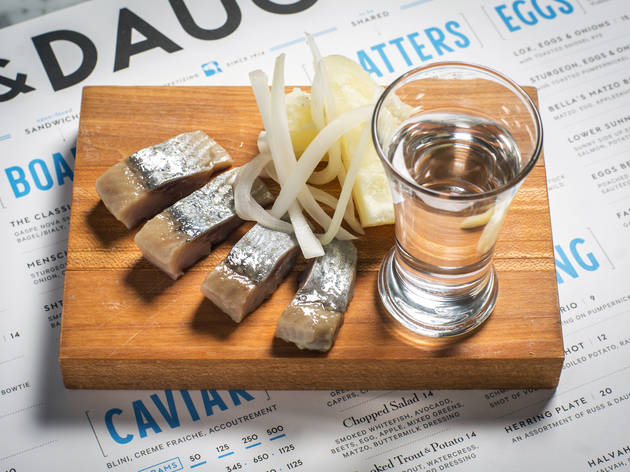 3/9
Paul Wagtouicz
Schmaltz and a shot at Russ & Daughters Cafe
4/9
Paul Wagtouicz
Niki Russ Federman and Josh Russ Tupper at Russ & Daughters Cafe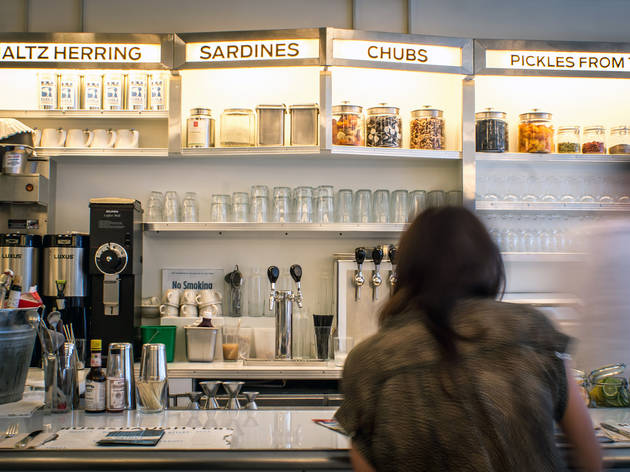 5/9
Paul Wagtouicz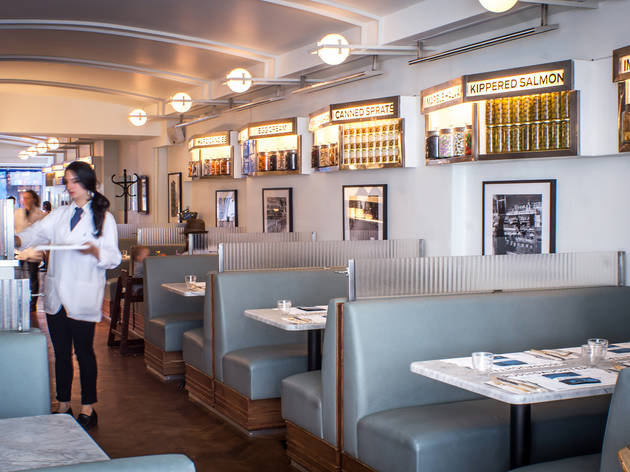 6/9
Paul Wagtouicz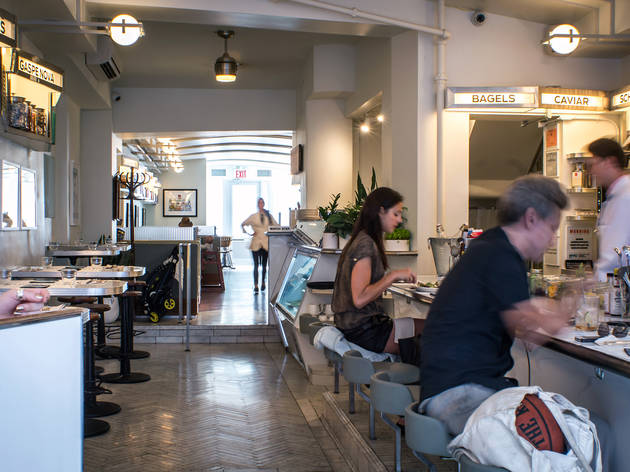 7/9
Paul Wagtouicz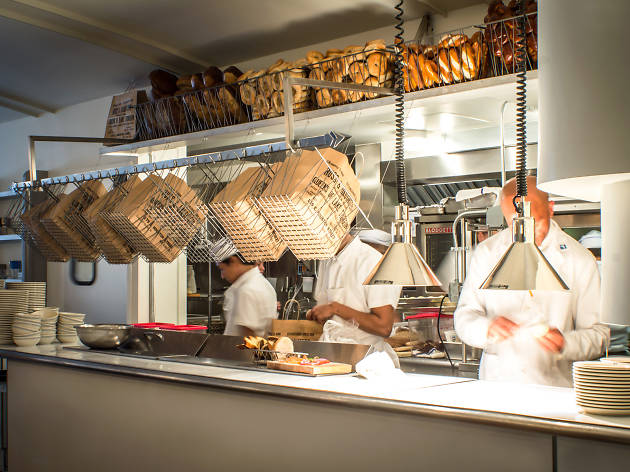 8/9
Paul Wagtouicz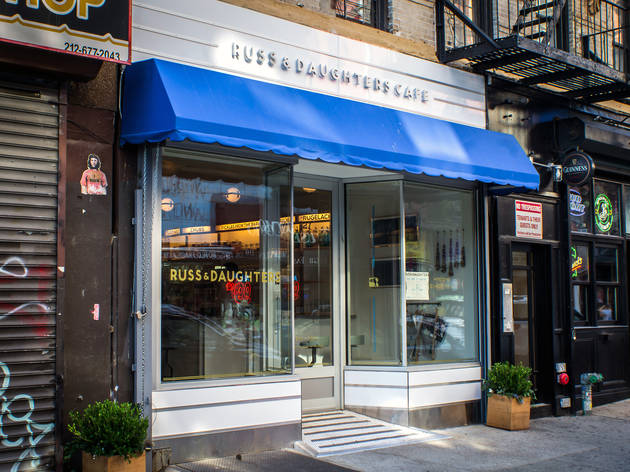 9/9
Paul Wagtouicz
Russ & Daughters
is a time-honored tradition—pull a ticket, wait for your number to be called, then sidle up to the glass-covered cases to gawk over the stunning sable and sturgeon. The routine hasn't changed much since the smoked-fish emporium launched a century ago, but now there's even more to love: the
plotz
-inducing
Russ & Daughters Café
(127 Orchard St between Delancey and Rivington Sts, 212-475-4881)
. With a centennial and a successful spin-off to celebrate—as well as the
premiere of a documentary
,
The Sturgeon Queens
—2014 might be the shop's best year yet.
FAMILY TIES
Jewish immigrant Joel Russ launched the prototype of Russ & Daughters in 1907, peddling fillets of schmaltz herring from a pushcart on the Lower East Side until he opened a brick-and-mortar store in 1914. The reins have since been handed over to fourth-generation cousin owners Niki Russ Federman and Josh Russ Tupper, who expanded the family business with their booming café in May. "Our great-grandfather needed cheap labor, so he roped in his children," Federman jokes; the store's namesake daughters—Hattie, Anne and Ida—each have a fish platter named after them at the restaurant.
SMOKED-FISH SMORGASBORD
The heart of the café is its fish-carving station, where slicers offer a crash course in exquisitely fresh catch: brook trout, whitefish and seemingly every salmon variety in existence (kippered, pastrami-cured, Gaspe Nova). "I'd toast up a bagel, spread on cream cheese and put every single fish on it," Tupper says of his younger self. "My grandmother would get so angry." Make like a Russ kid with one of the open-faced sandwich boards: Melt-in-your-mouth sable meets decadent goat's-milk cream cheese on a bagel or a Kossar's bialy in the Shtetl ($18), or go classic with silky, saline nova, piled high with tomatoes, capers and onions ($16).
BEYOND THE FIN
Russ is synonymous with great fish, but there are plenty of landlocked tenement eats on the café menu, too, including crispy-yet-tender latkes, topped humbly with applesauce and sour cream ($9) or indulgently with salmon roe and crème fraîche ($14). But the most welcome addition to the Russ & Daughters roster is booze, in the form of wine, beer and cocktails. "Caviar should be eaten with vodka," Tupper says. "Herring goes amazingly well with beer."
LIFELONG LOWER EAST SIDER
The melting-pot flavor of the neighborhood permeates every table. "At one booth, you have four generations of one family and next to them, you have some celebrities just hanging out," Federman says. When the place is packed and the wait time exceeds an hour—typical for weekend brunch, so go during a less-crowded weekday night—the Russes suggest going out and exploring the nabe. "That's our guiding principle, to keep what's old new and connect people with the history," Federman says.
BIG-SCREEN STARS
It's fitting that
The Sturgeon Queens
, a documentary chronicling Russ & Daughters' history, will open the Lower East Side Film Festival on Thursday June 12 at
Landmark's Sunshine Cinema
, two blocks from the Russes' legendary flagship. "I think the arc of our family is a tale that resonates with Americans, whether you're Jewish or Italian or Chinese," Federman says. "It's a small family business that has survived. Today you don't see that," adds Tupper. "It gives people hope."
Sponsored listing
Sushi Sushi
The two outposts of this sushi joint—in Harlem and Greenwich Village—offer a nearly identical menu of Japanese classics. Start the meal with some shrimp shumai, edamame or a light seaweed salad ($5). If you're after a roll, there are plenty of options to choose from, including classics like a spicy tuna roll ($5.50) or signature options like a rainbow roll ($10). Sashimi lovers might want to go all in on a 13-piece box with everything from striped bass to yellowtail ($23). If raw fish isn't your style, Sushi Sushi also offers plenty of cooked options, like teriyaki rice bowls with your choice of seafood—salmon, squid, tuna, fluke or sea bass—and broccoli, asparagus, onions, cucumber and avocado ($19). For dessert, try a sweet roll with PB&J or banana, nutella and strawberries or a tempura-battered and fried Twinkie (all $5).
Venue says: "Now delivering fresh, tasty sushi anywhere in Manhattan! Order now by calling 212-477-4000, catering also available."