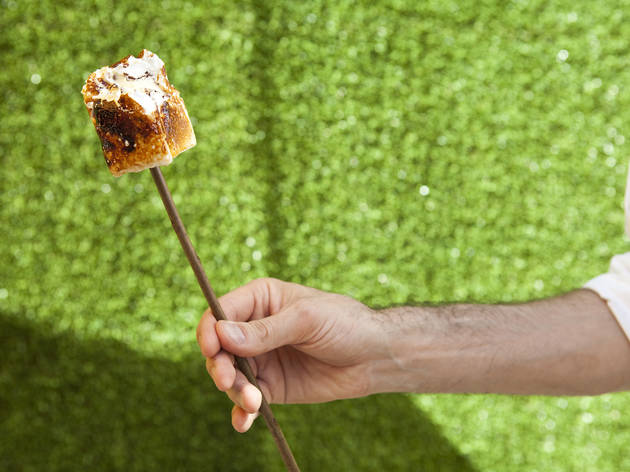 1/6
Photograph: Jessica Lin
Are Dominique Ansel's frozen s'mores the next cronut? Most likely not. But the mad-scientist pâtissier—now an international superstar—surely has another hit on his hands: His latest remake of a sweet American classic debuts tomorrow at Dominique Ansel Bakery (189 Spring St between Sullivan and Thompson Sts; 212-219-2773, dominiqueansel.com). The decadent dessert ($7) features a cold, vanilla ice-cream core swaddled in two layers: a crispy chocolate wafer and then a gooey hybrid of homemade marshmallow and dondurma (a stretchy Turkish ice cream). It's skewered with an applewood-smoked willow branch and torched to order—which lends a campfire fragrance and an elegant brûléed crackle—bringing the bonfire treat to urban dwellers. Ansel's not the only chef in town giving the campfire favorite another look. Click through our slideshow for five more reimaginings.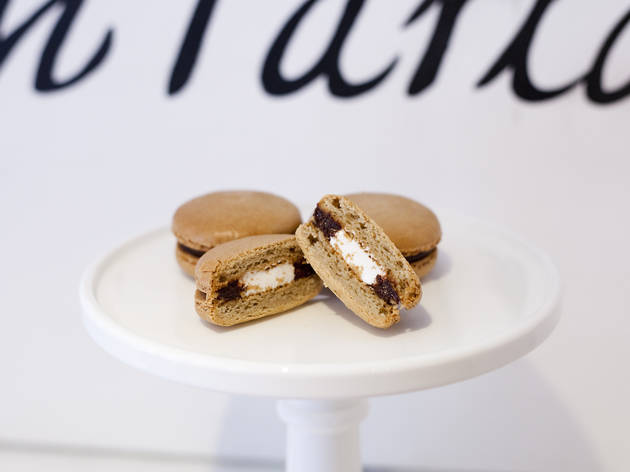 2/6
Photograph: Jessica Lin
S'mores macaron at Macaron ParlourChristina Ha puts an haute French update on the American classic with this outré version. Sandwiched between graham-cracker shells—which are shatter-crisp and sweetened with honey—are a decadent chocolate ganache and sweet marshmallow cream, evoking the messy treat in a tidy, bite-size package. 111 St. Marks Pl between First Ave and Ave A (212-387-9169, macaronparlour.com). $2.50.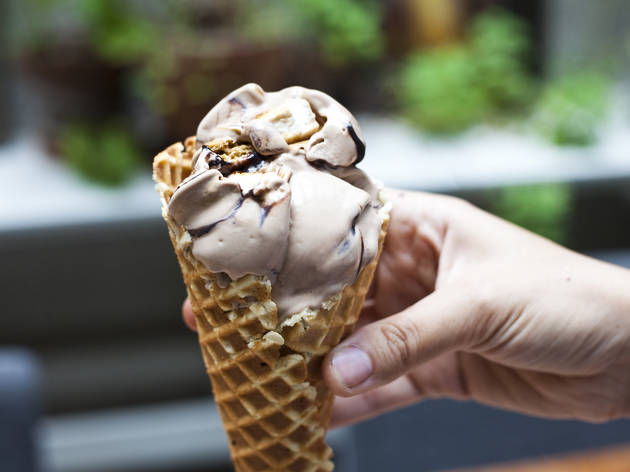 3/6
Photograph: Jessica Lin
S'mores gelato at StellinaAt the gelateria offshoot of Sorella, pastry chef Michelle Catarata combines purist Italian technique with all-American irreverence in her s'mores-inspired gelato. The handmade ice cream is intensely chocolaty, bolstered by ribbons of fudge sauce, pillows of marshmallow and graham-cracker crumbles. 95 Allen St between Broome and Delancey Sts (212-274-9595, stellinanyc.com). Single scoop $3.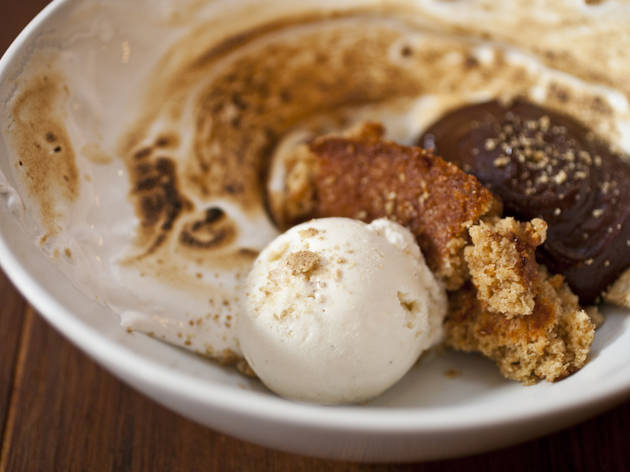 4/6
Photograph: Virginia Rollison
S'mores cake at DistilledIn his rendition, chef Shane Lyons swaps out stiff wafers for a moist, graham-flavored cake smoked over hickory chips. A smear of torched marshmallow and chocolate sauce conjure the toasted confection without overwhelming the cake, while a dusting of crumbled graham crackers lends crunch. 211 West Broadway at Franklin St (212-601-9514, distilledny.com). $8.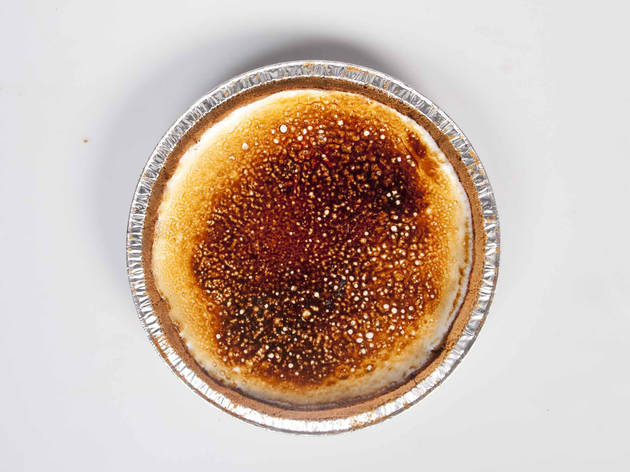 5/6
Photograph: Lindsay M Taylor
S'mores pie at Butter & ScotchWhen Allison Kave (First Prize Pies) and Keavy Blueher (Kumquat Cupcakery) teamed up for their boozy sweets pop-up—a permanent location is expected at the end of this year—they made sure to carry over Kave's beloved signature pie. Atop a graham-cracker crust is a silky Callebaut milk-chocolate filling and a brûléed swatch of homemade marshmallow. Various locations, visit drunkbakers.tumblr.com. $35.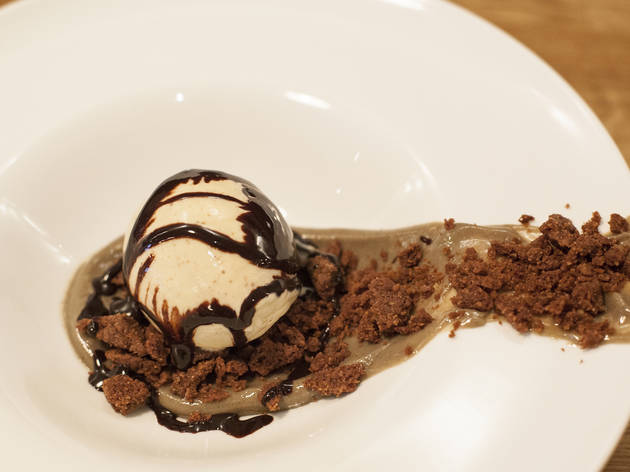 6/6
Photograph: Cinzia Reale-Castello
S'mores "remix" at LouroIn this cooling version of the fireside snack, milky graham-cracker ice cream sits on a pool of toasted-marshmallow pudding, which imparts a smoky flavor on the frozen delight. Bits of buttery chocolate cookie and a drizzle of Valrhona syrup add a fudgy richness to the dessert. 142 W 10th St between Greenwich Ave and Waverly Pl (212-206-0606, louronyc.com). $8.
Dish of the moment: Dominique Ansel's frozen s'mores
New York's cronut king unveils his latest madcap creation on Friday.
Best selling Time Out Offers