Essential New York: Restaurants & Bars
Hide-Chan Ramen Drown out the chaos of midtown by sidling up to one of the counters at this noodle shop and enjoying a solo lunch. If you don't think you can...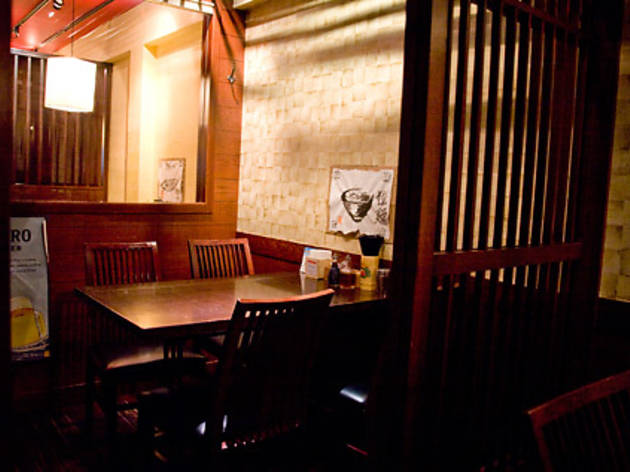 1/12
Photograph: Tia Ryan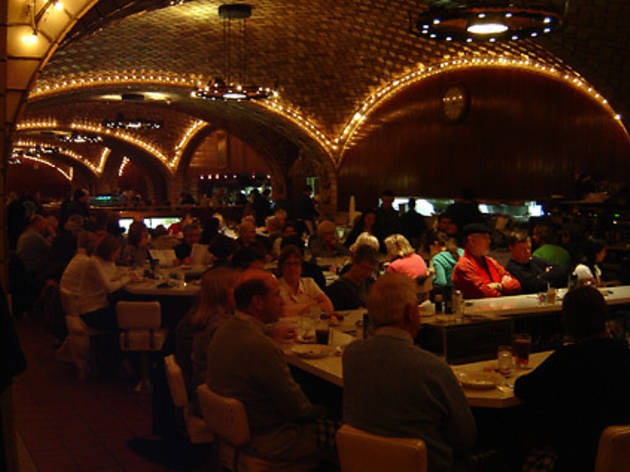 2/12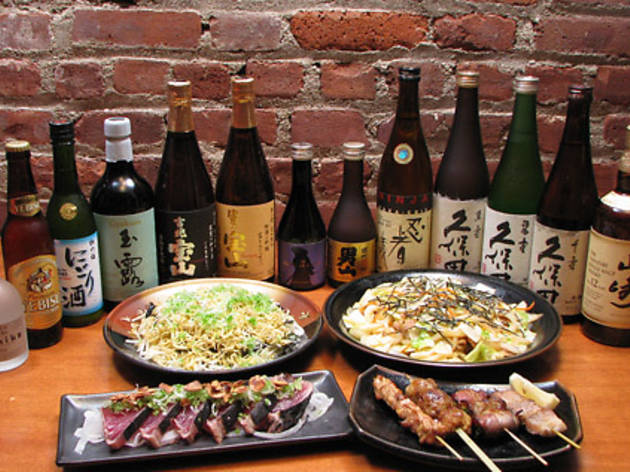 3/12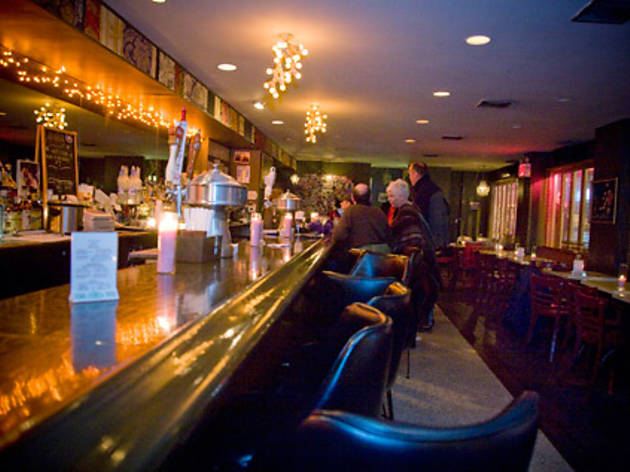 4/12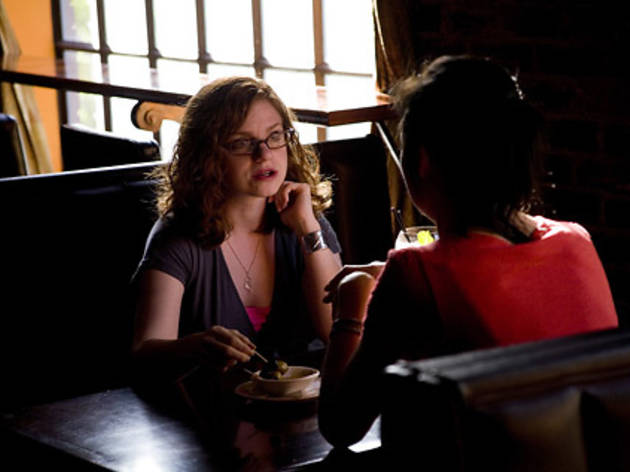 5/12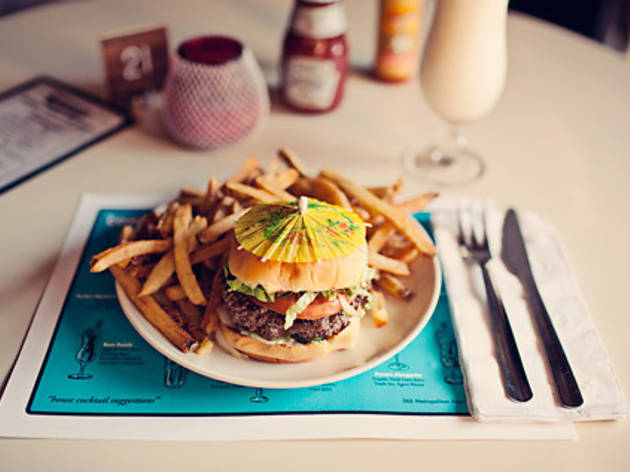 6/12
7/12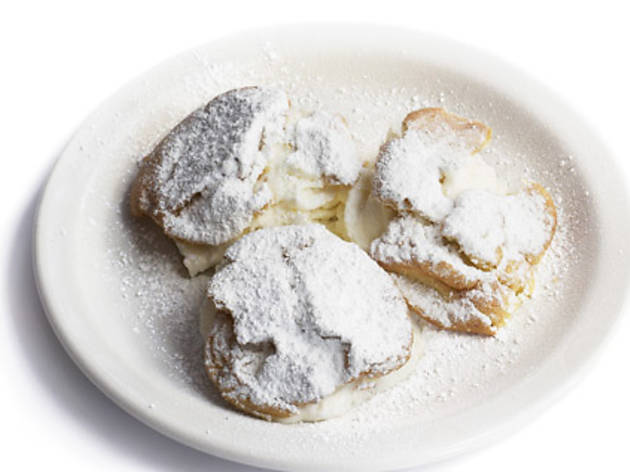 8/12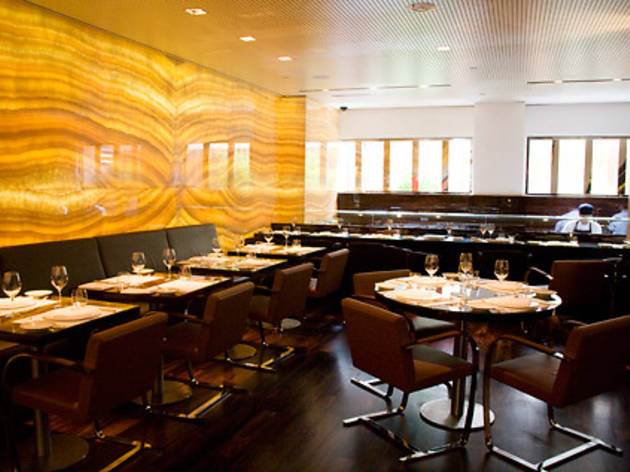 9/12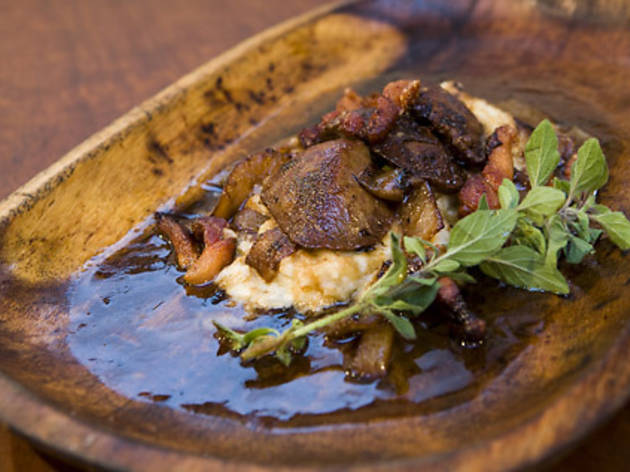 10/12
Photograph: Jeffrey Gurwin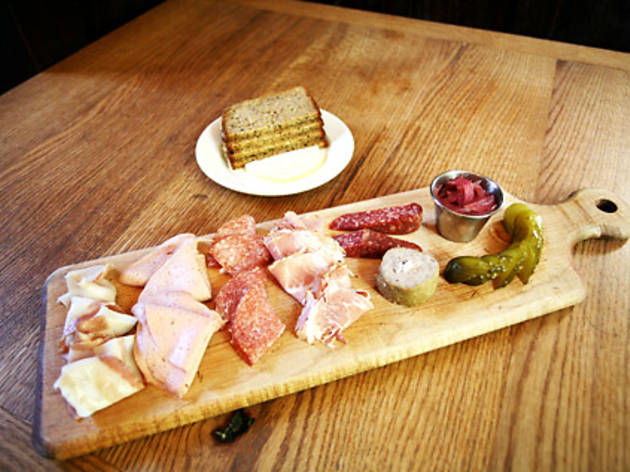 11/12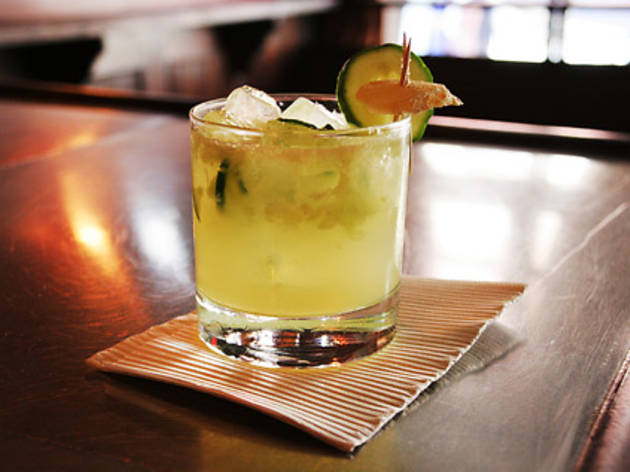 12/12
Hide-Chan Ramen
Drown out the chaos of midtown by sidling up to one of the counters at this noodle shop and enjoying a solo lunch. If you don't think you can handle the sweat-inducing Hakata-style spicy ramen ($10) without companions to motivate you, may we suggest a tamer alternative? Try the chewy chilled noodles ($9.50), served with a side of, sesame-oil-flavored soba broth for dipping. 248 E 52nd St between Second and Third Aves, second floor (212-813-1800)

Grand Central Oyster Bar and Restaurant
Some commuter bars are built for killing time, but this one, which has been around since 1913, could entice you to miss your train on purpose. The barroom is as old-world New York as it gets, and it's an ideal spot for sipping on a Manhattan and slurping a half-dozen oysters (prices vary depending on type of oyster). Grand Central Terminal, Lower Concourse, E 42nd St at Park Ave (212-490-6650, oysterbarny.com)

Sake Bar Hagi
Want your visiting friends to take in Times Square without having to dine at Applebee's? Head to this subterranean izakaya, where your group can gorge on wasabi dumplings, okonomiyaki (pancakes filled with squid and crab) and assorted Japanese snacks, and polish off a $12 pitcher of Sapporo before hitting up Madame Tussauds. 152 W 49th St between Sixth and Seventh Aves (212-764-8549)

Fette Sau
At night, there's almost always a wait at this Williamsburg 'cue joint, but don't fret: Share a gallon of Sixpoint Righteous Rye while contemplating what to order. We suggest divvying up the smoky espresso-and-brown-sugar-rubbed ribs (price varies by meat type and weight) and the thick-crusted pastrami (price varies) at one of the communal picnic tables. 354 Metropolitan Ave between Havemeyer and Roebling Sts, Williamsburg, Brooklyn (718-963-3404, fettesaubbq.com)

Eataly
Going big can be a blessing or a curse in this town, but Mario Batali got it right. His massive mecca of Italian cuisine is a playground for foodies, encompassing four proper eateries, each focused on a different food group. Adjacent retail areas offer gourmet provisions—Piedmontese hamburger patties ($8.80/lb), live Scottish langoustines ($32.80/lb), imported cheese infused with fresh truffles ($19.80/lb) and more—so you can cook your own Italian recipes at home. 200 Fifth Ave between 23rd and 24th Sts (212-229-2560, eataly.com)

Angel's Share
You wouldn't know it from its inconspicuous exterior, but this joint, secreted behind a second-floor Asian restaurant, is one of the East Village's classiest watering holes. Bring a date here and we swear they'll love the view of Stuyvesant Square, the tuxedoed bartenders and the carefully wrought cocktails, such as one of the city's best grasshoppers ($13). And if they don't, consider breaking up. 6 Stuyvesant St between Third Ave and E 9th St, second floor (212-777-5415)

The Commodore
Getting wasted on Schlitz while fooling around with arcade games in Williamsburg is nothing new. But doing so while enjoying some surprisingly fine dishes, like "hot fish" or gooey "adult cheese" sandwiches? That's what makes us love this gastrodive, which offers the best cheap-ass bar eats in town. 366 Metropolitan Ave at Havemeyer St, Williamsburg, Brooklyn (718-218-7632)

The Randolph at Broome
This 1,000-square-foot booze destination is a veritable clubhouse for cocktail geeks. But you needn't know your Angostura from your orange bitters to appreciate drinks like the Michael Derry (lemon juice, honey, Belvedere vodka, Lionshead beer; $14; $7 during happy hour, 5:30--8pm nightly) or the breezy, come-as-you-are atmosphere. 349 Broome St between Bowery and Elizabeth St (212-274-0667, randolphnyc.com)

Jimmy's No. 43
We still get a thrill descending into this subterranean beer haven. Order a frothy one, and try not to get lost while careening through the medieval-style arched passageways and in and out of numerous rooms. After a few pints, soak up the suds with a plate of fried beer sausage and mustard ($7). 43 E 7 St between Second and Third Aves (212-982-3006, jimmysno43.com)

Marea
Projects like Michael White's gutsy gamble—an upmarket shrine to the simple pleasures of the Italian coastline—restore our faith in ambitious restaurant ventures. We particularly love the sedanini (like ridgeless rigatoni) in a smoky cod-chowder sauce with potatoes and speck ($27). 240 Central Park South between Seventh Ave and Broadway (212-582-5100, marea-nyc.com)

Xi'an Famous Foods
Look no further than a shopping mall in Queens for some truly authentic (and cheap) treats. The "Chinese hamburgers"—cumin-accented lamb on homemade griddle cakes—at this spot cost $3 a pop. Stall 36, Golden Shopping Mall, 41-28 Main St at 41st Rd, Flushing, Queens (xianfoods.com)

Prime Meats
Rarely will you find dishes as solidly executed or as reasonably priced as those at this Germanish sibling of beloved Court Street trattoria Frankies 457 Spuntino. The old-world, lived-in feel—scuffed mirrors, worn-in booths and retrofitted 19th-century gas chandeliers—adds to the charm. Share a small plate of the Vesper Brett ($15), a sample of cured meats. 465 Court St at Luquer St, Carroll Gardens, Brooklyn (718-254-0327)

Abilene
This Carroll Gardens spot is our kind of local: laid-back and dimly lit. Chatting up the friendly bartenders is easy, as is getting an impromptu game of Scrabble going. Take advantage of happy hour (Mon--Fri 4pm--7pm and midnight--1am; Sat, Sun 4pm--7pm), when all drafts are $4. 442 Court St at 3rd Pl, Carroll Gardens, Brooklyn (718-522-6900, abilenebarbrooklyn.com)

Paulie Gee's
This tiny, 58-seat pizzeria uses fresh ingredients before sliding its creations through a custom-made brick oven. Our favorite pie, the Greenpointer ($15)—a pizza-salad hybrid that blends peppery arugula and bright lemon juice with Parmesan and local artisan mozzarella cheeses—is proof of the city's ability to skillfully reinvent the classics. 60 Greenpoint Ave between Franklin and West Sts, Greenpoint, Brooklyn (347-987-3747)

La Sirene
You owe it to yourself to check out the exuberant cooking of Marseille-born chef-owner Didier Pawlicki. His signature cassoulet ($31.50) is reason enough to make a reservation (regulars even request the dish on scorching August days, Pawlicki tells us). Bonus: The dessert of fluffy profiteroles is moan-inducing—very French indeed. 558 Broome St between Sixth Ave and Varick St (212-925-3061, lasirenenyc.com)

Peasant
The decor—equal parts rustic and urban chic—gives the place a cool, unfinished edge, while the roaring, wood-burning oven, visible from the dining room, lends a wintry, fairy-tale feel. Still, it's dishes like the gooey speck-wrapped bocconcini (mozzarella pieces; $10), which arrive at the table bubbly and molten, that will keep us coming back. 194 Elizabeth St between Prince and Spring Sts (212-965-9511, peasantnyc.com)
Sponsored listing
MI-NE SUSHI TOTOYA
Our goal is to graciously serve our customers delicious sushi as well as other Japanese dishes with passion.We would like to express our deepest gratitude towards our customers. Since Mi-Ne Sushi's opening in 1971 at Kumamoto, Japan, we have since opened three more locations in Kumamoto as well as nine sister locations in the fiercely competitive city of Hong Kong. We aspire to keep the traditions of Japanese food culture alive while striving towards perfecting our taste as well as providing a gracious environment to be enjoyed with the company of family and friends, on any event or celebration.
Venue says: "MI-NE Sushi Totoya offers a variety of Japanese cuisine from the Kyushu region and beyond. Originating from Kumomoto, Japan."