Four hidden Japanese restaurants in New York City
A basement izakaya, an after-hours ramen pop-up and more: These under-the-radar Japanese restaurants are hidden in not-so-plain sight.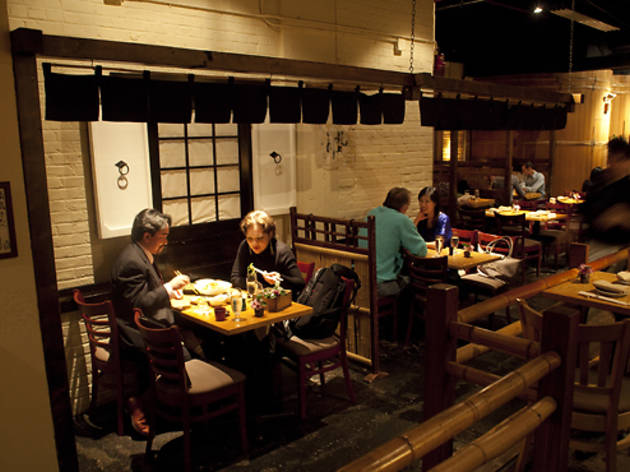 In such an in-the-know city, it's hard to keep a secret for long, yet these semisecret Japanese joints have managed to do just that. We've uncovered New York's on-the-down-low ramen dens and izakaya, hidden behind a butcher shop, tucked in the basement of an office building and popping up after-hours at a midtown restaurant.
RECOMMENDED: Best Japanese food in NYC
Bohemian
This modernist spot is ensconced behind East Village butcher shop Japanese Premium Beef. If you want to try the six-course tasting menu, you'll need to obtain the private reservation phone number from a regular diner. 57 Great Jones St between Bowery and Lafayette St (212-388-1070)

Sakagura
Cross through a nondescript corporate lobby and descend a service staircase to enter this intimate, subterranean sake bar, boasting tasty Japanese small plates and a monster list of more than 200 sakes. 211 E 43rd St between Second and Third Aves (212-953-7253)

Ramen Sanshiro
Just before the clock strikes midnight, midtown Japanese joint Seo ditches the rolls and tangles up traditional shio (salt) and shoyu (soy) ramen until the broth runs out. 249 E 49th St between Second and Third Aves (212-355-7722)

Benkei Ramen
Soho's Japanophile haunt Ushiwakamaru moonlights as ramen hideaway Benkei, ladling out piping-hot bowls of tonkotsu (pork), shoyu and kaisen (seafood) noodles from midnight until the wee hours. 136 W Houston St between MacDougal and Sullivan Sts (212-228-4181)