Heads up! We're working hard to be accurate – but these are unusual times, so please always check before heading out.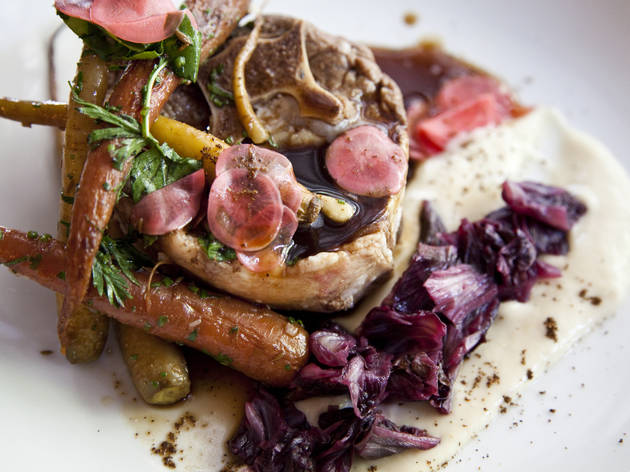 1/24
Photograph: Beth Levendis
Braised lamb neck at the Marrow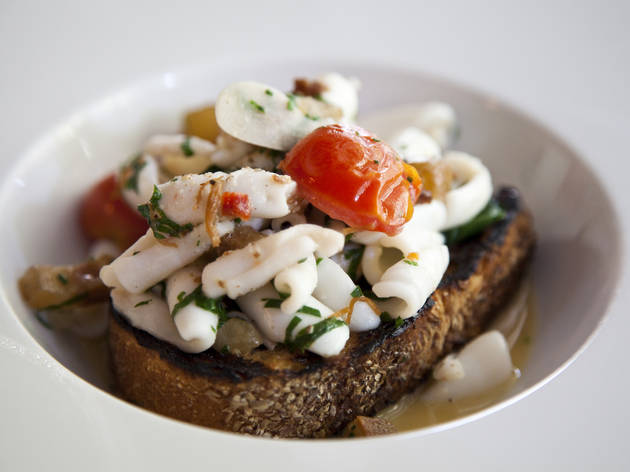 2/24
Photograph: Beth Levendis
The Marrow, Skillet braised Cuttle Fish w/ la quercia guanciale, garlic bread & white wine
3/24
Photograph: Paul Wagtouicz
Brandy old fashioned at the Butterfly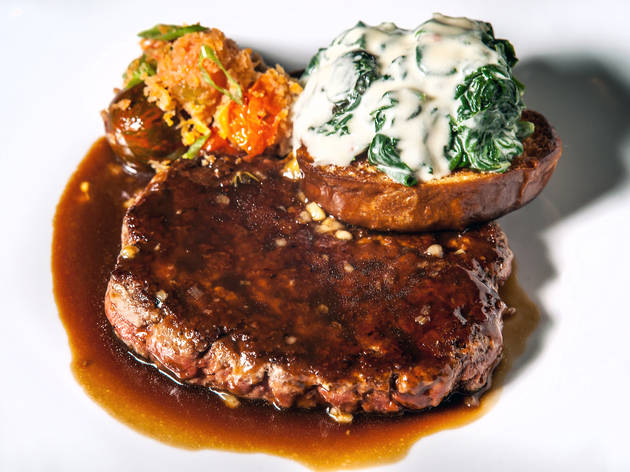 4/24
Photograph: Paul Wagtouicz
Chopped steak at the Butterfly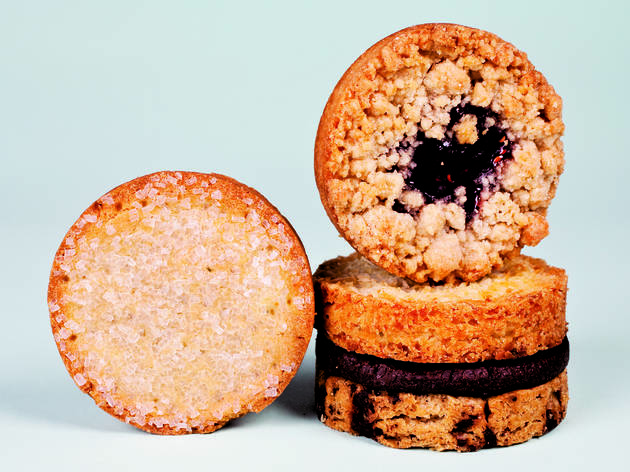 5/24
Photograph: Krista Schlueter
Beurre Sel Cookies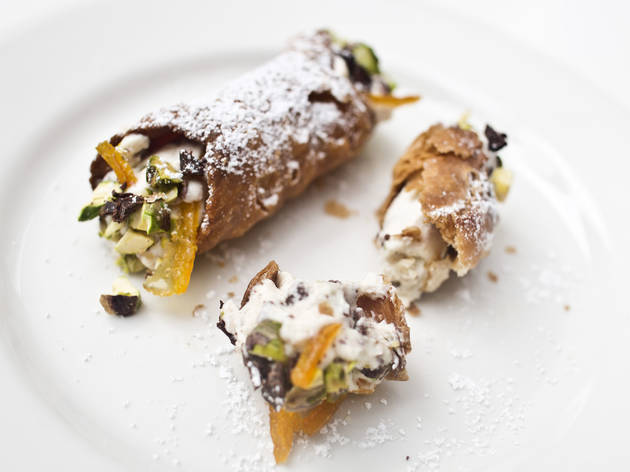 6/24
Photograph: Caroline Voagen Nelson
Canoli at Krescendo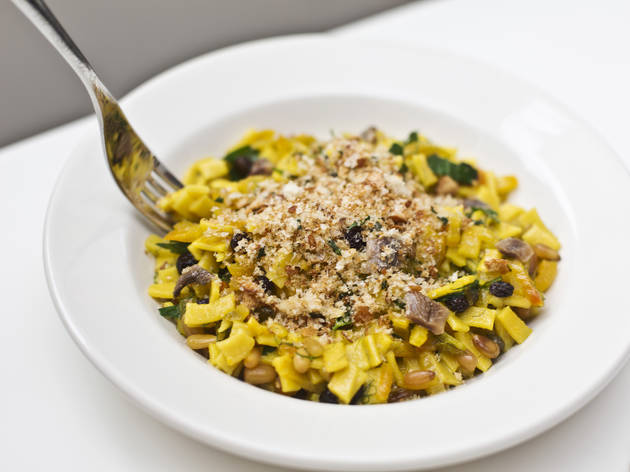 7/24
Photograph: Caroline Voagen Nelson
Pasta with fennel, sardines and pine nuts at Krescendo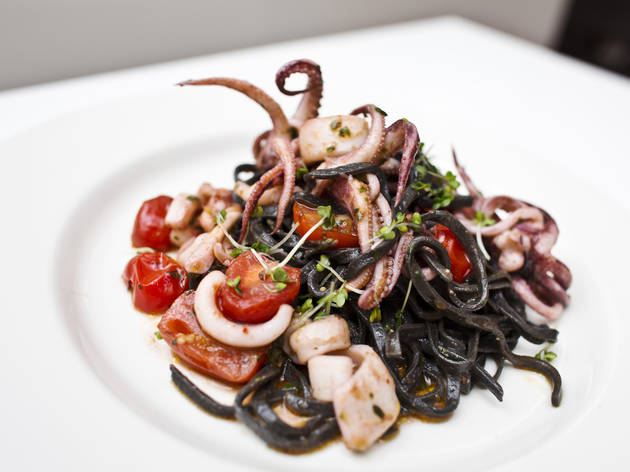 8/24
Photograph: Caroline Voagen Nelson
Pasta chitarra al nero at Krescendo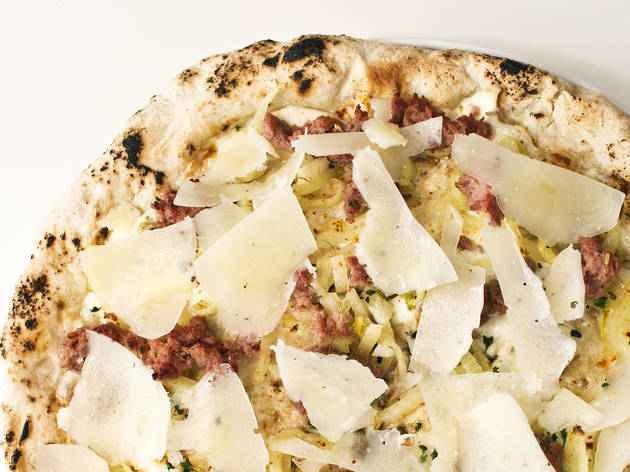 9/24
Photograph: Caroline Voagen Nelson
Sausage, fennel, ricotta and provolone pizza at Krescendo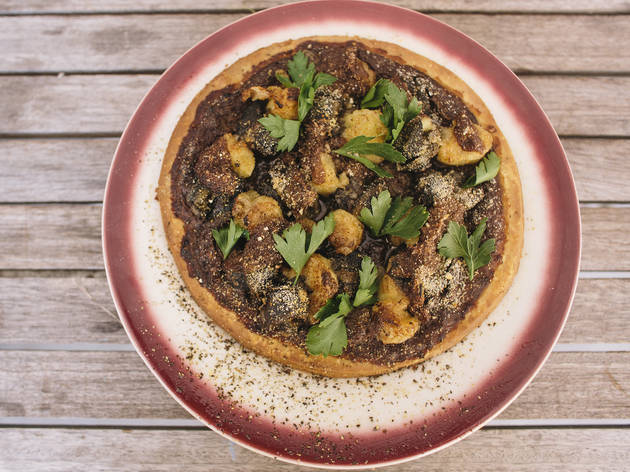 10/24
Photograph: Lizz Kuehl
Escargot-and-marrow tart at M. Wells Dinette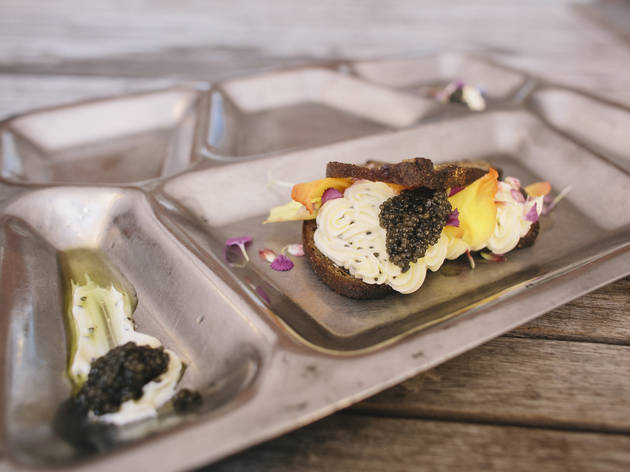 11/24
Photograph: Lizz Kuehl
Caviar, whipped butter and flowers on rye at M. Wells Dinette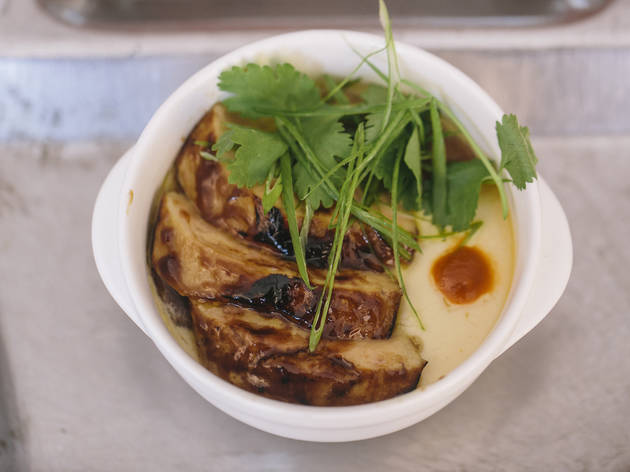 12/24
Photograph: Lizz Kuehl
Egg flan and foie at M. Wells Dinette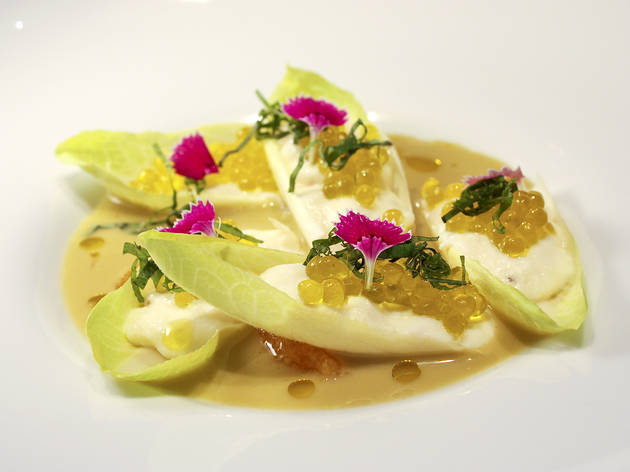 13/24
Photograph: Pablo Jiménez Sancho
Cod and endive salad at Manzanilla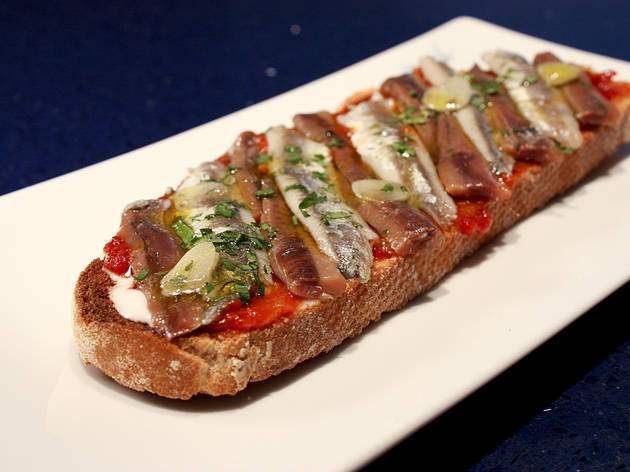 14/24
Photograph: Pablo Jiménez Sancho
Anchovies on toast at Manzanilla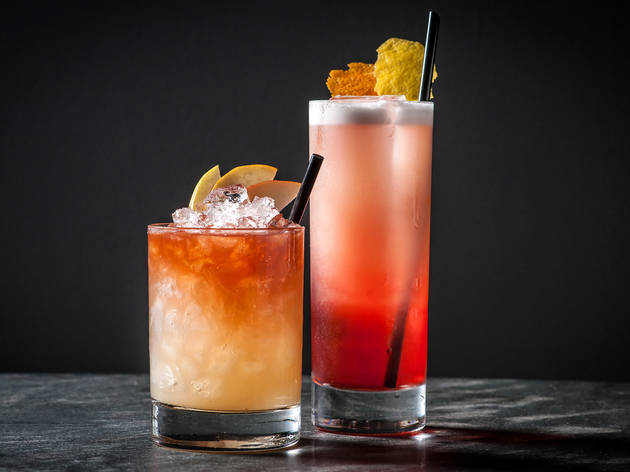 15/24
Photograph: Paul Wagtouicz
Tahona Smash and One Flight Up at Pouring Ribbons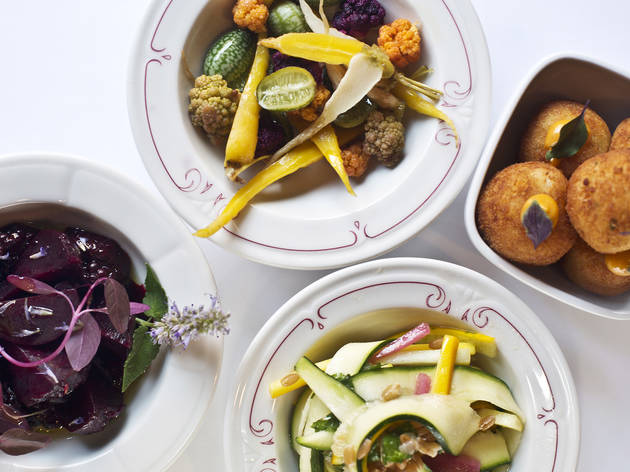 16/24
Photograph: Caroline Voagen Nelson
Vegetables at Red Gravy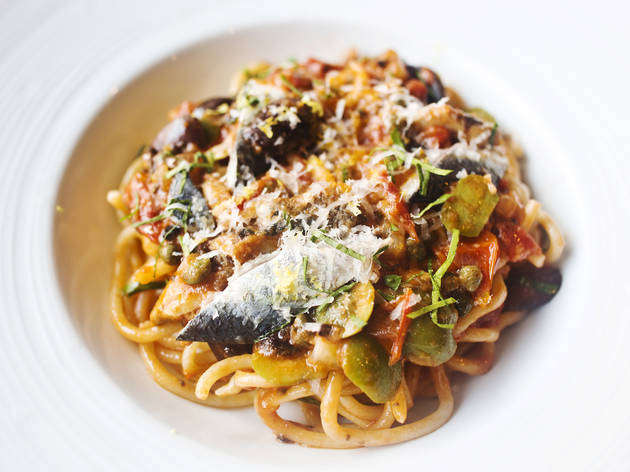 17/24
Photograph: Caroline Voagen Nelson
Bucatini al sarde (sardines and fennel) at Red Gravy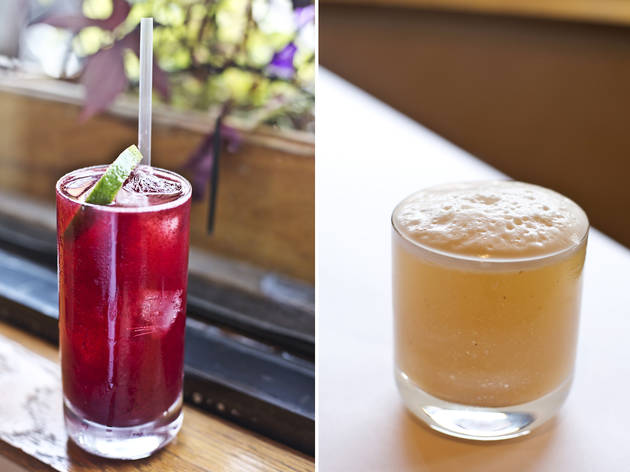 18/24
Photograph: Caroline Voagen Nelson
Waymaker (right) at Red Gravy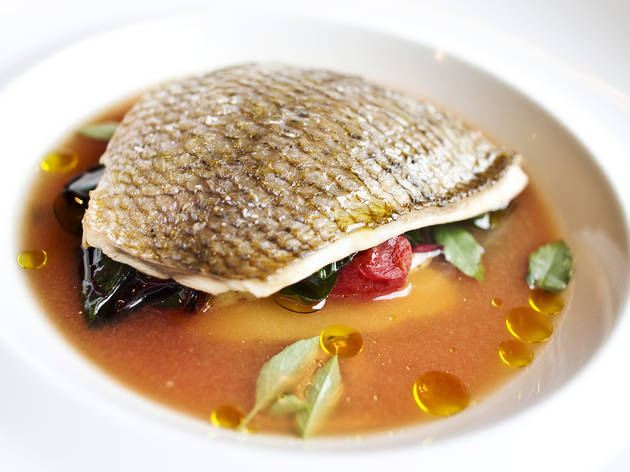 19/24
Photograph: Caroline Voagen Nelson
Porgy in a spicy fish broth at Red Gravy
20/24
Photograph: Caroline Voagen Nelson
Roasted pork shoulder at Red Gravy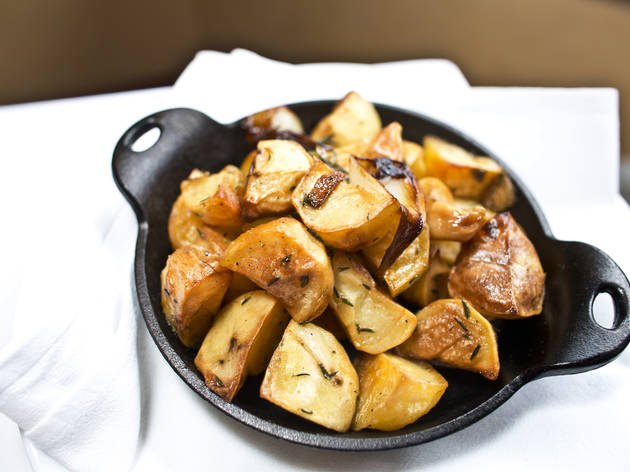 21/24
Photograph: Caroline Voagen Nelson
Roasted potatoes at Red Gravy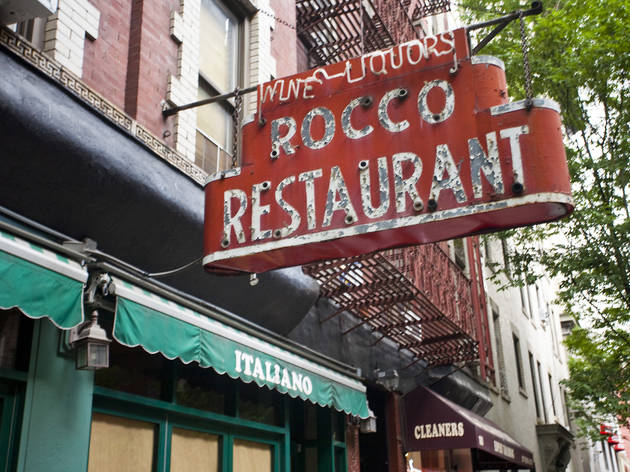 22/24
Photograph: Mike Skigen
Rocco's Restaurant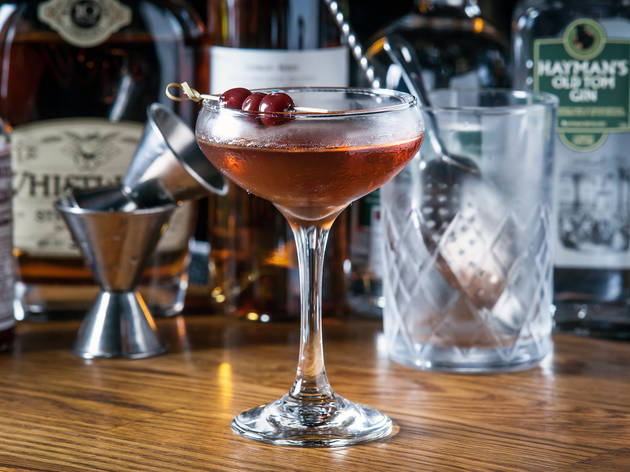 23/24
Photograph: Paul Wagtouicz
Remember the Maine cocktail at The Library at the Public Theater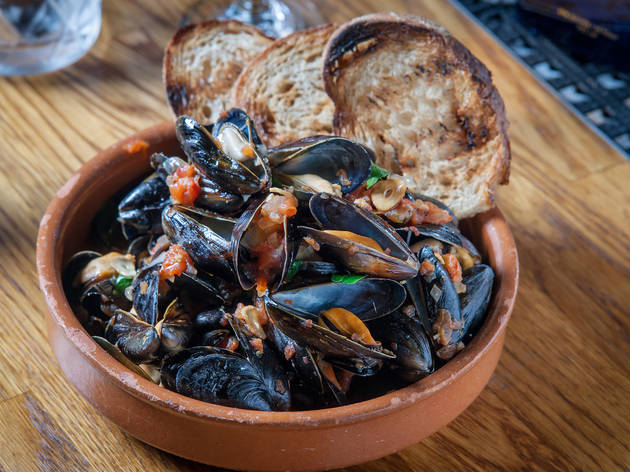 24/24
Photograph: Paul Wagtouicz
Mussels at the Library at the Public Theater
Ten hottest openings: New NYC restaurants
Fall dining is here! Start getting in line for the most highly anticipated new NYC restaurants and bars of the season.
Every year, buzzed-about new NYC restaurants open their doors, offering diners a fresh collection of dishes and drinks to explore. Here are our picks for the hottest openings of new NYC restaurants and bars—including top spots for Southern Italian plates, modern Spanish fare and craft cocktails—this fall.
RECOMMENDED: Full list of NYC restaurants opening this fall
Beurre & Sel
For several years now, beloved cookbook author, blogger and baking maven Dorie Greenspan and son Josh have been thrilling sugar fiends with their pop-up CookieBar. Come September, the mother-and-son duo will (finally) open a pair of year-round bakeshops showcasing Greenspan's elegant treats: classic French vanilla sablés (shortbread), blueberry jammers topped with streusel, and her signature World Peace Cookies (Valrhona cocoa and extra-bitter chocolate with Guérande fleur de sel). 1590 Park Ave between 112th and 115th Sts • 120 Essex St between Delancey and Rivington Sts • (no phone yet, beurreandsel.com). Early September.
Krescendo
Buzzy West Coast imports have been storming New York lately (see Mission Chinese Food, Pok Pok Ny). In September, you can add the new pizzeria from Top Chef Masters contestant Elizabeth Falkner to the list. Brought on to the project by owner and fellow Californian restaurateur Nancy Puglisi (Tony's Pizza Napoletana), the SF pastry rock star will add wood-fired pizzas (such as a Margherita) and homemade pastas (like one with sardines, wild fennel, pine nuts and raisins) to her repertoire of doughy delights. Of course, there will be desserts, too—traditional treats such as tartufo and tiramisu. Another San Francisco transplant, bar manager Darren Crawford of Bourbon & Branch, will see to Italian-inflected cocktails behind the oak bar. 364 Atlantic Ave between Bond and Hoyt Sts, Boerum Hill, Brooklyn (718-330-0888). Mid-September.
M. Wells Dinette
Madcap Quebecois chef Hugue Dufour and wife Sarah Obraitis—whose cultish diner, M. Wells, shuttered last year—will make their triumphant return with this boundary-pushing museum cafeteria at MoMA PS1. Don't expect pallid plastic-wrapped sandwiches: Dufour will dish out twists on French classics (egg in aspic, steak tartare) and some Asian plates (bibimbap), served in bento boxes or on compartment trays. Also of note: a roe bar—stocked with paddlefish eggs, uni and luxe caviar—will provide the makings for inventive items like a caviar-and-whipped-butter sandwich with edible flowers on rye. Inspired by the art institution's elementary-school past, the space will feature hanging maps and cubbyhole communal tables styled after school desks. 22-25 Jackson Ave at 46th Ave, Long Island City, Queens (no phone yet). Mid-September.
Pouring Ribbons
The hotshot cocktail team behind Alchemy Consulting—Toby Maloney, Jason Cott, Troy Sidle and Death & Company vet Joaquín Simó—have opened trailblazing bars in Chicago (the Violet Hour), Nashville (the Patterson House, the Catbird Seat) and Minneapolis (Bradstreet Craftshouse). But this drinkery will mark their first solo project in New York. The second-floor spot is lit by Art Deco glass shafts and a large arched window spanning the front of the bar. Grab a seat to sample a cocktail menu composed of classic and original tipples, such as the One Flight Up, an egg-white drink made with pisco brandy, blanc vermouth, lemon juice and Campari. 225 Ave B between 13th and 14th Sts (917-656-6788). Mid-September.
The Butterfly
Having celebrated Italy's fertile Emilia-Romagna region with Osteria Morini and the Boot's coastal cuisine with Marea, Michael White now casts an eye back toward his native Wisconsin for his latest venture, the Butterfly, named after a Midwestern restaurant where the chef worked as a Beloit youth. The retro supper club will spotlight American-hometown revisions of classics like spaghetti and meatballs and chopped steak. Drinks come from masterly barman Eben Freeman, who plans to offer spins on midcentury tipples like the crème de menthe–based grasshopper and a brandy old-fashioned. His podium: a 21-foot-long bar with a woodcut back wall that resembles the open wings of a butterfly. 225 West Broadway at White St (no phone yet). Late September.
The Library at the Public Theater
In the landmarked building that houses the Public Theater, white-hot chef Andrew Carmellini stages his third, much-anticipated act: a preshow lounge. The Café Boulud alum—whose holdings include the Dutch and Locanda Verde—will offer a menu influenced by New York's dining culture. Pair his dishes—mussels in a garlicky red sauce, seafood gumbo with andouille sausage—with a classic cocktail. Make some time to wander the room: Designed by David Rockwell and modeled after Gotham's first public library (the building's original inhabitant), it features an elaborate Parisian rug and industrial steel-frame bookcases along the walls. Also keep your eyes peeled for Carmellini's return to his classical culinary roots when his as-yet–unnamed French-inflected project opens nearby (at 380 Lafayette Street) towards the end of the year. 425 Lafayette St between Astor Pl and E 4th St (212-539-8777). Early October.
Red Gravy
Saul Bolton—the Michelin-starred Brooklyn toque behind Saul, the Vanderbilt and cocktail bar Botanica—sets his sights on Southern Italy with this 75-seat trattoria. Homemade pasta and whole butchered animals will form the foundation of Bolton's seasonal Italian menu. To drink, find homemade amari, vermouth and limoncello, plus a wine list highlighting small-production bottles from the lower part of the Boot. 151 Atlantic Ave between Clinton and Henry Sts, Brooklyn Heights (no phone yet). Late October.
Manzanilla
Spanish chef Dani Garcia—who racked up two Michelin stars for his inventive restaurant Calima in Marbella, Spain—joins forces with Boqueria restaurateur Yann de Rochefort to open Manzanilla. This bi-level spot, conceived as a "Spanish brasserie" and decked out with herringbone-pattern tiled floors and wood ceilings, will offer whimsical takes on traditional mains, influenced by Garcia's native Andalusia. Anticipate glazed black cod with caramelized piquillo peppers and bomba rice cooked in squid ink with monkfish, prawns and cuttlefish. 345 Park Ave South between 25th and 26th Sts (no phone yet). Mid-November.
The Marrow
Season-one Top Chef champ Harold Dieterle—who garnered serious acclaim with his West Village Thai eatery, Kin Shop—will salute his family heritage at this meatcentric Italian and Germanic venture. Feast on braised brisket braciola and ostrich schnitzel in the bright 61-seat dining room, which offers a view of the kitchen. An extensive, 70-plus-bottle wine program will focus on German and Austrian whites and Italian reds. 99 Bank St between Greenwich and Hudson Sts (no phone yet). Mid-November.
Torrisi project (name TBD)
Food-world pied pipers Rich Torrisi and Mario Carbone (Torrisi Italian Specialties, Parm) continue their campaign to reinvigorate stale Italian-American staples at their third venture, which will harken back to the red-sauce restaurants of midcentury New York. Branching out beyond Nolita, they've stationed the new eatery in the historic Rocco Restaurant space, a Greenwich Village staple since 1922. 181 Thompson St between Bleecker and W Houston Sts (no phone yet). Mid-November.
You might also like
Gotham's new-wave diners
New pizza styles in NYC
11 best cookies in NY
See more in Food & Drink