New restaurant and bar openings: March 20–26 2014
Sweetwater Social, Cafe El Presidente and more roll out in New York City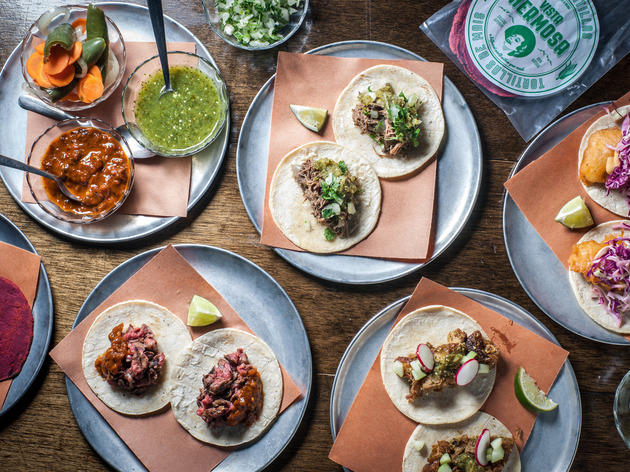 The following venues are expected to open by March 26th. Always call ahead, as openings can be delayed.
Beer & Buns The name sums it up: Burgers and brews are the focus of this Asian-inflected gastropub, home to a $250 kobe-beef variety capped with—what else is new?—foie gras, white truffles and beluga caviar. More-populist options include sliders, like the Phuket Fantasy (crab-cake patty with green curry), the Seoul Secret (short ribs, Korean barbecue sauce, mantou bun) and the Roman Evergreen (grilled portobello and Brie on ciabatta). Beyond the bun, there are Parmesan-truffle fries, beer-battered garlic chicken wings and coconut shrimp with pineapple salsa. The 125-seat spot features far-flung beer standards (Brazil's Xingu, India's Kingfisher) and American craft options (Founders All Day IPA, Mother's Milk). 130 E 39th St between Park and Lexington Aves (212-592-8888)
Black Seed Noah Bernamoff (Mile End) and Matt Kliegman (the Smile) are behind this Nolita bagel shop, serving hand-rolled, poached bagels and house-made spreads (scallion cream cheese, smoked mackerel). 170 Elizabeth St between Kenmare and Spring Sts (no phone yet)
Cafe El Presidente The Tacombi team crams more elements into this Mexican canteen than would fit in an overstuffed burrito: The hybrid eatery pulls quadruple duty as a Veracruz-style coffeeshop, a tortilleria, a taqueria and a seafood restaurant. In the mornings, find made-to-order juices (strawberry-papaya, pineapple-ginger) at a juice bar, and La Antigua–brand java (café con leche, cortados) at the coffee station. An in-house tortilleria produces organic flour and corn wraps, swaddling tacos filled with carne asada and barbacoa-style beef. Peels alum Jason DeBriere rolls out a locavore seafood menu at night, highlighting Montauk catches in dishes like a colima crujiente (pollack seared in mustard-butter sauce). 30 W 24th St between Fifth and Sixth Aves (no phone yet)
Covenhoven Named after a family farm that once grew on Park Place, this local-focused taproom is festooned with decorative plates from old-school NYC breweries like Piels and Schaefer. On the menu, find 16 craft beers, including Other Half's Motueka Pale Ale and Finback Double Sess, as well as soft pretzels from nearby Pelzer's. 730 Classon Ave between Park and Prospect Pls, Brown Heights, Brooklyn (718-483-9950)
Croxley's Abbey Adhering to signs broadcasting "We do not carry Bud, Coors or Miller," the 48-beer lineup at this upscale sports bar features craft brews like Bear Republic Red Rocket, Founders Centennial IPA and Victory Golden Monkey. In the 234-seat space—fitted with mahogany floors, a Carrara-marble bar and 38 flatscreens—find Belgian-inflected plates, including knockwurst sandwiches, carbonnade flamande (sweet-sour beef stew) and six preparations of mussels (Fra Diavolo, provençal). 63 Grand St between Kent and Wythe Aves (718-387-4290)
Gerber Group's The Roof Joining Marc Murphy's Kingside at the Viceroy, this 29th-floor clubhouse takes cues from luxury cruises, with its yachtesque iroko wood, walnut-and-leather sofas and brass light fixtures. The indoor-outdoor space is open year-round, equipped with heat lamps and wool blankets for cold-weather boozing. Choose from contemporary cocktails, such as a Thai-chili-spiced Paloma, an espresso martini and a barrel-aged Negroni. The bar snacks comes courtesy of Murphy: serrano-ham-and-clam flatbread, truffled deviled eggs and chickpea falafel with pomegranate yogurt. Viceroy New York, 124 W 57th St between Sixth and Seventh Aves (212-707-8008)
The Red Room Paying homage to the previous tenant—a performing-arts space that ran above KGB Bar since 1992—this third-floor cocktail den hosts big-band orchestras, late-night jazz trios and burlesque dancers every Saturday. Along with a stage containing an upright piano and vintage Unidyne mike, the space is decorated with tufted-leather banquettes, pressed-tin ceilings and—curiously—a copper bathtub. Cocktails include the Ritz (cognac, Cointreau, champagne), the Dubonnet (with gin and lemon) and the Cocksman (rum, pineapple juice, orange bitters). 85 E 4th St between Second Ave and Bowery (212-787-0155)
Sweetwater Social Unlike the basement hangs of your youth, you don't have to steal your parents' liquor-cabinet key to enjoy this rec-room bar. In the 3,000-square-foot subterranean dive, bar vets Tim Cooper (GoldBar) and Justin Noel (1534) conjure '80s New York with a cocktail menu laid out on an NYC subway map. The Delancey station offers the Big Trouble in Little China (sesame-infused bourbon, cucumber), the mescal-and-jalapeño Sho'Gun reps Spanish Harlem, and the Dirty Hipster (black lager, egg yolk, rye) references—duh—Bedford Avenue. The drinks den is equipped with shuffleboard, vintage arcade games and foosball. Mini corn dogs, pork sliders and sweet-potato fries are on the menu, in case you work up a hankering between puck-and-tang matches. 643 Broadway between Bleecker and Bond Sts (212-253-7467)
Sponsored listing
Battery Harris
Vets of Village Pourhouse and the Taïm truck turn to Caribbean comfort food and Latin cocktails with this 144-seat bar. The Queens-born owners pay tribute to the Rockaways with the name—a nod to an abandoned beach bunker in Fort Tilden park—and shore-inspired decor, including colorful stained-wood interiors, a transparent geometric roof and a wraparound deck. Richard Gibbs (Caracas Arepa Bar) dispatches spiced plates like jerk chicken wings, jalapeño mac-and-cheese pie and roasted-corn-and-cabbage slaw tossed in a Scotch-bonnet vinaigrette. Rum-heavy tipples include the Double Impact (lemon, kumquat shrub, vanilla and orange-blossom water) and the Quest (lime, basil and Angostura bitters). Also on offer: nearly 20 domestic beers and four wines on tap.
Venue says: "Beach Bar and Kitchen! Mon, Tue & Wed Happy Hour 4-7PM, Thur SUNDUB (Reggae & Roots) Live Band, Fri & Sat DJs 11-4am, Sat and Sunday Brunch!"