New restaurant and bar openings: May 1–7, 2014
Ivan Ramen, Meat Hook Sandwich Shop and more roll out in New York City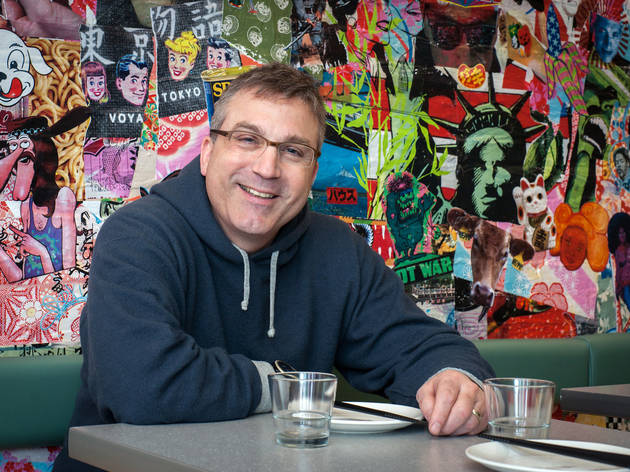 The following venues are expected to open by May 7th. Always call ahead, as openings can be delayed.
Camp David This red-lit retreat is more social than presidential, with South American cocktails and small plates (Iberico ham lollipops, ham-and-cheese arepas). 221 Ave B between 13th and 14th Sts (212-228-0170)

Coffee Lab Bay Ridge native Don Lee and wife Dora Wu bring high-quality java to Brooklyn's Gold Coast, pouring Toby's Estate coffee and Macaron Parlour sweets. 6903 Third Ave at Bay Ridge Ave, Bay Ridge, Brooklyn (347-729-3317)

Five Leaves Crate Take a break from vinyl browsing at this pop-up record-store café inside Rough Trade, serving coffee, sandwiches (egg and beet on rye) and savory pies (beef-and-ale, potato-spinach masala). 64 North 9th St between Kent and Wythe Aves, Williamsburg, Brooklyn (718-388-4111)
Ivan Ramen Ivan Orkin has never been one to play by the rulebook—the brash, Yiddish-tongued Long Islander first built his food-world fame not in his native New York, but 6,000 miles away in Tokyo, where he stirred up Japan's devout ramen congregation with his light, silky slurp bowls in 2007. Fast-forward seven years, three Ivan Ramen locations—including Gotham West Market breakout star Slurp Shop—and critical props in two hemispheres, and Orkin is finally ready to launch his first full-service U.S. restaurant, a narrow slip of a ramen-ya on the Lower East Side. The vibrant 60-seat parlor tangles together the noodle virtuoso's all-American roots and Japanophile leanings: A chrome-edged counter and vinyl stools recall old-line diners, blond-wood banquettes look plucked from a late-night izakaya, and a massive, papier-mâché mural in front features a kaleidoscope of Dolly Parton, John Wayne, waving lucky cats and Technicolor geishas. And the menu follows culture-crossing suit, natch: "I've got my feet planted in both cultures, cuisines and languages," Orkin says. Along with his seminal rye-flour noodles (in both shio and shoyu varieties), there's four-cheese mazemen, like ramen gone Kraft, and fried chicken hearts—double-dipped à la KFC—with ponzu honey mustard. The downtown spot won't serve rice bowls—you'll have to shoulder up to Hell's Kitchen for that smoked-whitefish donburi—but it does offer composed small plates, like preserved hen eggs and braised ox tongue. 25 Clinton St between E Houston and Stanton Sts (no phone yet)

Meat Hook Sandwich Shop The irreverent Kings County butchers use their meaty wares as sandwich stuffers at this stand-alone hero shop, featuring grilled ham-and-cheese, roasted pork and Italian subs. 495 Lorimer St between Grand and Powers Sts, Williamsburg, Brooklyn (no phone yet)

OddFellows Ice Cream Co.
Owners Sam Mason (wd~50) and husband-and-wife Mohan and Holiday Kumar unveil the second location of their ice-cream shop, scooping eight rotating flavors like burnt marshmallow and coconut–dulce de leche. 75 E 4th St between Bowery and Second Ave (917-475-1812)

Polpette The former Good Enough to Eat space gets an Italian makeover, serving the namesake meatballs (in sliders, atop spaghetti) and grappa-based Negronis. 483 Amsterdam Ave between 83rd and 84th Sts (212-858-0511)

Stinky Bklyn The Cobble Hill cheesemongers cross the river with a 1,000-square-foot Flatiron outpost, featuring a section devoted to Brooklyn purveyors (Dough, Brooklyn Soda Works). 107 W 20th St at Sixth Ave (212-243-2873)

Sweet Chick Brooklyn's chicken-and-waffle joint finds a new home in the old Max Fish space, doling out Southern comfort food and bacon Bloody Marys. 178 Ludlow St between E Houston and Stanton Sts (no phone yet)

Tender Inside midtown's Sanctuary Hotel, this 175-seat eatery features modern American plates from Dale Schnell (Picholine) and a ten-piece omakase from Edwin Purnomo (Sushi of Gari). 130 W 47th St between Sixth and Seventh Aves (212-514-6000)
Sponsored listing
Viva Toro
Brooklyn's only mechanical bull destination, serves up Mexican and Latin-Caribbean favorites, signature drinks and a side of unbeatable entertainment.
Venue says: "Happy Hour Tuesday-Saturday from 4pm to 7pm with 1/2 off select appetizers, $5 frozen mojitos & margaritas, sangria & well drinks."