New York City's best bagels and lox
TONY tracked down the eight best bagels and lox in New York City. From venerated stalwarts to scrappy up-and-comers, here are Gotham's top versions of the classic sandwich.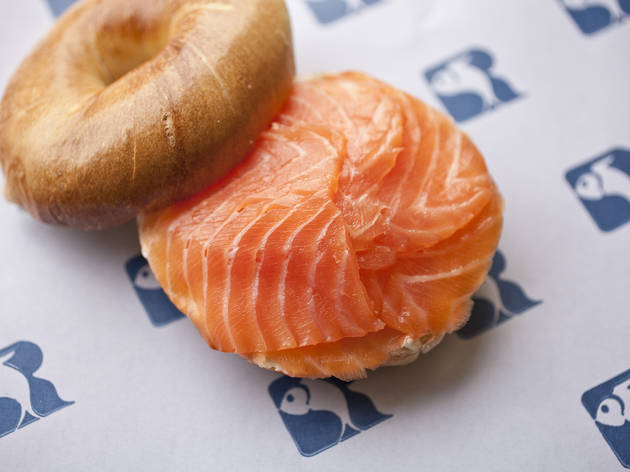 1/8
Photograph: Virginia Rollison
Russ and Daughters Founded in 1914, the Lower East Side's last remaining temple of smoked fish has evolved with the times, offering modern concoctions like the Super Heebster (a bagel stuffed with whitefish-and-baked-salmon salad, horseradish-dill cream, and wasabi flying-fish roe). But Russ and Daughter's' long-standing reputation—the fourth-generation, family-owned shop is operated by great-grandkids of founder Joel Russ, cousins Niki Russ Federman and Josh Russ Tupper—still stands on their time-honored appetizing specialties, including the eminently worthy bagel and smoked salmon. For the signature snack, the shop gets its hand-rolled bagels (in an old-school petite size) from Park Slope's Bagel Hole, while Ben's Cream Cheese in upstate New York supplies the ultra-thick spread—a favorite of Gotham eating legend and literary wit Calvin Trillin. The shop selects its silky Gaspé nova lox—and other gorgeous cured fish—from a rotating roster of suppliers depending on what's best that day. The sandwiches are now swaddled in logo-emblazoned paper, instead of day-old newspapers as they once were, but longtime countermen still slice fish expertly to order. The resulting pièce de résistance—appropriately called the Classic—is finished with lush tomato rounds and crisp red onions. For those who believe that good things come in small packages, they offer also offer the composition on mini bagels. 179 E Houston St between Allen and Orchard Sts (212-475-4880 russanddaughters.com) Mini $8.75, regular $11.75.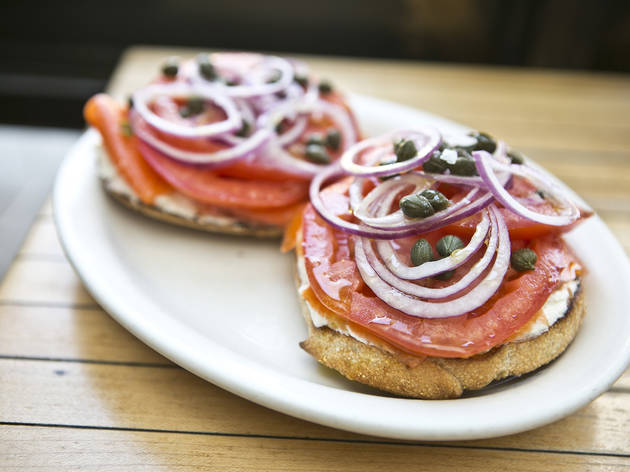 2/8
Photograph: Caroline Voagen Nelson
Mile End In 2010, Montreal native Noah Bernamoff and his wife, Rae Cohen, took on New York City delis on their home turf with Mile End, a sunny Boerum Hill spot inspired by the appetizing shops of Bermanoff's birthplace. Their riff on the bagel and lox—the Beauty—is an homage to the Quebecois city's beloved mom-and-pop restaurant Beauty's Luncheonette. Bermanoff once trucked in the dense, honey-sweetened Montreal-style bagels from Canada , before baking his own in a Red Hook facility. But when Hurricane Sandy flooded the building, he went looking for a local replacement. Eschewing Gotham bagels altogether, he opted for a light-as-air toasted bialy from Hot Bread Kitchen in East Harlem. Their house-cured fish also bucks the Gotham standard: Instead of cold-smoked, Nova-style salmon, they cure king salmon for a week in a mixture of salt, sugar, peppercorns and dill, resulting in a delicate, sea-kissed slab ribboned with fat. The Beauty is built with a swipe of Ben's grassy cream cheese, a few plump tomato slices (local in the summer, hot-house grown in Ontario during the winter), piquant red onions and forest-green capers packing a salty punch. 97A Hoyt St between Atlantic Ave and Pacific St, Boerum Hill, Brooklyn (718-852-7510) • 53 Bond St between Bowery and Lafayette St (212-529-2990) • milendeli.com. $11.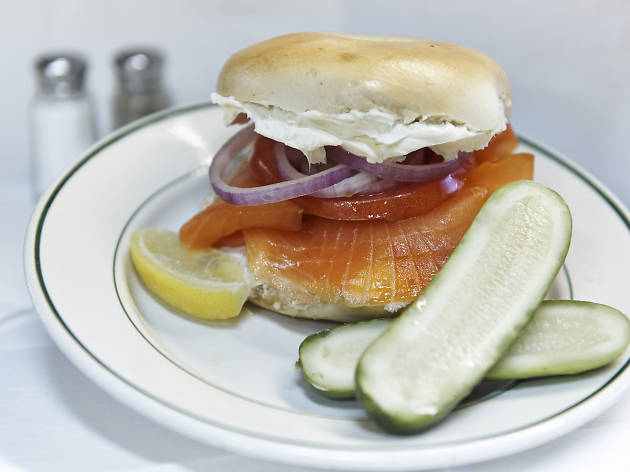 3/8
Photograph: Filip Wolak
Barney Greengrass Little has changed at the glass counter of this heralded Upper West Side icon since it opened in 1908: A crowd of customers jockey for the attention of white-smocked countermen to get their share of pickled herring, tender sable and whitefish salad. The original Barney Greengrass—who learned the smoked-fish trade on the Lower East Side before heading uptown—was known as the "Sturgeon King," but the shop's bagel and lox is also deserving of a crown. Today, third-generation owner Gary Greengrass stocks malty, sesame-encrusted bagels from the Davidovich Bakery in Woodside, Queens. He slathers them with a cream cheese so obscenely rich it smacks of triple-cream fromage, then piles on juicy tomato, sweet red onion and an ample draping of salty Acme lox. The $14 price tag is more princely than pauper, but breakfast includes admission into one of the city's tastiest living strongholds of the old smoked-fish order. 541 Amsterdam Ave between 86th and 87th Sts (212-724-4707, barneygreengrass.com). $14.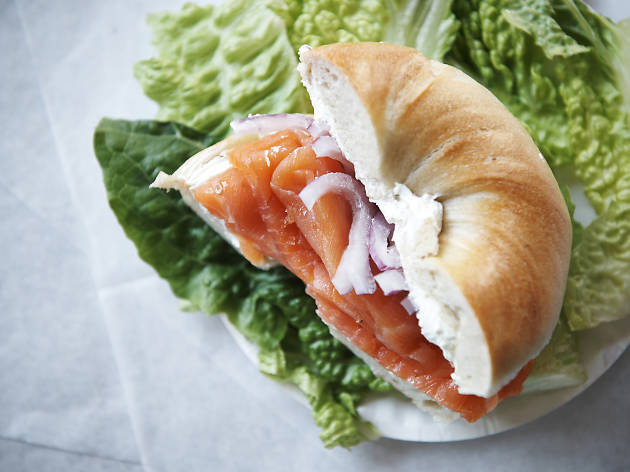 4/8
Photograph: Filip Wolak
Absolute Bagels Thailand native Samak Thongkrieng—who spent a decade honing his craft at top-notch spots like Ess-a-Bagel and the defunct Bagel Nosh—took his morning-dough game to the Upper West Side in 1990, with this no-frills gem. The spot churns out a steady flow of boiled-and-baked rounds throughout the day, and on the weekends, a snaking line of Upper West Siders gathers in the hopes of grabbing a warm one fresh from the industrial-sized oven. Forget the shudder-worthy flavored cream cheeses (gooey apple pie, bacon and cheddar) and train your focus on Thongkrieng's superlative bagels: The snappy-crusted specimens give way to a chewy interior with satisfying resistance. Proportionately layered with tangy cream cheese, satiny Acme Nova lox, rosy tomato and hearty slices of red onion, this superbly constructed beauty has propelled Absolute into the ranks of Upper West Side appetizing standouts, alongside warhorses Barney Greengrass and Zabar's. 2788 Broadway between 107th and 108th Sts (212-932-2052). $9.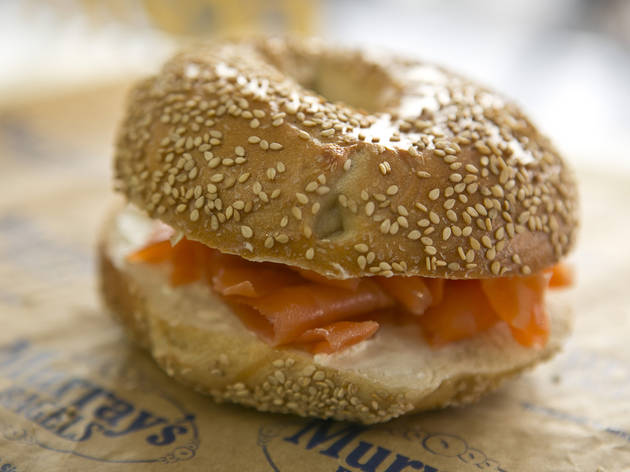 5/8
Photograph: Caroline Voagen Nelson
Murray's Bagels In 1996, Brooklyn native Adam Pomerantz ditched a plum Wall Street gig as a Merrill Lynch VP to re-create the type of Lower East Side bagel shop that his father, Murray, took him to as a kid. After boning up on the bagel biz with a five-borough eating tour and overnight shifts at a bakery in New Jersey, Pomerantz struck out on his own, with a sunny West Village shop. Pomerantz's bagels are hand-rolled and then boiled and baked every day, resulting in a shiny, sturdy crust and tender chew. Pomerantz sources his beautifully marbled Nova—which he prizes for its delicate flavor—from the Smokehouse, an upscale wholesale purveyor in Mamaroneck, New York. Murray's pairs their slices with a fresh, tangy schmear of cream cheese, a slab of summer-red tomato and fresh red-onion rings. Don't make the newbie faux pas of asking for your bready orb crisped—the shop is so confident with its freshness that it enforces strict "no toasting" rule. 500 Sixth Ave between 12th and 13th Sts (212-462-2830, murraysbagels.com). $10.45.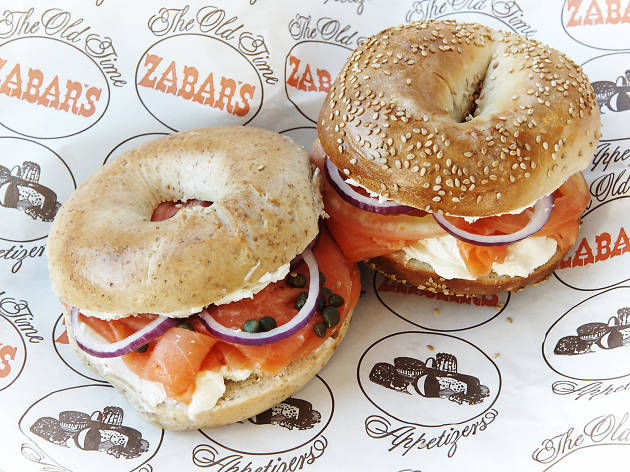 6/8
Photograph: Filip Wolak
Zabar's Founded in 1934 by a Ukrainian Jewish immigrant, Louis Zabar, the onetime humble appetizing counter has morphed into one of the city's beacons of gourmet food—a multilevel emporium boasting prepared foods, coffee, baked goods, pantry staples and kitchenware. Still, the smoked fish, particularly the Nova lox, remains at the heart and soul of the family-owned business. Head to the sprawling fish counter and ask for Nova on a bagel—Zabar's boils and bakes their own, using malted barley flour for a crisp and richly flavored bagel. Then watch closely as Zenlike countermen artfully filet the fish (sourced from several smokehouses). Pass on the tomato—at least during the winter, when its hue is reminiscent of a Creamsicle—and turn your attention to the luscious layer of house-made cream cheese, spicy red onion and svelte pieces of Acme lox melting together in each bite. 2245 Broadway at 80th St (212-787-2000, zabars.com). $8.50.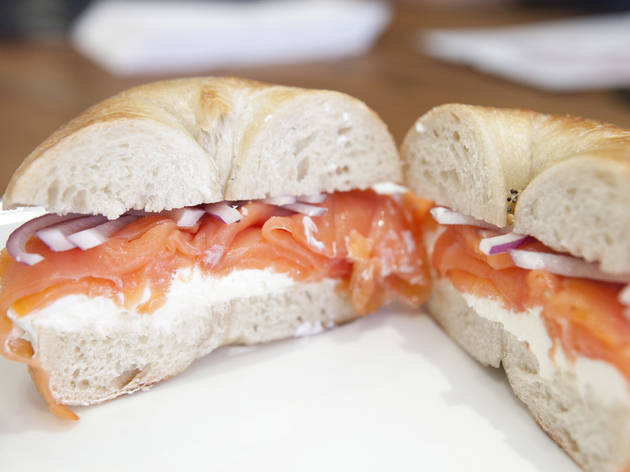 7/8
Photograph: Jessica Lin
Shelsky's Smoked Fish Thanks to New York City native (and Wallsé vet) Peter Shelsky, Carroll Gardens gained a top-shelf appetizing shop in 2011 when he opened this paean to the LES icons of yesteryear on Smith Street. The store offers dried fruit and candy in throwback glass canisters and a contemporary selection of pastries (such as clementine-and-ginger rugalach), but the main attraction is its cured seafood selection. Shelsky works primo varieties into offbeat creations like his eponymous sandwich, a gut-busting heap of lox, sable and pickled herring in cream sauce on a single bagel. But the basic bagel and lox combo—dubbed a Member of the Tribe—satisfies without any excess. The bagels in stock are a fresh, yeasty variety from Mill Basin Bagel Cafe, located deep in Brooklyn. He slicks the halves with airy cream cheese (customers can choose from either plain or scallion) and buttery, woodsy-scented filets of Acme's Gaspé Nova lox. Add a few peppery red- onion slices and dripping crimson tomato for a hit of freshness to round out this rich, messy package. 251 Smith St between Douglass and Degraw St (718-855-8817 shelskys.com). $11.50.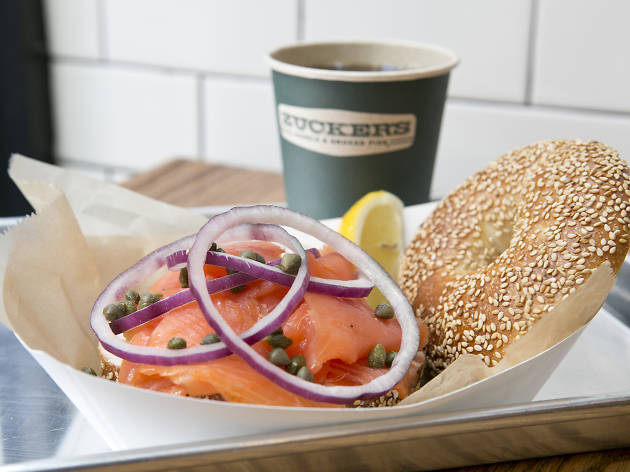 8/8
Photograph: Caroline Voagen Nelson
Zucker's Bagels and Smoked Fish Financier turned bagel man Matt Pomerantz—co-owner of Murray's with brother of Adam Pomerantz—burnished this dynastic bagel family's repertoire in 2007 with this hand-rolled great, named after his mother's maiden name. The success of the original even begot a spin-off at Grand Central in 2012. The Tribeca flagship exudes an old-world style with a pressed tin ceiling, subway-tiled wall and wire baskets of freshly baked goodies, and the approach extends to the bagels themselves. The "traditional" bagel sandwich features timeless components: a chewy, crackly-crusted orb topped with lightly smoky Acme Nova lox, cool cream cheese, crisp beefsteak tomato and red onion, along with capers providing an extra pop of brine. 146 Chambers St between Greenwich St and West Broadway (212-608-5844). $9.95 • 370 Lexington Ave at 41st St (212-661-1080). $10.25 • zuckersbagels.com
Among the food icons of Gotham—the classic 'za slice, street-corner hot dogs and chewy oversize pretzels—the classic bagel and lox stands out as one of New York City's emblematic culinary titans. Like so many American favorites, this simple sandwich is rooted in a hardscrabble immigration story. In the 1800s, inexpensive, already-cooked lox—a derivation of the Yiddish word for salmon, laks—was a boon to Eastern European Jews living in tenements with spare kitchens. The combination of the fish with butter and bread was also a favorite in the old country, and swapping in cream cheese was a logical progression. In the 1930s, a Kraft-sponsored radio show hyped the combination of bagels and cream cheese—then a relatively novel spread—over the waves, and within a decade, the Jewish answer to the cheeseburger had caught on in a big way. Today, there are a seemingly endless number of combinations of bread, spread and fish, from the pared-down purist versions to the profane bastardizations (see: the blueberry bagel, maple cream cheese). Even the fish often used in the sandwich isn't lox—technically cured in a salt brine—but often a lightly seasoned, smoked and still-delicious salmon. According to David Sax, author of Save the Deli, the proper version is made with five key ingredients: a plain, sesame- or poppy-seed bagel; regular cream cheese; tomato; red onion; and slices of gently brined, cold-smoked Nova lox—the traditional fish rose out of the decades following World War II when Nova Scotia, Canada, supplied the majority of New York City's salmon. These days, corner delis across the city offer their own varieties, but few do it justice. Below are the best bagels and lox—superlative standard-bearers worth the fight to the front of the appetizing-counter line.