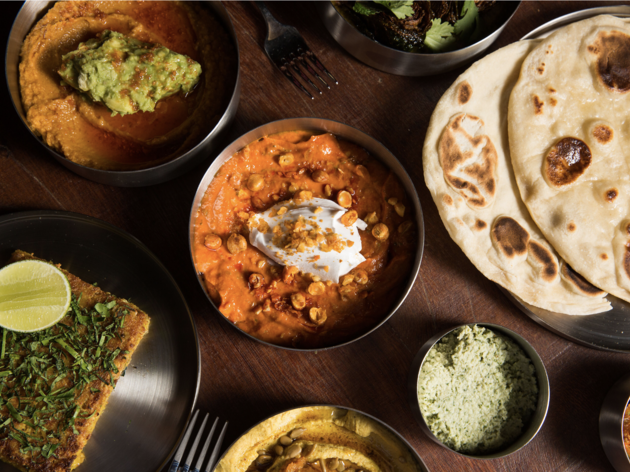 1/4
Photograph: Maksim Axelrod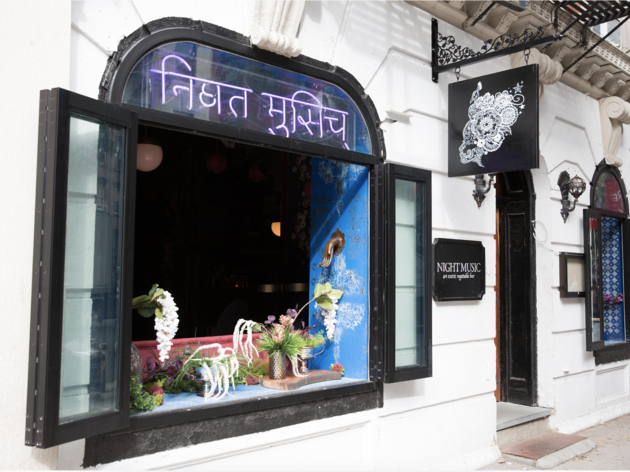 2/4
Photograph: Maksim Axelrod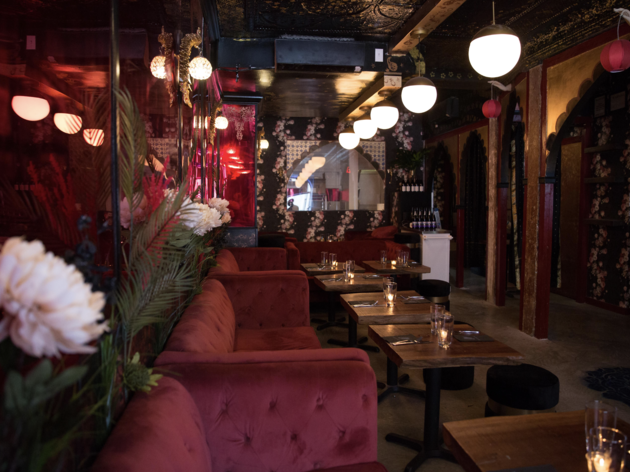 3/4
Photograph: Maksim Axelrod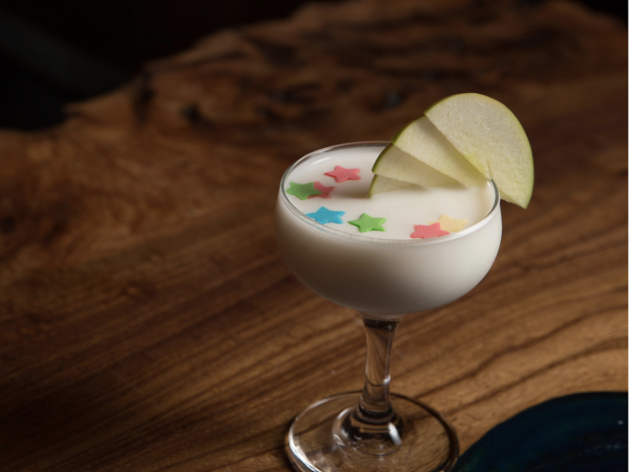 4/4
Photograph: Maksim Axelrod
Time Out says
Friendly warning! We're working hard to be accurate. But these are unusual times, so please check that venues remain open.
While the term vegan was only coined in 1944, Hindus, Jains, Buddhists and Rastas have long maintained a meat-free diet. Now, many New Yorkers are coming around to the plant-based lifestyle, and restaurateur Ravi Derossi is leading the way. Since 2016, he has been revamping his existing restaurants and new concepts to be vegan. Night Music (in his former Fire + Water space) is focused on Indian cuisine, which already has a plethora of vegetable-forward dishes that Derossi can pull from his childhood.

A yellow lentil dip ($7) topped with sunflower seeds is complicated by the fermented notes of pickled mango and roasted pineapple purée—and it's so good, we would buy it prepackaged at the supermarket. It's best when combined with the house-made aloo paratha ($8), or stuffed potato bread.

The maitake buns ($5 each) are sure to be a crowd-pleaser: The hearty mushroom is fried and covered in (way too much?) vindaloo aioli. While delicious, the maitake gets drowned out in such rich elements.

For the saag ($19), brussels sprouts are employed in two ways—roasted and in a mixture of vegan cream cheese, vegan butter, ginger, garlic, serrano chile, onion and turmeric—but the result is much less creamy than the classic spinach recipe. An eggplant dish that's usually served mashed, the bhartha ($18) here is roasted and sits in a spicy tomato chutney and eggplant purée—oddly, this rendition tasted Italian. Both of these misguided entrées are pricier than the environment warrants.

Derossi is known for his hip nightlife spots, and Night Music's cozy, clubby atmosphere is no exception. But much like his bar Honeybee's, the theme feels a bit Disneyfied, with velvet couches, silk pillows, fake flowers and decorative elephants. As for the music—it's in the name, after all—expect the Human League's "Don't You Want Me" and other 1980s anthems that will make you want to dance.

And for those who think a meal is satisfying only when it includes animal protein, don't give up on the idea that vegan restaurants can be just as fulfilling. After all, the prolific Derossi has had his share of successes across 15 restaurants and bars. This time, unfortunately, he strikes the wrong chord.
Details