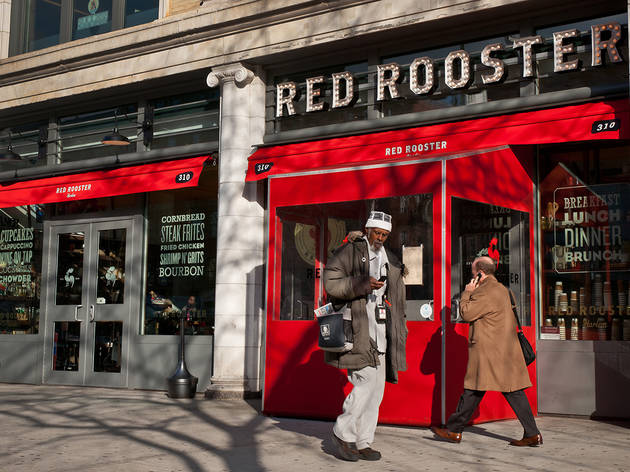 1/9
Photograph: Paul Wagtouicz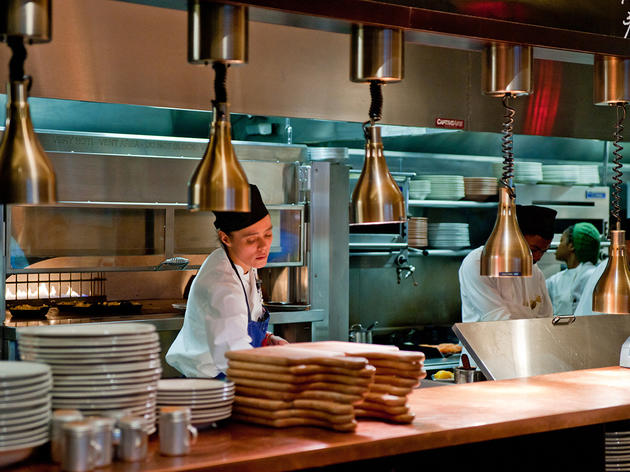 2/9
Photograph: Paul Wagtouicz
Red Rooster Harlem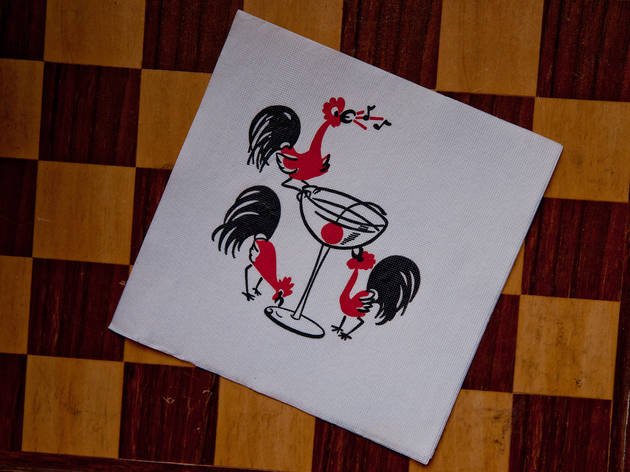 3/9
Photograph: Paul Wagtouicz
Red Rooster Harlem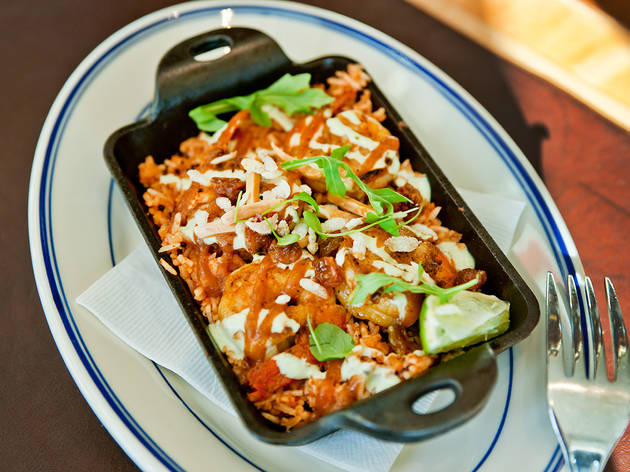 4/9
Photograph: Paul Wagtouicz
Shrimp with dirty rice at Red Rooster Harlem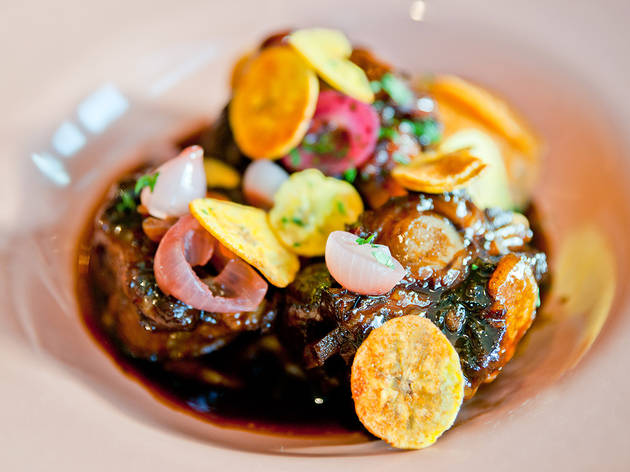 5/9
Photograph: Paul Wagtouicz
Slow-braised oxtail at Red Rooster Harlem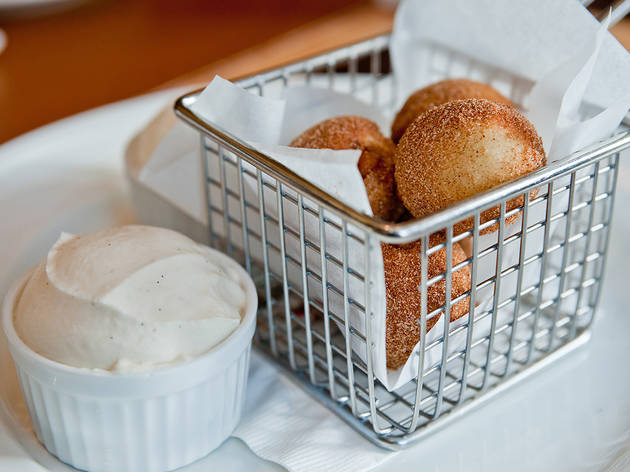 6/9
Photograph: Paul Wagtouicz
Donuts at Red Rooster Harlem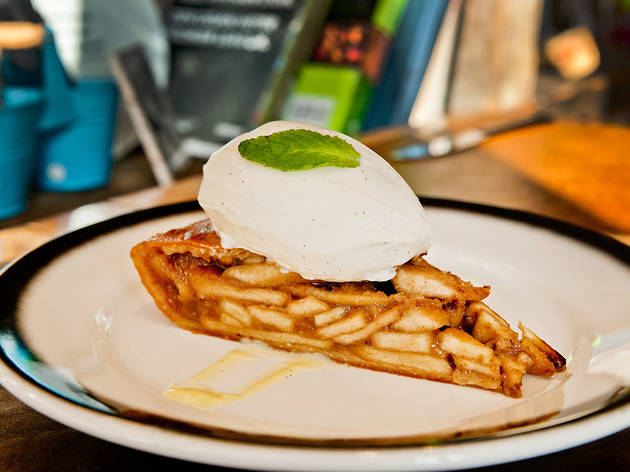 7/9
Photograph: Paul Wagtouicz
Cheddar apple pie at Red Rooster Harlem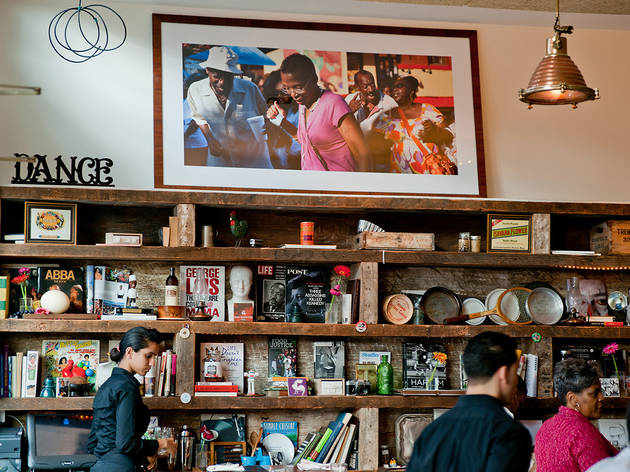 8/9
Photograph: Paul Wagtouicz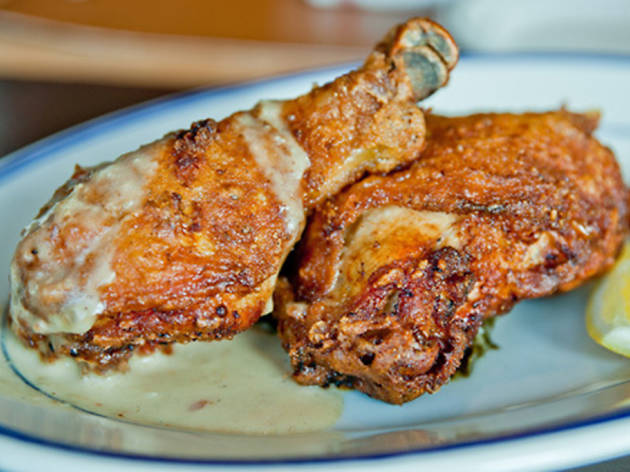 9/9
Photograph: Paul Wagtouicz
Time Out says
At Marcus Samuelsson's Harlem bistro, global soul food takes center stage, artfully mixing Southern-fried, East African, Scandinavian and French flavors. While the former Aquavit chef, now culinary TV star, mostly sacrifices elegance in favor of mass appeal, you'll still find the occasional haute cuisine flourish. Slippery ribbons of house-smoked salmon and gravlax—"lox and lax" on the playful menu—are served with Ethiopian injera fried into chips, in a pretty ho-hum multinational dish. But a paint-splatter smear of purple mustard lends a chefly touch to the final plate.
Apart from these upmarket detours, most of the food is gregarious fun. Dirty rice topped with four plump barbecued shrimp is more international than authentically bayou, the spicy chicken-liver-enriched pilaf flecked with an appealing mix of curry leaves and toasted almonds.
The main courses are even more gutsy. Samuelsson layers on flavors, generously anointing his crispy fried chicken with hot sauce, mace gravy and his own secret smoky spice shake; and piling pickled cipollini and plantain chips atop oxtail slow-braised in Mother's Milk Stout until it's barely clinging to the bone.
All of this food is as relaxed as the setting itself: breezy and cheerful. The sprawling space is inviting and buzzy, the definitive place to be north of 110th Street. Doubling as a gallery space, the restaurant showcases oversize works by notable New York artists, including uptown residents LeRone Wilson and Philip Maysles. Harlem politicos mix at the teardrop bar with downtown fashionistas, everyone happily gorging on rib-sticking food.
Details
Address:
310 Malcolm X Blvd (Lenox Ave)
New York
10027

Cross street:
between 125th and 126th Sts
Transport:
Subway: 2, 3 to 125th St
Price:
Average main course: $22. AmEx, Disc, MC, V
Contact:
Opening hours:
Mon–Thu 11:30am–3pm, 4:30pm-2am; Fri 11:30am–3pm, 4:30pm-3am; Sat 10am–3pm, 4:30pm–3am; Sun 10am–3pm, 4:30pm–2am
Do you own this business?
Average User Rating
4.1 / 5
Rating Breakdown
5 star:

7

4 star:

4

3 star:

2

2 star:

0

1 star:

1
I visited the Red Rooster for the first time Nov 14, 2019. In town from Houston to see the Tina Turner musical and shop. I'd been to Sylvia's a few years ago and said when I come back to NYC I will have to check out the Red Rooster. My friend and I got on the crowded subway headed to Harlem for dinner at the Red Rooster and the experience was AWFUL. Our waitress was not friendly, no greeting, never gave her name. We said it was our first time at the restaurant and that we needed a little time to figure out what we wanted. She got our waters and brought them back as we were still looking at the menu, still no conversation whatsoever, just kinda stood there as if to say "What do you want". She gave no recommendations on the menu, basically she did not talk to us at all. We each ordered the fried chicken which was really enough for two people. The food was just alright, wasn't very good and very expensive for fried chicken, but the service was WORST and I will never return. Got much better service and food at Sylvia's. Doesn't matter how good your food is (even though we didn't enjoy the meal) customer service is very important and this waitress was awful.
Absolutely adore this place and if you're not from the area, I really do think it's worth the trek! Of course the chicken and waffles were amazing and not only were they savory, the meat itself was very moist and delicious. The wait can be rather long so try to go in for an early dinner!
Came for brunch on a Sunday - the wait seemed extremely long and a lot of people were waiting. We were pretty early right before 11AM and decided to sit at a bar table. We were able to sit pretty quickly! We ordered the deviled eggs and they were good, very flavorful and enjoyable. Also ordered a special on the menu -(pictured) and it was a mixture of everything - meat, cheese, egg, spice from the jalapenos, savory, salty - all around delicious. I had really high expectations for Red Rooster, and it was definitely good but the margarita was basic.
Fantastic vibes, fantastic food, fantastic gem
I went to Red Rooster for thanksgiving dinner as had a friend in town and it was fantastic!We ate downstairs in Ginny's supper club as they had live music down there.The music was great but we preferred it upstairs as the atmosphere was better and it just had a better vibe at the bar.Food wise it was good, not great, but we chose the buffet option, again probably a mistake as we got there toward the end of the sitting.All of that said though it is a great place and well worth a trip to Harlem even if you're not close.The drinks were fantastic, the bar is ridiculously friendly and all in all you just have a great time!
Highly recommended, but yet a little disappointing. The menu is typical American food. However, it still does not leave à lasting impression.
I don't even know where to start! The food here is SO GOOD. First off, when you arrive you may be put off by the sometimes extensive wait. But a long wait usually means an excellent experience, right? Right. Just grab a seat at the bar and order one of the craft drinks off of the 310 Classics menu.
Foodwise, you need to leave your calorie counter at home. The fried chicken is perfection, the cornbread w/ honey butter and tomato jam is awesome, and the mashed potatoes may be the best I've ever had. My mouth is watering just thinking about them.
Lastly, you have to go for dinner on a Sunday. Every Sunday, the restaurant hosts live music "Sunday Night Jazz with The Nate Lucas All-Stars". Talent from all over the country comes in and shows off their singing chops. It's as if you're eating dinner at the Soul Train Music Awards. THE BEST! And if you're really lucky, you may even get a chance to meet chef and restaurateur Marcus Samuelsson on your way out.
Get the grits!!! Everything is good here, especially for brunch. I like the crowd and downstairs is so different from upstairs. I go here more often than I would have expected. Marcus samuelsson did a great job creating an iconic Harlem spot. Only downfall is limited selection of beers.
Atmosphere: Trendy and modern. Crowd was mixed from young to old.
Service: The host was quick to attend to us and the waiter was friendly and attentive.

Food: We had the chicken and waffles, the wild, wild wings, corn bread and Parmesan fries.

I wasn't a fan of how the fried chicken was seasoned.
The cornbread was delicious, especially with the side tomatoes sauce.
The wings were crispy and tasty.
The fries were good as well.
Overall I think everyone should go here at least once.

I would come back to try some of their other dishes.
Really enjoy Red Rooster - high quality food inspired by traditional soul food. Contemporary and new American, combines the looks and sounds of Harlem while updating them to reflect the changing times and tastes. Excellent customer service, very clean, and good decor. Lots of different dining rooms - each bringing their own atmosphere (from outside when the weather is nice, to the bar/main dining room, and the rooms downstairs). Of course, the food is exquisite; Southern staples with modern flair (like cornbread with honey butter and tomato jam). More of a fine dining establishment than an institution - but makes an effort to keep the culture alive. Must visit - and though it is expensive, the quality is there.
IF you come around 10am you can avoid the long lines. The yard bird is a must have!*
I very excitedly visited Red Rooster for the first time as part of a surprise birthday dinner I had planned. We were seated at a long communal table with high stools. The place was packed and I would have preferred a table to ourselves rather than rubbing elbows with a larger group dining next to us. The food was delicious, but I think overpriced for the portion size you receive. The Fried Yard Bird dish was great, but not a lot of bang for your buck. I took the waiter's suggestion and ordered the Mac and Greens but found it underwhelming. The Red Rooster Doughnuts were a fantastic dessert. A highlight of the night: Marcus Samuelsson himself made the rounds in the dining room, greeting customers and pausing for a friendly chat on his way out for the evening. Big props to him for cultivating that kind of warm, familial ambiance in an NYC restaurant.
Amazing!! I made reservations for the Red Rooster the day before -which is the same establishment as Ginny's, (I'm Guessing since they have the same menu). Unfortunately I had to cancel because my brother arrived late from the airport. The next afternoon we toured NY and later stopped in Harlem since- I love Harlem & he can not believe that the area is being gentrified. He hasn't been to NY in 15 years and any memory of Harlem he has is very unsavory to say the least. He seemed slightly impressed as we walked the Harlem streets. When we got to Red Rooster we did not have a reservation since we were winging it for the day and the place was beyond packed.
The Hostess was very sweet she offered to take us to Ginny's and waived the $25 cover charge. The wait staff is immensely cordial and attentive never did they drop the ball in any way. The live show started and I can tell my was impressed by the ambience. We swayed to the Wake Up Madagascar band and enjoyed dinner - Blackened Catfish (me), Applewood Smoked Salmon (him), Bottle water: presentation was classy, Chickpea salad: tasty. For Dessert I had the strawberry shortcake: delish, and he had the black bottom peanut pie: super good yum.
I have been to Red Rooster before but I never new of the hidden treasure (Ginny's) beneath the floor board. This will be my new guilty pleasure. I have to stop by at least once a month.